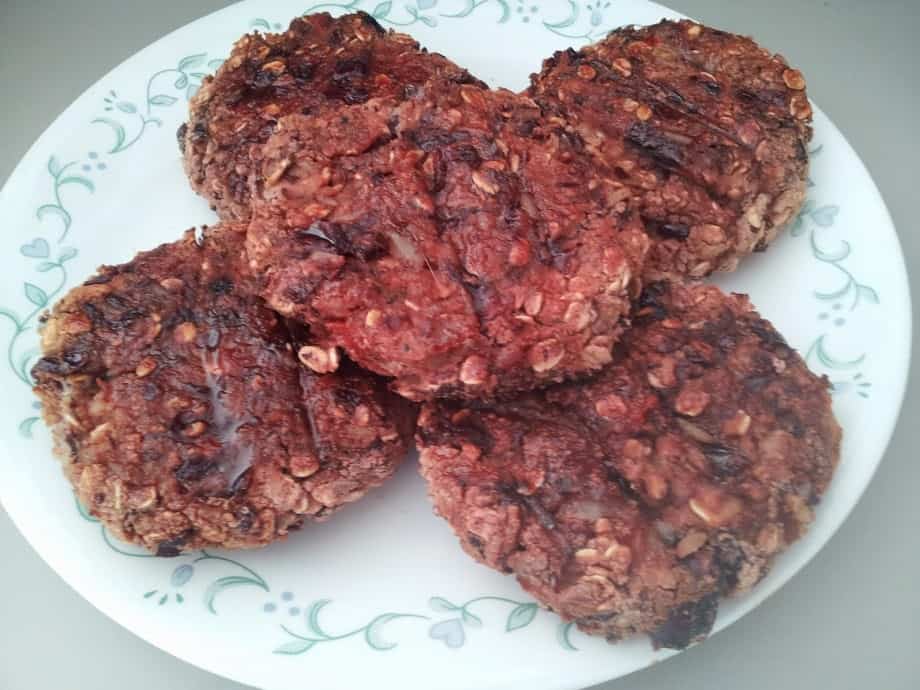 So first off, you're probably wondering why not just buy one of those pre-packaged boxes of veggie burgers rather than go to all the trouble of making your own.
The answer is simple – pre-packaged means 'processed' – and also means full of mysterious ingredients you probably shouldn't be eating – namely fat.
Let's look at the ingredients for two of the more popular 'Veggie Burger' brands out there in stores.  The highlights in red are mine for emphasis.
They may just surprise you.
Boca Burgers:
Serving Size: 1 Burger
Calories per Serving: 120
Calories from Fat:45
Percent Fat: 37.5%
Ingredients: WATER,

SOY PROTEIN CONCENTRATE

,

REDUCED FAT CHEDDAR CHEESE

(PASTEURIZED PART-SKIM MILK, CHEESE CULTURE, SALT, ENZYMES, ANNATTO (COLOR), VITAMIN A

PALMITATE

), WHEAT GLUTEN,

CORN OIL

, CONTAINS LESS THAN 2% OF

METHYLCELLULOSE

, HYDROLYZED CORN PROTEIN, WHEAT GLUTEN AND

SOY PROTEIN

, SALT, CARAMEL COLOR,

CHEESE POWDER

(CHEDDAR CHEESE (MILK, CHEESE CULTURE, SALT, ENZYMES), CREAM, SALT, SODIUM PHOSPHATE, LACTIC ACID), DRIED ONIONS, YEAST EXTRACT, NATURAL FLAVOR (NON-MEAT),

SESAME OIL

,

DISODIUM

GUANYLATE

,

DISODIUM

INOSINATE

,

BROWNED IN CORN OIL.
Morningstar

Burgers:
Serving Size: 1 Burger
Calories per Serving: 130
Calories from Fat: 50
Percent Fat: 38.4%
Ingredients: TEXTURED VEGETABLE PROTEIN (WHEAT GLUTEN,

SOY PROTEIN CONCENTRATE,

WATER FOR HYDRATION),

EGG WHITES

,

CORN OIL

, CALCIUM

CASEINATE

, CONTAINS TWO PERCENT OR LESS OF MODIFIED TAPIOCA STARCH, ONION POWDER,

CANOLA OIL

,

TRIGLYCERIDES FROM COCONUT OIL

, HYDROLYZED VEGETABLE PROTEIN (CORN GLUTEN, WHEAT GLUTEN,

SOY PROTEIN

), DEXTROSE, SALT,

SOY PROTEIN ISOLATE

,

AUTOLYZED

YEAST EXTRACT, SUGAR, NATURAL AND ARTIFICIAL FLAVORS FROM NON-MEAT SOURCES, CARAMEL COLOR,

CULTURED WHEY

, MALTODEXTRIN, GARLIC POWDER, SPICE, CELLULOSE GUM,

DISODIUM

GUANYLATE

,

DISODIUM

INOSINATE

, SOY SAUCE (WATER, SOYBEANS, SALT, WHEAT), VITAMINS AND MINERALS (

NIACINAMIDE

, IRON [FERROUS SULFATE],

THIAMIN

MONONITRATE

[VITAMIN

B1

],

PYRIDOXINE

HYDROCHLORIDE [VITAMIN

B6

], RIBOFLAVIN [VITAMIN

B2

], VITAMIN

B12

),

SESAME SEED OIL

, CELERY EXTRACT, SOY LECITHIN.
If you've ever had either of these burgers, you may have noticed how 'greasy' they are for a Veggie Burger.  Well it's no wonder.  Over 1/3 of their calories are from fat.  And both brands contain Saturated Fat  and Soy Protein Concentrates – what many medical experts today are telling us to stay away from.
See that Autolyzed Yeast Extract?  That's just another name for MSG, and let's not forget they both contain dairy and/or eggs.
Not very Vegan after all are they – or healthy.
Jeff Novick Bean Burgers
Instead, you can make THESE homemade burgers using just FOUR ingredients.  Yep, count 'em – FOUR.  And you can pronounce every ingredient – imagine that. 🙂
No meat, no fat, no cholesterol, no dairy, no eggs, no weird science project chemicals – just whole foods – and they happen to be plant-based too.
Beans:  Jeff recommends Kidney Beans to get the right texture.  I know a lot of people on the net have used different kinds of beans – so all I can say is experiment.  Be sure to rinse and drain thoroughly.
Rice:  Cooked Brown Rice is what is called for in the recipe.  I use Uncle Ben's Boil in Bag when I want quick and easy.
Oatmeal:  Regular Old Fashioned Rolled Oats from Quaker.  Don't use any of the instant oatmeal stuff, or steel-cut, just oats.  And don't cook it – just add it in dry.
Tomato Sauce:  Actually you can use any kind of tomato(y) sauce you have on hand, Ketchup, Salsa, whatever.  I have also used leftover Marinara Sauce which turned out pretty well.  Varying your sauce will change the flavors – so experiment!
Spices:  For my mix I like to use Onion Powder, Garlic Powder, and Mrs Dash with maybe a little bit of black pepper.  Again – experiment!  Chipolte?  Go for it!
Image Source: Brand New Vegan
Prep time:
Cook time:
Total time:
Homemade vegan burgers using just four ingredients. No meat, no fat, no cholesterol, no dairy, no eggs, no weird science project chemicals – just whole foods – and they happen to be plant-based too. Recipe by Jeff Novick.
Ingredients
2 cans (15oz) of Low Sodium Kidney Beans
1 cup of Rolled Oats
1 cup of cooked Brown Rice
¼ Cup of Tomato Sauce
½ tsp Garlic Powder
½ tsp Onion Powder
½ tsp Mrs Dash
Instructions
Rinse and drain the beans thoroughly and then pour them into a large bowl.
Mash them well until you almost got refried beans. It's ok to leave some chunks in. I used an old-fashioned (like grandma used to use) potato masher. It's a bit of work – but it gets the job done. If you want to use a Food Processor – just don't overdo it – we really don't want refried goo. Just mashed.
Add the oatmeal, rice, sauce, and spices.
Make sure your hands are clean and dig in – mix and squeeze. Just like mom used to make her meatloaf.
Once mixed well – form and shape into patties.
Important Part! Place the burgers on a plate in the fridge and forget about them for at least 20 minutes. This allows them to set up and get firm.
Notes
I like my burgers on a grill but they can also be baked or pan seared in a non-stick pan.

For grilling I baste mine with either a BBQ or Teriyaki Sauce for extra flavor. Be careful turning as these to have the tendency to break apart. Remember there's not all that fat and gristle to hold them together.

Depending on your grill and distance from the heat - grill 10 minutes or so on each side or until done.

Now all that's left is to dress them up with lots of veggies and the condiments of your choice.

Yum! Dig in.