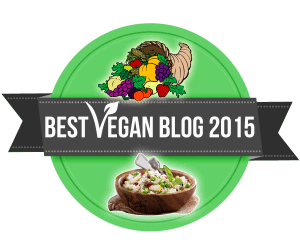 Thank You!
I just wanted to stop and take the time to thank all the good folks at Plush Beds for including me in their roundup of the Best Vegan Blogs of 2015.
Wow, I was definitely NOT expecting that. And to be included along with such superstars as Lindsay Nixon at Happy Herbivore? Or Post Punk Kitchen? Or Oh She Glows?
I mean little old me?
Wow! Thank you!
I remember just 6 months ago wondering if I could ever get more than 100 visitors in a day, or more than 100 Facebook likes. And was anyone ever going to comment?
But now - my notification buzzer on my phone is going off non-stop. So many likes, and comments, and Pinterest shares. But most importantly of all - so many of you dear readers trying and enjoying the recipes.
That's what makes me the happiest. Knowing that we are all eating good, wholesome foods, and slowly - day by day - getting healthier by doing it.
I seriously believe the veggie movement is gaining ground. And I say Veggie Movement, because it doesn't matter if you call yourself a Vegan, or a Herbivore, or a McDougaller…. we are all putting veggies at the center of our meals.
We all know that meat and dairy are no longer necessary for a healthy diet, and in fact are the main contributors to many of the chronic diseases we see today.
Obesity, Diabetes, Cancer, and Heart Disease.
Not only is all that saturated fat and cholesterol bad for us, it's equally as bad for the animals, and our planet.
And we are doing something about it. It's been slow going, but as I said, I think we are gaining ground.
So once again, a big heartfelt thank you to everyone for including me in your journey. I appreciate all your support, your kind words, and your encouragement.
It's been a crazy ride so far, but I'm glad to have friends like you to share it with.