Dr. John McDougall often lectures about the dangers of our Rich American Diet.  
The word 'rich' used here is NOT to describe the amount of nutrition we are getting (as in a 'nutrient rich diet') - sadly no.  The word rich is used to describe the fact that in the old days... you had to 'BE rich' in order to eat this way.
 "We are eating like the Kings and Queens of old"  -  Dr. John McDougall
The Rich American Diet
King Henry VIII was one of the most famous kings in English history.  Famous for his 6 wives and starting the English Reformation, he was also famous for his gluttony, his gout and his obesity.  He loved to eat, and because of his 'rich' lifestyle, he died in 1547 at the age of 56.  Experts have guessed that Henry weighed about 320 pounds when he passed.
It is said that he also suffered from malnutrition as well.
Malnutrition?  How is that possible with all of the food he was eating?
Well, according to historical records, his menu was dominated by meat, cheese, bread, and wine.  This is how most of the rich and wealthy ate, and I mean why not?  They deserved the finest!  And they could certainly afford to.  And Vegetables?  They were considered "peasant food"....  not even worth the trouble.
Today of course, just about ANYONE can afford to eat like the kings and queens of old.
And we DO!
Not only can we have meat at every meal, we can have any KIND of meat we want - at every meal.  And it's already been killed, cleaned, butchered, packaged, and oftentimes even cooked.....all we have to do is go and pick it up.
How convenient!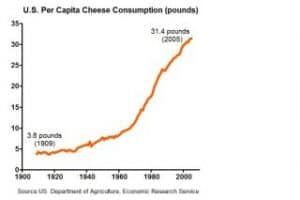 And cheese?  We love cheese just as much as our medieval counterparts did - if not more so.  Did you know that in 1909, the average American consumed about 3.8 pounds of cheese in a year's time.
Care to guess what that number is today?
Try 34 pounds.  That's per PERSON.
Throw in some cheap processed bread for all those meat and cheese sandwiches and plop a convenience store on every corner, and yes - we live even BETTER than the kings and queens of old.
Ahhhh...the good life!
History Always Repeats Itself
Did you notice though that we're STILL suffering from gluttony, gout, and obesity today, 500 years later?
And we STILL have problems getting enough fruits, fiber, and vegetables?  Is it any wonder we are the heaviest and sickest we have ever been?
History always repeats itself.
With the introduction of modern medicine you'd think we'd be slim, healthy, and fit by now,  but nothing could be further from the truth.  Oh we may not get scurvy anymore - but we're still fat and sick - and there's no end in sight.
The sad part is, the cheap, processed foods we have today are even cheaper than the  'peasant' foods of yesterday.
So today's Rich American Diet seems to be a combination of the medieval meat & cheese diet, supplemented with tons of cheap, processed, convenience foods.
And the results are no better, if not worse, that they were 500 years ago.
The average 10yr old is now showing signs of heart disease!.
These children have the arteries of the average 40 yr old.  And this is the first generation of children that will probably NOT outlive their parents if we don't do something to change this.
Our attitudes about foods are even still the same …...
Why eat a carrot when I can have a steak?  
You vegans live on Tofu and sprouts!
I can't live on peasant rabbit food
Where's the beef?
Tonight we eat like kings!
Bring On the Peasant Food!
What was missing from King Henry VIII's diet, as well as most of ours today - is what they used to call 'peasant foods'.
You know, poor people food.
Roots, vegetables, greens, etc..  The foods that royalty looked down their noses at  - and we continue to do today.
Foods like.....
Fresh Vegetables
Fresh Fruits & Berries
Starches like corn, pumpkin, and potatoes
Legumes like peas, beans, and lentils
Whole grains like barley, rye, and brown rice
People feel poorly because they are nourished by foods you wouldn't feed to your dog and cat. The rich western diet is full of fat, sugar, cholesterol, salt, animal protein -- all the wrong foods for people. Look around the world and see where people are thin and healthy -- they live on a starch based diet.  Dr. John McDougall
Bottom line is we need to avoid the Rich Diets of our past and eat more peasant foods to be healthy.  Simple, whole, nutritious, foods....full of vitamins, minerals, nutrients, and fiber.   
Let history be a lesson.  If you want to be trim and healthy - eat like a peasant.
Just ask Henry.