Did anyone say Chipotle Sofritas?
That amazing concoction of spicy Tofu, Chipotle Peppers, and Mexican Spices?  All served up with Pinto Beans, Cilantro Lime Rice, and a side of creamy Guacamole?
Exactly.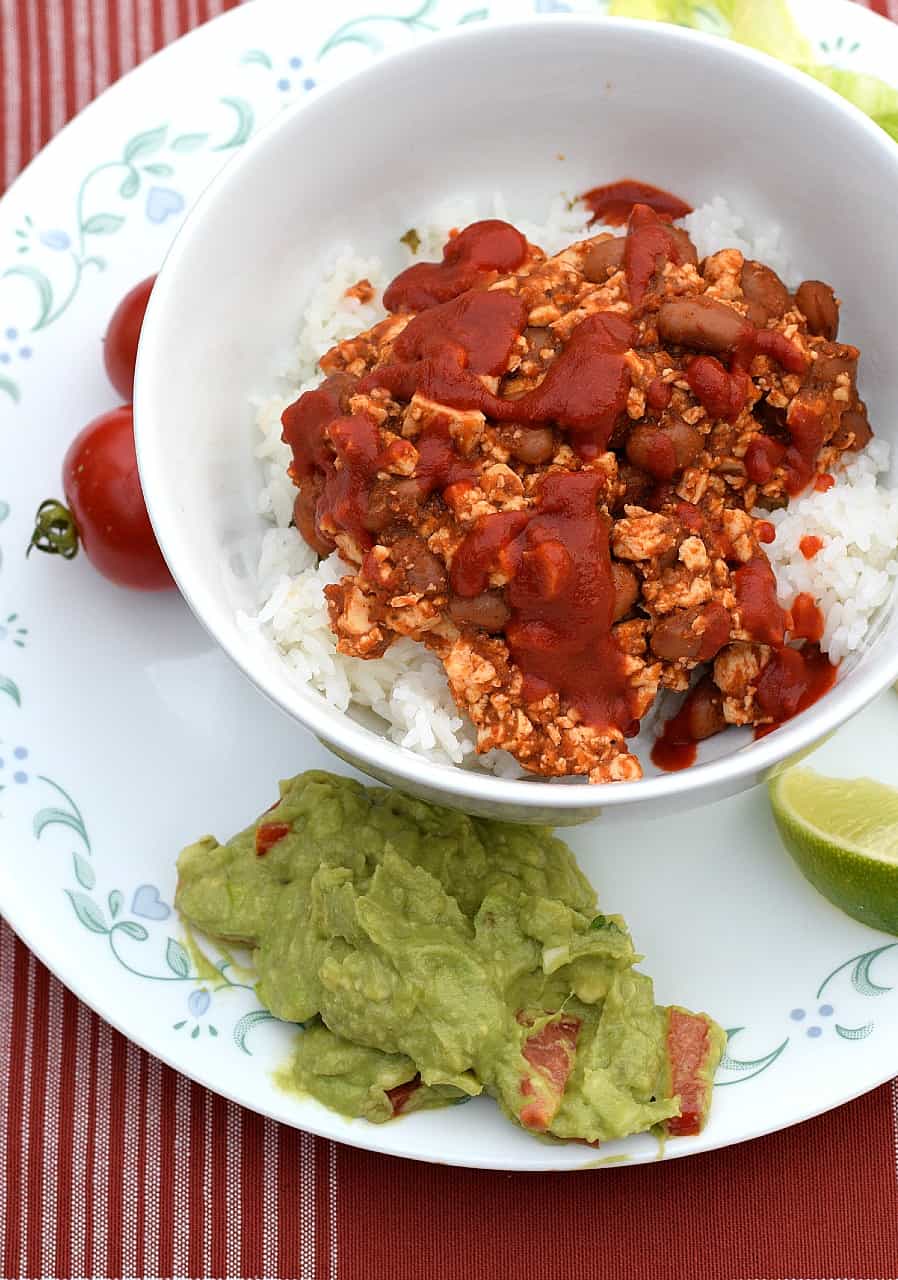 For those of you 'not in the know' -  in 2014 Chipotle Mexican Grill added its first new menu item in over 20 years - and it was an instant Vegan hit.
And guess what?  According to the ingredients listed on their website - they are also surprisingly easy to make at home.
Are you read for a chipotle fix?
Then let's get started!
Easy Chipotle Sofritas Bowl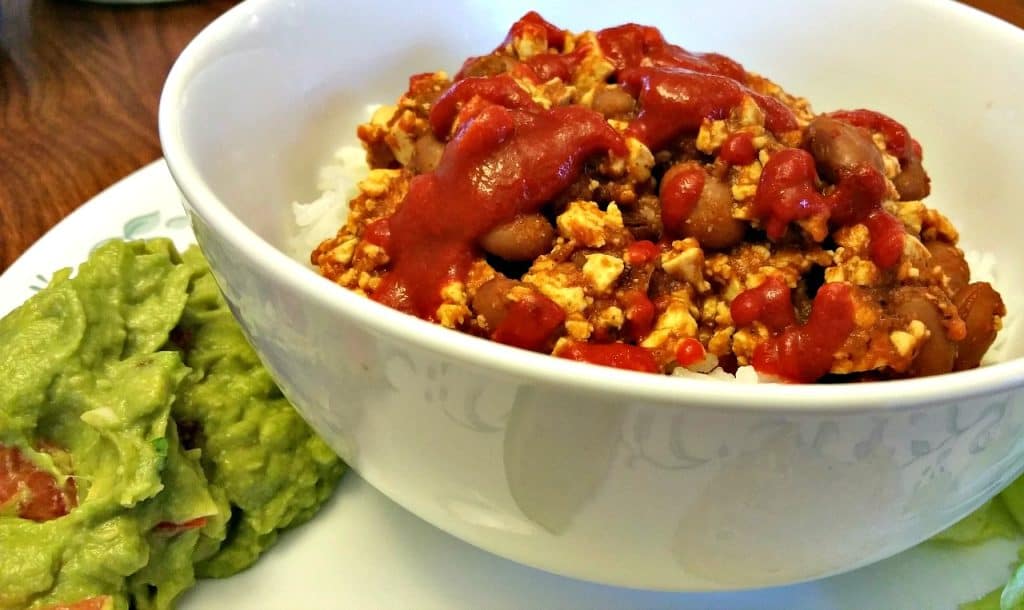 You'll want to start your prep by draining and pressing your Tofu.
Just dump out your block of tofu, wrap it in paper towels, and weigh it down with a plate or two.  I usually set another pan on top of the plate for added weight.
While that's draining, let's roast some peppers.
The Peppers
Poblano Peppers are Mexican Peppers and should be available in the produce section of your grocery store.  Look in the Hispanic section next to the Jalapeños, Tomatillos, and Habaneros.
There are 2 ways to roast them - if you are fortunate enough to have a gas stove, simply hold your Poblano Pepper over the flame until it starts to blister.  You just want to burn that outer skin.  Use thongs - not your fingers here....ok?
For those of us who don't have a gas stove, we'll have to use the broiler instead.  Just set your top rack as high as it will go and turn on your broiler to your oven.  Lay a couple of Poblanos on a baking sheet and flip them every 2-3 minutes until they are nice and charred - about 5-10 minutes.
Now here's the secret to roasting any kind of pepper.  As soon as it's charred, drop those babies into a paper sack or plastic baggy and seal them up for 10-15 minutes.  The steam will help loosen that outer skin and make it easier to peel off.
Once they're all steamed you want to carefully peel the charred, burnt skin off the pepper.  Use a knife to scrape if you have to but it should come off easily.  Now cut off the stem and carefully scoop out the seeds.
Be careful here - seeds are hot.  Not just heat wise - but the oil they contain (Capsaicin) will burn your skin - especially around sensitive areas (nose, eyes, tongue, etc).  Wear gloves or wash your hands thoroughly after handling.  I've rubbed my eye once after cleaning New Mexico Green Chiles  - and trust me it burns.  
The Sauce
Now take that roasted, cleaned, Poblano Pepper and drop it right into your blender.
Add in 3 Chipotle Peppers, the garlic, salt, oregano, cumin, lime juice, cilantro, and tomatoes and blend until smooth.
I'll tell you - both me and my daughter were eating this sauce by the spoonful it was so good.
The Rice
The rice for this is super easy to make.  Simply steam up 2 cups of your favorite rice (I use my rice cooker) and when it's done stir in 2 Tablespoons of Lime Juice and a small handful of chopped cilantro.
Bam.  Done.
The Sofritas
Now let's make the sofritas.
Chop up your tofu into cubes and stir fry it in a tablespoon or two of veggie broth.  Keep adding more broth as necessary so it doesn't stick, and stir fry the tofu until it starts to brown a little.  Use your wooden spoon or spatula to chop the cubes up even smaller - like your making a tofu scramble.
Once you see some browning, add in your sauce and a can of drained and rinsed Pinto Beans.  Give everything a good stir to combine and let that cook down for 15-20 minutes to reduce the liquid.
People WILL come out of the woodwork to see what that heavenly smell is coming from the kitchen.
To assemble - either layer some Sofritas over a bowl of rice or wrap them both up in a tortilla - your choice.  We went for the Bowl Method - with a side of shredded lettuce and fresh guacamole - and I topped it with some of my homemade New Mexico Red Chile Sauce.
Let me tell you - it was heavenly.
In fact - I was HOPING to have some leftovers for lunch yesterday but my daughter beat me to it.
Sigh - such is life for a Vegan cook....
As always - I love the comments so be sure and tell me what you think.

Print
Easy Chipotle Sofritas Bowl
Author:

Prep Time:

20 minutes

Cook Time:

20 minutes

Total Time:

40 minutes

Yield:

4

bowls

1

x

Category:

Main

Cuisine:

Mexican
---
Description
An easy to make copycat recipe for those yummy Chipotle Sofritas. Easy to find ingredients and just a little prep work makes this a surefire hit at the dinner table.
---
For the Sofritas Bowl
2 cups

Brown Rice

2

Tbs Lime Juice
Fresh Cilantro

16 oz

Firm Tofu

1

can Pinto Beans, drained ((

15oz

))
New Mexico Red Chile Sauce ((optional))
For the Sauce
1

Poblano Pepper (roasted)

3

Chipotle Peppers ((with Adobo Sauce))

3

cloves Garlic

1

can Fire Roasted Tomatoes ((

15oz

))

1 tsp

Oregano

½ tsp

Salt

½ tsp

Cumin

½ tsp

Sugar
---
Instructions
Prep
Drain and press tofu while preparing the pepper and sauce
Roast the Poblano either over a gas burner or under a broiler until charred
Steam at least 10 minutes in a bag and then remove skin, stem and seeds.
Sauce
Add roasted Poblano, Chipotles, Tomatoes, garlic, salt, cumin, oregano, lime juice, and sugar to blender.
Blend until smooth,
Rice
Steam rice in time cooker (or other preferred method) until done
Add in lime juice and cilantro and fluff with fork
Tofu
Cut tofu into cubes and stir fry in a little veggie broth until browned
Continue to add broth as necessary to prevent sticking, while chopping up cubes with spatula to make a scrambled consistency
Once browned, add sauce and pinto beans and stir to combine
Cook down until liquid begins to evaporate and thicken (about 20 minutes)
Serve in bowls over rice
---
Notes
Good with Red Chile Sauce poured on top!
Also good with shredded lettuce, freshly chopped tomato, and guacamole
SaveSave