I got to tell you, these Vegan Italian Sausages I made last week are really amazing.
You can add them to just about any dish – like this quick and easy Italian Sausage with Peppers and Tomatoes.  
Something about spicy Italian Sausage mixed with fresh garlic, roasted red peppers, mushrooms, and fresh tomatoes all laying on a bed of freshly cooked Rotini makes me hungry just thinking about it.
I laugh at people who think that as Vegans, we starve ourselves on Tofu and Sprouts.
Well I know one thing, this is ONE Vegan who loves good food, and if you sprinkle some Vegan Parmesan on a plate of this …Mama mia this is good eats!
Eat your heart out carnivores.
It was a hit on my dinner table, I hope your family likes it too.
Italian Sausage with Peppers and Tomatoes
If you haven't already made a batch, you'll need some Vegan Italian Sausages.  Click on the link to see my recipe.
You'll need about 2 sausages for this dish.  They're not hard to make, and will take you about an hour (45 minutes of  which is steaming).
Now go ahead and boil up about 3 cups of your favorite pasta.  I used Barilla's Veggie Rotini but any flavor will do.
Keep in mind the Whole Wheat varieties are better for you than traditional white pasta.  If you are Gluten Intolerant, you could also try a Gluten Free Pasta and I'm sure it would also work fine.
Prepare according to directions and then drain and set aside.
I used my same pasta pot and added 4-5 cloves of minced garlic, a red bell pepper sliced into strips, and about 8oz of white button mushroom.  For the saute liquid I added a splash of Low Sodium Veggie Broth and also a splash of Red Wine.  Just enough liquid to keep the veggies from sticking.
Once the veggies are nice and soft, add in a can of No Salt Diced Tomatoes (or chop up your own right out of the garden – about 2 cups) and an 8oz can of Tomato Sauce.
You can spice it up however you like, but I used Basil. Italian Seasoning, Garlic Powder, a splash of Balsamic Vinegar, and a tiny pinch of sugar to help counter the acidity.  Salt and Pepper to taste.
Once the sauce is ready, slice up 2 of the Italian Sausages into 1/4″ rounds and toss them with the sauce until they are heated through.
Then simply toss in your drained pasta and serve.
As always, I love to get feedback (especially pictures of your dinner plates) so if you like this dish – leave those comments below.
Until next time!
Enjoy!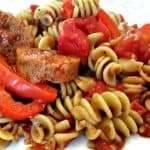 Italian Sausage with Peppers and Tomatoes
Homemade Vegan Italian Sausage, fresh garlic, roasted red bell pepper, white button mushrooms, and vine-ripened tomatoes all on a bed of freshly cooked Rotini. Mama Mia!
Ingredients
2

Vegan Italian Sausages

(see recipe below)

3

cups

Pasta

4

cloves

Garlic

1

Red Bell Pepper

8

oz

White Button Mushrooms

1

slash

Veggie Broth, Wine, or Water

(to saute)

1

can

Diced Tomatoes

(15oz)

1

can

Tomato Sauce

(8oz)

1/2

tsp

Basil

1/2

tsp

Italian Seasoning

1/2

tsp

Garlic Powder

1/2

tsp

Balsamic Vinegar

1/2

tsp

Sugar

Salt and Pepper to taste
Instructions
Prepare Sausages

Prepare Pasta according to package instructions, drain and set aside

Add garlic, peppers, and mushrooms to pan and saute with veggie broth & red wine

Cook briefly until veggies are soft and mushrooms have lost their liquid

Add in tomatoes, tomato sauce, and spices.

Stir to combine and then stir in sliced sausage.

Cook until sausages are heated through and then add drained pasta

Stir to coat evenly and serve
Recipe Notes
Cook time does not count preparing sausages.