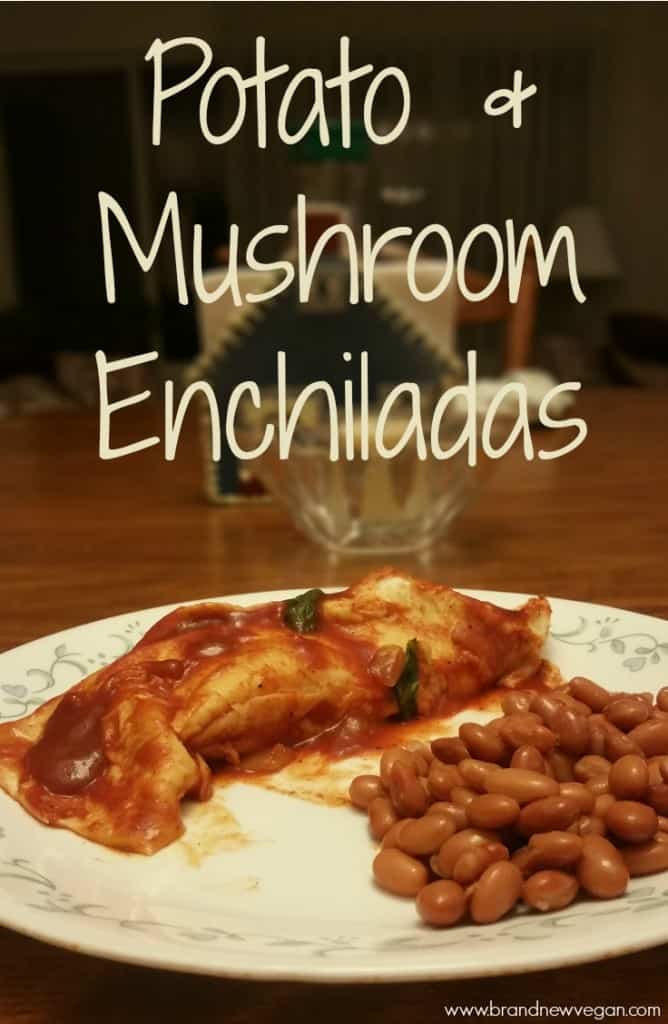 Potato Enchiladas?  Really?
Being a former New Mexican, I never would have thought of using potatoes for Enchilada Filling, but I was so wrong!
With the addition of mushrooms, and a little dab of Tofu Sour Cream on top these potato enchiladas are the BOMB!
Oh my gosh –  and the sauce……  Who knew homemade enchilada sauce could be so easy and tasty.
When my daughter and wife go back for seconds, you know it's good.
Many thanks to the folks at Forks Over Knives and The Starch Solution for this amazing recipe.
Homemade Enchilada Sauce
Start by making this amazingly easy Enchilada Sauce.
One taste of this and you'll wonder why you ever bought that canned stuff in the stores.
So fresh soooooo good!
8oz can of Tomato Sauce
1.5 Tablespoons of Chili Powder
1/4 teaspoon Ground Cumin
1/4 teaspoon Onion Powder
1/4 teaspoon Garlic Powder
1/8 teaspoon Ground Pepper
2 Tablespoons Cornstarch
Whisk this all together in a small saucepan and slowly add 1 1/2 cups of cold water.
Cook over medium heat, stirring continuously, until it thickens.
Tofu Sour Cream
This sour cream is 100% Dairy-Free.
If you've never experimented with Tofu – don't be afraid to give this a try.
You'll be amazed how close this comes to the real thing.
1 package Extra Firm Tofu
2-3 Tbls Lemon Juice
1-2 Tbls Red Wine Vinegar
1 clove garlic
1/4 tsp salt
2-3 Tbls of water for consistency
Add all the ingredients to a blender,
Start with 1 Tablespoon of each liquid and add more, one by one, until you get the taste and consistency you like.
Potato and Mushroom Enchiladas
These Potato and Mushroom Enchiladas are amazing. Being a former New Mexican, I never would have thought of using potatoes for filling, but I was so wrong!
Ingredients
4

large

Yukon Gold Potatoes

1

Yellow Onion

(diced)

2

cloves

Garlic

(minced)

8

oz

Mushrooms

3/4

cup

Low Sodium Vegetable Broth

1

tsp

Pickled Jalapenos

(minced)

1

tsp

Chili Powder

Pepper to taste

1

handful

Fresh Spinach

(sliced into strips)

2 1/2

cups

Enchilada Sauce

8

Tortillas
Instructions
Preheat oven to 350 degrees

Boil potatoes in enough water to cover for 5 minutes, drain.

Saute onion and garlic in 1/4 cup broth until softened

Add another 1/4 cup broth and mushrooms, cook till softened

Add last 1/4 cup of broth, spices, and potatoes

Stir until heated through and bubbly

Stir in spinach and remove from heat

Lay potato mixture down center of each tortilla and roll

Lay each enchilada, seam side down, in a 13" x 9" Baking Dish

Cover with remaining sauce

Cover dish with foil and bake for 30 min
Recipe Notes
Top with salsa, fresh tomatoes, shredded lettuce, or Tofu Sour Cream