Cooking green beans in the south is a VERY personalized country tradition, so mom.....please don't shoot me for making these VEGAN Green Beans. I still did it the old-fashioned way, I promise.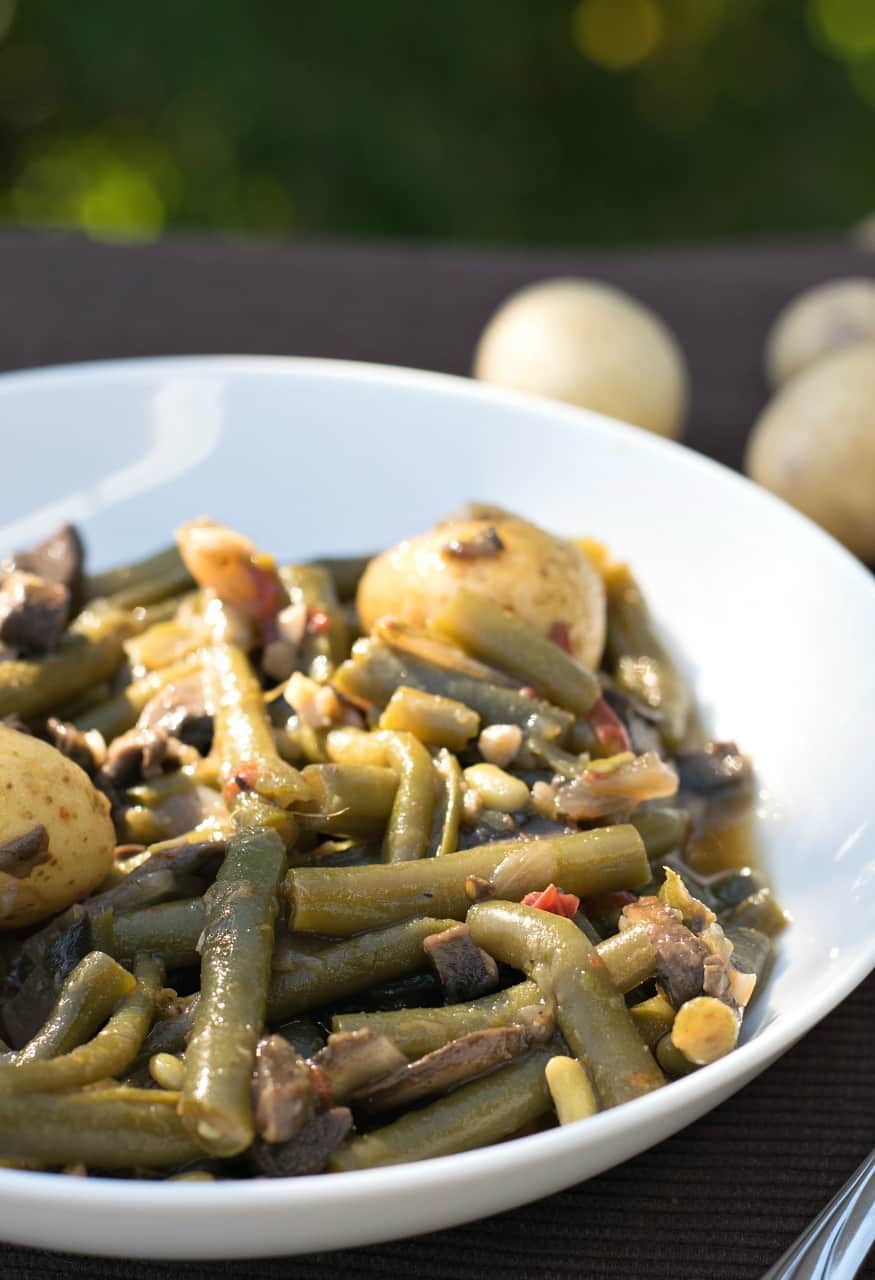 You see, in the country, EVERYBODY snapped green beans.
No, you didn't just cut off the ends....where the heck are YOU from? You had to SNAP them off. It was just how things were done! Probably to make sure you got that tough, stringy part off....
And then into the kettle they went, along with a ham hock or a big mess of bacon to simmer all day on the stove until they were "melt in your mouth perfect". And trust me, they WERE good.
I was remembering missing them the other day thinking....."I haven't had some GOOD green beans in a LONG time... "
So with my Mushroom Bacon from my popular Vegan Gyros Recipe....I set off to remedy that. Would these VEGAN Green Beans actually taste just as good without any of the traditional animal parts used for flavoring?
Only one way to find out...
Southern Style Vegan Green Beans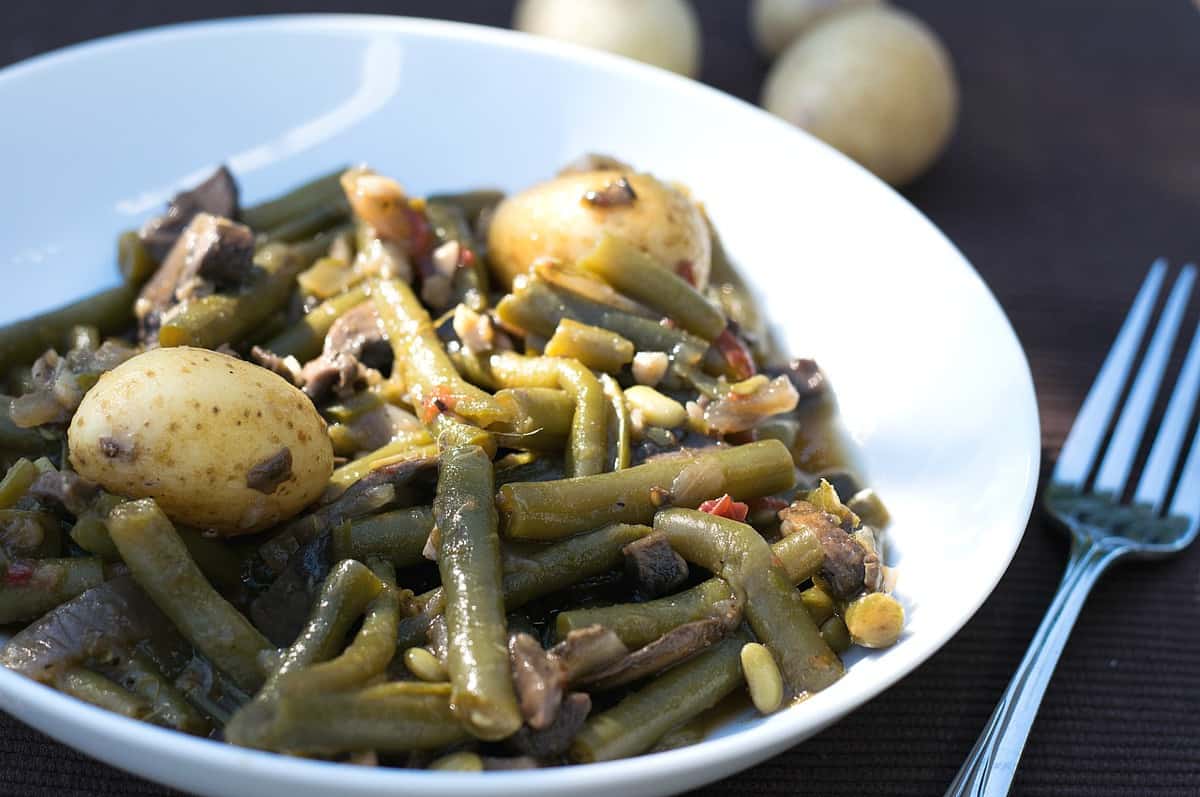 First, the 'bacon'
Slice up about 8-12 oz of medium-sized Baby Bella Mushrooms. I had about 6 of them in my package. Wash off any dirt and then slice them up into bacon sized pieces.
Toss the mushrooms into a pan and start heating them up on medium heat.
In a small bowl or measuring cup...add the soy sauce, maple syrup, water, and spices and whisk everything up until it's nice and smooth, then pour over the mushrooms.
Cook, until the mushrooms have reduced in size and some of the liquid, has cooked off. As I said in my Vegan Gyros Recipe, you can drain off any remaining marinade (save it) and then crisp this 'bacon' up a little more by placing it under a broiler for a minute or so. My toaster oven makes this easy.
Now on to the beans
Rinse the beans really well and if you haven't already ....start snapping the ends off. Be sure and remove any strings. Set the beans aside when you're finished.
OR....for convenience sake you can use those little 10oz bags of frozen Green Beans from the store. I'd use 2 of them.
Dice a large onion and sauté in a large soup pan until softened. Add a tablespoon of veg broth or water if needed to keep things from sticking.
Add the fresh beans (hold up if using frozen) and a 24oz bag (1 ½ lbs) of baby yellow potatoes (those little new potatoes - about the size of a walnut or smaller), the veg broth, and water.
Finally, stir in the seasonings and add the lid.
Bring the beans to a boil and then reduce the heat to a simmer. Let that go for the next hour (again if using fresh beans).
If using frozen beans, they only require a few minutes to heat up since they're already cooked. Toss those in during the last 10 minutes or so.
After the hour is up, remove the lid and toss in the mushroom bacon and any leftover marinade.
Stir and serve, and might I suggest a nice hot Cornbread Muffin to go along with?
I think mom would approve.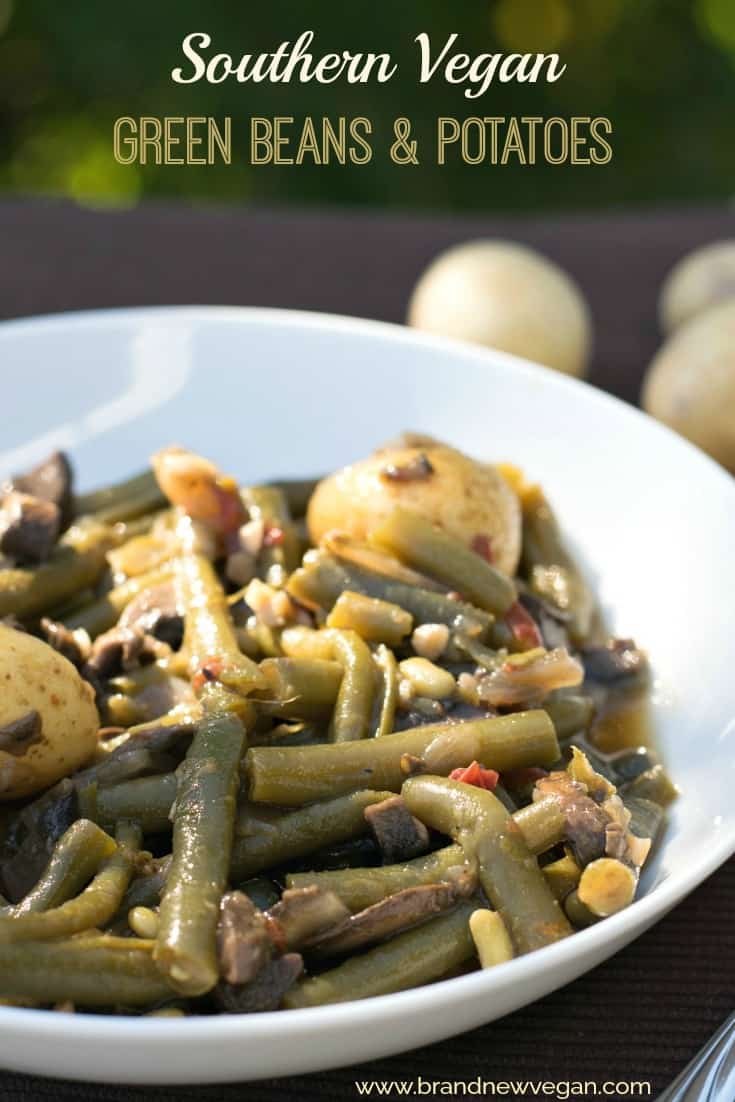 Southern Style Vegan Green Beans
Author:

Prep Time:

30 minutes

Cook Time:

1 hour

Total Time:

1 hour 30 minutes

Yield:

8

1

x
---
Description
These Southern Style Vegan Green Beans still have that country flavor with the addition of Mushroom Bacon...slow simmered all day long....mmm good eating' !
---
Mushroom Bacon
8

-

12

oz Baby Bella Mushrooms ((sliced))

¼ cup

Soy Sauce ((low sodium))

2

Tbs Maple Syrup

2

Tbs Water

1 tsp

Oregano

½ tsp

Garlic Powder

½ tsp

Onion Powder

½ tsp

Cumin

½ tsp

Liquid Smoke

¼ tsp

Black Pepper
Green Beans
1

lg Onion ((diced))

2

Tbs Veg Broth or Water ((for sautéing))

2

lbs Fresh Green Beans OR...... ((ends snapped off) )

2

bags Frozen Green Beans ((10.80z))

24 oz

Baby Yellow Potatoes (

1

bag or about

1 ½

lbs))

2 Cups

Veg Broth ((low sodium))

2 Cups

Water
Leftover Bacon Marinade

½ tsp

Garlic Powder

½ tsp

Onion Powder

½ tsp

Black Pepper

¼ tsp

Salt

1

batch Mushroom Bacon
---
Instructions
Mushroom Bacon
Clean and slice mushrooms, and add to a large skillet.
Whisk remaining marinade ingredients and pour over mushrooms.
Cook until mushrooms have reduced in size. Drain and save the marinade.
(for added crispness, place the mushrooms under a broiler for a minute or so)
Green Beans
Rinse the green beans, and snap off both ends, removing any strings.
In a large soup pan, dice and saute a large onion until softened.
Add the beans, potatoes, veg broth, water, and any leftover marinade from the bacon.
Add remaining seasonings, stir and cover.
Bring beans to a boil, then reduce heat to a simmer. Cook for 1 hour then remove lid.
Add bacon and stir.
---
Notes
Original Recipe Date: September 12, 2017