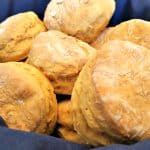 With no butter, eggs, milk, or oil these may quite possibly be the HEALTHIEST Vegan Buttermilk Biscuits around.
Preheat oven to 450 degrees

Whisk almond milk and vinegar together and set aside

Mix all dry ingredients in a large bowl

Add cheese sauce and stir in with a fork until it resembles large crumbs

Slowly pour in buttermilk mixture and stir with a wooden spoon until just slightly combined

Spoon out onto a floured work surface and gently knead 2-3 times

Roll out dough to 1" thickness and cut circles with cup, glass, jar, or biscuit cutter.

Place biscuits on parchment lined cookie sheet so they touch each other

Bake for 15 minutes or until golden brown.