I have been wanting to make some homemade Seitan for quite some time now.
I like it's chewy texture in my stews and chili.  In fact, the texture is so similar I sometimes completely forget I'm not eating meat.
Yes, I've tried Tempeh, and I've tried Soy Curls,  but for me personally – I like Seitan the best.  And I especially like the fact that if you make it yourself – you can spice it up anyway you want it.
So naturally, my first attempt was to make some spicy Vegan Italian Sausage to go in my Marinara Sauce, and it was a lot easier than I thought.
Why a meat substitute?  
I get asked so many times why us vegans try so hard to replicate the meat we gave up.
"If you want to eat meat, just eat it!"
What they don't understand is that I can personally do without meat with no problems.
But sometimes –  like in this Marinara Sauce –  having that Italian Sausage flavor just adds to the recipe.  So now I can have both the texture, and the flavor, without any of the fat, cholesterol, or chemicals of store-bought sausage.
And as for the flavor – I made some spaghetti last night using my Absolutely Divine Fat-Free Marinara Sauce with a box of white button mushrooms, and a few sliced sausages added into the sauce – and my non-vegan wife and daughter absolutely loved it.
Vegan Italian Sausage
For this recipe you will need some Vital Wheat Gluten.
I had to go to Whole Foods to find it, but it is also available online though Amazon and I'll include a link if you're interested.
Of course I have to tell you this is an Affiliate Link, meaning if you click on the link and buy it,  I will receive some compensation – but hey, it's how I keep the site going.  
Gluten Intolerant?  You can still make the Marinara Sauce – just leave out the sausage.
Is this Satanic Sausage?
Pronounced Say-Tan,  Seitan is basically a dough made with Vital Wheat Gluten and spices that is boiled, steamed, or baked.    They remove all the starch from the wheat flour leaving only the pure gluten protein.  Think of pizza dough – gluten is what makes it stretchy.
For this Vegan Italian Sausage recipe, you simply mix the dry ingredients in one bowl, and the wet in another.  Once you mix the two together it forms a dough, much like making bread or pizza dough.  You then separate the dough into 4 equal pieces, roll them in aluminum foil, and steam them for 45 minutes.
Weird huh?  How can dough look and taste like sausage?
Take a look…. Pretty convincing aren't they?
And they taste amazing!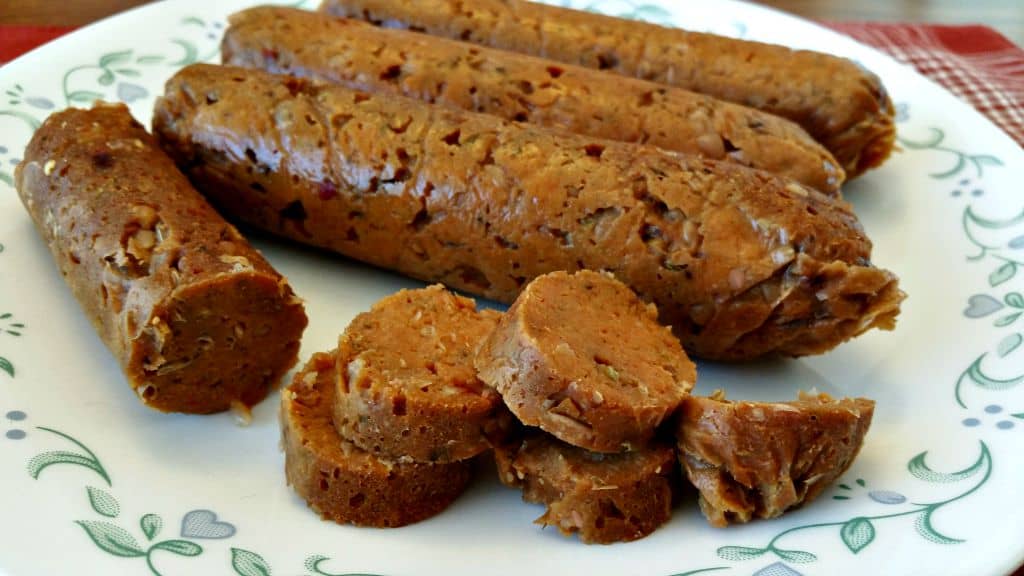 Let's get on with the recipe.
Take 1/2 cup of White Beans, any flavor will do, and rinse them completely.  Once drained – mash them up with a fork until there's no sign of any beans left.
Mix in 1 cup of low sodium vegetable broth, 1 tablespoon of tomato paste, and 2 tablespoons of low sodium soy sauce.  Whisk the wet ingredients until they are well mixed and set aside.
In a separate bowl, add 1 and 1/4 cups of Vital Wheat Gluten, 1/4 cup nutritional yeast, and all the spices listed in the recipe.  Don't skip out on the Fennel Seeds – as they are a major player in the taste profile of this sausage.  But DO grind them up first.  I have an old coffee grinder I use – you want about 1 1/2 tsp of ground Fennel Seed powder.
Mix the wet ingredients into the dry,  and with a fork stir the dough around until all the flour has been absorbed and you're left with a wet, sticky dough.
Don't over mix – but just long enough until all the flour is gone.
At this point, pop the dough out onto a work surface and give it a good knead for a minute or two.  Then either using your Bench Scraper, or your hands, separate the dough into 4 equal pieces.
Stretch each piece of dough into a log shape and roll tightly in a piece of aluminum foil.  Be sure and twist the ends so that each piece looks like a big, silver tootsie roll.
You'll need a steamer, or a steamer basket to steam these sausages.  My rice cooker has a steamer basket so I just added about 2 cups of water to mine and set it to Cook.  Once I could hear the water boiling inside, I added the sausages to the basket and replaced the lid.
Steam the sausages for 45 minutes.  Once they are done, remove from the basket and let cool.
At this point I popped mine into the fridge while I made the sauce.
So there you go.
Vegan Italian Sausage.  Quick, easy, fat-free, and omni approved.
Hope you enjoy.

Vegan Italian Sausage
Ingredients
1/2

cup

White Beans

1

cup

Low Sodium Vegetable Broth

1

Tbs

Tomato Paste

2

Tbls

Low Sodium Soy Sauce or Tamari

(or Tamari)

1 1/4

cups

Vital Wheat Gluten

1/4

cup

Nutritional Yeast

1 1/2

tsp

Fennel Seed

1

tsp

Onion Powder

1

tsp

Garlic Powder

1/2

tsp

Salt

1/2

tsp

Paprika

1

tsp

Oregano

1/2

tsp

Thyme

1/4

tsp

Red Chili Flakes

1/4

tsp

Black Pepper

1/4

tsp

Chipotle Chili Powder

Dash of cayenne
Instructions
Start water boiling for steamer.

Rinse and drain the beans, mashing them completely with a fork

Add remaining liquid ingredients and whisk until combined

In a separate bowl, mix the wheat gluten, nutritional yeast, and all spices until well combined.

Slowly add wet ingredients to dry and stir until a wet dough forms

Knead dough for 1 minute and separate into 4 equal pieces

Roll and stretch dough into 4 log shapes

Tightly roll each piece of dough into aluminum foil and twist ends to seal

Steam for 45 minutes and then remove from heat immediately

Let cool and refrigerate until needed.