My wife asked for Spring Rolls the other day so I threw together a completely NO-COOK recipe that's just as tasty as it is healthy.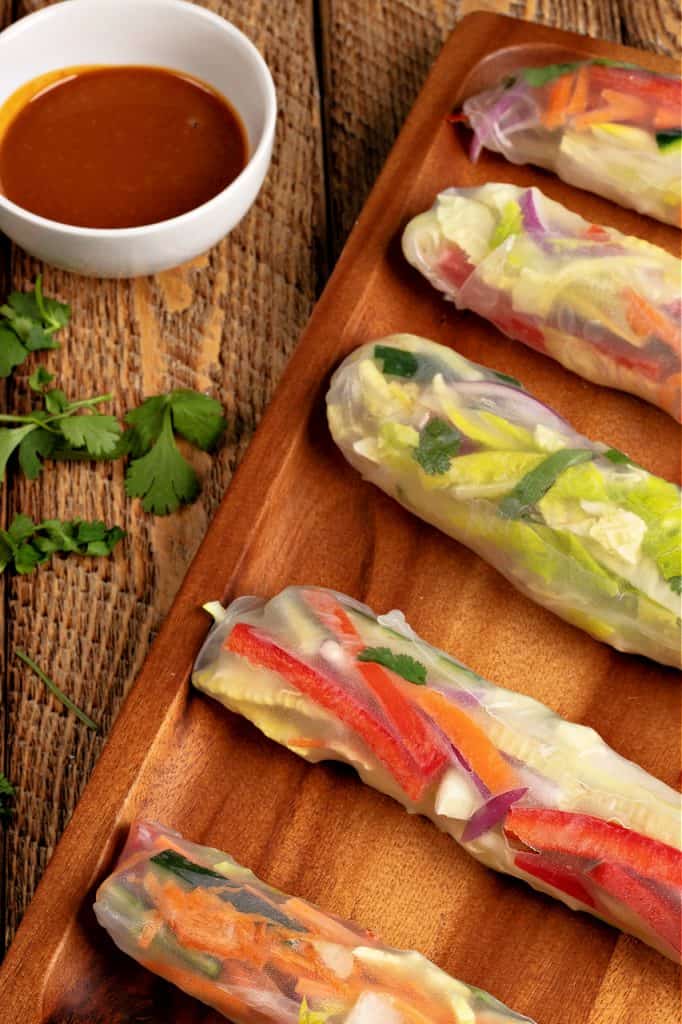 I guess the true definition of these little tubes of salad is SUMMER Rolls, as Spring Rolls are sometimes made from a wheat wrapper and fried.
Either way - they are good, full of veggies, and you don't need to cook a thing.
All you need is some Rice Paper Wrappers which are nothing more than rice flour and water. They look and feel like a round piece of plastic, but when submerged in water for a few seconds, they get really soft and pliable perfect for rolling up some salad fixings.
The hardest part of this recipe is chopping all the veggies. Seriously. And don't worry too much about the amounts because if you chop too much - then you already have your salad ready for tomorrow.
Enjoy the spring rolls, and this is the very FIRST recipe to come out on my brand new website layout. I hope you like it.
Easy Vegan Spring Rolls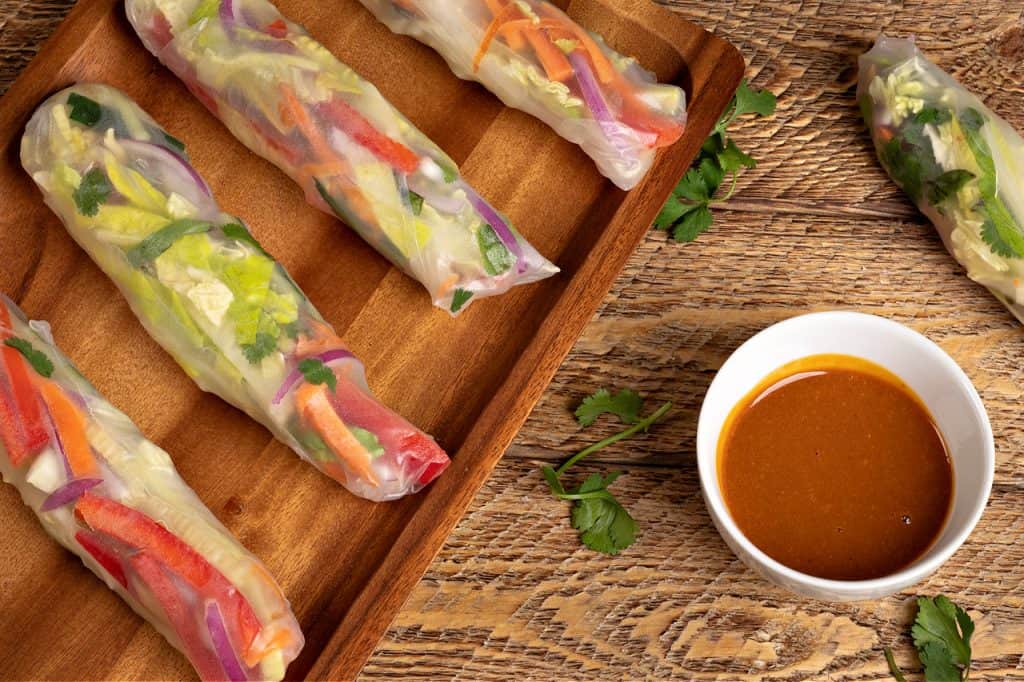 Not a whole lot to discuss as far as step-by-step instructions.
Chop your veggies as finely as you can, preferably into little matchsticks. That will make rolling the spring rolls easier. And have ALL your veggie prep done BEFORE you start wrapping.
Also, make sure you have a damp towel spread out for a work surface. This will keep the wrappers from sticking.
I found a large Tupperware container that was big enough to submerge a wrapper. Don't let go as it's REALLY hard to grab again (slippery little devils). It should only take 10 seconds or so to become pliable, then lay it on your towel and get rolling.
I placed my veggies in the lower third of the wrapper and left a good 1-inch gap from the edges so they would seal.
Another trick - once you've made a spring roll, place them on something so they can't touch each other because once that rice paper sticks to something - it ain't coming apart!
Soy Sauce vs Liquid Aminos vs Coconut Aminos vs PB2 vs Peanut Butter
As you can see, there are a LOT of options here for this recipe.... powdered PB2 vs real peanut butter, soy sauce vs liquid aminos, etc.
I created this recipe with one goal in mind - to keep the sodium count as low as I could.
Yes, if you want to avoid the extra fat, you can use powdered PB2 peanut butter, but it DOES add sodium. Instead, I found sugar-free, sodium-free, all-natural peanut butter at my local Safeway, where the only ingredient was peanuts.
As far as Soy Sauce - we all know it is high in sodium, and so a lot of people choose to use Braggs Liquid Aminos instead. They see 960mg of sodium in a tablespoon of soy sauce and then see 310mg on the label of Liquid Aminos and think, "Hey, this has LESS sodium!" Let's buy that!"

And while it's true that Braggs does have less sodium, I want you to really look at that label. LOOK AT THE SERVING SIZE! That's 310mg per TEASPOON, so we're not really comparing apples to apples here.
Since there are 3 teaspoons in 1 tablespoon, let's do the math. 310mg/teaspoon x 3 = 930mg/tablespoon.
So yes, it does have less sodium, 930mg vs 960mg, but it's really not that much of a difference. Braggs IS gluten-free whereas regular Soy Sauce is not, so there is that.
I normally use Low-Sodium Soy Sauce myself - which still has 590mg/tablespoon.
But this time I tried Coconut Aminos instead. It is soy-free, gluten-free, does not taste like coconut, and has considerably less sodium than even low sodium soy sauce. It is slightly sweeter than normal soy sauce but only has 270mg sodium/tablespoon.
So the way I designed this recipe is really the lowest sodium option available - while still tasting like the really good peanut sauce we all love. (Apologies to all of you who have peanut allergies - maybe try this instead?)
So lots of options here for you, from the veggies you use to the type of sauce that you prefer. You can make the sauce low-fat, you can make it low-sodium, or you can make it completely different than anything I mentioned.
This really is a "cleaning out the fridge" type of recipe so you can practically use anything in the wraps. I even made a special roll - just for me - when we were all done by stuffing one with kimchi! That was REALLY yum!
Let me know how you do and we'll see you next week.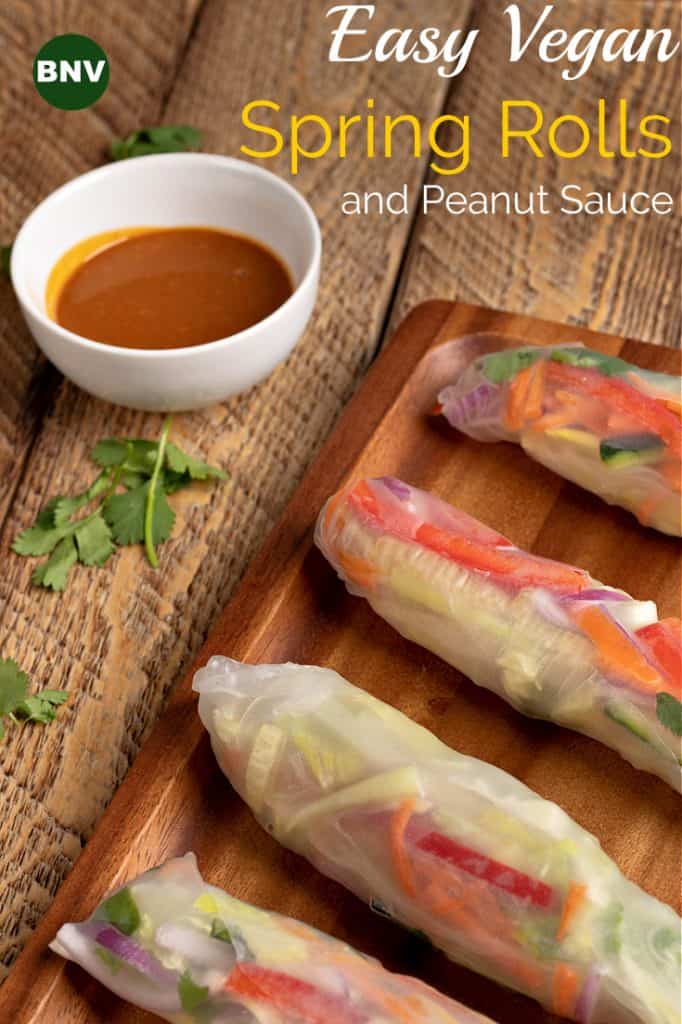 Print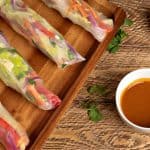 Easy Vegan Spring Rolls
Author:

Prep Time:

45 min

Total Time:

45 minutes

Yield:

8

spring rolls

1

x

Category:

Main, Veggies, Asian

Method:

No cook

Cuisine:

Asian

Diet:

Vegan
---
Description
My wife asked for Spring Rolls the other day so I threw together a completely NO-COOK recipe that's just as tasty as it is healthy. 
---
Spring Rolls
8

rice paper wrappers

1

cup

julienned carrots

1

cup

julienned english cucumber

1

cup

julienned red bell pepper

1

cup

red onion strips

1

cup

romaine lettuce, shredded

1

cup

savoy cabbage, shredded

1

small handful of fresh cilantro

3

-

4

fresh basil leaves
Peanut Sauce
¼

cup

natural peanut butter, sodium-free

3

Tbs coconut aminos (can sub with low sodium soy sauce)

1

Tbs rice vinegar

1

Tbs maple syrup (optional if it's not sweet enough)

2 tsp

sriracha (optional but good)

½ tsp

garlic powder

¼ tsp

ginger
---
Instructions
Whisk all sauce ingredients together in a small bowl, set aside
Finely chop, shred, or julienne all the veggies into small strips
Lay a damp tea towel down on your work surface
Fill a large bowl or pan (bigger than the rice paper wraps) with an inch of water
Submerge a rice wrap in the water for 10 seconds and then place on the tea towel
Place a good amount of veggies onto the lower third of the wrap leaving a 1"- 2" gap on the sides
Carefully roll wrap tucking in the sides as you go
Place on another damp towel or paper towel until all spring rolls are assembled
DO NOT LET THEM TOUCH EACH OTHER - they are REALLY sticky
Serve with the peanut dipping sauce
---
Keywords: vegan spring rolls