After being at the beach for a few days, I came home starving for real food! So I threw together this Garlic Panko Tofu and my wife loved it!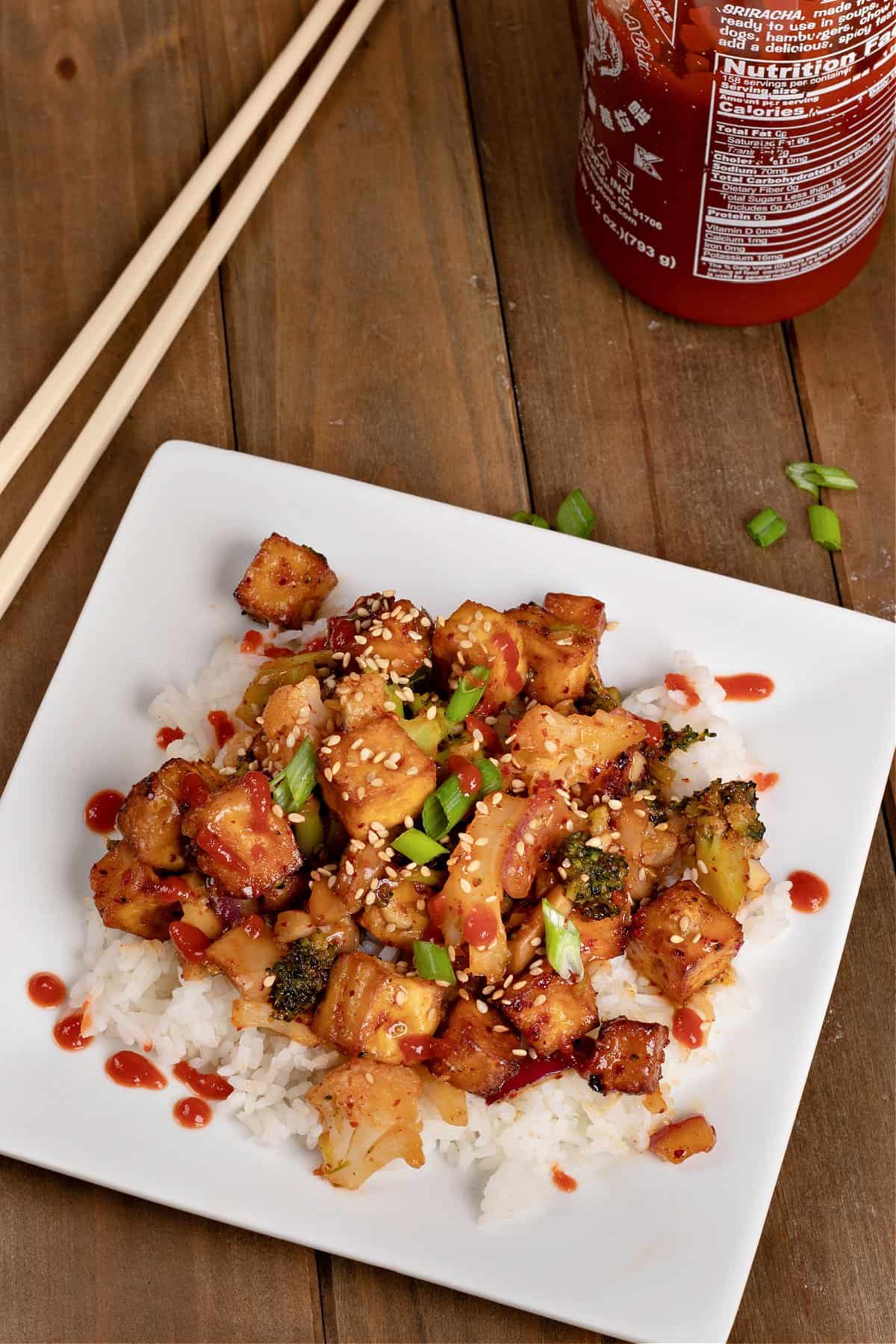 Trust me, I did NOT feel like cooking after 2 days of being a beach bum. But it was either skip a recipe this week or come up with something new, pretty quickly, as my grandson's birthday was the very next day and I KNEW I'd be busy.
So I found some leftover rice in the fridge, made a simple sauce, and began microwaving a bag of frozen veggies. As I was pressing my tofu I thought, "I wonder how crispy I could get this if I used Panko Bread Crumbs and air-fried it" ??
This is the result.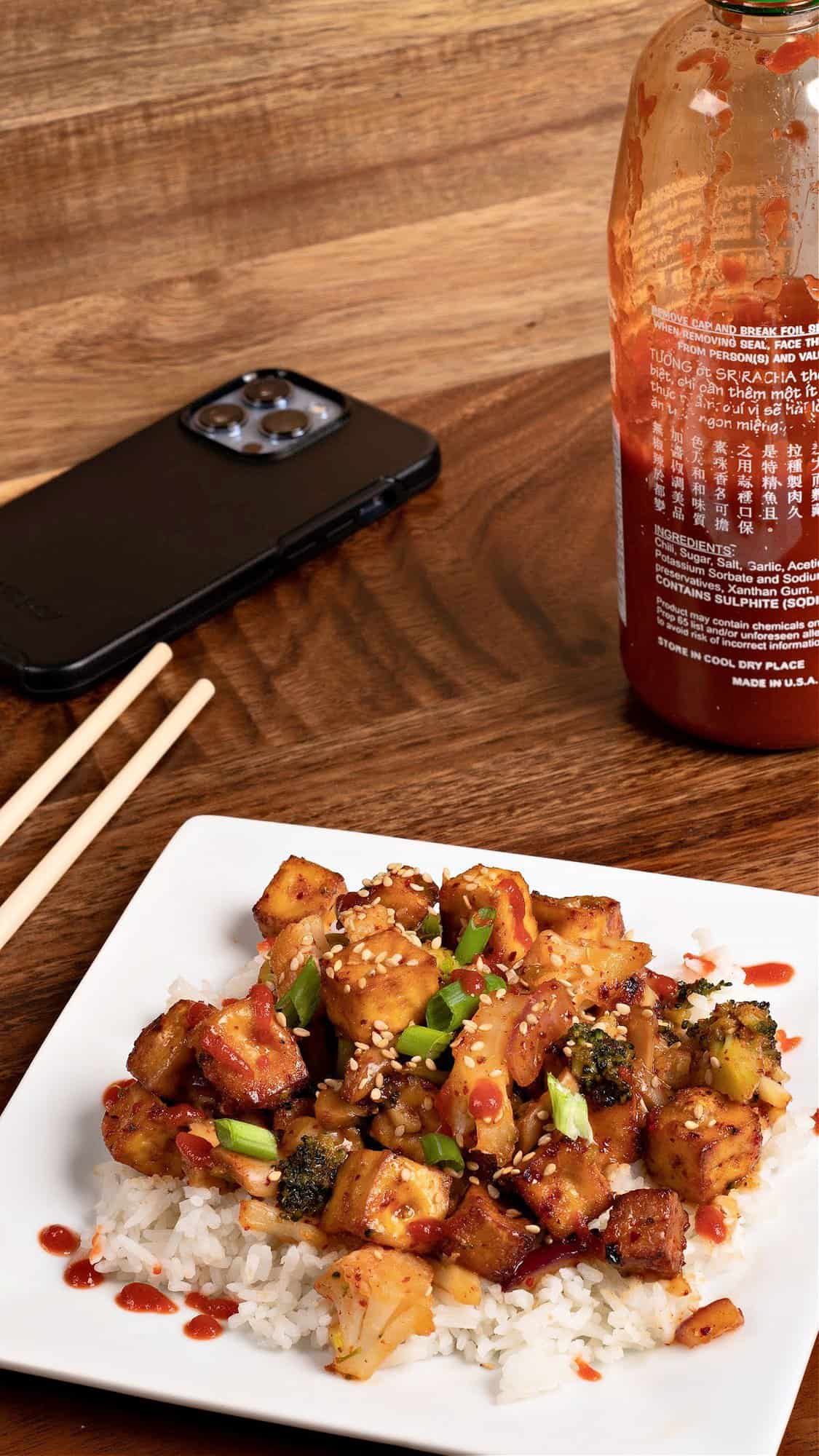 I won't go as far as to say it was "crunchy", because I think that's virtually impossible without frying it in oil. But the texture WAS chewier, and the panko did add a bit of crispiness to the tofu. And it was delicious!
I added the tofu to my pan where I had begun sauteing my veggies with a little onion, mushrooms, and lots of garlic.
And then I added my sauce, which is a combination of my favorite flavors in a stir fry.... soy sauce for saltiness, rice vinegar for a little tanginess, maple syrup for sweetness, a little mirin for some extra sweet & tang, and just a few teaspoons of my new favorite chile, Gochugaru, which is a granulated chile powder made from Korean chiles.
No worries - if my wife likes it - it's not that spicy.
All in all, we were very happy to be eating our own oil-free food again. It was very easy to make, didn't take any time at all, and it was super delicious.
I hope you give it a try!
Garlic Panko Tofu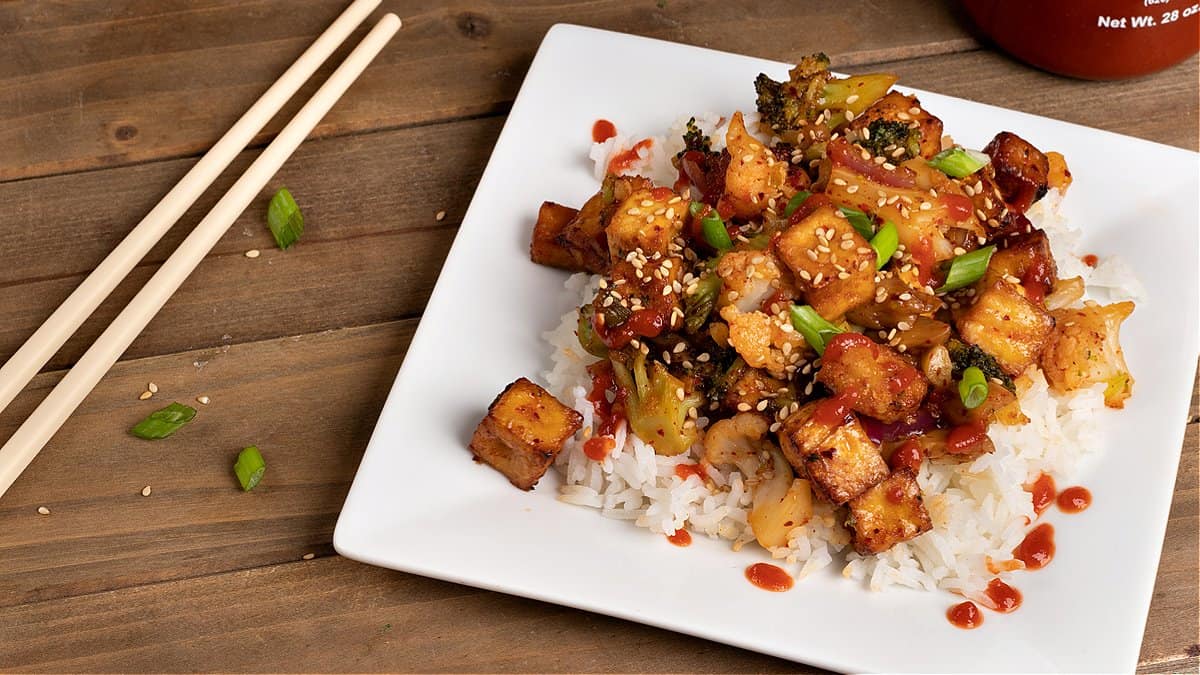 To make this dish, get your rice started - unless you have some leftover rice in the refrigerator as I did. White or brown - whatever you like or have in the pantry.
Or you could also serve this on noodles if that's your thing. Or potatoes! Yum!
Next, drain a 12oz package of extra-firm tofu and cut it into 2 slabs. Wrap them in paper towels and weigh them down with something heavy to remove as much moisture as you can. I use 2 cutting boards and a small kettlebell weight. Press for 30 minutes replacing the wet paper towels occasionally.
Meanwhile, let's make our sauce. Simply add all the sauce ingredients to a small measuring cup and whisk until smooth.
Now is also a good time to microwave one of those 10 oz bags of frozen veggies that steam in the bag. I used broccoli and cauliflower. Don't cook it the entire time it says on the package. Reduce the time by a minute as we will finish cooking it in the pan.
Drain the bag of veggies and chop along with ¼ of red onion, 2 scallions, and 6 or 7 little cloves of garlic (or 3 or 4 BIG cloves).
A huge pet peeve of mine is breaking open a head of garlic and finding tons of tiny little cloves. I like the kind where the entire head is just one clove lol.
With the veggies chopped, I also opened a 6 oz can of sliced mushrooms which I rinsed and drained. I know - canned mushrooms? Hey, I was out of fresh and yes you mushroom haters can just leave them out.
Back to our tofu.
Cut your slabs of tofu into ½" to ¾" cubes. I like to add them to a gallon-sized ziplock baggie as it makes mixing the spices a lot easier. Add 2 teaspoon of low-sodium soy sauce and seal. Gently flip the bag end-over-end until the tofu is evenly coated.
Next, whisk all the spices together (including the panko) and add them to the bag. Again, flip the bag end-over-end until the tofu is evenly coated.
Now you can either air-fry at 400° F for 10 minutes or you can probably bake it if you don't own an air-fryer using the convection setting if you can. Be sure to shake or flip occasionally.
Finally, our stir fry.
In a large skillet saute the onions, scallions, and garlic. Toss in the mushroom if you want and the chopped bag of veggies you already cooked. Stir that altogether over medium heat and add your sauce. It will begin to thicken immediately.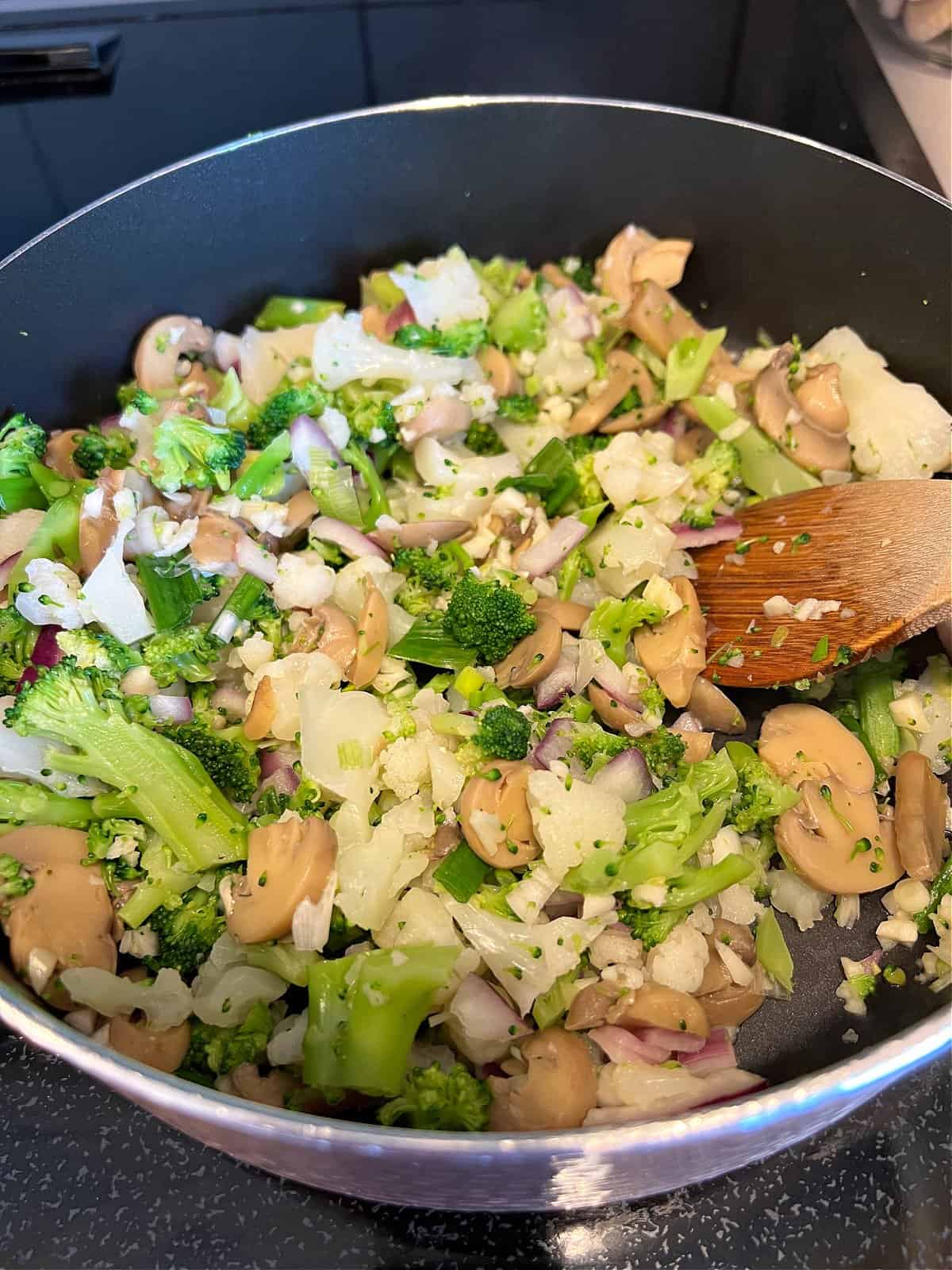 Add your freshly air-fried tofu and stir to make sure everything is evenly coated with that delicious sauce.
Once coated, remove it from the heat and serve over rice. I topped mine with toasted sesame seeds, green onion tops, and a little dash of sriracha.
Deeeeeelicious.
Hope all you mom's out there have the HAPPIEST of MOTHER'S DAYs and I will see you next week.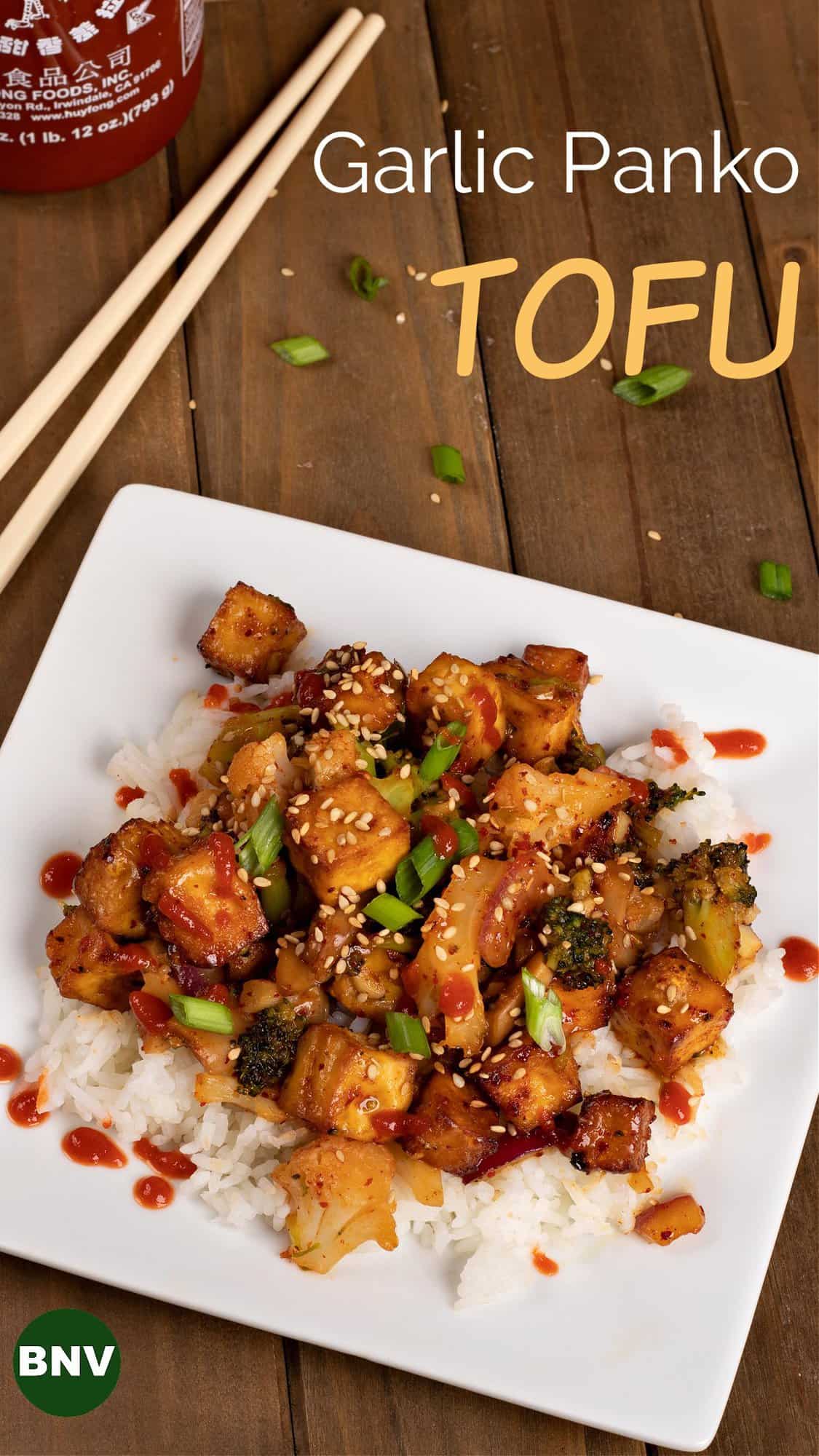 Print
Garlic Panko Tofu
Author:

Prep Time:

30 min

Cook Time:

15 min

Total Time:

45 minutes

Yield:

2

-

4

servings

1

x

Category:

Stir Fry, Main

Method:

Air Fryer, Stovetop

Cuisine:

Asian

Diet:

Vegan
---
Description
After being at the beach for a few days, I came home starving for real food! So I threw together this Garlic Panko Tofu and my wife loved it! 
---
Tofu
12 oz

package of extra-firm tofu

2 tsp

low sodium soy sauce

2

Tbs Panko bread crumbs

1 tsp

garlic powder

½ tsp

onion powder

¼ tsp

salt
Sauce
4

Tbs maple syrup

3

Tbs low sodium soy sauce

2

Tbs rice vinegar

4 tsp

mirin

2 tsp

gochugaru

1

Tbs corn starch
Veggies
10 oz

package of frozen veggies

¼

red onion, diced

2

scallions, chopped

6

cloves garlic, minced

6 oz

can sliced mushrooms, drained
Garnish
Serve over starch of your choice, rice, pasta, potatoes, etc
Toasted sesame seeds
Scallion tops, chopped
Sriracha
---
Instructions
Prepare rice or pasta
Press tofu for 30 minutes
Whisk together sauce ingredients
Microwave frozen veggies and chop
Chop remaining veggies
Cut tofu into cubes.  Add to ziplock along with 2 teaspoon soy sauce and gently toss to coat
Whisk remaining tofu spices including the panko and add to bag.  Again - gently toss to coat.
Air fry tofu for 10 minutes at 400° F.
Saute onions, scallions, and garlic until softened and aromatic
Add mushrooms and cooked frozen veggies and stir
Add sauce
Add air-fried tofu and stir to ensure everything is evenly coated
Serve over rice or noodles
---
Keywords: garlic panko tofu, air fried