I marinated some mushrooms to make this Vegan Bulgogi Sandwich and wow - it was beyond amazing. The combination of sweet, savory, and spicy makes my mouth water just thinking about it. Possibly my new favorite sandwich!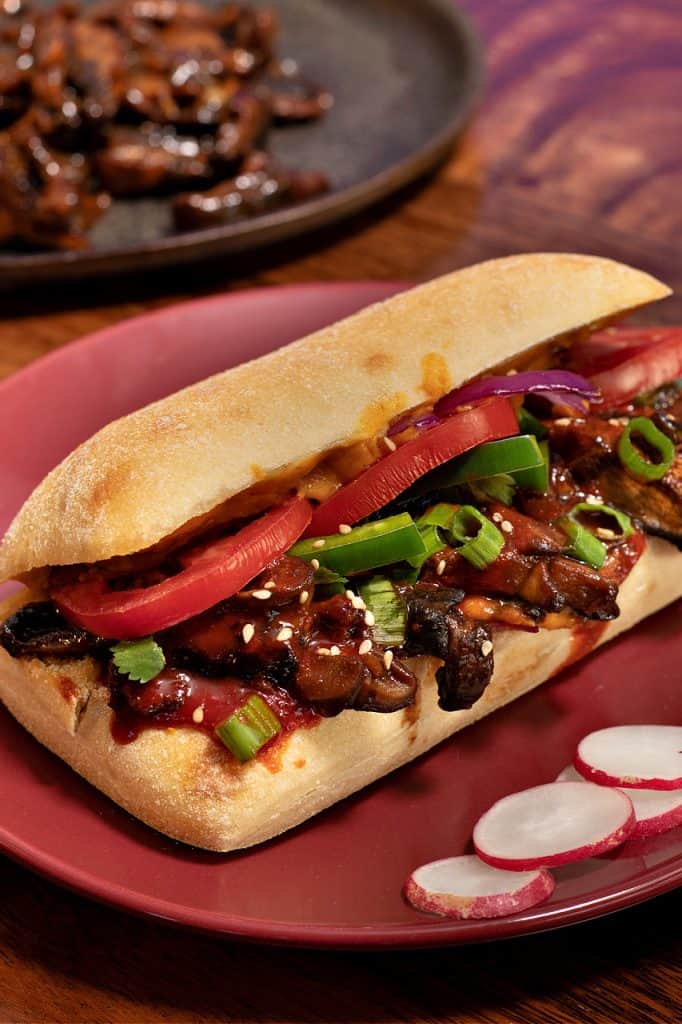 For those of you who don't know, "Bulgogi", is a popular menu item at any Korean BBQ. It literally translates to "fire meat", so think of it as Korean BBQ Beef where thin strips of rib-eye are marinated in a sweet & spicy sauce and then grilled to savory perfection.
Being Vegan, I chose to use a combination of Portobello and Shiitake Mushrooms and I must say, it turned out WAY better than expected.
The marinade will vary, depending on the chef, but usually includes soy sauce for the savory component, some kind of sweetener (brown sugar, maple syrup, brown rice syrup, mirin, or Korean pear), Gochujang (Korean chile paste) for the spicy, and then garlic, ginger, sesame oil, and sesame seeds.
I used simple ingredients I already had in the pantry, and I left out the oil, so while it may not be exact - it was still damn delicious.
For the Hoagie Roll, I found these "take & bake" rolls from La Brea Bakery that are oil-free. My Kroger (Fred Meyer) carries them so check in the bakery section.
And then I added some simple garnishes like sliced green bell pepper, tomato, red onion slices, scallions, and cilantro.
Oh and just to make it 'specially messy - I slathered the rolls with my own Vegan Cheese Sauce too, which really put this sandwich over the top.
If you decide to try it - it does take a while, especially if you want to make the cheese sauce too, but I will say it was very much worth it.
If you do - send me a Facebook DM or leave a comment telling me what you think.
Vegan Bulgogi Sandwich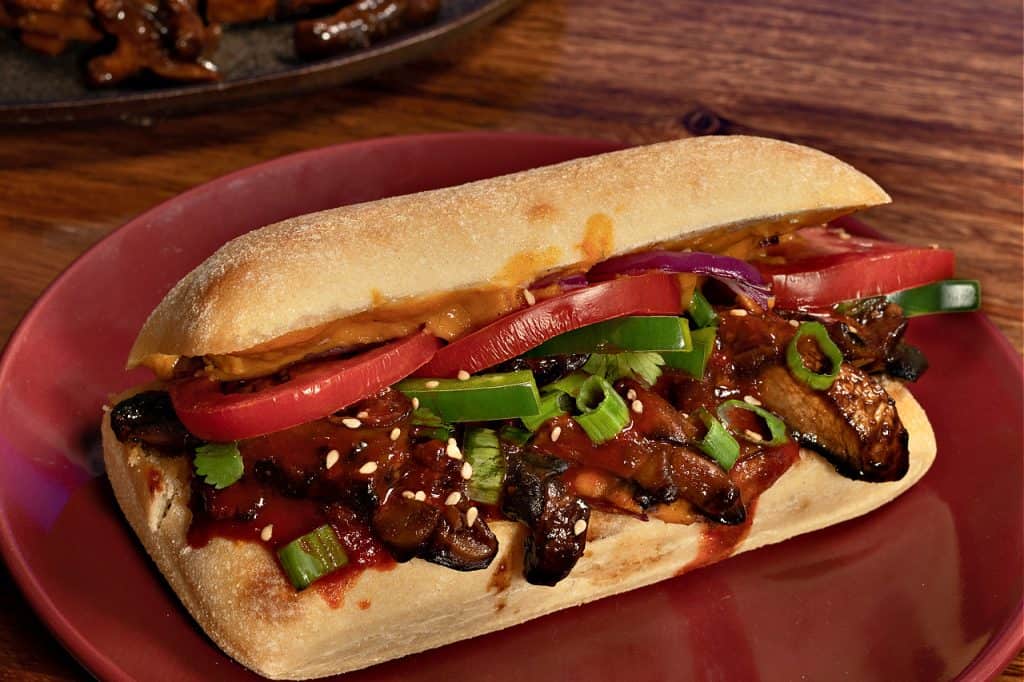 As I mentioned earlier, I used my own Vegan Cheese Sauce as a spread for my sandwich. It's optional, but if you want to try it too - now is the time to make it. Recipe's in the link.
Mushrooms & Marinade
For the Bulgogi, I used 2 portobello caps (6oz package) sliced into ½" thick strips and a 5oz package of pre-sliced Shiitake Mushrooms. After I cleaned and sliced them I placed them into a 1-gallon ziplock baggie.
I then whisked all the marinade ingredients together in my Pyrex measuring cup and then poured it in with the mushrooms. Seal the bag after burping the air out and then let sit until we need them. Easy peasy. Occasionally flip the bag to make sure every nook and cranny gets coated.
The Sauce
I also made a finishing sauce to pour over my mushrooms after I made my sandwich and MAN....I could drink this stuff by the spoonful. Oh wait - I did.
Whisk together 1 Tbs gochujang, 1 Tbs of FRESHLY SQUEEZED lemon juice, and 2 teaspoons of maple syrup. BAM.
Gochujang is THE essential ingredient in this recipe, just like last week's Kimchi Fries, or any other Korean dish. It's like our ketchup. It's a paste made from dried Korean Chile Peppers. The ground-up peppers (their chile powder) is called Gochugaru and is used to make Kimchi.
Gochujang comes in a tub, like miso, and can be found in Asian Markets, Whole Foods, and of course Amazon which I will provide a link below. I am an Amazon Affiliate, so I do make a few pennies on every purchase but at no extra cost to you.
Another question I get about Gochujang is: "How spicy is it?"
Chile pepper spiciness is actually something that can be measured and compared using something called the Scoville Heat Unit (SHU). The higher the number - the hotter the pepper. Tobasco Sauce is 700 SHU. Cholula 1000 SHU. Sriracha 2200 SHU. A jalapeno is anywhere from 1000-8000 SHU.

Gochujang should be 1000 SHU or less, so kind of spicy? About the same as Cholula? But not horribly hot like a Habanero.
Veggie Prep
I chose to use the following veggies to garnish my sandwich, simply because I already had them in my kitchen. You can use whatever veggies you like. Whatever you choose, slice them thinly or into sandwich-sized strips.
Red Onion, Tomato, Green Bell Pepper, Scallion tops, Parsely/Cilantro.
Cooking the 'Shrooms
Hopefully, those mushrooms have been happily marinating away for a good while now. At least 30 minutes I hope, while we made our sauce and prepped our veggies. A solid hour or even longer would be best.
To cook them, just dump the contents of the bag into a large skillet, and cook on high heat until most of that marinade liquid evaporates. Stir frequently.
Assembling Your Sandwich
It's time. Grab your bun, hoagie, or whatever bread you are gonna use and I like to toast it lightly. I then spread my cheese sauce on both halves. You can use my cheese sauce, hummus, vegan mayo, whatever you like.
Then I layered the red onions on top of the cheese on both halves.
The veggies went on one half and the other I piled high with those mushrooms topped with some scallions. Oh and don't forget that sauce.
Somehow get the two halves together lol, and go to town. Better have a roll of paper towels handy too because hey - this IS bbq.
It IS going to be messy.

Send me those messy BBQ faces lol and I'll post them on my Facebook page !!

Hope you enjoy the recipe and I'll see you next week.

Print
Vegan Bulgogi Sandwich
Author:

Prep Time:

60 min

Cook Time:

10 min

Total Time:

1 hour 10 minutes

Yield:

2

-

4

servings

1

x

Category:

Sandwich

Method:

Stovetop

Cuisine:

Korean, Asian

Diet:

Vegan
---
Description
I marinated some mushrooms to make this Vegan Bulgogi Sandwich and wow - it was beyond amazing. The combination of sweet, savory, and spicy makes my mouth water just thinking about it. Possibly my new favorite sandwich!
---
2

large portobello mushroom caps (

6 oz

)

1

pkg sliced shiitake mushrooms (

5 oz

)
Marinade
¼

cup

low-sodium soy sauce

3

cloves minced garlic

2

Tbs mirin

1

Tbs maple syrup

1

Tbs rice vinegar

1

Tbs gochujang

1 tsp

toasted sesame seeds

½ tsp

garlic powder

½ tsp

ginger

¼ tsp

black pepper
Sauce
1

Tbs gochugaru

1

Tbs freshly-squeezed lemon juice

2 tsp

maple syrup
Garnish
green bell pepper
tomato
red onion
scallions
cilantro or parsley
---
Instructions
Prepare the cheese sauce according to the recipe link if using - otherwise skip to step 2
Clean and slice the mushrooms.  Slice the caps into ½" thick strips.  Add to a 1-gallon ziplock.
Whisk all marinade ingredients and pour over mushrooms.  Seal and let sit 30-60 minutes.
In a separate bowl - whisk the sauce ingredients together - set aside
Prep the veggies by slicing a tomato, 1 green pepper, ¼ red onion, 1 scallion
Prep the sandwich roll by slicing it in half and lightly toasting
Cook the mushrooms and marinade in a large skillet over high heat.  Stir frequently until most of the liquid has evaporated away.
Assemble sandwich by spreading both slices of roll with either cheese sauce or spread of your choice, followed by the red onions.
Layer green bell pepper strips, tomato slices, and cilantro on one half
Layer mushrooms, scallions, and a little sauce on the other half
Put the 2 halves together and enjoy
Note:  it IS a messy sandwich!  (but sooo good!)
---