Imagine for just a moment - BAKED Vegan Chimichangas....
Now... imagine these Crispy Baked Tortillas literally STUFFED with Cheesy Soy Curls that were slow cooked in your favorite Salsa....
Yeah?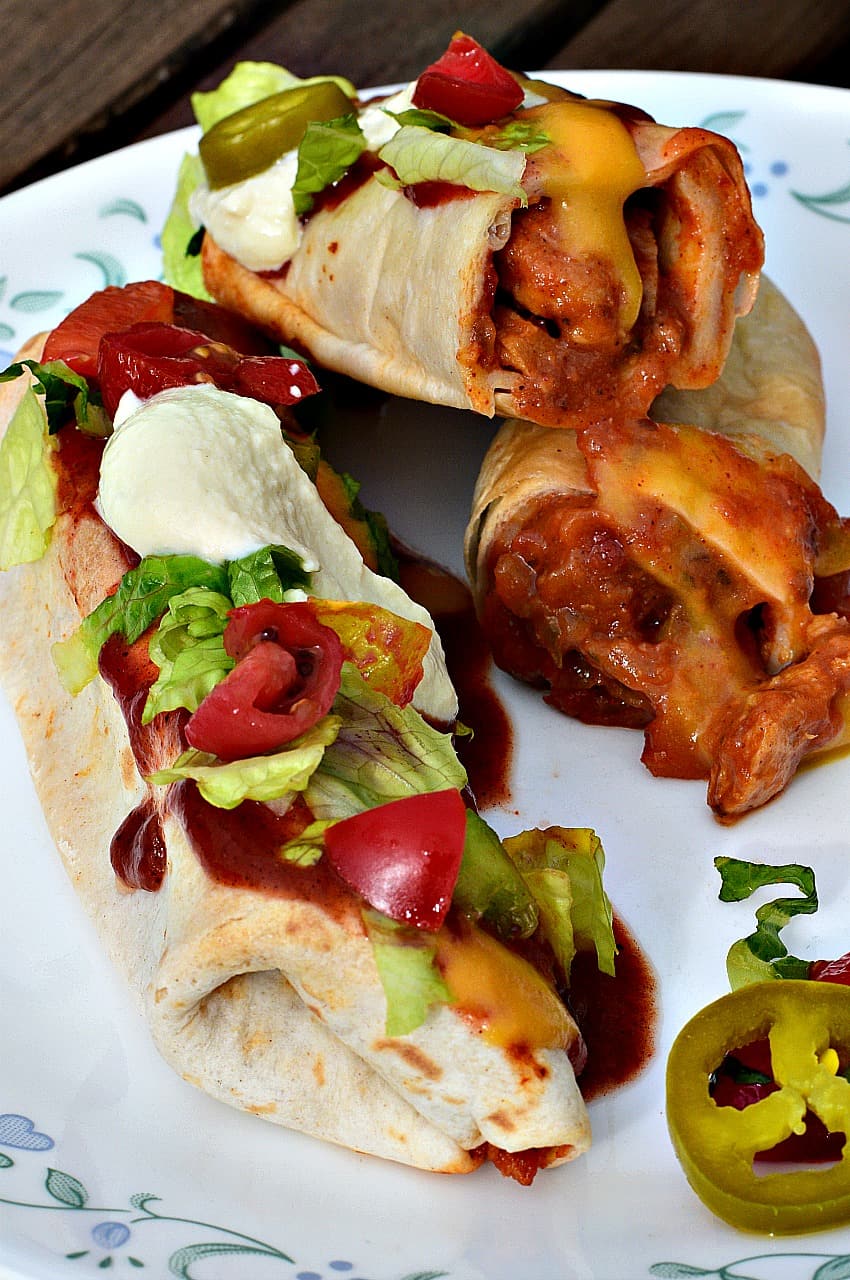 Now imagine topping these fat-free Chimichangas with a homemade Enchilada Sauce...
And maybe a dribbling of our favorite Vegan Cheese Sauce....
And a big dollop of Green Chile Sour Cream
And smothered with fresh lettuce, bell peppers, and tomatoes...
NOW, are you ready for this? Uh huh, I thought so....
And I got to tell you - your favorite Mexican Restaurant ain't got NOTHING on these babies!
Baked Vegan Chimichangas
Here's how last night's dinner went down...
Wife: What are we having for dinner?
Me: Let's see what we have....
Potatoes & carrots.....I can make a cheese sauce
Here's a bag of Butler Soy Curls ...... Cheesy Soy Curls?!?
And here's a can of RoTel Tomatoes - oooh and some salsa?! Sounding very yummy!
And we have these Fat Free Tortillas.....
I think we have Tofu - so I can make some Sour Cream
And I can make an easy Enchilada Sauce
Sounds like dinner to me! Mexican it is!
These Baked Vegan Chimichangas are actually very easy to make with a bag of Butler Soy Curls, Salsa, and a can of RoTel Tomatoes.
I'll include a link to Amazon in case you don't have a Whole Foods nearby....mind you this is an Affiliate Link so I'll make a few pennies on your purchase.
Amazon Link to Butler Soy Curls
First, in a medium bowl we're going to add enough hot water to cover our Soy Curls, and then add 2 tablespoons of Soy Sauce - just to flavor them up a bit.
Let those soak while you prepare the other ingredients.
Now I know it seems like there's a lot of different ingredients associated with this dinner, but other than the Soy Curl Filling and the Cheese Sauce, the rest are totally optional. (The Sour Cream and Enchilada Sauce)
They WILL, however, send this meal over the top if you take the time to make them - but it's entirely up to you.
The Green Chile Sour Cream (optional)
The Enchilada Sauce (optional)
And the Soy Curls filling....
If you DO make all of the ingredients, be prepared to be in the kitchen for a while. But let me tell you, these Baked Chimichangas were beyond delicious, so it was SO totally worth it.
If you clean up after yourself as you go - it's really not that bad.
Green Chile Sour Cream
The ingredient list for the sour cream is easy and only takes a few minutes to put together. So I made this first, then stored it in the fridge while I cleaned the blender.
Press your Tofu between some paper towels to remove as much moisture as possible, then toss it into your blender with the remaining ingredients.
Blend until smooth, and be sure and stop to scrape down the sides occasionally.
Easy ingredients. Easy recipe. Ready in minutes. Next.
Homemade Enchilada Sauce
Another easy recipe.
One small pan, an 8oz can of Tomato Sauce, and some common spices make up the ingredient list.
Whisk the Tomato Sauce and spices in a pan until smooth and then slowly pour in the water.
Stir frequently until thickened. Ready in minutes. Store in a container until ready to use.
With me so far?
Amazing Vegan Cheese Sauce
This sauce needs no introduction. A combination of potatoes, carrots, and common spices turns into the gooiest, cheesiest, dairy-free sauce ever. Perfect for mixing with our Soy Curls.
Boil the veggies until soft, and then blend everything together until smooth and creamy.
You don't want to skip this one - as we'll need a cup of this for the Baked Chimichanga Filling.
You can find the whole recipe here: Amazing Vegan Cheese Sauce
Soy Curl Filling
Now that the Soy Curls have had a chance to soak - drain them well and add them to a pot along with
1 can of RoTel Tomatoes
1 cup of your favorite Salsa
1 Tablespoon or two of chopped onion
The chile powder, cumin, oregano, and smoked paprika.
Let that simmer for a few minutes to allow the flavors to mingle, and then stir in 1 cup of the Cheese Sauce.
Looks amazing doesn't it? Because it IS amazing! Why didn't I think of this before?
Baked Vegan Chimichangas
To assemble your Baked Vegan Chimichangas
Spoon about ¼ to ½ cup of the filling into the center of your favorite Tortillas. Fold over each side and then roll tightly.
Place your Chimichangas seam-side down in a parchment lined baking dish and bake in a 400°F oven for 25 minutes - or until the tops have browned.
Garnish with additional Cheese Sauce, Enchilada Sauce, Sour Cream, and fresh lettuce, bell peppers, jalapeños, and tomatoes.
Your tummy is going to really thank you for this one!
And as an added bonus.....
You'll have leftover cheese sauce for Mac & Cheese
Leftover Sour Cream for some Mushroom Stroganoff
And left over Enchilada Sauce for spooning over Potatoes
Easy dinner prep for the rest of the week! Yay!
Enjoy!

Print
Baked Vegan Chimichangas
Author:

Prep Time:

1 hour 30 minutes

Cook Time:

30 minutes

Total Time:

2 hours

Yield:

16

Chimichangas

1

x

Category:

Main

Cuisine:

Mexican
---
Description
These Baked Vegan Chimichangas will put any Mexican Restaurant to shame! Cheesy Soy Curls simmered in a spicy RoTel Salsa, topped with Green Chile Sour Cream
---
Green Chile Sour Cream
14 oz

Firm Tofu ((pressed & drained))

2

Tbs Lemon Juice

1

Tbs Red Wine Vinegar

1

clove Garlic

¼ tsp

Salt

¼ tsp

Garlic Powder

1

can Whole Green Chiles ((

7oz

))

2

-

3

Tbs water for consistency
Enchilada Sauce
1

can Tomato Sauce ((

8oz

))

1½

Tbs Chili Powder

¼ tsp

Ground Cumin

¼ tsp

Onion Powder

¼ tsp

Garlic Powder

⅛ tsp

Ground Pepper

2

Tbs Cornstarch

2 cups

Water
Amazing Cheese Sauce
Soy Curl Filling
1

bag Butler Soy Curls ((

8oz

))

1

can RoTel Tomatoes ((

10 oz

))

1 cup

Salsa

1 tsp

Chile Powder

½ tsp

Oregano

¼ tsp

Cumin

¼ tsp

Smoked Paprika
---
Instructions
Soak the Soy Curls in hot water. Add 1-2 Tbls of Soy Sauce for flavoring.
Green Chile Sour Cream
Press and drain the Tofu and add to blender.
Add remaining ingredients and blend until smooth.
Scrape down sides occasionally.
Enchilada Sauce
Add Tomato Sauce to a small pan.
Add all dry ingredients and whisk until smooth
Slowly add water and stir until bubbly and thick
Cheese Sauce
Baked Chimichangas
Preheat oven to 400 degrees F
Spoon ¼ to ½ cup Soy Curl Filling into center of tortillas
Fold over sides and roll tightly
Lay seam side down in a parchment lined baking dish
Bake for 25 minutes or until tops have browned
---
Notes
Garnish with Sour Cream, Enchilada Sauce, Cheese, Lettuce, Bell Peppers, Tomatoes
The recipe makes enough filling for about 16 Chimichangas. My glass baking dish only held 8 so I saved the other half to make the next day.