I mixed a sweet potato with Yukon golds and tossed in some bell pepper, mushrooms, and greens to make these delicious Vegan Breakfast Potatoes.
I asked my live stream gang what they would like me to cook this weekend, and they said BREAKFAST POTATOES!
Oh, and while you're at it :
NO hash browns!
Use Yukon golds
Include a sweet potato
And add some greens because we're all doing the Esselstyn Diet
They sure know what they want - that's for sure lol! 🤣
You see, my wife has had some blood pressure issues, and when my live stream group found out that Dr. Esselstym called us, and recommended his Heart Disease Reversal Diet, they all wanted to join in too! In support of my wife!
Not THAT is a great group. And yes, we meet every day to chat via my live stream over in my private group (NOT Facebook!).
I can't tell you how important it is to have some kind of support as you set off to change your diet and lifestyle, especially if those at home are not exactly enthusiastic about the changes you are making.
Support means EVERYTHING and is often the one thing that determines whether a person will be successful or not.

Care to join us? We'd love to have you! Click Here!
Vegan Breakfast Potatoes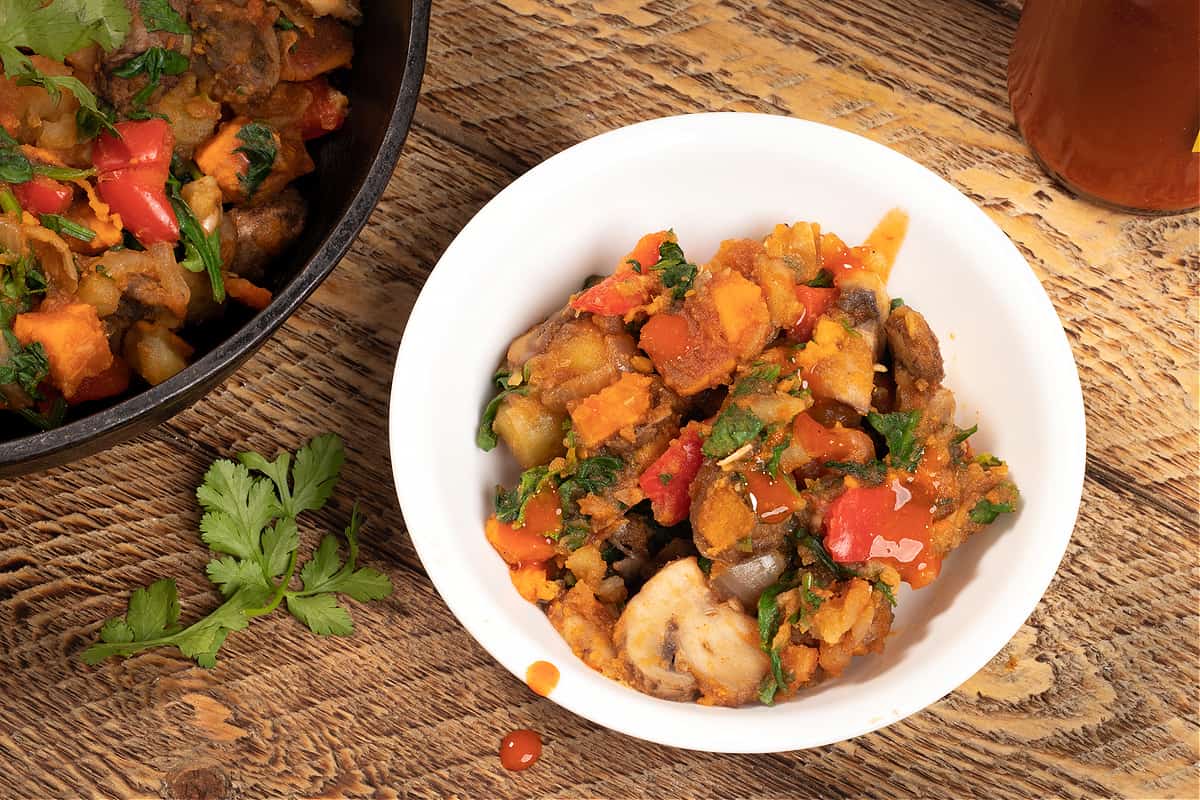 I started out by dicing a medium-sized 9 oz sweet potato (or 250g) ... AND two Yukon Golds (around 10 oz total or 300g). You want about ½" cubes whatever you use to dice with. For ease and speed, I used my Fullstar 7-1 Chopper.
Then I simply added them to a pot of salted water to boil for 3-5 minutes. Be careful, we don't want mashed potatoes, so don't overdo it, as you want them somewhat firm. Remove from the heat, drain, and set aside.
In a large skillet, I sauteed about ¼ of a diced onion and ½ of a red bell pepper just until they softened. Then I added a heaping teaspoon of minced garlic and about 8 oz of crimini mushrooms I sliced.
I always add a tablespoon of soy sauce whenever I cook mushrooms to 1) add to the liquid in the pan and 2) add that yummy umami flavor to the dish.
You can saute the veggies in a few tablespoons of water or veggie stock, and as the mushrooms start to cook down, they too will release their water.
This is how we brown our potatoes without using any oil.
After you add the potatoes, whisk all the seasonings together and add to the mix. Stir carefully as again, we do not want mashed potatoes here. I used a spatula and it worked fine.
Note: The black salt or 'Kala Namak' will impart a slightly "eggy" flavor since these are "breakfast" potatoes. It is totally optional and if you don't use it I would just add regular salt to taste.
You can find Kala Namak in the spice section at Whole Foods, Indian grocery stores, or of course, on Amazon. I'll add my link below and I do earn a little with every purchase but at no extra cost to you.
When all the liquid has cooked off and the pan is looking pretty dry (like it may start to burn), remove the skillet from the heat and add 2 big handfuls of your favorite chopped greens (spinach, chard, kale, etc.) and cover. The heat from the potatoes will wilt the greens.
Give them about 5 minutes, remove the lid, and gently mix.
Serve with your favorite sauce or garnish. Hope you like it!

Print
Vegan Breakfast Potatoes
Author:

Prep Time:

20 min

Cook Time:

25 min

Total Time:

45 minutes

Yield:

4

-

6

servings

1

x

Category:

Main, Breakfast

Method:

Stovetop

Cuisine:

American

Diet:

Vegan
---
Description
I mixed a sweet potato with Yukon golds and tossed in some bell pepper, mushrooms, and greens to make these delicious Vegan Breakfast Potatoes.
---
1

medium sweet potato, diced (about

9 oz

or

250g

)

2

Yukon gold potatoes, diced (about

10.5 oz

or

300g

)

1 tsp

salt

¼

onion, diced

½

red bell pepper, diced

2

cloves minced garlic

8

oz

sliced crimini mushrooms

1

Tbls low-sodium soy sauce

1 tsp

smoked paprika

½ tsp

garlic powder

½ tsp

onion powder

½ tsp

Kala Namak black salt (see note below)

¼ tsp

black pepper

2

cups

leafy greens (spinach. chard, kale, etc)
Note:  Indian Black Salt, or Kala Namack -  gives this a slight "eggy" flavor since it is a breakfast recipe, but you can just use regular salt and adjust it to taste.  I have an Amazon link in my store. 
---
Instructions
Dice the potatoes into ½" cubes (I used my 7-1 chopper) and add to a large pot.
Add enough water to cover and the 1 teaspoon of salt
Bring to a boil and let simmer for 3-5 minutes, then remove from heat.
Add the diced onion and bell pepper to a large skillet and saute in 2 Tbls of veg stock or water just until softened.
Add the minced garlic and stir just until fragrant - about 30 seconds.
Add the sliced mushrooms and cook just until they begin to lose their water, then drain the potatoes and add them along with the seasoning.
Stir to combine (I used a spatula) and heat on med-high heat until the skillet begins to look dry or the potatoes start to brown.  (Note:  the mushroom water keeps the potatoes from sticking)
Remove from heat and add 2 cups of your favorite greens, then cover.
Stir and serve with your garnish of choice.  I added a little bit of my red chile sauce and cilantro and it was divine!
---
Keywords: breakfast potatoes, vegan, oil-free