Looking at the weather map today, you're either still baking in the heat or getting ready for snow. And while we may not see the white stuff here, it is definitely soup and sandwich weather. So I made the ultimate comfort food, my creamy Vegan Tomato Soup.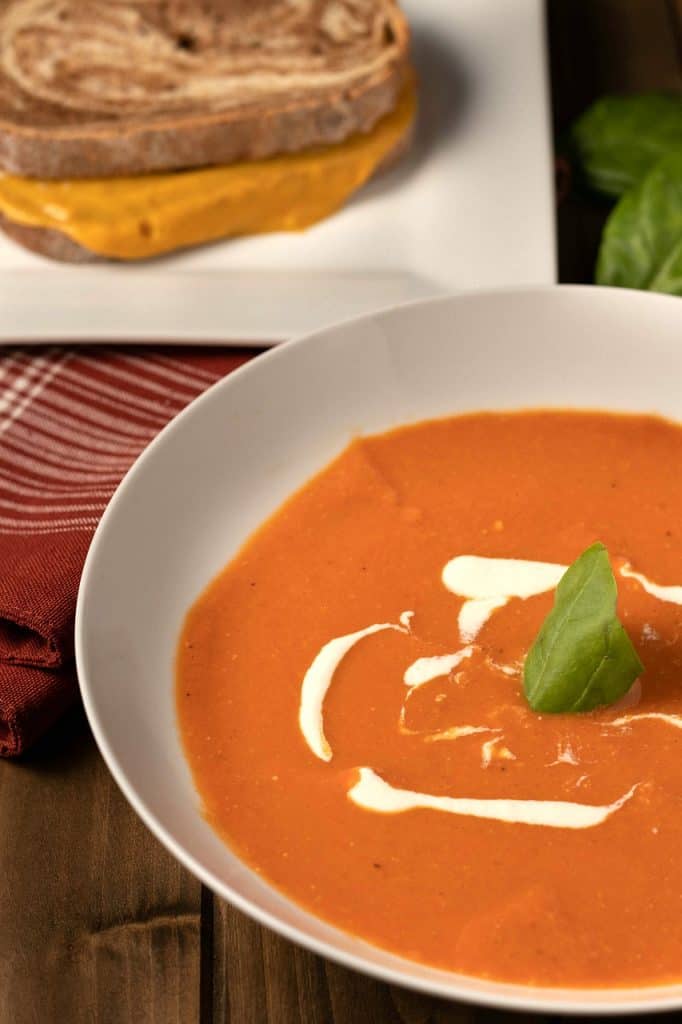 And yes, that is my Cheese Sauce on a couple of slices of toasted pumpernickel. Because we ALL know that tomato soup and grilled cheese sandwiches go together like peanut butter & jelly! Am I right?!
Looking back, I remember when we used to eat those famous little cans of tomato soup. I remember I used to float an entire saltine cracker on top and dunk it with my spoon before eating it.
Ahhh the memories. 🙂
Well, THIS soup is every bit as mmm mmm good, AND it still brings back all those warm, comforting memories of our youth.
But before we get into the recipe, I'm KNOW somebody will ask if we can use fresh garden Tomatoes, right off the vine, and I will say absolutely..... although that is not what I did here.
Not because it wouldn't be amazing with fresh tomatoes, it would, but because I know a lot of you are busy and are looking for quick and convenient recipes. And using whole tomatoes would require a lot more work (removing the skins, removing the seeds, chopping them up, etc.)
So in this recipe, I'm using canned tomatoes- just to make it super easy and super tasty. No excuses! Now go make this soup! lol
And if you do, be sure and leave a comment to let me know how you liked it
Enjoy!
Vegan Tomato Soup
Before we do anything with the soup, we'll need to start prepping for our cashew cream, which is what makes this soup so rich and creamy. If you want to leave the cream out to reduce the calories, you can just skip this step and continue on with the soup.
All I did to make the cream was to soak ¾ cup of raw, unroasted cashews in hot water until they softened. If you do this first, they should be soft enough to blend at the end of the recipe when we need them.
Moving on to the soup
Start by dicing a medium-sized onion and begin to soften it with a splash of veg-broth in your soup pan. Then stir in a couple of ribs of diced celery.
One the veggies have softened and the onions have turned translucent, stir in a few cloves of minced garlic and give it a quick stir.
Next, stir in an entire carton of low sodium vegetable broth (4 cups) and stir.
Now we add our tomatoes, juice and all.
I recommend San Marzanos if you can find them. They are an Italian plum tomato with an absolutely fabulous sweet flavor, but if you can't find any - any kind of peeled or crushed tomato will work. I prefer organic myself, but use whatever you can find. If you do use whole, peeled tomatoes as I did, break them up as you add them to the pan.
So now we can add a little bit of seasoning if you like, some freshly ground black pepper, maybe a pinch of salt, and ½ teaspoon of paprika, and stir.
Raise the heat until it begins to bubble, then stir in 3 tablespoons of rolled oats. (yes, oats). The oats will add some starch and help thicken the soup. White rice will work too.
One it begins bubbling, lower the heat and simmer for 45 minutes until the soup has thickened and all of the veggies are super, super soft.
After 45 minutes, and before we blend, it's time to check our seasoning.
Add salt to taste and anywhere from 1-3 teaspoon of brown sugar. Adding sugar to tomatoes really helps reduce the acidity, so begin by adding 1 teaspoon, then stir & taste as you go. I used 3 teaspoon total in mine.
Now we blend.
I happen to have this nifty immersion blender, which I absolutely LOVE... but if you don't have one you can blend the soup in small batches using your blender until it's silky smooth.
Here is the immersion blender I have, and as always - this is an affiliate link meaning if you buy one I will receive a small commission but at no extra cost to you.
Kitchen Aid Immersion Blender on Amazon
Now, back to the cashews
If you are going to use the cream in your soup, drain your cashews we soaked earlier and add them to your blender. Add ½ cup of hot water and blend on high speed until smooth and creamy. You will more than likely have to stop and scrape down the sides of your blender several times.
Now we simply stir ½ cup of that cream into our soup until it is completely blended and buttery smooth. You should have a little cream leftover that you can use to garnish your bowls of soup if you wish.
Take one last taste and adjust any seasoning, more salt, more pepper, more sugar if you like, and then garnish with some chopped basil.
There you have it. My super creamy, oil-free, dairy-free, Vegan Tomato Soup.
Again, I hope you enjoy it and please leave those comments below.
Now, this birthday boy is going to get ready to hit the beach! And yes, pics will be coming! See ya next week.

Print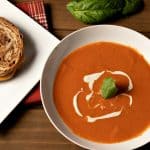 Creamy Vegan Tomato Soup
Author:

Prep Time:

15 min

Cook Time:

45 min

Total Time:

1 hour

Yield:

6

-

8

servings

1

x

Category:

Soup, Stew, Chowder

Method:

Stovetop, Blender

Cuisine:

American, Vegan
---
Description
I don't know about you, but it is DEFINITELY soup weather here in the Pac NW. So I made the ultimate comfort soup, my creamy Vegan Tomato Soup.  
---
¾ cup

raw unroasted cashews

1

medium white onion, diced

2

ribs celery, diced

3

cloves garlic, minced

4 cups

low-sodium vegetable broth

1

can San Marzano tomatoes, 28 oz, with juice

½ tsp

paprika

¼ tsp

salt

¼ tsp

ground pepper

3

Tbs rolled oats

3 tsp

brown sugar
fresh basil for garnish
---
Instructions
Soak cashews in hot water while preparing soup
Saute diced onion in a soup pot using a splash of veg broth or water
Stir in diced celery and cook until onions are translucent
Stir in minced garlic, stir 30 seconds
Add veg broth and stir to combine
Add tomatoes, breaking up any large pieces as you go
Season, stir to combine and increase heat to just boiling
Add oatmeal and reduce heat to med-low, simmer 45 min
Add 1 to 3 teaspoon of brown sugar, taste as you go
Add any additional seasonings if desired, taste as you go
Blend the soup until it's silky smooth
Drain cashews and add to blender along with ½ cup hot water
Blend cashews until silky smooth, scraping down sides as needed
Stir ½ cup cashew cream into soup and mix well
Serve with toasted croutons or vegan grilled cheese sammies
Garnish with fresh basil
---
Notes
Keywords: vegan tomato soup