Who's mouth isn't watering? Come on….fess up.
Who DOESN'T love fat-free French Fries? It's America's favorite vegetable! (And yes, sadly, in some places the "french fry" is considered a vegetable - not the potato)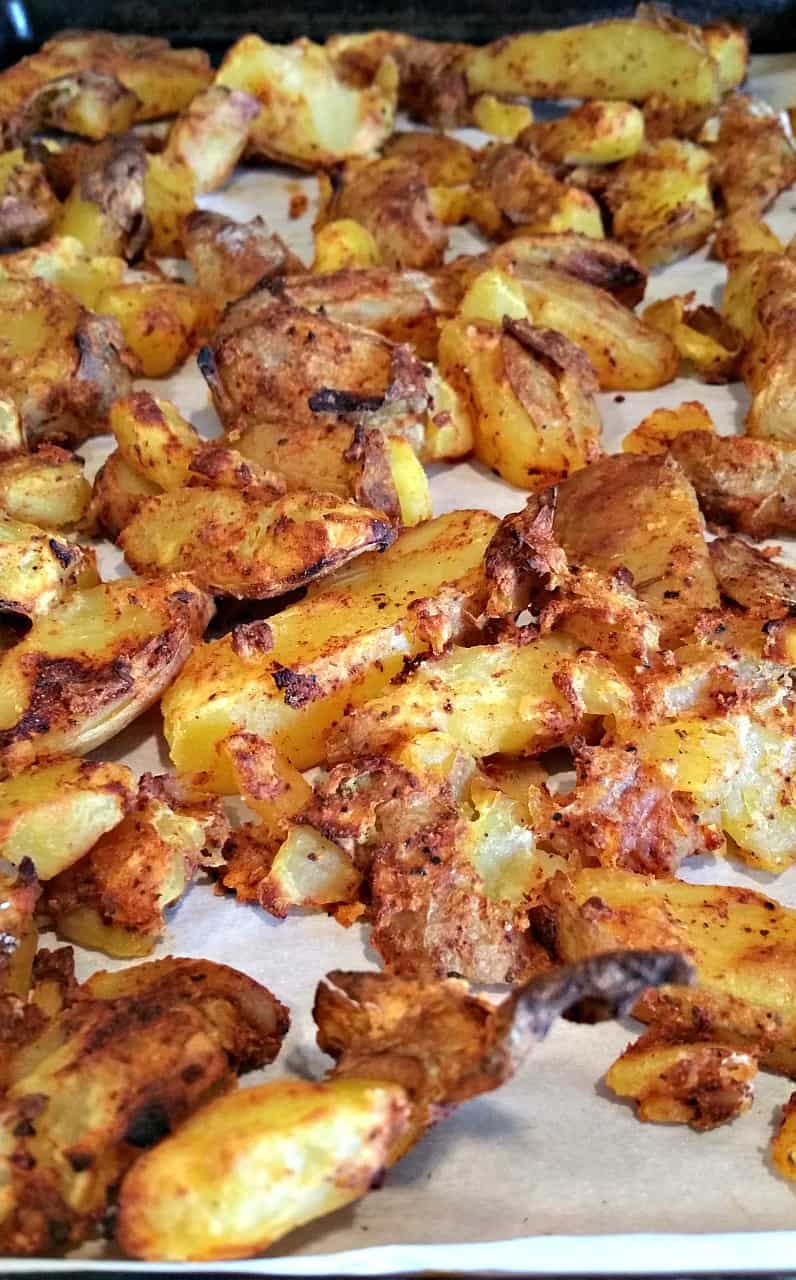 Whether we dip them in ketchup, tartar sauce (hey I was in High School), or even fry sauce - America LOVES their french fries.
But - and you knew there'd be a but….
They're usually Deep Fried!
Well there's nothing NON-vegan about deep frying potatoes, but keep in mind all that fat is going to go somewhere, and it's usually your middle, your thighs, or your bottom.
Not to mention what all that grease does for your arteries. Don't ask.
And baked french fries - well I'm sorry but they usually come out tasting like mini baked potatoes - not that crispy - french fry - crunchiness we all know and love.
There has to be a better way.
And there is.
Here's my trick to making some of the tastiest, crispiest, BAKED, french fries, and without using a single drop of oil......
Crispy, Oven Baked, Fat Free French Fries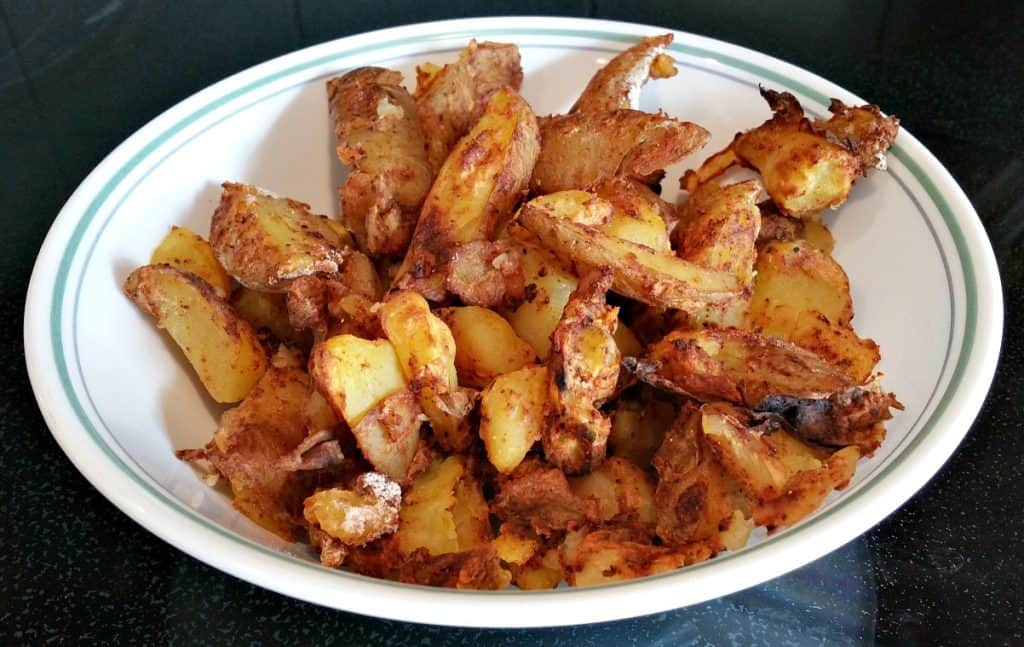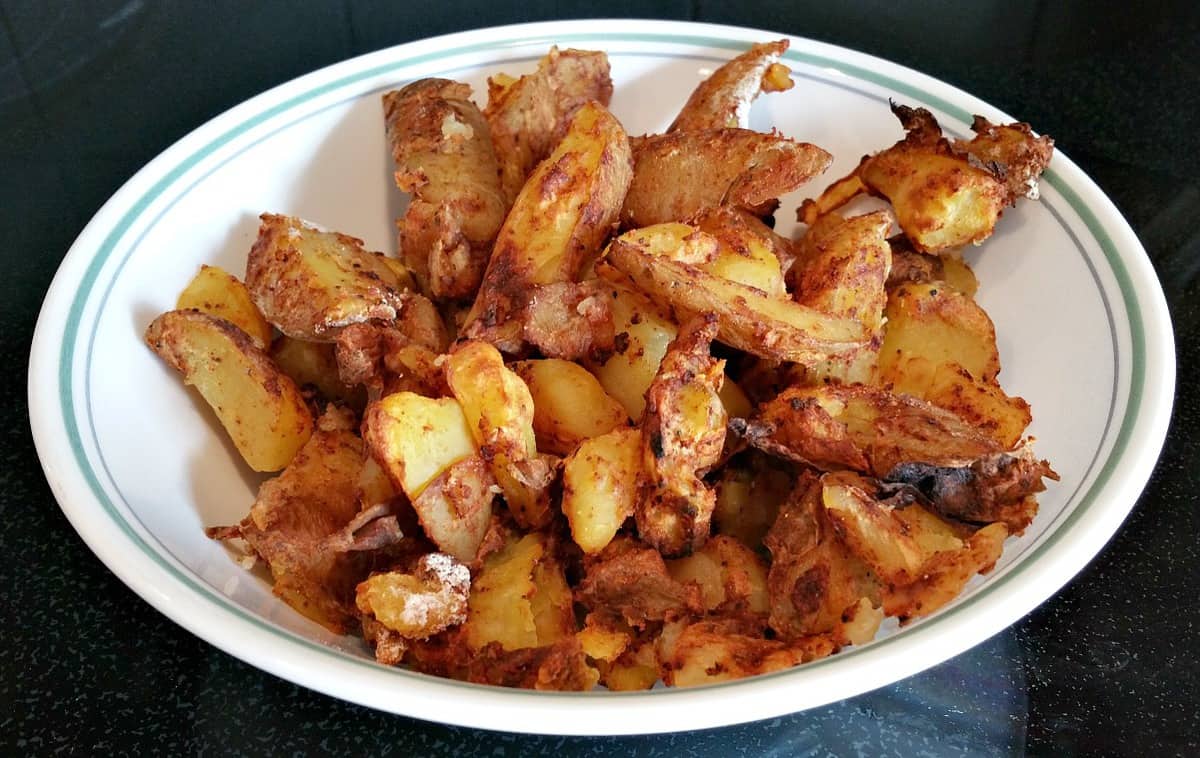 Start with some good quality spuds. I like Yukon Golds myself, but a good Russet will work nicely too. Scrub them up and remove any eyes or green spots you may find.
With Golds, you don't really have to peel them, or at least I don't. Just give them a good scrubbing first. If you don't like peels on your fries, then peel away.
Add some cold water to your cooking pot, and as you slice up your potatoes drop them in. I slice mine pretty thick, as you'll see why in just a minute. Make them a good ¾" to an inch wide and thick.
After all the fries are in the water, turn the heat on high and wait for it to start boiling. Always add potatoes to COLD water as they will heat more evenly.
Once it comes to a boil, set your timer for 5 minutes and start preheating your oven to 425 degrees. You can also take this time to line your favorite cookie sheet with parchment paper. Sure makes cleanup a breeze.
Once the timer goes off, drain the potatoes and then put them back into the pot.
Here comes the magic part…...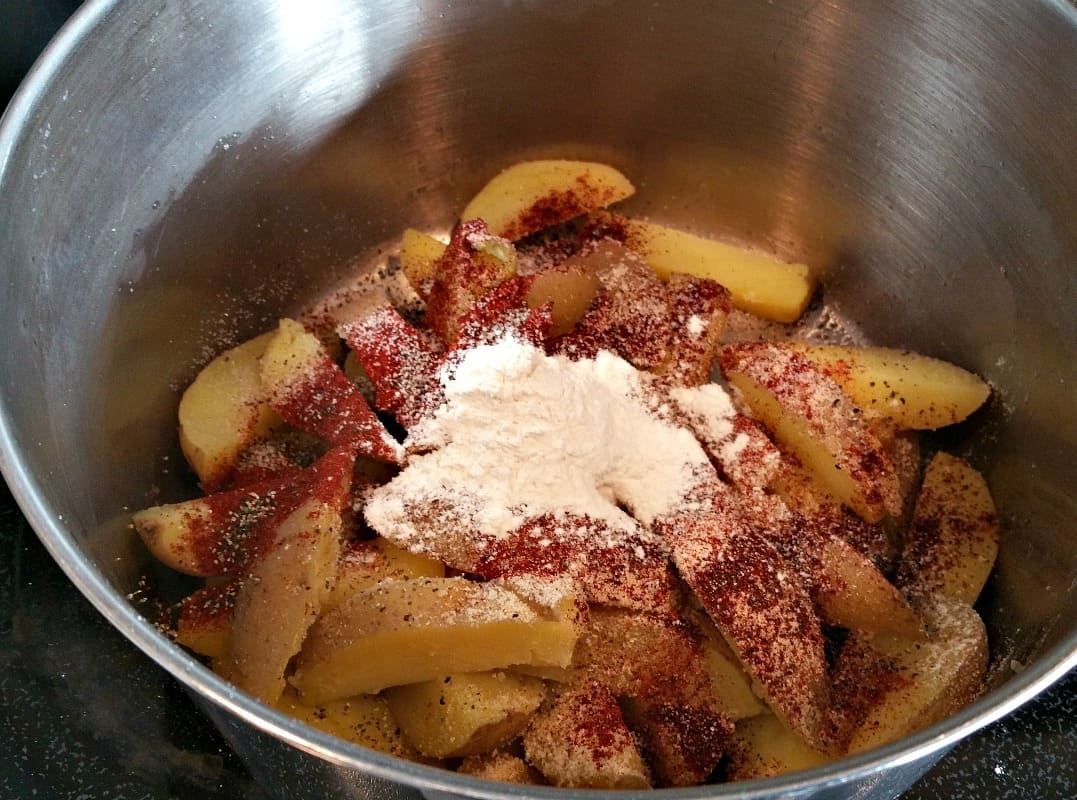 Add 1 tablespoon of flour, and 1 teaspoon of garlic powder, onion powder, paprika, and chili powder to the potatoes in the pot. You can also add salt and pepper now if you want, or wait until they're done.
Now place the lid securely on the pot, and while holding both the pot and lid in place….
SHAKE IT UP!
A good 5-10 seconds of shaking will not only distribute all the seasonings to the potatoes, but it will also smash up the edges a bit - and these are the yummy parts that get crispy!
Seriously! Try it.
After a good shaking or two, spread these babies out on your cookie sheet and bake for about 20-25 minutes.
What comes out is pure fat free french fry heaven.
Now if you didn't slice your fries thick enough, as I mentioned earlier, they will just turn to mush at this step. Oh they'll bake up just fine, but they won't be french fries. They'll be nicely browned, amoeba like, globs of potatoes.
But hey - if that's your thing…. 🙂
______________
We had these for lunch today, with just a splash of malt vinegar and a bit of ketchup. Mmmmm. They served very nicely with our Vegan Tuna Salad Sandwiches.
Oven Baked, Fat Free French Fries.
They're crispy, they're crunchy, they're fat free, and they're 100% french fry yumminess.
Go on, give them a try!
Print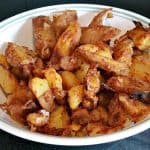 Crispy, Oven Baked, Fat Free French Fries
Author:

Prep Time:

5 minutes

Cook Time:

25 minutes

Total Time:

30 minutes

Yield:

3

-

4

servings

1

x

Category:

Main

Cuisine:

American
---
Description
Crispy, oven baked, fat free french fries. You've never had baked french fries this good. The secret is in the shaking - go ahead and shake things up!
---
7

-

8

Potatoes ((small - med))

1

Tbs flour

1 tsp

garlic powder

1 tsp

onion powder

1 tsp

paprika

1 tsp

chili powder
salt and pepper to taste
---
Instructions
Clean and slice potatoes into fairly thick french fries ¾" to 1" thick
Add to pot of cold water (enough to cover) and bring to boil.
Boil for 5 minutes.
Preheat oven to 425 and line cookie sheet with parchment paper.
After boiling, drain potatoes and place back into pot.
Add all seasonings, cover, and shake to distribute.
Spread evenly on cookie sheet and bake for 20-25 minutes.
---