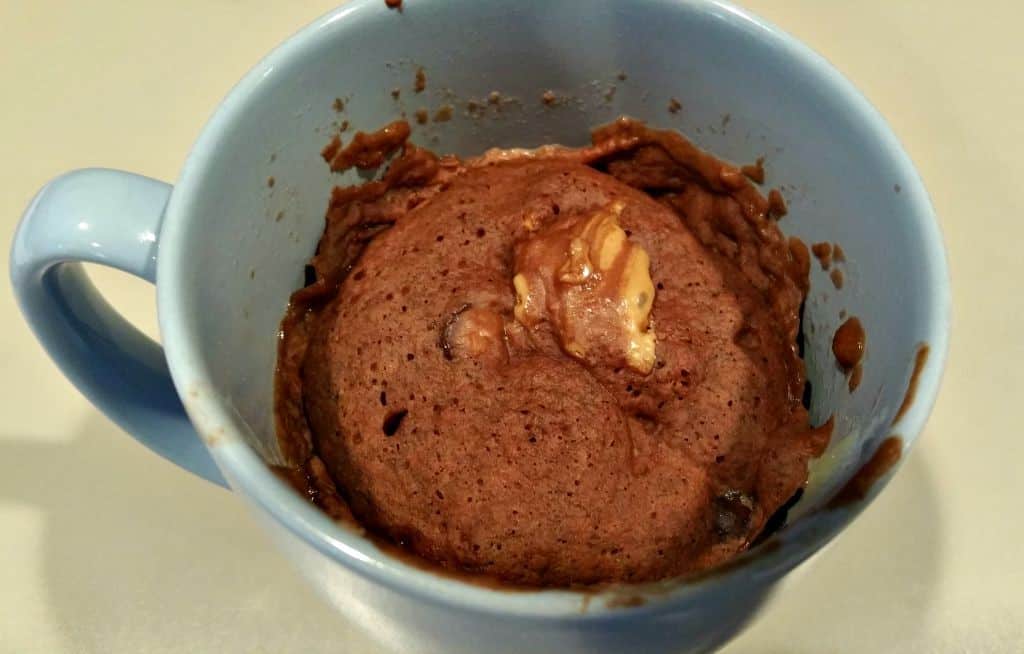 Ready for the perfect treat?
This Chocolate Mug Cake is so quick and easy to make, you'll be munching on Chocolatey Peanut Butter goodness in less that 5 minutes!
Serious - it takes just 1 minute to cook in the microwave!
And the awesome thing about mug cake?  You cook it right in the mug!  So no worries about eating the whole cake because you're only cooking a single serving at a time!
Chocolate Cake
Gooey Peanut Butter
Ready in 1 minute
Cooks right in a coffee mug
What could be better?
So when you're ready to indulge a little, get that chocolate fix taken care of, go ahead and whip up one of these bad boys.
You can thank me later 🙂
Chocolate Mug Cake
In your favorite coffee mug, add 2 tablespoons of flour.  I use King Arthur's Bread Flour but I'm sure any AP flour will work fine too, including whole wheat.
Add 2 teaspoons of sugar (or to taste), 2 teaspoons of unsweetened Cocoa Powder,  ¼ teaspoon of Baking Powder, and a pinch of salt.  Whisk all these dry ingredients together until it's uniform in color and mixed well with no lumps.
To the dry ingredients, add 2 Tablespoons of unsweetened Almond Milk and 1 Tablespoon of unsweetened Applesauce.  Mix that together until you have a smooth batter.  Be sure and scrape around the sides to find any pockets of dry flour.
At this point you can mix in a small handful of chocolate chips if you want, but this is completely optional.
Remember, most chocolate chips sold in stores are full of fat, sugar, and dairy products.
It turns out that all the bad things commonly attributed to non-raw chocolate bars, such as weight gain and diabetes, are actually caused by the dairy, sugar and others fillers added to the dark chocolate - so look for raw cocoa in its purest form like these Cocoa Nibs.
And just in case you're wondering - yes small amounts of chocolate are McDougall compliant.  Here is what the good doc has to say about it:
We serve a few chocolate desserts (made with cocoa powder and sugar) at the McDougall Program and many such desserts on our adventure trips to Costa Rica. We use a product called Wonderslim Wondercocoa (100% pure cocoa powder, fat-free and 99.7% caffeine-free) for our chocolate brownies and puddings. Why do we serve desserts with chocolate? Because people love them. The McDougall Diet is not prison food. For most people, a little chocolate is not going to adversely affect their health. I put this food in the same category as other rich plant foods like nuts, seed, olives, and avocados. Trim healthy people can use these rich ingredients in small amounts.
So that's that.  Not prison food - now that's funny 🙂 
Now, take 1 Tablespoon of peanut butter and kind of bury that deep down in the batter.  Don't mix it in, just kind of leave a lump of peanut butter right in the middle and cover it in batter.
Pop this in the microwave for 1 minute and you have the tastiest, instant chocolate mug cake you've ever had.
Quick, easy, chocolatey .......
Print
Chocolate Mug Cake
Author:

Prep Time:

1 minute

Cook Time:

1 minute

Total Time:

2 minutes

Yield:

1

serving

1

x

Category:

Dessert

Cuisine:

American
---
Description
A rich decadent Chocolate Mug Cake ready in 1 minute. For those special occasions when you just gotta get your chocolate fix. Cooks right in the mug!
---
2

Tbs Flour ( )

2 tsp

Sugar ( )

2 tsp

Unsweetened Cocoa Powder

¼ tsp

Baking Powder

1

pinch Salt

2

Tbs Unsweetened Almond Milk

1

Tbs Unsweetened Applesauce

1

-

2

Tbs Raw Cocoa Chips ((optional))

1

Tbs Creamy Peanut Butter
---
Instructions
Whisk all dry ingredients in a large coffee mug until uniform
Add in wet ingredients and mix to form a smooth batter
Stir in cocoa chips (if using)
Add peanut butter and push it down inside the batter
Microwave for 1 minute
---