Can't find your favorite hot sauce? Too expensive if you can? No worries! Here's a recipe to make your own Homemade Sriracha!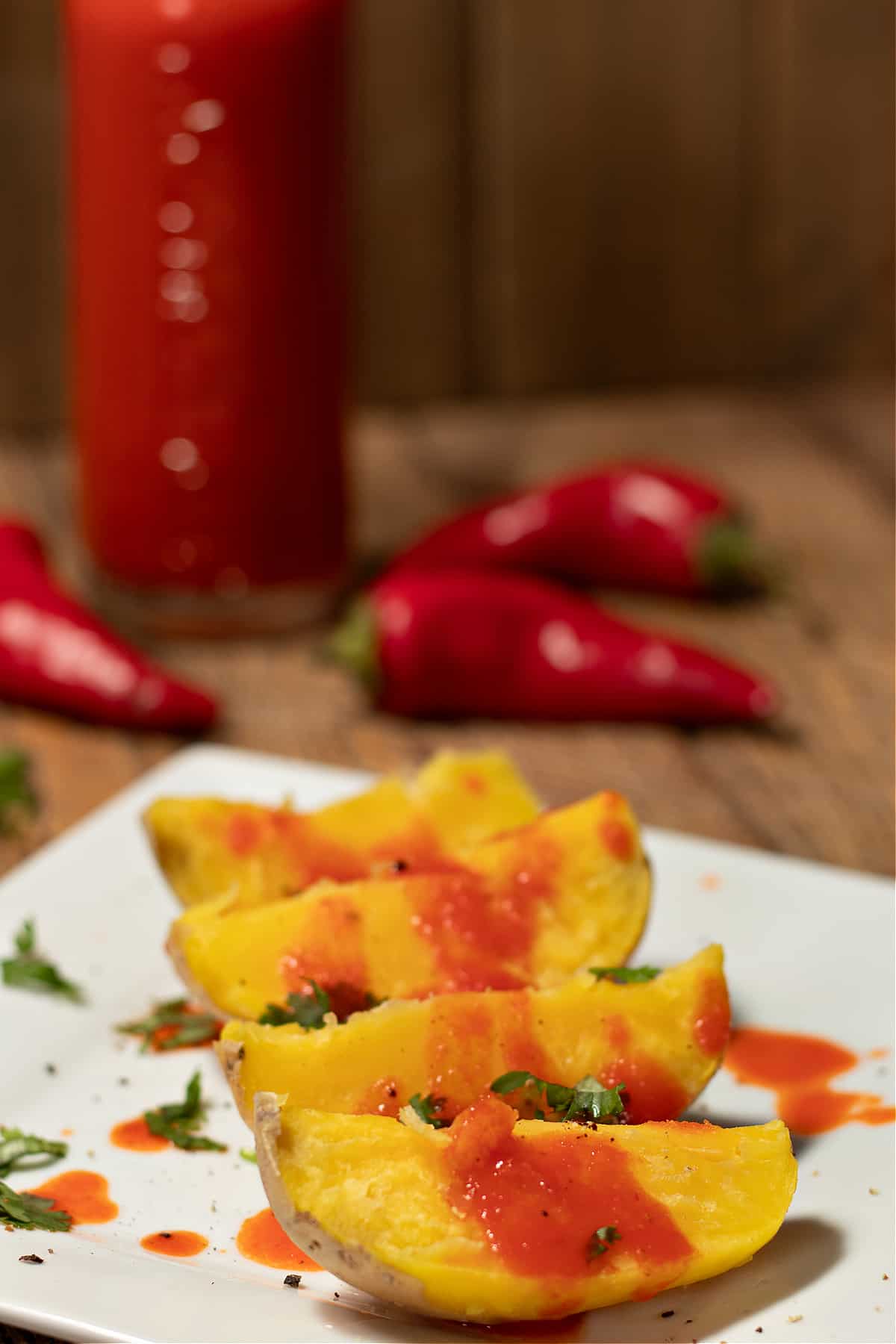 I'll admit, I too have a love affair with our favorite Rooster Sauce. It has just the right about of spice and tastes so darn good on everything! But thanks to their legal woes over the last few years, it is just too dang hard to find!
So what do you do? You make your own.
It turns out Sriracha only has a few ingredients and is super easy to make yourself. But you DO have to find the right chiles. Specifically, red ripened jalapenos, or "Fresno Chiles" as they are called.
Ingredients For Homemade Sriracha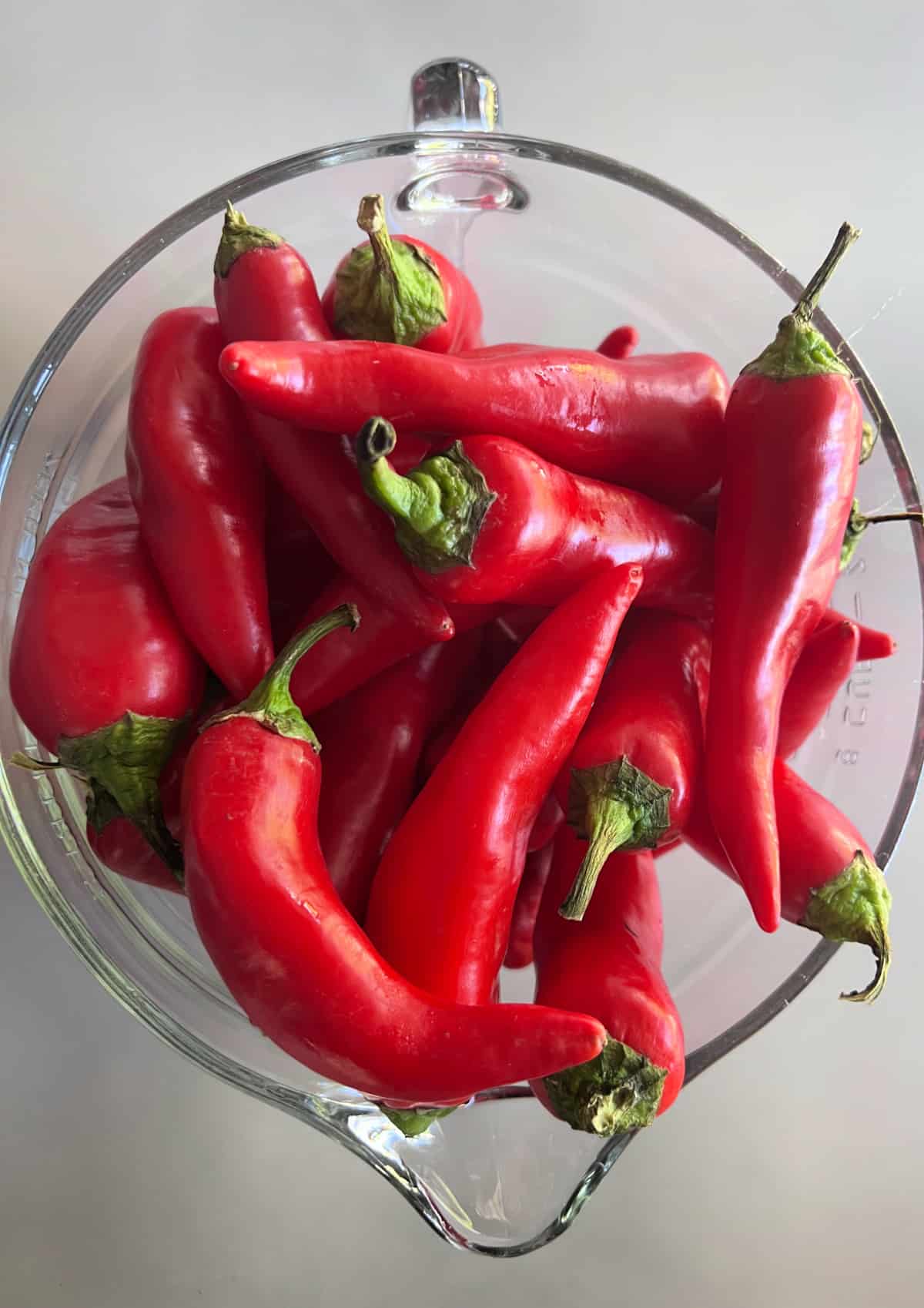 About a pound of red ripened Jalapenos (Fresno Chiles)
A red bell pepper (opt.) to add a little sweetness and tone down the heat
Fresh garlic
Salt
Brown sugar
White vinegar
Water
As you can see, the star of the show is red, ripe, jalapeno chiles, also known as Fresno Chiles. Check your local Farmer's Market or grocery store, but I found the best price at my Whole Foods believe it or not. They were fresher and about $4/lb cheaper than my local Albertsons.
How To Make Homemade Sriracha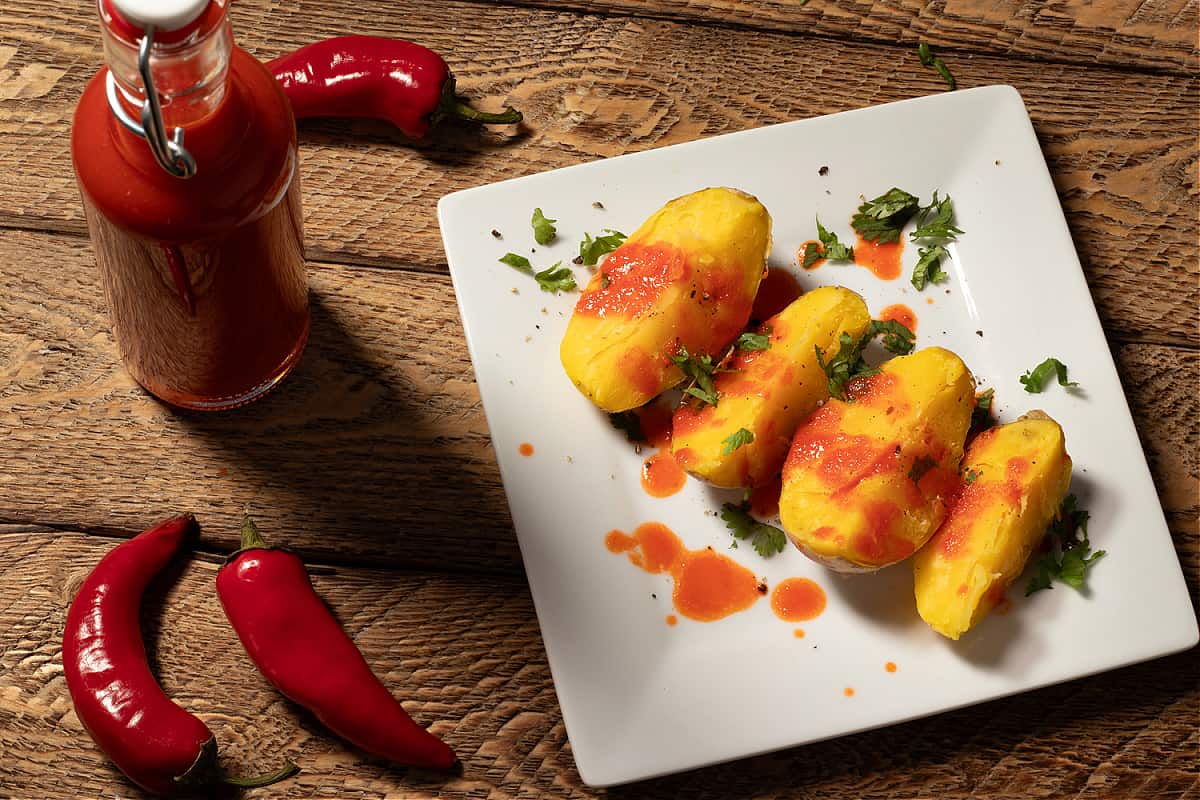 You will want to wash and remove the stems from your chiles. As I mentioned, I used about 1 pound of Fresnos I found at Whole Foods. Then cut them into 3-4 pieces and added them to a food processor.
If you want to use a red bell pepper (or two), cut it into pieces and add it too. It will add sweetness to the sauce and dilute the spiciness (a little).
You can remove the membranes and seeds to also lessen the heat somewhat, but I left them in. You also want to add 4 cloves of peeled garlic, some salt, and some brown sugar to start the fermentation process. This IS a fermented food, meaning it is a probiotic and is super healthy for your gut microbiome.
Add just enough water to get things blending and pulse until the mixture (aka the mash) is just chopped into a uniform consistency. We don't want a puree at this point, so leave it kind of chunky.
Then pour it into a glass container (do NOT use anything metal) and cover it with plastic wrap. Now tuck it away in a cool, dark spot, and let it ferment for about 4 days. Each day, remove the wrap and give it a good stir. After about 3 days you will see little tiny bubbles popping to the surface. This is a GOOD sign fermentation is happening.
Return the plastic wrap and tuck it away, and after 4 days we can continue the process.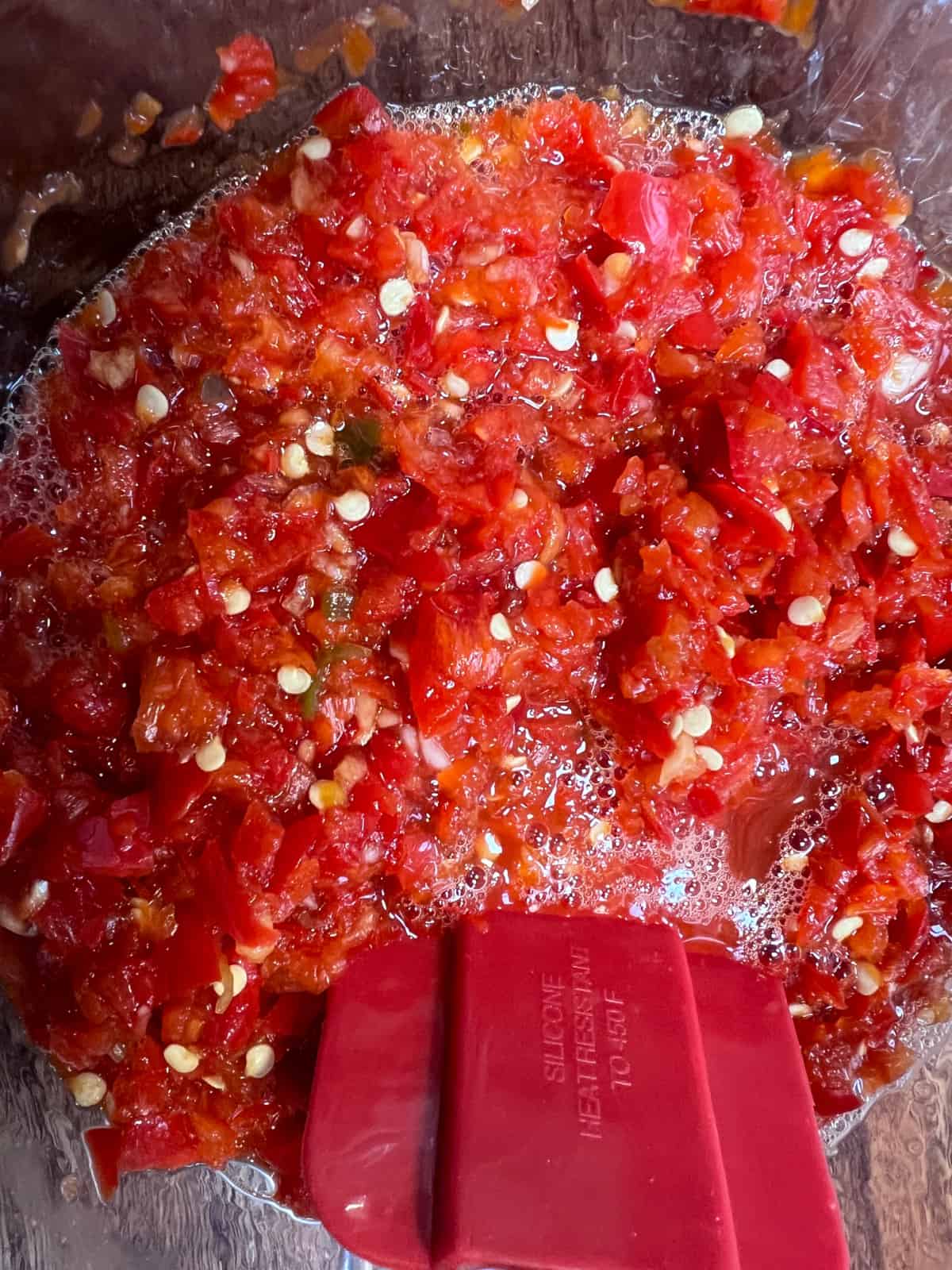 After 4 days (or so), uncover the chiles and give them one last stir. You should see lots of bubbles (if not - wait another day). This is our sign it is ready to continue, so carefully pour the contents into your blender and add about ⅓ cup of white vinegar.
Now you puree until it is super smooth.
Note: Be VERY careful at this point. This will burn your skin and eyes, so make sure your blender lid is on tight, covered with a kitchen towel, and all that precautionary stuff.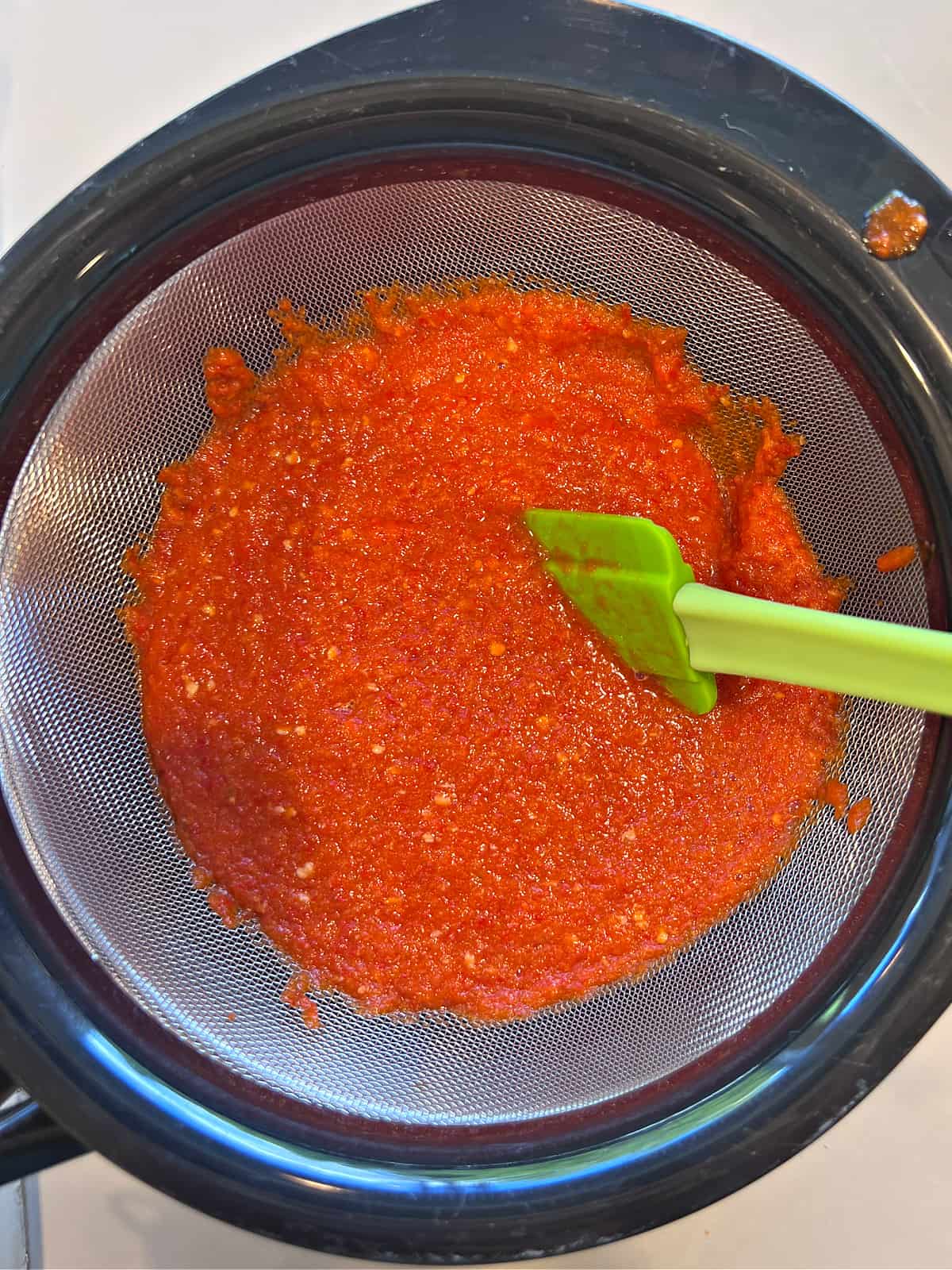 Strain the chile puree using a fine mesh strainer (sieve) into a saucepan. You will have to use a rubber spatula to really work the mixture through the sieve, and you will have a lot of pulp left. The pulp is chile skins, seeds, etc - so you can discard it, compost it, or whatever you wish.
Simmer your homemade sriracha over medium heat until it slightly thickens. You can add a slurry of 1 teaspoon cornstarch and water to help it thicken if you want.
Now let it cool COMPLETELY before bottling. You can use a recycled Sriracha bottle, a glass bottle like I found at my local Fred Meyer, or whatever you like.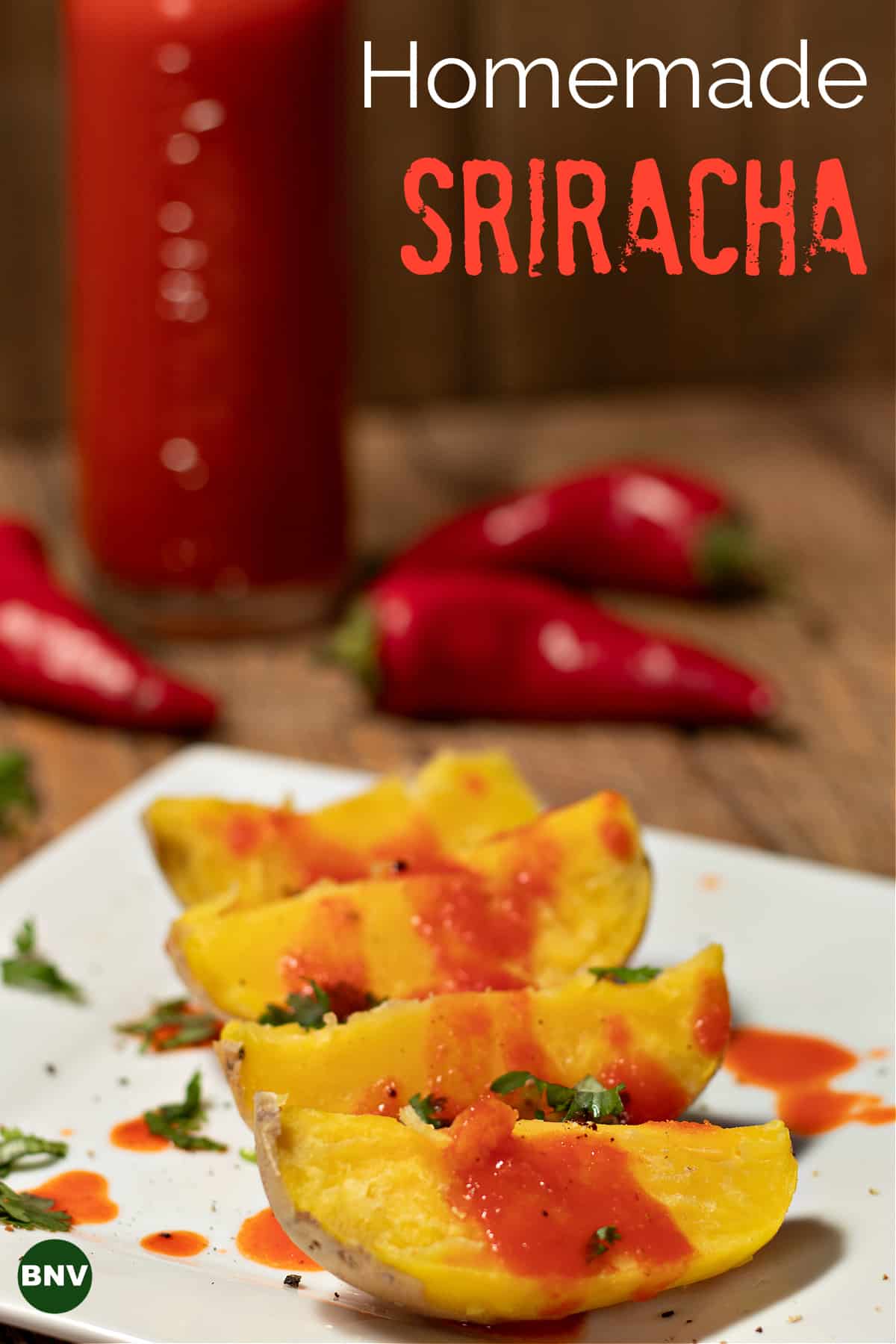 I did a side-by-side taste test, comparing my homemade Sriracha with the familiar rooster bottle, and I must say it is hard to tell the difference. If anything, mine is a little bit fruitier and definitely tastes fresher! But the spice level is exactly the same.
If you make it, do a blind taste test and tell me what you think.
But if nothing else, now we have a way to make our own in case the problems with our beloved rooster continue.
Hope you like it and I'll see you next week!
Chuck
Print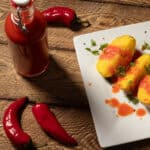 Homemade Sriracha
Author:

Prep Time:

4 days

Total Time:

96 hours

Yield:

About

8 oz

.

1

x

Category:

Condiments

Method:

Fermented

Cuisine:

Any

Diet:

Vegan
---
Description
Can't find your favorite hot sauce? Or afford it if you can? No worries! Here's a recipe to make your own Homemade Sriracha!
---
1

pound

of fresh, Fresno chile peppers

1

red bell pepper

4

cloves garlic

⅓

cup

brown sugar

2 tsp

. salt

⅓

cup

water

⅓

cup

white vinegar
---
Instructions
Wash the chiles and remove the stems
Cut the peppers into 3-4 small pieces and add to a blender
Add the garlic, brown sugar, salt, and water and pulse - just until everything is chopped uniformly. 
The mixture should be chunky - not a puree
Pour into a glass container and loosely cover with plastic wrap
Allow to ferment in a cool, dark, place for 3-4 days
Each day, unwrap and stir.  When you see a lot of bubbles (around day 4) it is ready.
After 3-4 days, add the mixture to a blender with the vinegar and carefully puree until smooth 
Strain mixture into a saucepan and simmer on medium heat until it slightly thickens (about 20 min)
Allow to cool to cool completely before bottling.  
Use a glass bottle with an air-tight lid or a recycled sriracha bottle to store.
Should last several months in the fridge. 
---
Keywords: homemade sriracha