This ancient dish from the Yucatan Peninsula is the perfect crowd pleaser for your Holiday Parties. It's basically a Roasted Pumpkin Seed Dip with charred tomatoes, onions, and my favorite - chiles!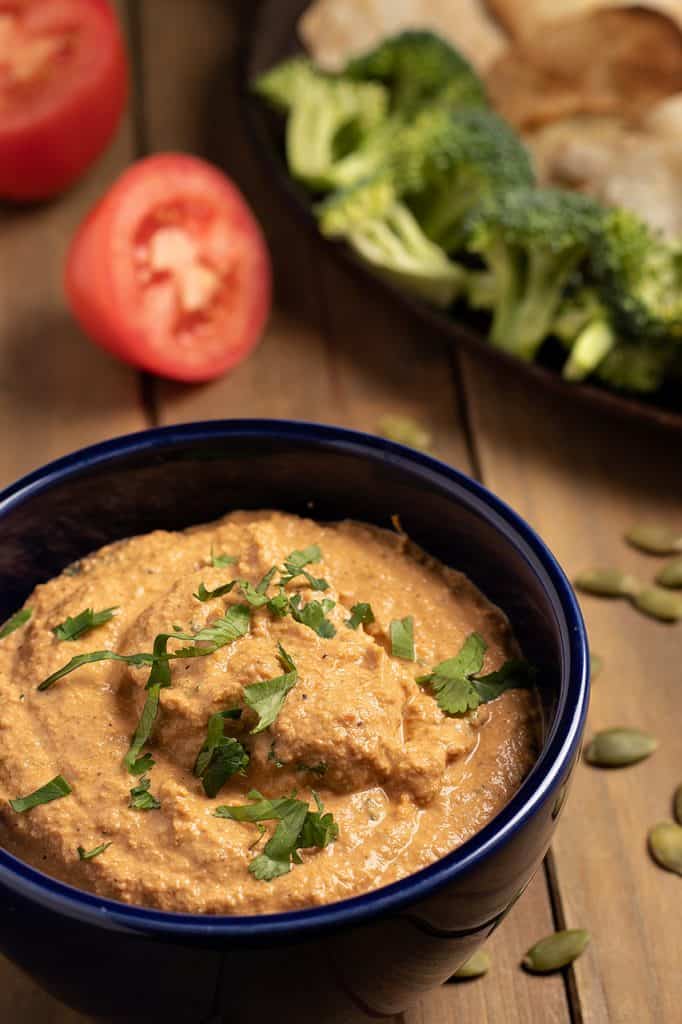 I first saw this on YouTube last week and I KNEW I had to try it because not only was it from my favorite Celebrity Chef - Chef Rick Bayless, it also had some of my favorite ingredients, roasted tomatoes, onions, and chiles.
And I'm also a bit of a history nerd, so when I saw this was an Ancient Mayan Recipe - I was sold. We have the Mayans to thank for a lot of our favorite foods... Sweet Potatoes, Corn, Squash, Beans, Chiles, Tomatoes, Avocados, and even Corn Tortillas.
So this Roasted Pumpkin Seed Dip, also known as Sikil P'ak is a very old recipe. Sikil is the Mayan word for pumpkin seeds and P'ak is their word for tomatoes. It's basically ground up Pepitas (the Spanish word for pumpkin seeds), roasted tomatoes, roasted onion, Habanero Chiles (yeah it's a little spicy), cilantro, and lime juice.
Think of it as a Mayan Hummus - and it's fast and EASY to prepare.
I used a dry, non-stick skillet to roast my seeds & vegetables, and a blender to mix it all together. The pumpkin seeds add a creaminess to this dip you would not believe and the charred veggies add a unique earthy flavor that is out of this world.
IT'S SO GOOD!
A little bit of healthy fat, yes, but perfect for a Holiday Part that even your non-Vegan guests will enjoy.
Roasted Pumpkin Seed Dip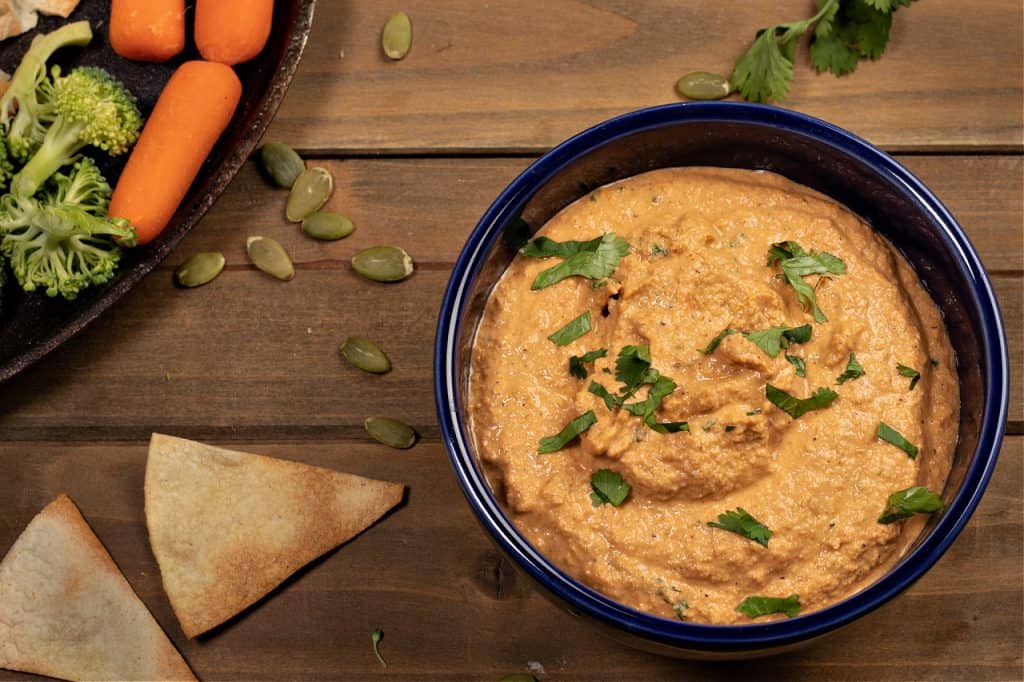 The first ingredient you will want to find is your pumpkin seeds or Pepitas.
If you happen to have a leftover pumpkin from Halloween, perfect. You simply need to remove the seeds, wash them thoroughly to remove any pulp, then spread them evenly on a towel and pat dry.
Thankfully, you can also find them in many stores. Try to get them RAW and UNSALTED. You may have to look in the bulk bins to find them.
In either case, add about 1 ½ cups to a dry, non-stick skillet and gently roast them over med-high heat. 1 ½ cups of pumpkin seeds weigh out to about 8 oz or 227 grams. I had my electric stove burner set on 7 and gently stirred them until they began to pop and become light brown in color, about 5-10 minutes. Transfer to a bowl to cool and set aside.
If all you can find is the roasted and salted Pepitas, they will work and you can skip the roasting step but the salt content might be kind of high.
Next, charring the veggies.
Grilling the veggies will do 3 things, it softens them, it concentrates the flavors, and it adds that little bit of smoky earthiness that I personally love so much. And while I do not own a Comal, I do have that same, dry, non-stick skillet I used for the pumpkin seeds, so I can use that.
I used about half an onion, sliced into three ½ inch thick rounds. So that weighed out to about 5 oz or 143 grams, for all you exact measurement people (you know who you are) ?. I set my burner to a 5 (so medium heat) and roasted each side until browned and slightly blackened - about 5 minutes. Add these directly to your blender.
If you want to cheat and use a can of fire-roasted tomatoes - you can certainly do that. I'd only use about ½ of that 15 oz can. OR you can wash 3 Roma Tomatoes and char these just like the onions. Again, it will only take about 5 minutes. Be sure to turn them often. When done, add these to your blender as well.
Note: I also tossed a few cloves of garlic, still in their skins, to roast as well. They soften up nicely. Just remove the skins before adding them to your blender.
The Habanero.
Don't let the word scare you. Yes, this recipe is a little bit spicy - but even my wife loved it. And guys, she does NOT like spicy, not even black pepper.
Habanero peppers, besides being blazingly hot, are also a little citrusy.... which I think makes the flavor of this dip so unique, along with the lime juice and orange juice we will be adding later. But if you absolutely will not buy a habanero, I understand. Maybe try it with a little poblano? Jalapeno? Let me know what works for you. You will only need about ½ of whatever pepper you choose.
Note: IF YOU HAVE NEVER HANDLED PEPPERS BEFORE - WEAR A GLOVE OR WASH YOUR HANDS AFTERWARDS!! There is oil inside chiles (capsaicin) and it WILL burn, especially if it's on your fingers and you rub your nose or eyes.

Now that the safety PSA is done, you want to roast your pepper the same as your onions & tomatoes. Just until it becomes a little charred. Make sure to remove the seeds (see the note above) as they contain the majority of the spicy heat.
OR you can just do what I did and use a store-bought Habanero Sauce.
Most grocery stores have a pretty good selection of hot sauces these days. I've included the 2 I have tried below along with the Pepitas. As an Amazon Affiliate, I do earn from qualified purchases but at no extra cost to you. I personally like the Melindas. But any sauce will work. You only need a few teaspoons.
So by now, we can add our cooled Pumpkin Seeds to the blender along with the onion, garlic, tomato, and hot sauce (or pepper). Add the lime juice and orange juice and blend until smooth. Taste for salt, I ended up adding about ½ tsp.
Finally, chop up a little cilantro and pulse that into the mixture.
This is Sikil P'ak, a Mayan staple. Serve it with homemade corn chips, crackers, or a veggie tray. You can use it as a sandwich spread too.
Let me know what you think and I will see you next week!
Enjoy your Holidays!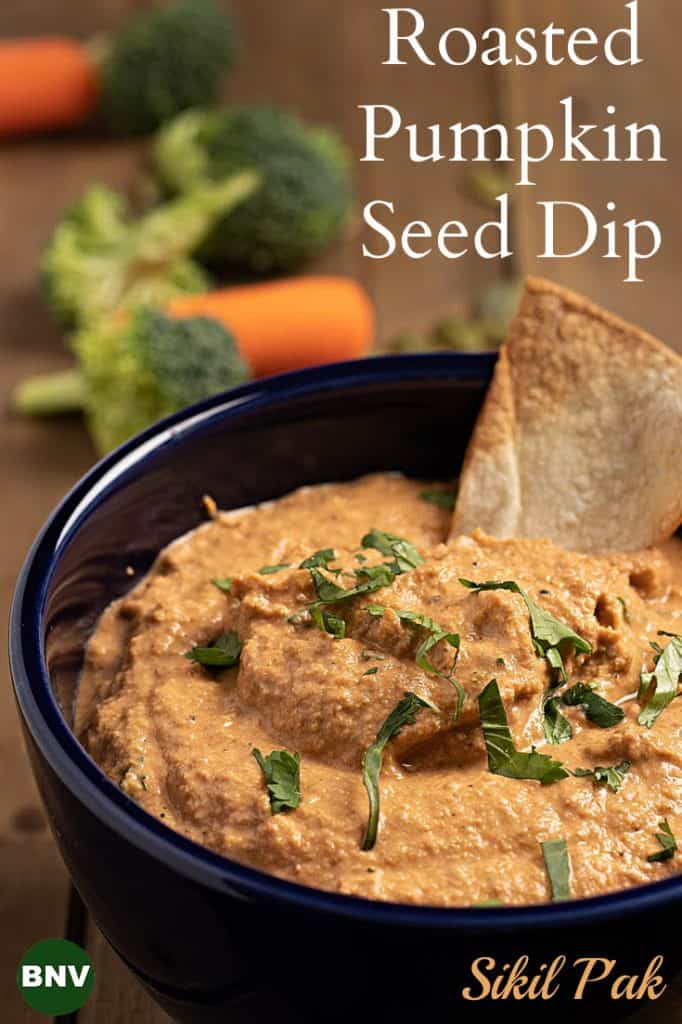 Print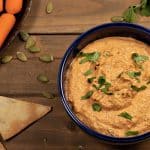 Roasted Pumpkin Seed Dip (Sikil P'ak)
Author:

Prep Time:

15 min

Cook Time:

30 min

Total Time:

45 minutes

Category:

Dip, Spread, Holiday

Method:

Stovetop, Blender

Cuisine:

Mexican

Diet:

Vegan
---
Description
This ancient dish from the Yucatan is the perfect crowd pleaser for your Holiday Party. It's basically a Mayan Hummus made from Pumpkin Seeds!
---
1 ½

cups

(8 oz) of raw, unsalted Pumpkin Seeds (Pepitas)

½

onion cut into rounds (

5 oz

)

3

roma tomatoes

2

cloves garlic

¼

cup

freshly squeezed lime juice (1 lime)

2

to

3

tablespoons orange juice

3 tsp

habanero hot sauce (or to match your taste)

½ tsp

salt (or to taste)

¼

cup

fresh cilantro
---
Instructions
Add pumpkin seeds to a dry, non-stick skillet and gently roast over med-high heat until they begin to turn tan and start to pop.  Skip this step if using roasted pepitas.  
Remove from pan and set aside.   When cooled, add them to a blender. 
Using that same dry skillet, cut your onion into rounds and gently roast until they begin to soften and char.  Repeat with both sides then remove from pan and add to blender.
Repeat the charring process with the tomatoes and garlic, turning frequently.  When the skins have split and begin to blacken, remove from pan and add to blender.  Remove skins from the garlic and add them too. 
Add hot sauce, lime juice, and orange juice, and blend until smooth.  Taste for salt and spice.  
Add ½ teaspoon salt (or to taste)
Add chopped cilantro and pulse a few times just to mix. 
Serve refrigerated with chips, crackers, or veggies, or use as a sandwich spread. 
---
Keywords: roasted pumpkin seed dip, sikil p'ak