Ahhhh Vegan Pad Thai where have you been all my life? Chewy rice noodles with a sweet, tangy sauce? And the best part of all is it's super easy to make and ready in less than an hour. Want some?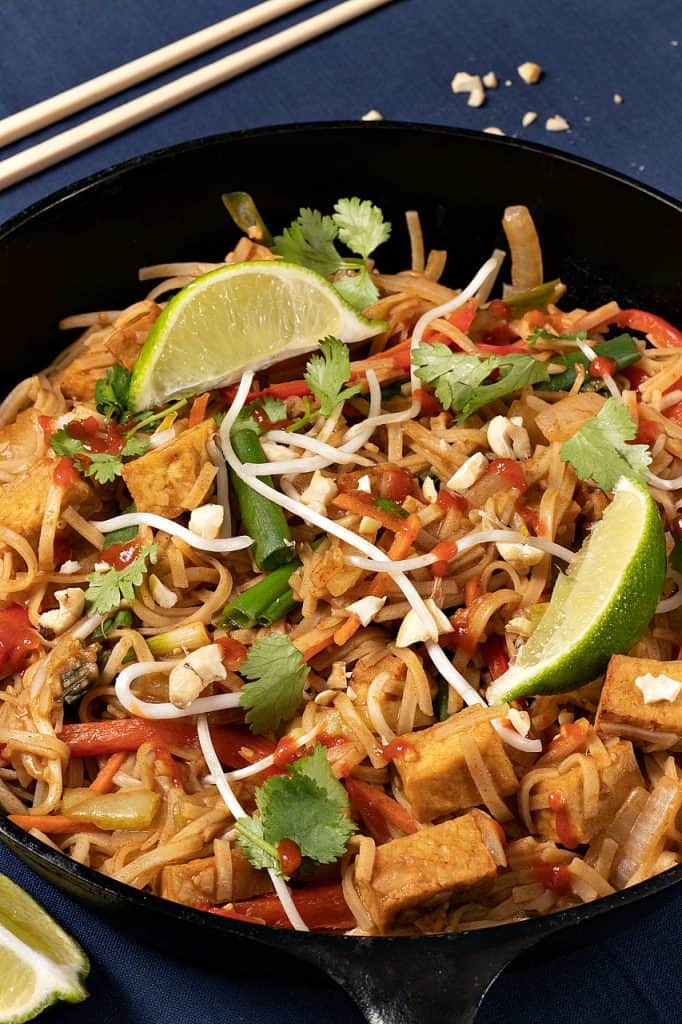 To be honest, I'm a little bit embarrassed by the fact I only had ONE Asian Noodle Dish in my catalog - my Easy Peanut Noodles.
What took me so long to add one of the most popular Asian dishes of all? Pad Thai?
Maybe it's because the traditional recipe calls for some ingredients that are a little hard to find. And this was still the case even with this recipe.
But no worries! I tried to modify it to use everyday household ingredients but yet retain its very distinctive and delicious taste.
How did I do?
You'll have to tell me. My wife and I like it so hopefully, some of you will as well.
I used common dates to replace the palm sugar most recipes call for.
And Tamarind Paste? That fruit that gives it that unique sour taste was impossible to find so I used a combination of Vegan Worcestershire and Lime Juice instead. If you want to use Tamarind, feel free but you'll have to do the research as to how much to use on your own.
As vegans, we can't (nor would I want to) use Fish Sauce - so good old low-sodium soy sauce will have to do. (Tamari if you are GF)
And lastly, and I didn't realize this, but BEAN SPROUTS are just as hard to find! I did manage to find some Organic Bean Sprouts at New Seasons, but La Choy has them in a can in most chain grocery stores. Although they are a traditional ingredient, you could always just leave them out if you can't find them.
As far as noodles, for a more nutritious option, you can find Brown Rice Noodles in some stores, and if not - I'll leave an Amazon link for those along with some other ingredients down below.
This is not going to be authentic Pad Thai by any means, but it IS healthier with no refined sweeteners or oil, so I hope you like it as much as I do.
Do you find all this verbiage to be "superfluous"? I've been told it is - but no matter, I use this space to explain how I come up with the recipes and what I feel is USEFUL info to go along with each one so....
That's my story and I'm sticking to it! 🙂
Now - on to the recipe.
Easy Vegan Pad Thai
I'll start with some Amazon Links to those ingredients you may not be able to find. As always, these are affiliate links and as an Amazon Affiliate, I do earn from qualified purchases but at no extra cost to you.
Ok, first thing's first. We need to soak the dates to soften them up. I would toss them in some hot water the morning of making this recipe. Give them lots of time to soften up.
Then the noodles. We also want to soak (not COOK) our noodles about 30 minutes prior to cooking. Just toss them in some warm water for 30 minutes and forget about them.
Next, our tofu. I bought a 16oz block of SUPER-firm tofu and there was less water to drain. Just make sure you're using the firmest tofu you can find, drain it, press it, then cut it into 1-inch cubes.
In restaurants, they will fry the tofu in oil, flavored with a little onion and garlic. I baked mine instead. If you just toss raw tofu into a stir-fry, it will likely fall apart. So by baking it first (or air fry), it will retain its texture when it goes into our pan later.
Arrange the cubes onto a parchment-lined baking sheet and bake for 15 minutes at 375° F. Then set them aside.
Now the sauce.
Drain the dates and remove the pits. Then into the blender with all the other sauce ingredients listed below.
Pad Thai Sauce should have a balance of 4 flavor profiles. Sweet, Salty, Sour, and Spicy. So feel free to adjust the amounts of any of these sauce ingredients to find the right balance for YOU.
Blend it until it's as smooth as you can get it, then - that baked Tofu that's sitting over there on the counter? Toss them into the sauce. It will give them some time to absorb some of the flavors.
Veggie Prep. Now we prep our veggies. The secret to any stir fry is to have everything chopped and ready to go. Because once that pan is sizzling, you won't have time for anything else but stirring.
Slice the onion and pepper into strips and mince your garlic. I used pre-shredded carrots but if you need to shred your own, now is the time. And I used baby Bok Choy, but you can use any veggie you want. Just cut them into small and even pieces.
For the garnishes, I used some green onions I had in the fridge and cut them diagonally into 2" strips and rinsed my bean sprouts.
Now we fry. The noodles have been soaking, the tofu is baked and happily marinating in the sauce, the veggies are cut - so now we are ready.
I use a big, heavy, stainless wok like the one I posted above in my Amazon Links. The only thing I don't like about it is I do have to keep it conditioned or it will rust. Otherwise, it is a good wok.
Add 2-3 Tbs of water or veg broth to whatever pan you are using, and turn on the heat to med-high.
The onions, peppers, carrots, and bok choy go in first - just until they begin to soften, then the garlic gets stirred in. This will take 2-4 minutes.
Then add the sauce and tofu. Stir well then drain your noodles and add them too. You can use tongs to reach in the pan and get those noodles stirred in. You want to make sure they get coated by the sauce.
Then add your green onions and bean sprouts. Contine stir frying unti the noodles are as done as you like them.
Add a little cilantro if you are so inclined, and if you're like me - another shot of sriracha.
That's my easy, cheater (lazy) version of Vegan Pad Thai.
Again, hope you like it. Leave those comments down below and now that the air is clear again here in Oregon....I'll get started on my next reader request recipe soon.
See you then!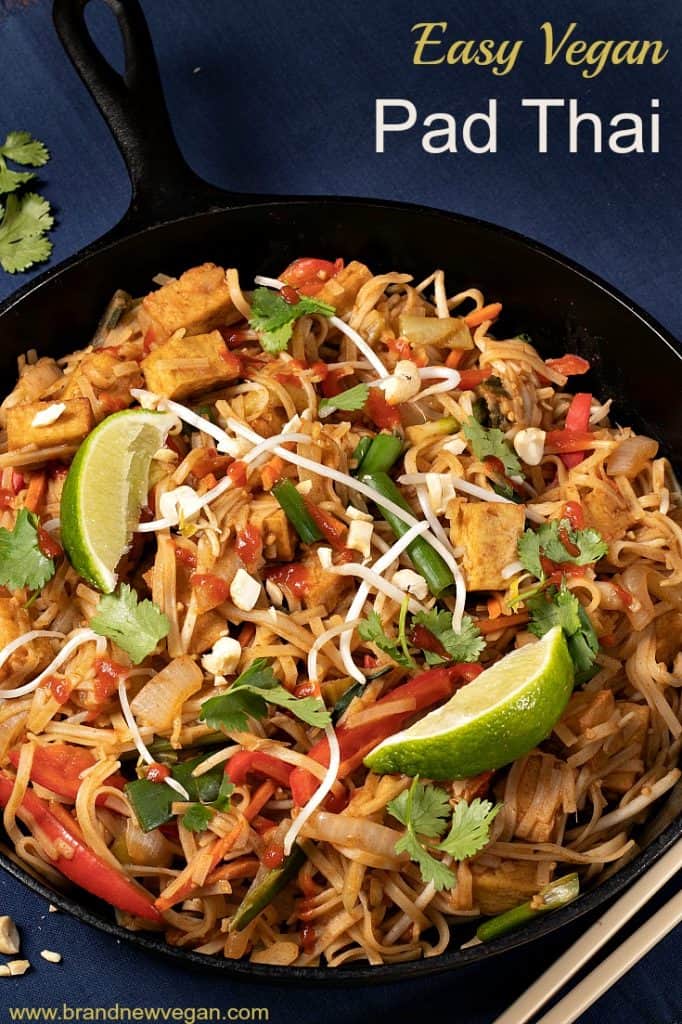 Print
Easy Vegan Pad Thai
Author:

Prep Time:

30 mim

Cook Time:

15 min

Total Time:

30 minute

Yield:

4

-

6

Servings

1

x

Category:

Stir Fry

Method:

Stovetop

Cuisine:

Asian, American

Diet:

Vegetarian
---
Description
Ahhhh Vegan Pad Thai where have you been all my life? Chewy rice noodles with a sweet, tangy sauce? And the best part of all is it's super easy to make and ready in less than an hour.
---
8 oz

rice noodles

16 oz

extra firm tofu

½

white onion

½

red bell pepper

½ cup

shredded carrot

½ cup

chopped baby bok choy

1 tsp

minced garlic

½ cup

sliced green onions

½ cup

mung bean sprouts
Optional - crushed peanuts, cashews, cilantro for garnish
Sauce
5

dates

½ cup

water

4

Tbs low-sodium soy sauce (tamari for GF)

2

Tbs rice vinegar

2

Tbs lime juice

2

Tbs vegan Worchestershire

1

-

2

teaspoon sriracha
---
Instructions
Soak noodles in warm water for 30 min
Press and cut tofu into 1-inch cubes
Bake or air fry tofu for 15 min @375° F, set aside
Remove pits from dates and add to blender
Blend all sauce ingredients until smooth 
Toss baked tofu with sauce to marinate until needed
Chop all veggies and prepare pan or wok
Using a little water or veg broth, heat up pan and add onion
Add peppers, carrots, and bok choy and stir fry until just softened
Add garlic and stir for 30 seconds
Add sauce and tofu - mix well and cook for an additional 1-2 min
Drain noodles and add to pan - mix well
Add green onions and bean sprouts and stir
Cook 1-2 min until veggies and noodles are done
Garnish with crushed peanuts, more green onions, cilantro, and/or sriracha
---