It doesn't matter if you call them potato rounds, home fries, or cottage fries - they taste absolutely delicious. And the secret to these amazing fat-free cottage fries is not so much in the recipe - as it is in the method.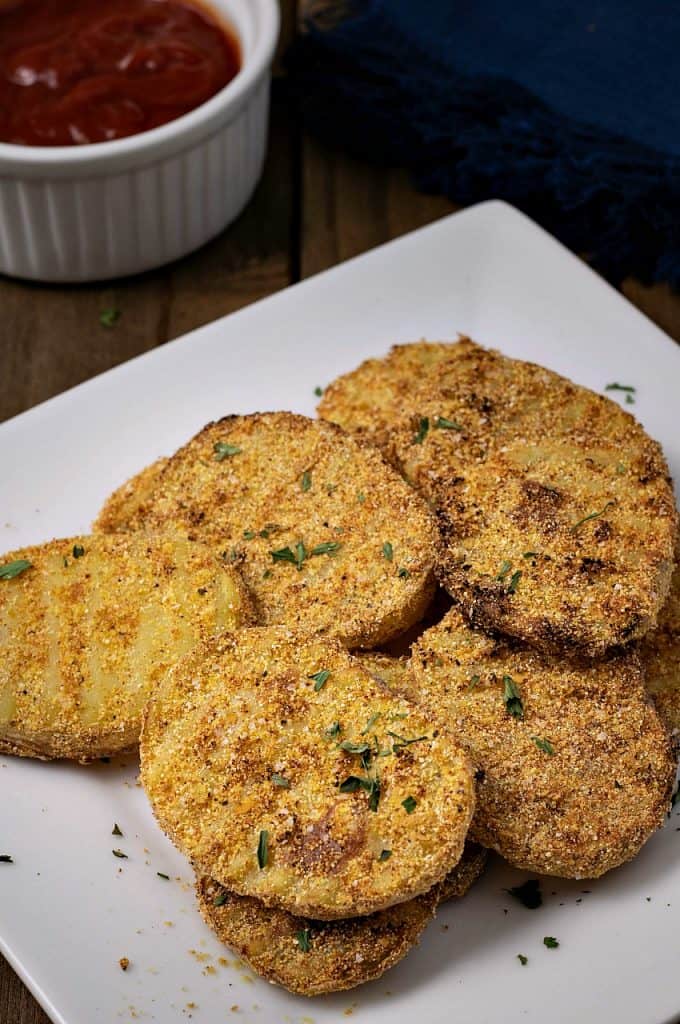 Yes, another potato recipe, and why not? Right? They're inexpensive, easy to cook, and taste amazing. Plus we get the added benefit of trying all kinds of interesting sauces to dip them in! (although ketchup will always be my fav)
Now I'm sure that by now we've all tried cutting our potatoes into fries and just baking them, right? And some of us even splurged and bought an air-fryer in hopes of making them even crispier.
But those baked fries (at least in my house) usually end up tasting more like.....well.... baked potatoes - instead of those lovely, crispy french fries we all know and love.
So what gives?
Well it turns out we've been missing a step, as I will explain. In fact, there are several little things we are going to do differently in this recipe to make sure we get the tastiest, crispiest fry possible.
Sound good? Oh - here we go.
Fat-Free Cottage Fries
So the first step, obviously, is we want to clean and prep our potatoes. I used 4 medium Yukon Golds in this recipe but I am sure Russetts would work fine too.
Give them a quick scrub and rinse - and then set them aside.
Now we want to boil a large pot of salted water. I used my spaghetti pot and just make sure you have enough water to cover the potatoes once we slice them up and add them to the pot. Add 1 tablespoon of salt and let it come to a full rolling boil.
The salt is important. To quote this article from Lifehacker -
"Simmering starchy baking potatoes in water (seasoned with salt) gelatinizes a layer of starch on their exterior surfaces. This layer will then dehydrate and brown as the potato roasts, creating a thick, crisp shell."
While the water is coming up to temp, I made a simple seasoning mix of salt, pepper, onion powder, garlic powder, and paprika. In my video, you'll see I also used some Nutritional Yeast but that is completely optional.
To give these cottage fries a little more crunch - I also added some oil-free Panko Bread Crumbs. Now if you can't find oil-free Panko in your store, or want to make these Gluten-Free - you can also use Corn Meal. I'll list the amounts down below in the actual recipe box.
Just whisk these spices up together and set aside for now. This batch of seasoning will make about 2 batches of cottage fries.
Now we slice our potatoes. Cut them as evenly as you can (about ¼" thick) using your kitchen knife....OR....
This handy little Crinkle Cutter I found on Amazon. It's not necessary, but I like the crinkle look and something tells me the increased surface area is going to make these even crispier. I'll attach an affiliate link below and as always - I will make a small commission if you buy one (at no extra cost to you)
Place your potatoes in a bowl of cold water while you are cutting them to prevent browning.
Ok so now our water should be boiling, so carefully add your drained potatoes to the pot of boiling water and set your timer for exactly 10 minutes. Also, add 1 tablespoon of Apple Cider Vinegar to the water as well.
Wait, what? Vinegar? Why vinegar?
It has to do with acidity. Here is a quote from the Serious Eats website"
Well everyone who's ever baked an apple pie knows that different apples cook differently. Some retain their shape, while others turn to mush. The difference largely has to do with their acidity. Thus super tart apples like Granny Smith will stay fully intact, while sweeter apples like a Macoun will almost completely dissolve. Just like a potato, apple cells are held together by pectin. Moral of the story: acid slows the breakdown of pectin.

https://aht.seriouseats.com/2010/05/the-burger-lab-how-to-make-perfect-mcdonalds-style-french-fries.html
So by adding Vinegar, we are going to make sure our Cottage Fries retain their shape while boiling and not turn to mush. And I will say it worked great. Watch my video below - I only had 1 break apart.
Once the 10 minutes are up, carefully drain your potatoes and give them a good rinse with cold water to cool them down enough to handle.
And now we bake.
Place your drained potato rounds into a ziplock bag and add 2-3 Tbs of the seasoning mix. Seal and shake. Remember's mom's Shake 'n Bake? Yep - same thing. Once the potatoes are evenly coated, place them evenly either on a parchment lined cookie sheet, a wire rack on top of your cookie sheet, or your air fryer basket.
I used my Cuisinart Air Fryer Oven with the temp set to 425 deg F. Air fry for 8-10 minutes or until crispy. And for all of you who always ask which Air Fryer I have - here is another Amazon Affiliate link - same disclosure as above. I love mine and use it all the time.
Now the questions: Can I bake these in my regular oven?
If you have a convection oven - sure thing. I would use a wire rack and use the same 8-10 minute time as my Air Fryer - just keep watch as it may take longer. If you are using a regular oven I would also use a wire rack (or parchment paper at least) and try 15-20 min at 425. Again - just keep watch. The potatoes are already cooked - we just want to crisp them up.
So by parboiling in salted water, and adding the vinegar - we are chemically setting up our taters to be the crispiest french fries ever. And I will say they are hands down much better than those baked fries we've all made before.
Hope you enjoy the recipe and be sure and watch the video underneath the recipe box if you are more of a visual learner.
Oh and before I go - they're called "Cottage Fries" because they resemble the shingles of an old cottage style house. Thanks Chef John!
Enjoy.

Print
---
Description
It doesn't matter if you call them potato rounds, home fries, or cottage fries - they taste absolutely delicious. And the secret to these amazing fat-free cottage fries is not so much in the recipe - as it is in the method.
---
4

qts Water

4

med Yukon Gold Potatoes

1

Tbs Salt

1

Tbs Apple Cider Vinegar
Seasoning
2

Tbs Panko Bread Crumbs (can sub Corn Meal for GF)

1

Tbs Nutritional Yeast (optional)

1 tsp

 Onion Powder

1 tsp

 Garlic Powder

1 tsp

 Paprika

¾ tsp

Salt

¼ tsp

Pepper
---
Instructions
Add 1 Tbs salt to water and bring to a full rolling boil
Meanwhile clean and cut potatoes into ¼" thick rounds
Place potatoes in another bowl of cold water until ready
Whisk all the seasoning ingredients together and set aside
Drain your potatoes and carefully add them to the boiling water
Add 1 Tbs of Apple Cider Vinegar and set your timer to 10 min
When finished, carefully drain your potatoes and rinse with cold water
Place potatoes in a ziplock with 2-3 Tbs of seasoning and shake to coat
Place the coated rounds on your baking sheet or air fryer basket.
Air fryer/convection oven :  8-10 min at 425 or until crispy
Reg Oven - 15-20 min in a preheated 425 oven or until crispy
Serve with your favorite fry sauce
---
Notes