Judging from the amount of comments I got on my Vegan Orange Chicken Recipe  I'd say it was a hit!
I'm glad that so many of you took the time to let me know how much you enjoyed it!
Keeping in line with the "Panda Express" menu, here's a Spicy General Tso Tofu I made for dinner last night.  I got quite a few hints asking for this, so I hope you enjoy it as well.
I used the same formula as I did with my Orange Chicken in that I :
Marinated and baked my Tofu
Prepared the Sauce
Stir Fried some Veggies
And then blended everything together
Once again, it worked beautifully this way - as the tofu only took minutes to prepare before popping it in the oven, leaving me lots of time to concentrate on making the sauce.
The stir-fry itself also went quickly as I used frozen vegetables and then just mixed everything together to coat evenly.
Slightly sweet, with just a hint of spice, with crispy tofu and lots of crunchy vegetables, served over a bed of steaming white rice.
Perfect.
General Tso Tofu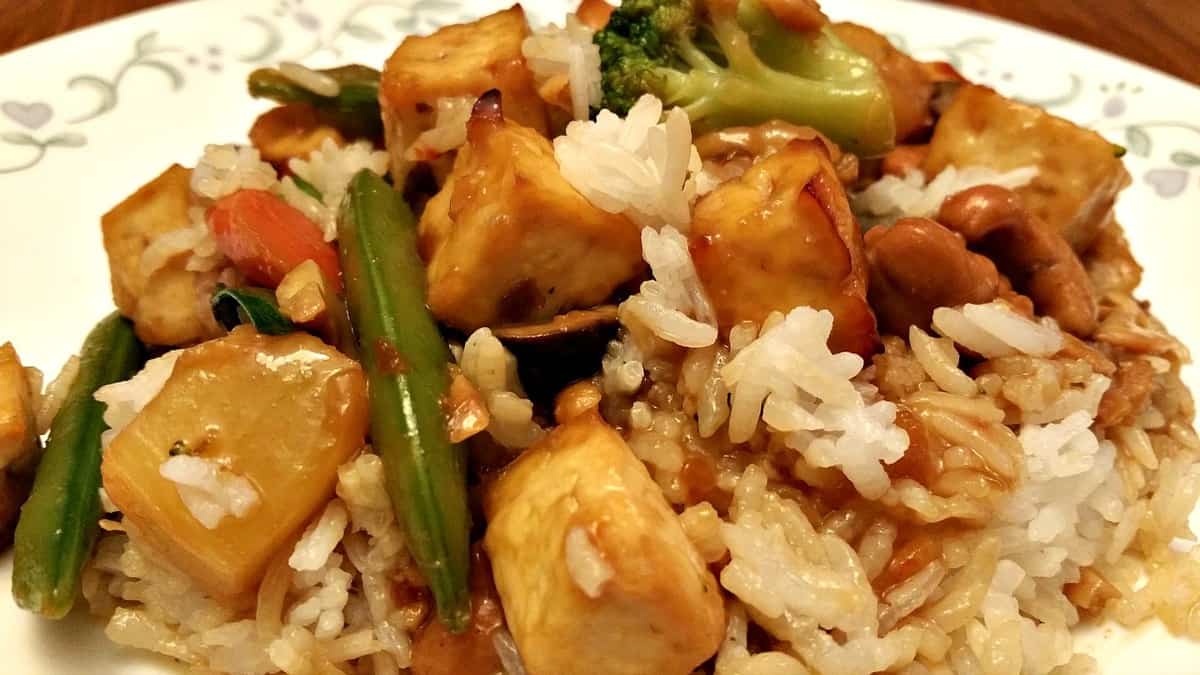 You'll want a block of extra firm tofu, pressed to eliminate as much moisture as possible.
Since I used pineapple chunks in my stir fry, I used the juice to marinate the tofu after cutting it into 1" cubes.  Use a shallow dish and stir the pineapple juice with a tablespoon of soy sauce and then toss your tofu cubes to coat.
Let these rest in the refrigerator while you heat your oven to 350 degrees.
Before laying your tofu cubes out on a parchment lined cookie sheet to bake, drain the marinade and toss them with 2 tablespoons of corn starch.  This will crisp them up even more while baking.
Bake for 45 minutes until golden and crispy.
The General Tso Sauce
In a medium-sized saucepan, saute the minced ginger and garlic in about ¼ cup of low sodium soy sauce until softened.  Then add the remaining sauce ingredients, the Chile Garlic Paste, the remaining Soy Sauce, Rice Vinegar, Sugar, Mirin, and Tahini.
Traditionally in Asian Stir Frys, chefs will use Sesame Oil to saute and add flavor.  To keep this as oil free as possible, I used a tablespoon of Tahini instead.  Although this does add some fat to the sauce, it is nowhere near as much as using oil, and still adds a bit of Sesame flavor.  But if it is a concern you can omit this step entirely.
Again, once the sauce has simmered for 5-10 minutes, make a slurry of  1 tablespoon corn starch and 1 tablespoon cool water and mix this in to thicken.
The Stir Fry
I used a 12oz bag of Steamfresh Vegetables for my stir fry.  The vegetables were Broccoli, Sugar Snap Peas, Carrots, and Water Chestnuts which I thought would compliment an Asian dish nicely.
I also added about ½ a container of Mushrooms I had left over in the fridge, an 8oz can of Pineapple Chunks I had drained earlier, ½ cup of raw cashews, and some Green Onion for garnish.
If you want to go the traditional route, simply using Broccoli and Green Onions for garnish would give it more of a General Tso look.  But I like lots and lots of veggies - so it's up to you.
As always with any stir fry, use just a small amount of veggie broth or water to keep things from sticking in the beginning, because as they cook they'll release their own leaving you plenty of juice.
Stir fry until just crisp tender and then add in your Tofu and Sauce and stir to combine.
Serve over steamed rice.
I really love the comments from everyone, so if you make this and enjoy it, please leave me a note or a photo.
Enjoy!

Print
Spicy General Tso Tofu
Author:

Prep Time:

10 minutes

Cook Time:

50 minutes

Total Time:

1 hour

Yield:

4

servings

1

x

Category:

Main

Cuisine:

Chinese
---
Description
A sweet and spicy version of a Takeout Classic - General Tso Tofu. Crispy baked tofu stir fried with Asian Vegetables in a spicy General Tso Sauce.
---
14 oz

Extra Firm Tofu
Juice from an 8oz can of Pineapple Chucks for marinade

1

Tbs Soy Sauce ((low sodium))
The Stir Fry
12 oz

Steamfresh Frozen Veggies ((Broccoli, Carrots, Water Chestnuts))

4 oz

White Button Mushrooms

1

can Pineapple Chunks ((

8oz

- drained previously))

½ cup

Raw Cashews
The Sauce
½ cup

Low Sodium Soy Sauce ( )

1

Tbs Ginger ((minced))

1.5

Tbs Garlic ((minced))

¼ cup

Rice Wine Vinegar

¼ cup

Water

3

Tbs Sugar

1

Tbs Tahini

1

Tbs Mirin Rice Wine

1

Tbs Chile Garlic Paste

⅛ tsp

Red Pepper Flakes
---
Instructions
Prep the Tofu
Drain and press the Tofu
Slice into 1" cubes and toss with pineapple juice and 1T Soy Sauce to marinade
Refrigerate 15-30 minutes while oven is heating up to 350 degrees
Drain marinade and toss tofu with 2T corn starch
Place evenly on parchment lined cookie sheet and bake for 45 min or until crispy
The Sauce
Saute garlic and ginger in ¼ cup Soy Sauce until softened
Add remaining Soy Sauce, Rice Vinegar, Chile Paste, Water, Mirin, Tahini, Sugar, and Red Pepper and stir until bubbly
Add 1T Corn Starch to 1T Cool Water to make a slurry, add to sauce to thicken
The Stir Fry
Stir Fry the frozen veggies, pineapple, mushrooms, and cashews in a small amount of water until crisp tender
Add Tofu and Sauce and stir to coat evenly
---