"It's summertime summertime sum sum summertime, Summertime summertime sum sum summertime...."  (as sung to the 1958 tune by The Jamies)  
And what better way to spend a summertime evening than grilling these Amazing Vegetables Kabobs in your very own backyard!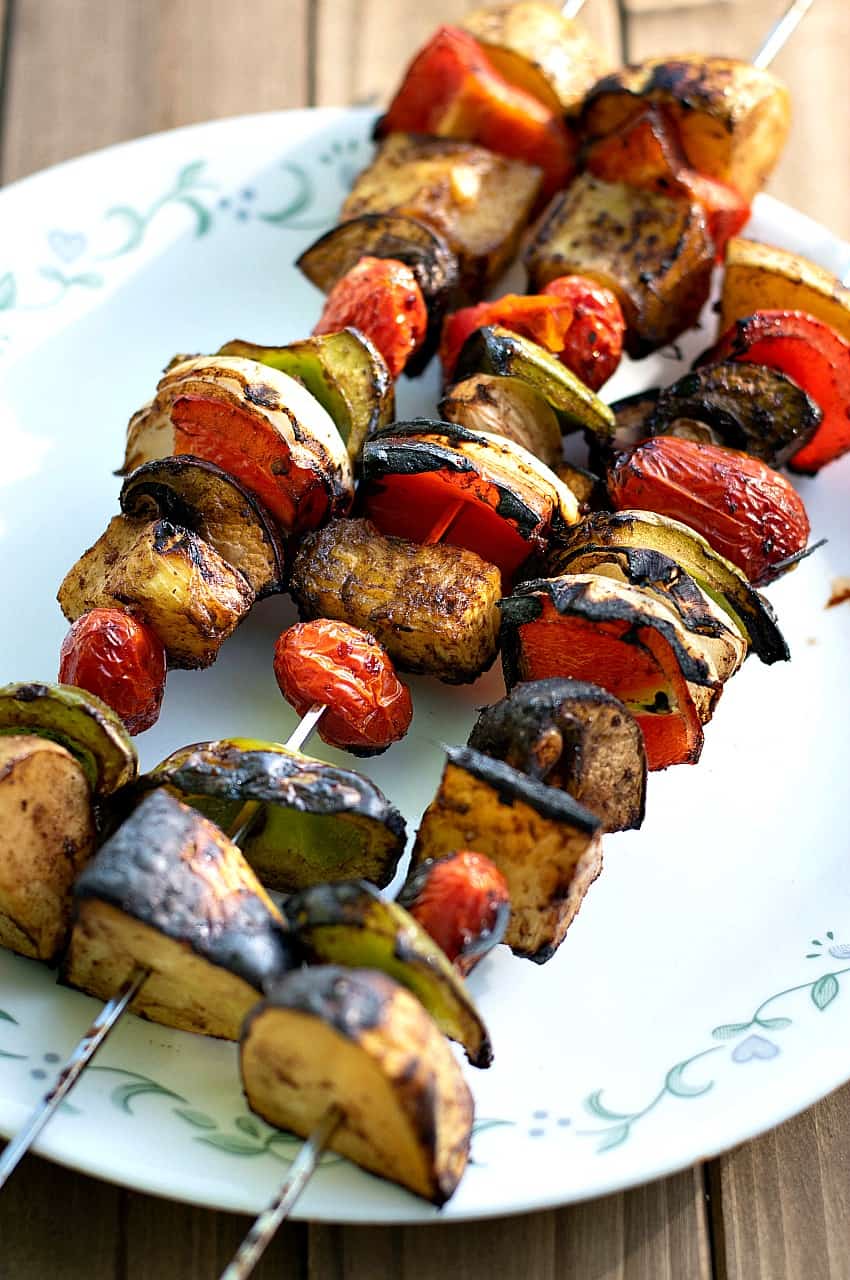 No hot stove.
No fancy gadgets.
No fancy ingredients.
Just plain, simple food - REAL FOOD - grilled to perfection with a simple but tasty marinade.   What can be better?
So the story starts with me wanting to grill something the other night and realizing my 20-something-year-old gas grill had seen it's last day.  (Besides - the yellow jackets were already claiming it as their new home)
So I asked myself - do I really NEED a new grill?  I mean I'm VEGAN!  I hardly cook outside anymore.
So I asked the question on my Facebook Page .... and the response was overwhelming!
YES!  PLEASE!  Please, post more Summer Picnic Recipes, and BBQ Recipes that us Vegans can enjoy too!
Now why didn't I think of that?
So as we head into the warmer months of Summer - expect more BBQ and Picnic type recipes.  And I'll start with a very simple (but oh SO tasty) recipe that I whipped up for dinner last night.
These grilled Vegetable Kabobs.  
All you need is a few vegetables, mushrooms, and pineapple, and a very simple marinade made mostly from Balsamic Vinegar and Dijon Mustard.
Are you ready to get this party started?
Then let's go!
Grilled Vegetable Kabobs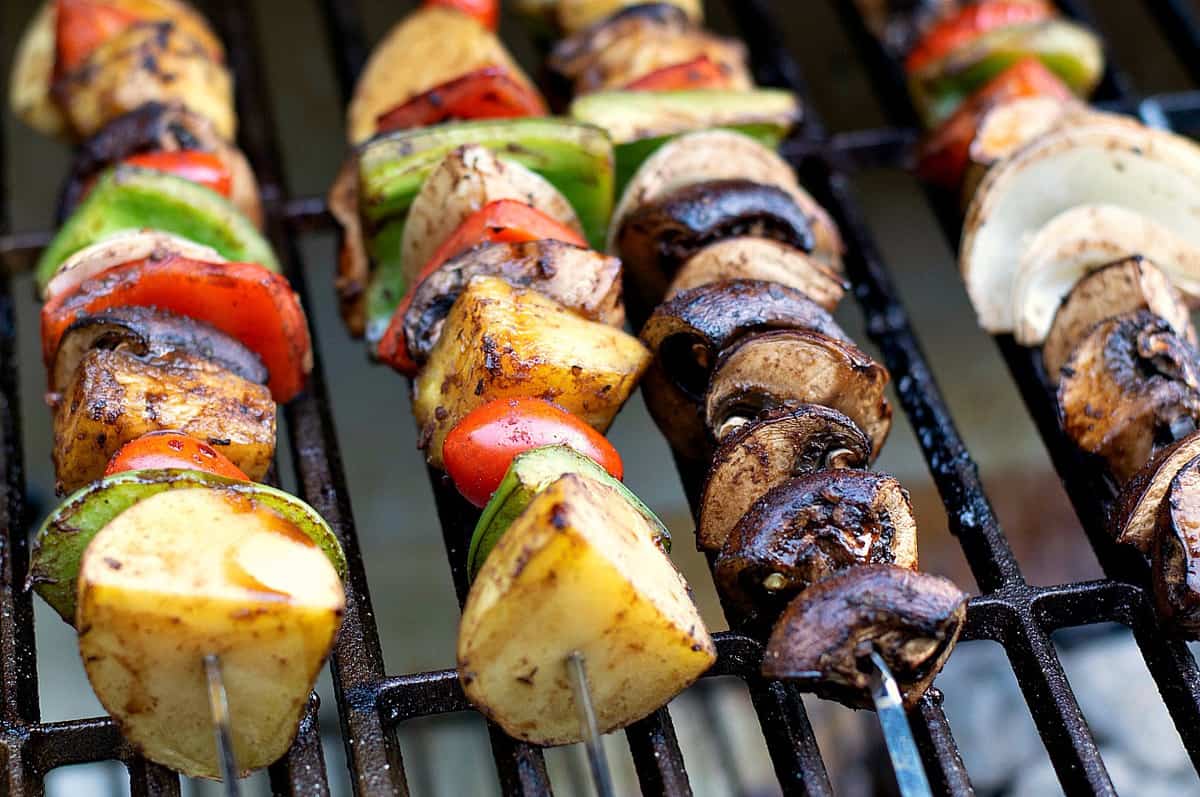 Let's start with the Marinade.
In a small bowl whisk together some Balsamic Vinegar, Dijon Mustard (I love Jack Daniel's Horseradish Mustard), Lemon Juice, Maple Syrup, Onion Powder, Basil, and Garlic.
Bring that to a slow simmer and cook until it's reduced just a bit.  Meanwhile, let's chop some veggies and yes, I used Potatoes.
(Note: Use the little Baby Potatoes if you can.  Otherwise, you'll want to pre-cook the potatoes just a little so they'll finish cooking on the grill).
I also used Mushroom Caps, Cherry Tomatoes, Green & Red Bell Peppers, Onion, and Pineapple.  Zucchini and Eggplant would work too.  Just try to chop everything to roughly the same size so they cook evenly.
Toss all these in a bowl and add the marinade.  Cover and give it a little shake to make sure everything is coated and set aside.
Also, if you're going to be using wooden skewers for your kabobs, now would be a good time to soak them in cold water. 
Ok guys, this is the point where you grab that cool adult beverage (if that's your thing) and go fire up that grill!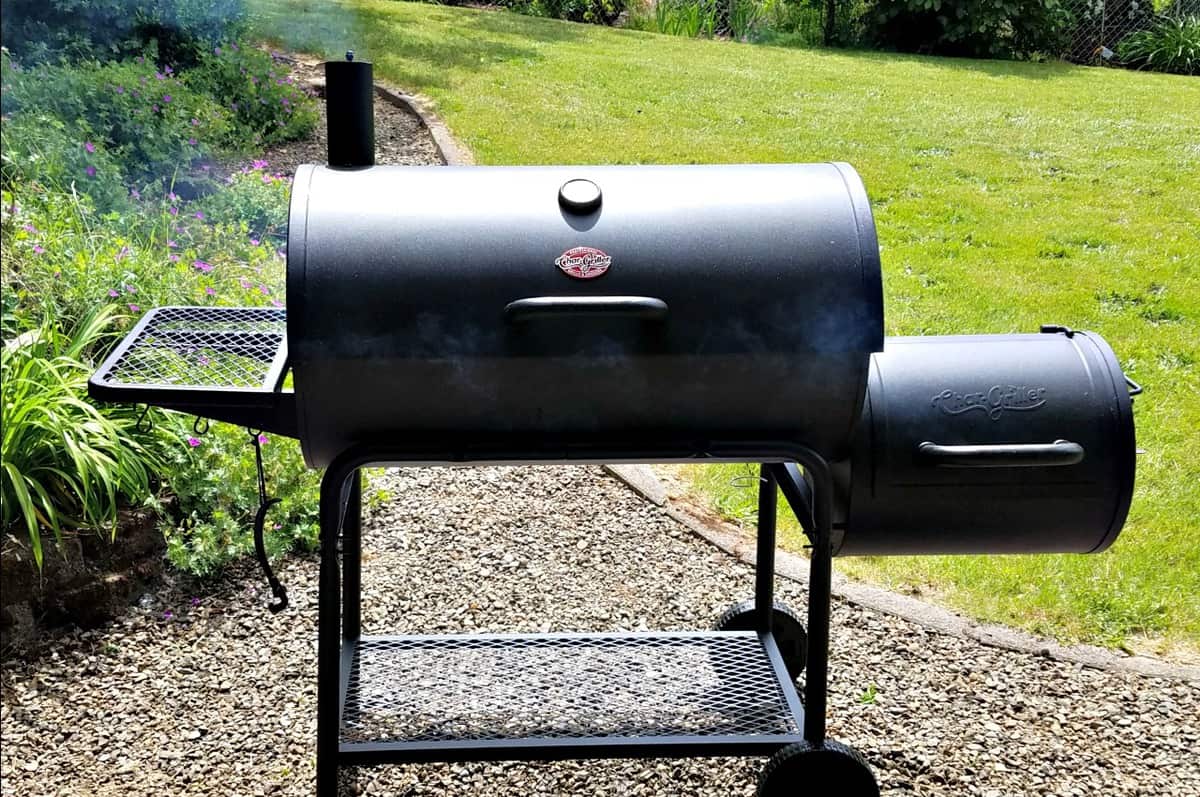 Obviously, you're not going to need a monster grill like this one.  (I wanted a charcoal grill and after 7 stores it was either this one or one of those cheap ones that only last about a year)
Charcoal or gas - whatever you have - now is when you get it ready as you're marinating your veggies.  Be sure and give that bowl of veggies a shake occasionally to make sure everything is covered in the marinade.
Don't have a grill?  No worries.  I cooked mine on a grill, but you could use a grill pan on the stove, a George Foreman electric grill, or just roast these in a hot oven.  Whatever you got.
Once the grill (or whatever cooking vehicle you're using) is ready, let's assemble our skewers.
Skewer your marinated vegetables on either metal or wooden skewers and place them on the grill.  Save any leftover marinade for a basting sauce as you cook your kabobs.
I placed mine over direct heat for just a minute or so (to get those yummy grill marks) and then moved them over to the indirect side to finish cooking.   (I placed my hot coals on one side of the grill for direct heating, and left the other side empty for indirect heating)
It will only take about 8-10 minutes total to cook your Kabobs. so watch them carefully and baste often.
That's it!  I also roasted an ear of corn for the wife and I and it was fabulous.  SO sweet and juicy.  If you haven't tried my Corn Butter on freshly roasted ears of corn, you're really missing out.
Hope you enjoy my new Summertime Series.
Be sure and leave those comments and we'll see you next week for another yummy recipe.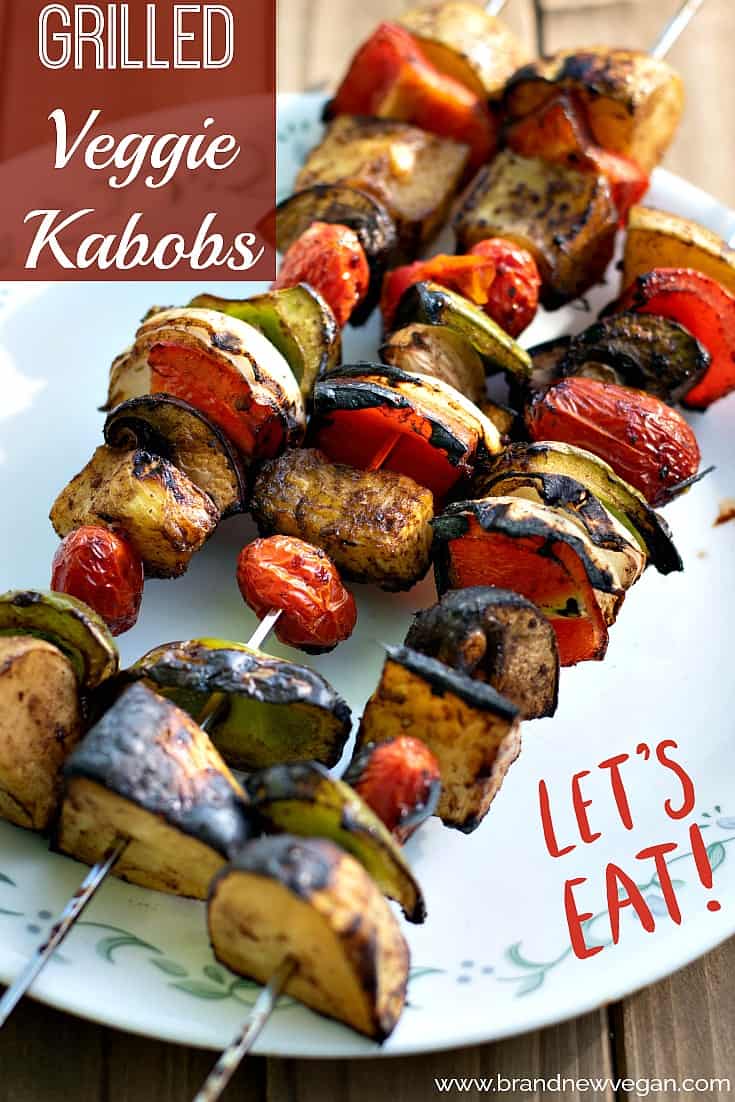 Print
Grilled Vegetable Kabobs
Author:

Category:

Summer Picnics

Cuisine:

American, BBQ, Vegan
---
Description
"It's summertime summertime sum sum summertime...." These grilled Vegetable Kabobs will soon be a Summertime favorite! Freshly grilled veggies basted in a tangy Balsamic Marinade. Who doesn't love grilled veggies over a fire? Yum!
---
8 oz

Mushrooms

1

Red Bell Pepper

1

Green Bell Pepper

8

Baby Potatoes

1

Onion ((quartered))

1

pkg Pineapple Chunks

1

pkg Cherry Tomatoes
Marinade
¼ cup

Balsamic Vinegar

1

Tbs Lemon Juice

1

Tbs Dijon Mustard

1

Tbs Maple Syrup

1 tsp

Minced Garlic

½ tsp

Onion Powder

½ tsp

Basil

¼ tsp

Salt

⅛ tsp

Black Pepper
---
Instructions
Chop all vegetables (and fruit) into equal sized pieces and set aside in a small bowl.
Whisk all marinade ingredients together over low heat and simmer for 2-3 minutes or until slightly reduced.
Pour marinade over vegetables and cover. Lightly shake to evenly coat all the veggies with the marinade.
If using wooden skewers, soak in cold water while waiting for the grill to heat up and veggies to marinade. (about 30 minutes)
Prepare grill if using and preheat.
Assemble veggies onto skewers and grill for 8-10 minutes or until potatoes are cooked through. Baste with remaining marinade.
---
Notes
Tips are always welcome!
---
[paypal_donation_button]