It's Christmas Day, 2022, so MERRY CHRISTMAS! And while we're celebrating THIS holiday today, we have another coming right up - and THESE Vegan Potato Skins will make the PERFECT New Year's Eve Party Food!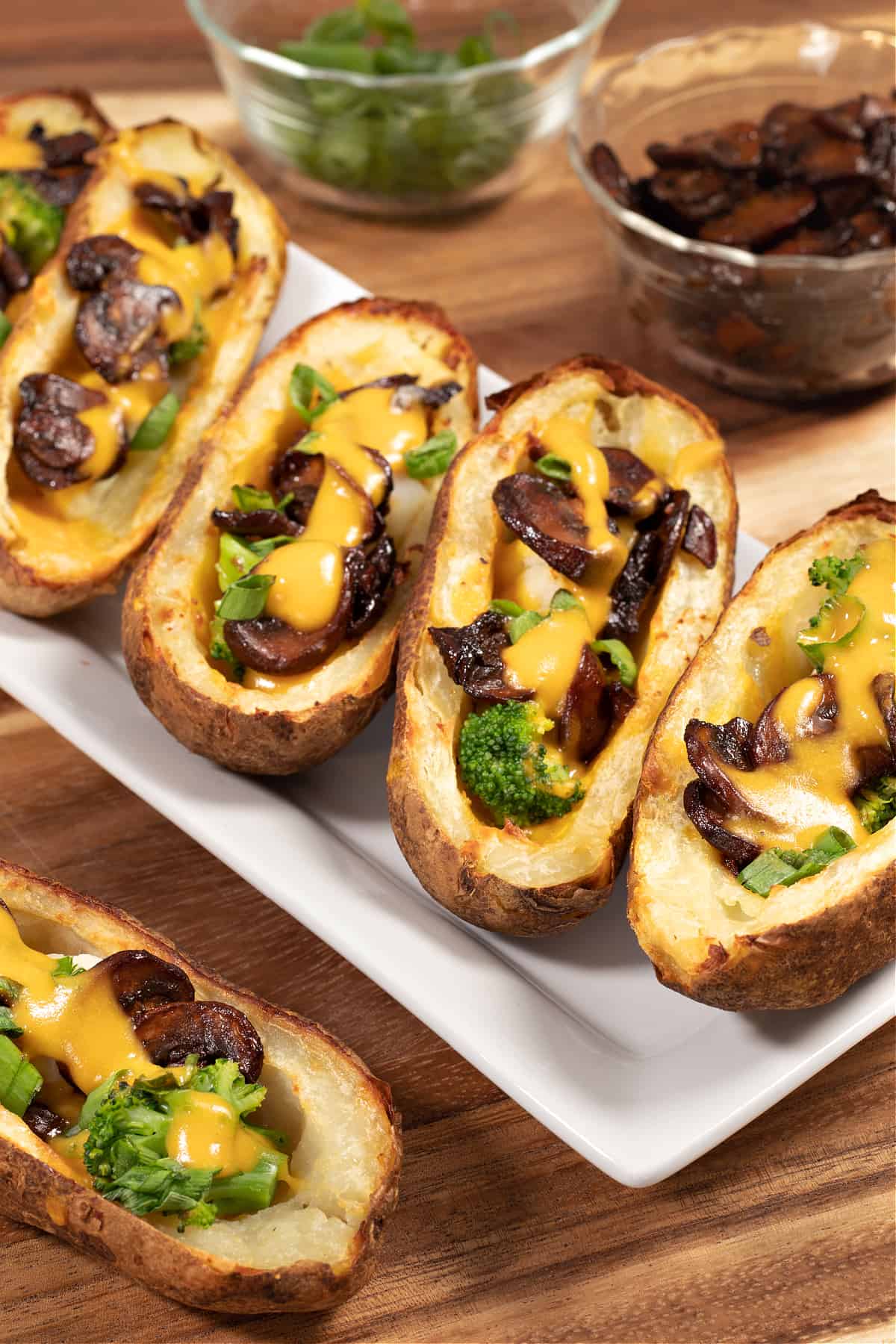 Remember Potato Skins?
My earliest memory was from a little fern bar, right under to service road to Texas Instruments in Richardson, Tx.
Ahhh...the Cactus.
I was in my early twenties and working the swing shift on my first industry job. We would get off of work at 10 pm, and this little bar had 2-for-1 long island ice teas for swing shifters, so yeah - LOTS of memories were made here let me tell you.
The stupid things we do when we are young!
But they had POTATO SKINS! And I remember they were like the PERFECT finger food!
So with New Year's Eve coming, I recreated them, and there are TONS of reasons you will love them.
they are POTATOES!
even the cheese sauce I use is made from potatoes
and bacon-flavored mushrooms?? get outta here!
and you can even add veggies too!
and did I mention how EASY they are to make?
So without further ado, let me show you how I made these little delicacies, and if you DO make them for your friends on New Year's, you better make a bunch, because they WILL disappear!
Vegan Potato Skins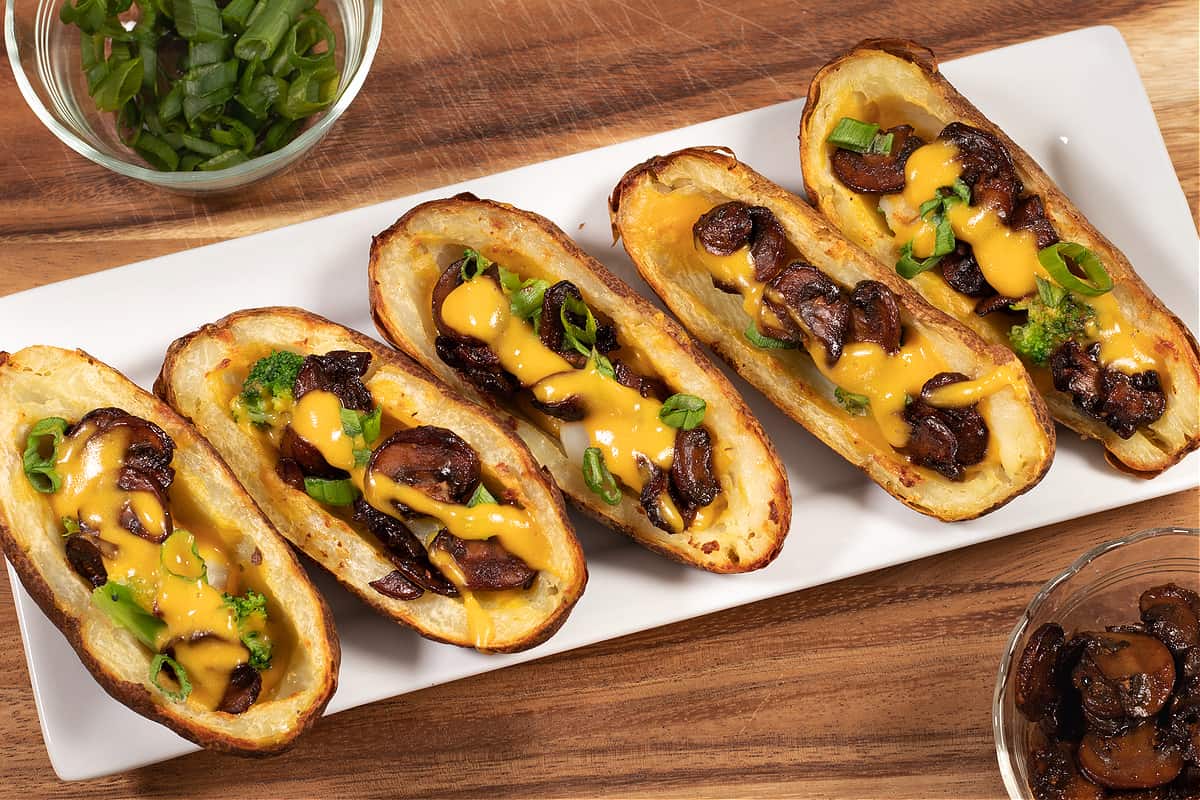 To make 8 potato skins, you will need 4 large russet potatoes. All 4 of mine were 10-12 oz each (or 260-300g).
Wash and scrub them, and as Chef John says, "Give them the old poka poka" with a fork to allow the steam to escape and prevent your spuds from exploding in the oven.
I'm not an olive oil kinda person, but if you are you could smear a little on each potato then toss them into a 400° F oven for about an hour.
Set them on a wire rack to cool afterward, for at least 30 minutes, or until they're cool enough to handle.
Cheese Sauce
You'll probably want some kind of cheese, so I just used my Vegan Cheese Sauce recipe which you can find right here.
Or you could skip this part and use any of the shredded Vegan Cheese products that are on the market. There are a LOT of ingredients in those products, including a TON of fat, which is why I made my own, but they are convenient. Your choice.
Mushroom Bacon
While we're waiting on the spuds to cook, we can also make our bacon.
Again, there are products out there you can buy, like Tempeh bacon, or if you are a mushroom lover like me you can easily make your own.
Slice 8 oz of cremini mushrooms and add to a ziplock bag or a small dish, then add the marinade and let them soak for a bit, the longer the better. Then simply dump the whole bag into a skillet and cook on med-high heat until the mushrooms have shrunk in size and all of the marinade has evaporated.
Scooping the Potatoes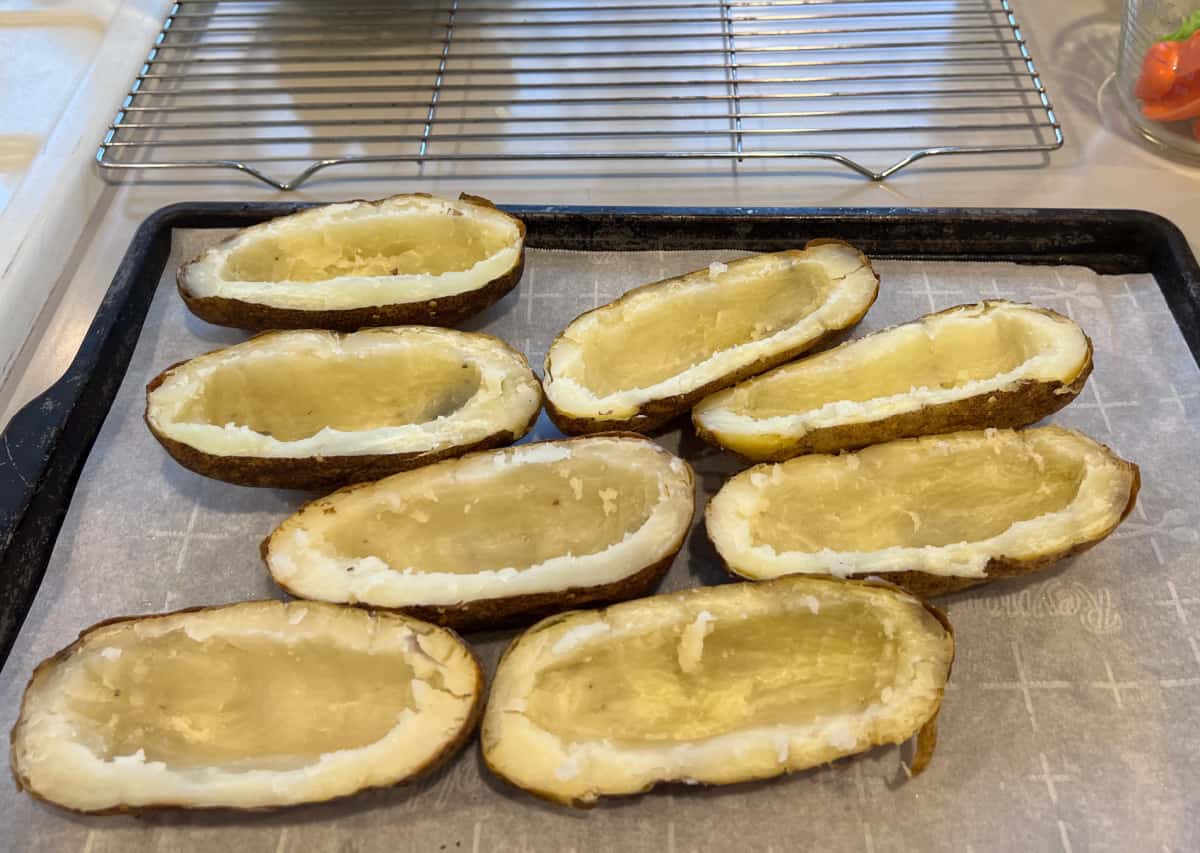 Your cheese sauce and bacon are done so now we can scoop our potatoes.
First, slice the potatoes in half lengthwise, then take a spoon and carefully scoop out the center of each potato. Try to leave about ⅓" of potato 'meat' all around the edges so they will keep their shape.
The insides you scooped out can either be munched on right away or saved for another recipe.
Back into the oven, this time at 450° F for about 20 minutes or until they crisp up.
Finishing the Vegan Potato Skins
Now we can dress them however we like. I added some of my cheese sauce to the bottom of each one. Then I felt like adding some broccoli so I microwaved a bag real quick and chopped it up small. Then I added the mushrooms followed by MORE cheese sauce and topped with some freshly cut scallions. Place them back in the oven for 5-10 minutes and you are good to go.
They were DELISH! (even without the long island ice teas!)
I hope you enjoy them (as much as my wife did anyway) and I want to wish each and every one of you the MERRIEST CHRISTMAS ever.
See you next week, we got a PARTY to plan!!

Print
Vegan Potato Skins
Author:

Prep Time:

30 min

Cook Time:

90 min

Total Time:

2 hours

Yield:

8

potato skins

1

x

Category:

Appetizers

Method:

Oven

Cuisine:

American

Diet:

Vegan
---
Description
Crispy Potatoes with Cheese and Bacon?! THESE Vegan Potato Skins make the PERFECT New Year's Eve Party Food!
---
4

large russet potatoes (about

10 oz

or

260 g

each)

10 oz

bag frozen broccoli/cauliflower

2

scallions (green part only)
Mushroom Bacon
8

oz

cremini mushrooms (cleaned & sliced)

2

Tbs low-sodium soy sauce

1

Tbs maple syrup

½ tsp

liquid smoke

½ tsp

smoked paprika

¼ tsp

garlic powder

¼ tsp

freshly ground pepper
---
Instructions
If using my cheese sauce, make it first and set aside
Preheat oven to 400° F
Scrub potatoes and poke holes with a fork
Bake the potatoes directly on the oven rack for 50-60 minutes (or until a fork easily pierces)
Meanwhile, clean and slice the mushrooms and whisk the marinade ingredients together
Place mushrooms and marinade in a small dish or ziplock bag and marinate for about 30 min
Place mushrooms & marinade into a skillet and fry over med-high heat until mushrooms have reduced and the marinade has evaporated
When potatoes are done, allow them to cool for about 30 min
Slice each potato lengthwise and scoop out the center, leaving about ⅓" on all sides
Place potatoes on a parchment-lined baking sheet and bake at 450° F for 20 minutes
Prepare any frozen vegetables if using
Carefully dress each potato skin with cheese, veggies, bacon, and more cheese
Top with chopped scallions and return to oven for another 5-10 minutes.
Serve as they are or with your favorite vegan sour cream
---
Keywords: vegan potato skins