I've heard the hype for years, that homemade corn tortillas are so much better than store-bought. So this weekend I put it to the test ....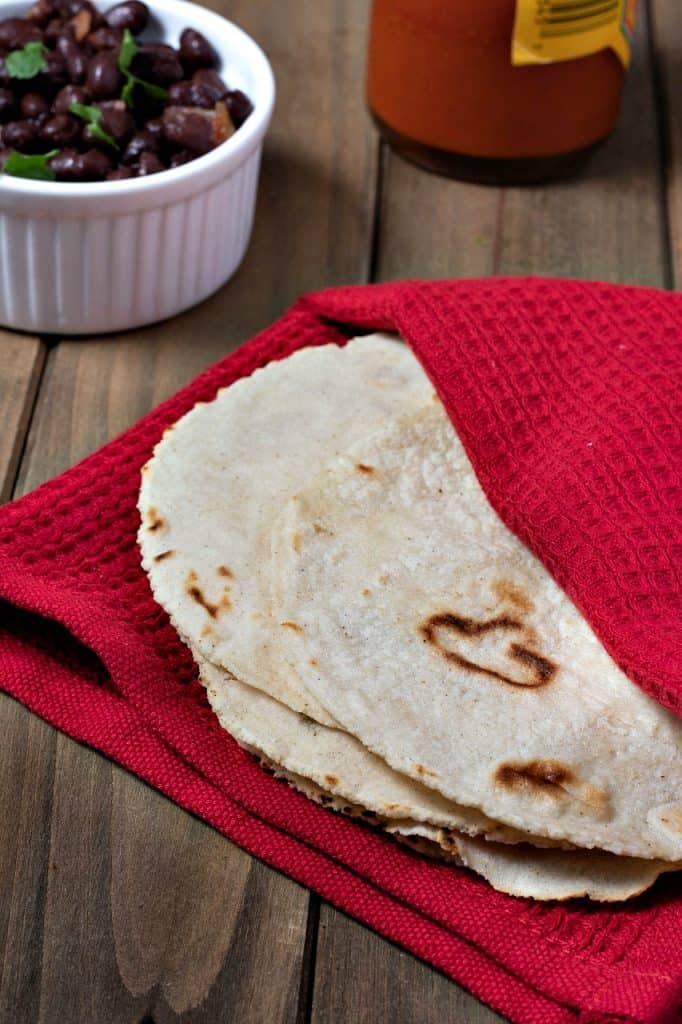 I mean really, how much different could they be? Same ingredients, same cooking method, same everything - right?
Boy, was I ever wrong.
The soft, amazingly tasty tortillas that came out of my pan were NOTHING like those rubbery things I've been buying in the store. And I mean NOTHING!
I'm talking night and day different.
So I thought I'd show you how I made them this weekend.
It's not so much of a recipe as the instructions are written on the back of every bag of cornflour. But there is a certain technique you want to learn if you want perfect tortillas that don't stick to your pan.
All it takes to make yummy homemade corn tortillas are 3 simple ingredients:
Masa Harina (cornflour - NOT cornmeal!)
Salt
Water
And that's it.
A tortilla press is a handy little tool for making perfectly round tortillas too. I picked mine up for about $30 at a local store, but they're not absolutely necessary. A large flat-bottomed pan would work to press out your tortillas or even 2 cutting boards would probably work too - just as long as there is even pressure.
Here is a link to a cast-iron model, just like mine, that I found on Amazon. Remember, any purchase through this link will result in a small commission to me - but at no extra cost to you.
Victoria 8" Cast Iron Tortilla Press - Amazon
The only other point I want to stress before we move on is to make sure you buy Masa Harina.
Regular cornmeal is simply dried corn that has been ground and will NOT work. Good for cornbread - not so much for tortillas.
Masa Harina uses corn that's been soaked in an alkaline agent like lime or wood-ash lye. This dissolves the outer skin and improves the nutritional value of the corn (plus it tastes better too).
And Masa Tamal? Tamal is simply Masa Harina in a courser grind, typically used to make tamales. Get Masa Harina for tortllas.
Once again I'll give you some links with the same disclaimer as above. But you should be able to find Masa Harina is your grocery store as it is a typical staple for many Latinos. Maseca and Bob's Red Mill are two popular brands.
Ok, let's make some tortillas. This really is super easy.
Homemade Oil-Free Corn Tortillas
You'll need a cup of Masa Harina. Add a pinch of salt and mix.
Now stir in close to ¾ cup of HOT water. Not cold, not lukewarm, not boiling, but tea kettle hot - and mix.
When the dough begins to form into a ball, use your hands to work it and knead it for a few minutes. This will let you feel the dough and get an idea if it's mixed right or not.
It SHOULD feel like really soft play dough, or cookie dough.
It should NOT be sticky. If it's too wet and sticks to your hands, add ½ teaspoon of Masa at a time until if is no longer sticky.
If it's too crumbly, add ½ teaspoon of water and mix.
Like I said - you will get a feel for it. Simply add masa or water as needed to get a perfectly soft, play-dough-like consistency. Then, simply place the ball of dough back into the bowl and cover it with a damp cloth so it doesn't dry out.
Next we heat up our pan.
I used my cast-iron skillet. A griddle will work too. No oil needed - just heat up the dry pan to medium to medium-high heat.
Once the pan has heated up, we're ready to make out tortillas. Because I'm a kitchen nerd, I bought a scale so I could measure exactly. You want to form your balls of dough to about the size of a walnut, or exactly 1 oz (28g).
Now we place a piece of parchment paper down (I used a ziplock that I cut), place our dough ball in the center, and cover with another piece of parchment (or ziplock) and gently flatten it with your hands a little.
Now we press.
Again, I used my tortilla press. You can use a flat-bottomed pan if you want (but tortilla presses are pretty cheap). You should end up with a perfectly round, 5" to 6" tortilla.
Peel away the top later and gently flip the tortilla into your other hand lining up the top edge with your index finger. Now you can gently peel away the bottom layer of paper or plastic.
Keeping your palm up, gently lay the tortilla into the pan, dangling end first, allowing it to gently slide off of your fingers. I'll have a video of this shortly so stay tuned, but it really is easy.
If you just drop the tortilla into the pan, or flip it in, it's probably going to stick. Gentle - that's the trick.
Once it's in the pan, let it cook until the edges start to look done and maybe even curl up a bit - about 30 to 45 seconds. Then gently flip it with a spatula. Cook for another 45 seconds to 1 minute and flip again, this time pressing down with your spatula. You should see your tortilla 'puff' up with air.
Perfect. Cook another 30 seconds, give it one more flip, wait 5-10 seconds and then remove.
Place your cooked tortilla into a large bowl lined with a napkin or towel. You want to keep them warm and let them steam for a good 15 minutes or so before eating. This is the magic of fresh tortillas - they will get so soft and yummy when they steam.
Go back to your covered dough and repeat the process until all of your tortillas are cooked.
This recipe will make 8 to 10 tortillas.
I know it may seem like a bit of work, and here I am suggesting you go buy yet another gadget when they sell packaged tortillas, already made in the store....
But like I said, the difference in taste AND texture - it's really unbelievable.
If you do decide to try these, be sure and let me know how it went. And also what kinds of goodies you used to fill them!
Until next time - happy cookin'.

Print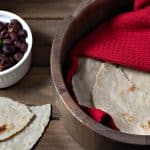 Homemade Corn Tortillas
Author:

Prep Time:

30 min

Cook Time:

30 min

Total Time:

1 hour

Yield:

8

-

10

tortillas

1

x

Category:

Breads

Method:

Stovetop

Cuisine:

Mexican, Vegan
---
Description
I've heard the hype for years, that homemade corn tortillas are so much better than store-bought. So this weekend I put it to the test ....  the difference is unbelievable.
---
1 cup

Masa Harina

¼ tsp

salt

¾ cup

hot water
---
Instructions
Whisk masa and salt together in a large bowl.  Add water and mix until a smooth, soft dough ball forms
Knead for a few minutes and then cover with a damp towel
Heat a skillet or griddle to medium-high heat
Pinch a walnut-sized piece of dough (1 oz or 28g) and form into a ball
Lay parchment or a cut ziplock bag onto your work surface or tortilla press and place ball in center
Cover with more parchment (or ziplock) and gently press into a 5" to  6" round tortilla
Carefully remove paper or plastic and gently lay the tortilla in the pan
Flip tortilla after 30-45 seconds
Flip again and cook 1 minute
Flip again and press with the spatula so tortilla puffs up, 30 sec
Fip one last time cooking for 5 to 10 seconds
Wrap tortillas in a towel and allow to steam for 15 min before serving
---
Notes
Keywords: homemade corn tortillas