This Medieval Pottage Stew is simply another name for a thick, rich, soup often made by Peasants during the Middle Ages.  Since peasants were poor, and couldn't afford meat, they used whatever vegetables and grains they could grow to make this soup, often served with a dark, crusty loaf of bread.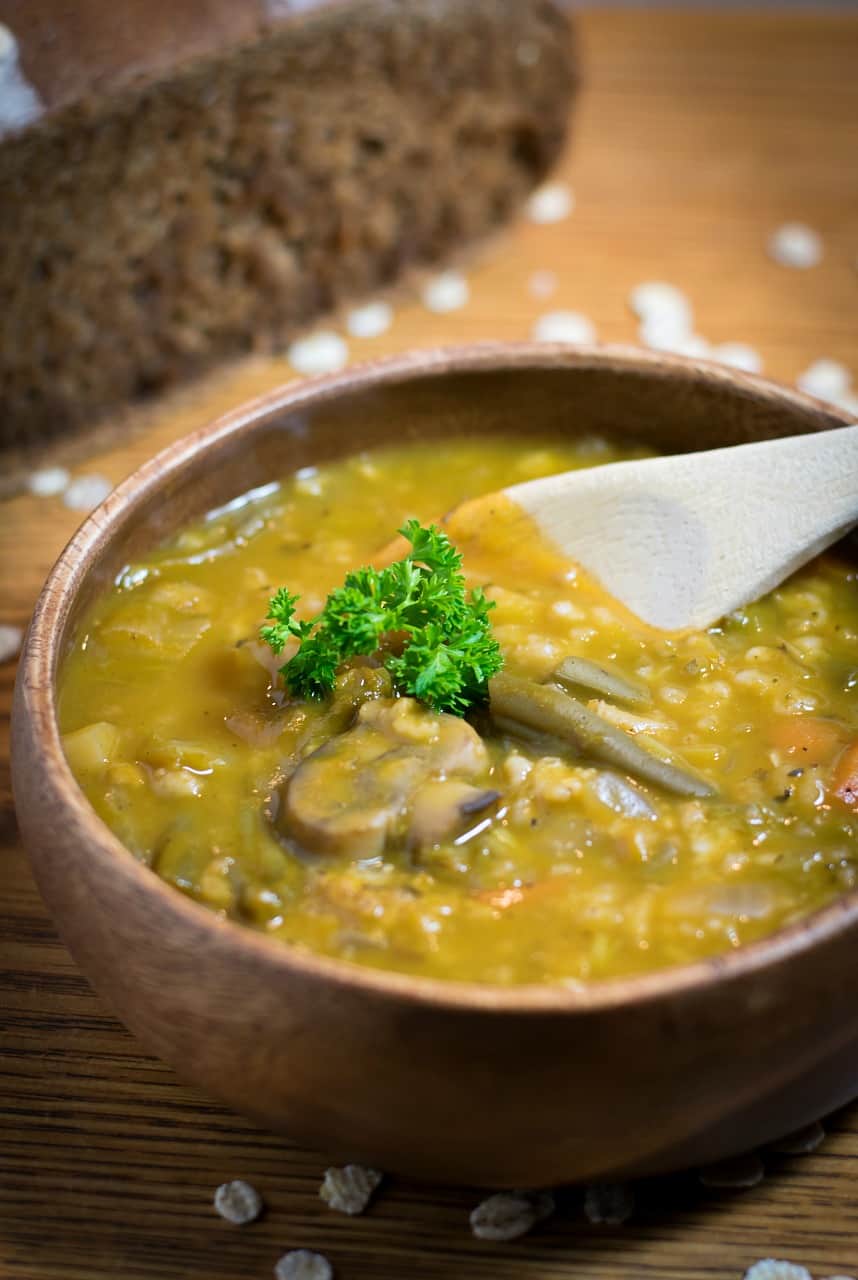 So why the sudden look into Medieval eating habits?
Have you ever really thought about the Middle Ages?    It's actually kind of ironic when you compare it to today.
The wealthy could afford all kinds of meat, anytime they wanted it, along with the finest wine, ale, a variety of cheeses, and even the lighter, tastier, loaves of wheat bread.  And vegetables?  They were considered peasant food, definitely not to be trusted.
Meanwhile, the lowly peasants scrounged for every last crumb they could find.  They worked from sunup to sundown, burning around 4,000 calories a day,  managing the king's land in exchange for a small plot to grow their own barley and rye.  The wives and daughters managed the gardens and maybe a stray animal or two in hopes of a few eggs, or a little milk to make their own cheese.
Their diet was predominantly vegetarian with the majority of their calories coming from their dark, dense, loves of barley bread, or rye.  There were no potatoes or tomatoes yet, so their main vegetable crops were turnips, parsnips, leeks, onions, and cabbage.
They would chop all these vegetables into a big cauldron and boil them in whatever broth they could make from stray bones and vegetable scraps.  The stew would then be thickened by adding oats or barley, and spiced with whatever herbs grew in their garden.
This Medieval Pottage Stew, along with their bread would be their main meal, along with cheese if they could afford it.  
And who do you think was healthier?  The poor scrawny peasants?  Or the rich and wealthy lords and kings?
You guessed it.
The wealthy are usually depicted in paintings and drawings as being OBESE.  King Henry VIII was said to have been so large they needed a hoist just to get him on his horse.  He suffered from gout, leg ulcers, diabetes, and weighed about 400lbs when he died at the ripe old age of 55.
The peasants predominantly lived on a HIGH CARB diet, while the wealthy predominantly lived on a HIGH PROTEIN, HIGH FAT diet.  
Sound familiar?
Many of us today truly ARE eating like the Kings and Queens of old, and suffering the same diseases they did.
Take a note - eat like a peasant.  
Medieval Pottage Stew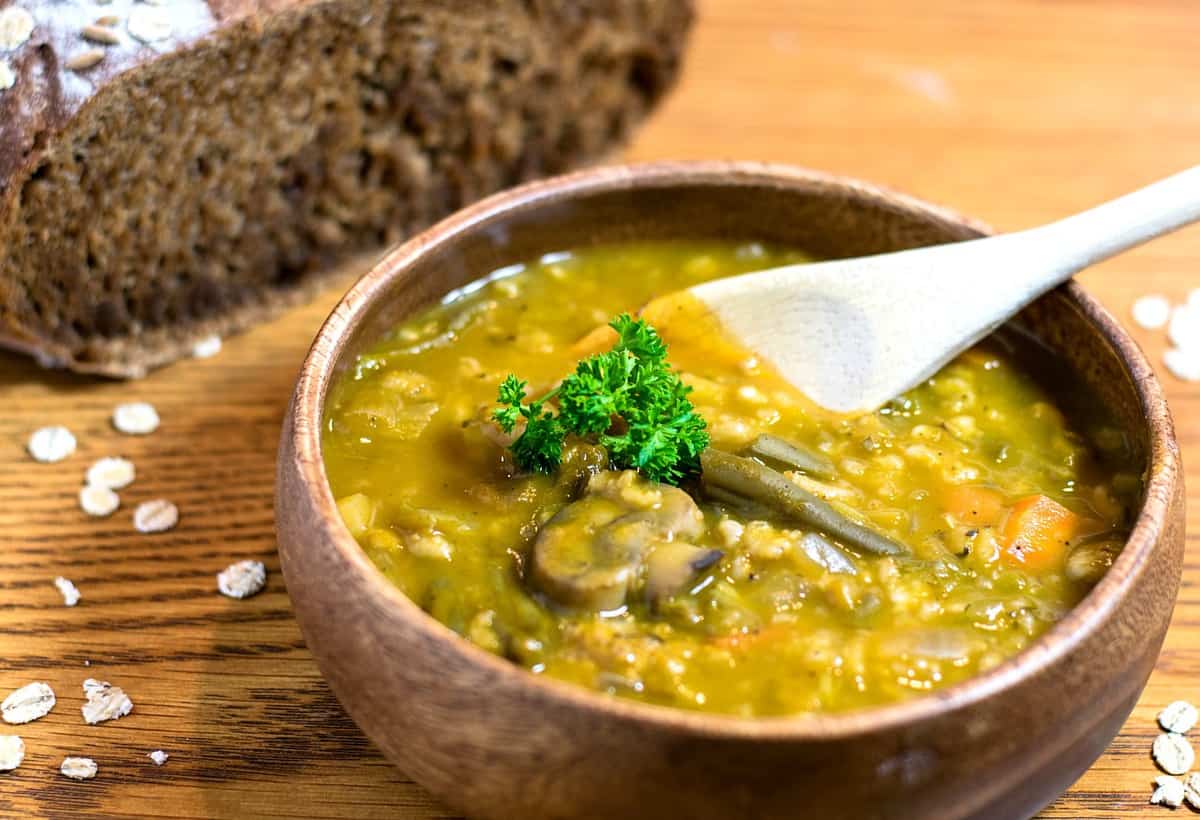 So with all that in mind, I wanted to try and recreate a typical meal that a Medieval Peasant might have made.
So get out your cauldron and let's get started.
In a large stew pot, add 1 cup of diced carrots, 1 cup of diced parsnips, 1 cup of diced onion, and 1 cup of diced turnips.
Sweat the veggies using about ¼ cup of low sodium veggie broth
After 10-15 minutes, add 1 cup diced leeks, 1 cup sliced mushrooms, 1 cup fresh green beans (or use a 15oz can, rinsed and drained), and 1-2 cups of chopped cabbage (I used Napa).
Let that simmer for a few minutes and then add 2 quarts of low sodium veggie broth.
Season with 1 large bay leaf, ½ teaspoon dried thyme, ½ dried rosemary, ½ teaspoon rubbed sage, ½ ground pepper, and ¾ teaspoon salt.
Stir in ½ cup of red wine.  (it may or may not be true to what a peasant might use - but it does add a nice flavor)
Bring the soup to a boil, and then lower the heat to LOW and cover.
Let simmer for 30 minutes.
Stir in 1 cup rolled oats (or use ½ cup rolled oats and ½ barley flakes - available at Whole Foods)
Continue simmering for another 20-30 minutes, or until grains are cooked.
Add any additional seasoning if desired, 1 Tbs of balsamic vinegar,  and remove bay leaf before serving.
Pairs well with a nice, crusty loaf of Rustic Bread.
I am still tweaking the Bread Recipe I used.  I used a combination of Bread Flour, Whole Wheat Flour, Rye Flour, and Molasses and then sprinkled Barley Flakes and Rye Seeds on it before baking.  It was';t bad, but the crumb still needs some work.
This stew is literally chok-FULL of the good stuff.
If you try it I'd love your honest opinion.  This recipe DOES make a lot but I'm sure it can easily be frozen for later.  Keep those comments coming and remember....
EAT LIKE A PEASANT !!

Print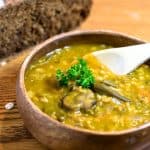 Medieval Pottage Stew
Author:

Prep Time:

20 minutes

Cook Time:

1 hour

Total Time:

1 hour 20 minutes

Yield:

1

2

1

x

Category:

Soup/Stew
---
Description
This Medieval Pottage Stew is simply another name for a thick, rich, soup often made by Peasants during the Middle Ages, chock-full of vegetables and grains .
---
1 cup

carrots (diced)

1 cup

parsnips (diced)

1 cup

onions (diced)

1 cup

turnips (diced)

1 cup

mushrooms (sliced)

1 cup

leeks (diced)

1 cup

cabbage (chopped)

1 cup

green beans (chopped)

2

qts vegetable broth (low sodium)

1

bay leaf

½ tsp

rubbed sage

½ tsp

dried thyme

½ tsp

dried rosemary

½ tsp

black pepper

¾ tsp

salt

½ cup

red wine

1

Tbs balsamic vinegar

½ cup

rolled oats

½ cup

barley flakes
---
Instructions
Peel and chop all vegetables
Add carrots, parsnips, onions, and turnips to a large stew pot with about ¼ cup veg broth
Saute for 10 minutes or until softened
Add mushrooms, leeks, cabbage, and beans and simmer for an additional 5 minutes
Add broth, seasoning, and wine and stir well
Bring to a boil, lower heat, and cover. Simmer for 30 minutes.
Stir in barley and oats and continue simmering, uncovered, for an additional 20 minutes or until grains are cooked
Stir in vinegar, remove bay leaf, adjust seasonings, and serve
---