My mother-in-law is visiting and she brought me an Acorn Squash (or squarsh as she calls it). I'm not sure if it was a challenge or not - but I used it in a way she least expected.....
I made an Oil-Free Ratatouille.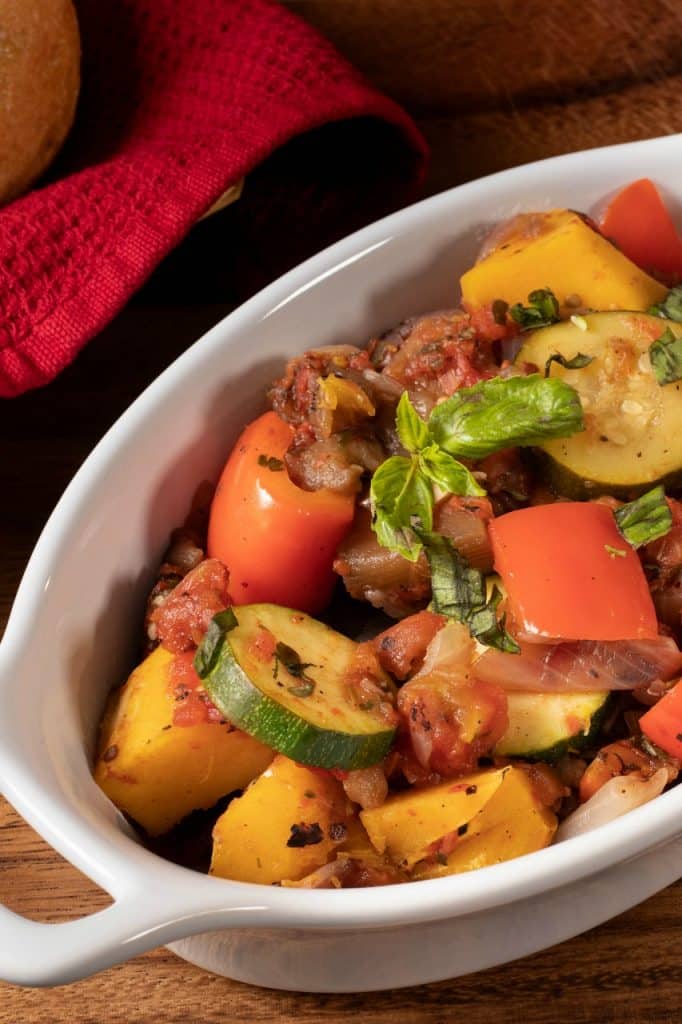 I like this recipe because it was considered 'peasant food '. Simple ingredients, straight from the garden, used together to make something incredible.
And this recipe makes it even easier by cooking everything in one pot.
Credit to the method I used goes to America's Test Kitchens. I modified the recipe slightly by making it oil-free, and using canned organic, no-salt added tomatoes because those so-called 'fresh' grocery store tomatoes .... well you know.
I also tweaked the seasonings and added an acorn squash. Otherwise, I used their recipe and cooking method - which is to bake the eggplant along with the sautéed onions, garlic, and tomatoes - to drive off as much moisture as possible.

There are a lot of recipes out there that have you salt the eggplant, let it sit, then roast it - so it will retain its shape and all.... this one is much easier, which is why I chose to try it.
I like simple.
And I mentioned, I used an acorn squash, which of course is totally optional, but it does add a nice bit of sweetness to counter the acidity of the tomatoes. Just be careful cutting and peeling it.
I might also mention that other than a pinch of salt I added while sweating down my onions, there is virtually no other salt added. So for all you low-salt people - this is for you.
Before I get onto the recipe, you are supposed to mash the onion/eggplant/tomato mixture after you bake it. I used a simple potato masher but I think a stick-blender might have worked better. I guess it depends on how chunky or smooth you want your sauce.
That's it - a very simple recipe. It does take about an hour or so but it was well worth it in my opinion. If you give it a try, I'd love to hear your feedback.
So without further ado - lets get into this week's recipe.
Oil-Free Ratatouille
Start by chopping 2 yellow onions. Just a rough chop, no fine dice needed. Mine were about 12 oz each.
I used a red and a yellow onion personally - but I don't think I'll recommend it because the resulting color after everything was smashed together was a little....off. Use 2 yellow or white onions instead.
Add them to a Dutch Oven with ½ cup of low-sodium vegetable broth (and a pinch of salt) and sauté until softened - about 10 min.
Here is the Dutch Oven I use (mine is red) and I'll include the masher and even the stick-blender I use. These are affiliate links for Amazon so I will earn a small comission on every purchase.
When the onions are soft, toss in some minced garlic. Again, since it will all be blended or mashed - the size of the dice is not important. I like garlic, so I used 8 cloves.
Then add your cubed eggplant. I cut off both ends, peeled the skin off, then cut it lengthwise into several 1" thick planks. Then cut them into cubes.
Next, add your tomatoes. I used a 28oz can of organic, no-salt-added crushed tomatoes. Drain them well first as we do not want all that juice. If you want to use fresh - you will need about 2 lbs.
Finally, let's add some seasoning. Add 1 bay leaf, then about ½ teaspoon each of oregano, thyme, and rosemary. America's Test Kitchens used Herbs de Provence.....which should be in your grocery store - but I went with a simple blend of what I already had.
Stir everything well, then pop that into your 400° F oven uncovered for about 40 minutes.
When it comes out, mash it all up as smooth or as chunky as you like. I don't think I would recommend using your blender here, because hot foods in a blender create pressure and tend to explode everywhere - which would not be good. Use an immersion blender or a simple potato masher instead.
Next we add 2 zucchini, sliced into rounds, a red bell pepper that you roughly chop, and a small 1lb acorn squash that I peeled and cubed. The squash can be optional but I liked the sweetness it added to the dish.
At this point, I added another ½ cup of veg broth and then my final seasonings. A tablespoon each of balsamic vinegar, parsley, and fresh basil. You can of course use dried basil - but the flavor from the fresh herbs will take this over the top.
Stir well and pop this back into your oven for another 20-25 minutes. When you pull it out, add the cover and let it sit for another 10 minutes.
One pot
Low sodium
Oil-free
Fresh veggies and herbs
It doesn't get any simpler than that. Serve as is, on pasta or rice, or even on a toasted baguette. It can be served hot or cold as well.
Hope you enjoy and don't forget to tell me how yours came out in the comments below.

Print
Oil-Free Ratatouille
Author:

Prep Time:

30 min

Cook Time:

60 min

Total Time:

1 hour 30 minutes

Yield:

6

-

8

servings

1

x

Category:

Soup, Stew

Method:

Stovetop, Oven

Cuisine:

French

Diet:

Vegan
---
Description
This simple Oil-Free Ratatouille is made from fresh vegetables and herbs.  It is of couse oil-free but is also low-sodium and is made in a single pot.  Easy, simple, plant-based, and delicious.  
---
2

yellow onions 

8

cloves garlic

1 cup

low sodium veg broth (divided)

1

eggplant 

1

bay leaf

½ tsp

oregano

½ tsp

thyme

½ tsp

rosemary

28 oz

can crushed tomatoes - drained (no salt added)

1

acorn squash 

1

red bell pepper

2

zuchinni 

1

Tbs parsley

1

Tbs fresh basil

1

Tbs balsamic vinegar
---
Instructions
Preheat oven to 400° F
Roughly chop onions and add to a large dutch oven
Peel and chop garlic - add to pot
Add ½ cup veg broth and a pinch of salt and pepper
Saute onions 5-10 min until softened
While onions are cooking, cut off ends of eggplant and peel skin
Cut into 1" planks and then cube, then drain tomatoes
When onions are soft, add eggplant and tomatoes to pan
Season with bay leaf, oregano, thyme, and rosemary and place entire pan into hot oven
Bake uncovered for 40 min
Meanwhile prepare the rest of the veggies
Slice zuchinni, roughly chop red peper, and peel and cube the squash
Carefully remove pan after 40 min and mash or blend using remaining ½ cup veg broth
Stir in all remaining ingredients and mix well
Return to oven for an additional 20-25 minutes
Remove pan from oven and cover for 10 minutes
Serve hot or cold alone, or with bread, rice, pasta, or potatoes
---
Keywords: oil-free, ratatouille