You want pizza.
But all that bread is heavy, and you know you really should cut back.  And the cheese (yes even the Daiya) is full of fat, oil, and extra calories and is definitely NOT helping your waistline….. (and you can never stop with just 2 pieces anyway).
What do you do?
Something quick, something light that will fill you up, and something that  will satisfy a pizza craving…...
Stuffed Pizza Potatoes!
This was a totally random, let's make something new, recipe night.
I was thinking about twice baked potatoes or potato skins, but definitely wanted a pizza flavor.  Sauce or no sauce?  Cheese or no cheese?  Baked or nuked?
Not really knowing what I was going to do -  I grabbed 2 large Yukon Gold potatoes and the rest just kind of happened naturally.
Pizza stuffed potatoes are perfect for a light dinner or snack. You get all the pizza flavor without all the heavy breading and fat promoting cheeses.
First off - The Spuds
Preheat oven to 400 degrees.
Wash and dry the 2 Yukon Golds and pierce them several times with a knife or fork so they won't explode in the microwave.  Microwave each potato on high power for 4 minutes.
These babies will be hot when done, so carefully place them somewhere safe to cool.
Second - Veggies
Chop half of a red onion and half of a red bell pepper and toss into a small saucepan.  Drain and rinse one of those little 4oz cans of mushroom and add that too. Can't have pizza (or pizza stuffed potatoes) without garlic so smash and chop a clove or two and add that as well.
To soften these veggies without burning, add 2 tablespoons of low sodium vegetable broth.  Finally add a teaspoon of dried Italian Seasoning and another teaspoon of dried Basil.  Heat this mixture on med-low heat until they are nice and soft.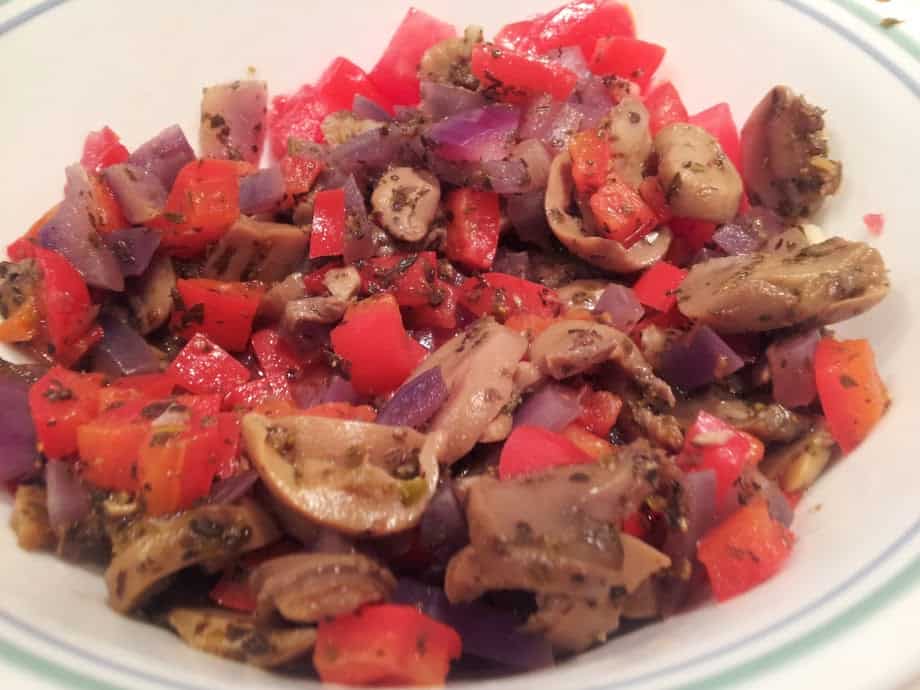 Third,  The Creamy, Cheese-like Filling
Now carefully cut each potato in half lengthwise.  Don't cut them in half .  You want two wide and shallow boats compared to 2 narrow and deep ones if that makes any sense.
Now using a spoon, carefully scoop out most of the cooked potato leaving about ¼" or so of the meat and skin.  Place the extra potato in a separate bowl.
Bake the scooped-out skins at 400 degrees for about 15 -20 minutes.
To your bowl of potatoes, and add 3 tablespoons of unsweetened almond milk and 1 tablespoon of nutritional yeast.
Stir with a fork until creamy and smooth.
Finally, The Assemble
Spoon about 1 tablespoon of the filling back into each potato half.  Then you want to kind of mound a tablespoon or so of the veggies onto the filing, kinda smooshing them down so they stick.   Yeah that's a technical word - smooshing.
At this point I had also already chopped 2 small tomatoes, so here I added some tomato pieces too.  And finally I shook on some Vegan Parmesan.
Now were starting to look like Pizza Stuffed Potatoes!   Yum!
Put these bad boys back into the oven for another 5-10 minutes and cook until heated through and the parmesan gets a little toasty.
Vegan Parmesan
If you've never had Vegan Parmesan before, I have to tell you this stuff is amazing.   It's crumbly and a bit salty, just like the real thing, but the cashews add some all-importantTbs fiber not to mention a little iron, potassium, and magnesium.  And it's dairy free with only the healthy fat.
¾ cup cashews
3 Tbs nutritional yeast
¾ teaspoon salt
¼ teaspoon garlic powder
Add all the ingredients to a blender, chopper, or food processor and blend until uniform and powdery.
Print
Pizza Stuffed Potatoes
Author:

Prep Time:

20 minutes

Cook Time:

25 minutes

Total Time:

45 minutes

Yield:

4

1

x

Category:

Main

Cuisine:

American
---
Description
Pizza stuffed potatoes are perfect for a light dinner or snack. You get all the pizza flavor without all the heavy breading and fat promoting cheeses.
---
2

lg Yukon Gold Potatoes

½

Red Onion ((diced))

½

Red Bell Pepper ((diced))

1

can Mushrooms ((

4oz

))

3

Tbs Unsweetened Almond Milk

2

Tbs Low Sodium Vegetable Broth

1

Tbs Nutritional Yeast

1 tsp

Italian Seasoning

1 tsp

Dried Basil

2

small Tomatoes ((diced))
---
Instructions
Preheat oven to 400 degrees
Wash, dry, and pierce the potatoes
Microwave each potato for 4 minutes
Saute onion, pepper, and mushrooms in veggie broth until soft
Add seasonings to veggies and stir
Carefully cut each potato lengthwise
Scoop out potatoes until only ¼" of skin remains
Bake potato skins for 15-20 minutes
While skins are baking, add the potato pulp to a bowl with the almond milk and nutritional yeast
Stir potato filling until creamy and smooth
To assemble - spoon 1 Tbs of filling into each potato
Top potato with 1 Tbs of veggies, chopped tomato, and vegan parmesan
Cook for 5-10 minutes until heated through and parmesan is toasty
---