Ok .... truth.   This was NOT supposed to be a Creamy Potato Mushroom Chowder.... at all!
This was SUPPOSED to be a copycat of Oregon's famous "Mo's Clam Chowder", and the wife .. with brutal honesty said :  Not only did it not LOOK like Clam Chowder....
It didn't even TASTE like Clam Chowder!  Ouch!    
But ...... it was way BETTER than any Chowder she's ever had!  
Well alrighty then!  And she's right - this really IS good!
Ask any Oregonian and they'll tell you a stop at Mo's is pretty much mandatory on a trip to the beach.
Mo's is a chain restaurant here in Oregon known for their famous Clam Chowder.  
My version is a Creamy Potato Mushroom Chowder,  chock full of carrots, celery, onion, and potatoes. I also used 2 different kinds of Mushrooms and a Dairy Free Cream Sauce that is out of this world good with a secret ingredient that may just surprise you.
So grab your Tabasco and maybe some Saltines and let's show those east coast boys we can make a pretty mean Chowdah too.
Creamy Potato Mushroom Chowder
Let's start with the soup base.  
First, we're going to need to soften up some Cashews for the Cream Sauce.  This takes awhile so start this early - preferably 4 hrs or so before you plan on cooking - overnight is even better.   Add very hot water to cover ⅓ cup Unroasted Cashews and set aside.
Now we're going to chop and sauté a Yellow Onion, 2 Carrots, 2 Stalk of Celery, and 2 Russet Potatoes in ½ cup of Veggie Broth.  We really want to let this cook awhile to soften up the carrots and potatoes.
Once the onion has softened up a bit and turned translucent - 5 minutes maybe - we're going to add 8oz of chopped Baby Bella Mushrooms and about 4oz of sliced Shiitake Mushrooms.  You could use Oyster Mushrooms as well - they're both kind of meaty and chewy like clams.
Let that continue to simmer, adding additional veggie broth as needed to prevent sticking, until the mushrooms have reduced in size and the veggies are becoming tender.
Now add in 2 ½ cups of additional Veggie Broth, 1 Tbs of Ketchup, ¼ teaspoon of Liquid Smoke, and an entire sheet of Nori Seaweed.  I got the idea for using Nori Sheets from Isa Chandra Moskowitz and her New England Glam Chowder Recipe at Post Punk Kitchen.
Roll the Nori up in a tube and slice thinly - I used Kitchen Shears to make it easier.  Then chop up the ribbons as small as you like and add them to the soup.  You could also add some Kelp Flakes which I found in my bulk seasoning section of my grocery store to get a more 'fishy' flavor.  
Let that simmer and let's grab our blender and make the Cream Sauce.
Dairy Free Cream Sauce
In a small pot, cover about 2 cups of Cauliflower Florets with cold water and boil until softened.
Yep this is the SECRET INGREDIENT to our super creamy cream sauce!  And you can't taste the Cauliflower at all once we're done.
Once softened, add the cauliflower to the blender along with the strained cashews, 1 cup Vegetable Broth, 1 cup Unsweetened Almond Milk, 1 Tbs Corn Starch, 1 teaspoon Nutritional Yeast, ½ teaspoon salt, ½ teaspoon pepper, and 2-3 cloves of Garlic.
Blend on high until it's smooth and creamy.
Before we go on, take a taste of the soup veggies.  If they're soft and tender we're good to go.  Otherwise let that continue to simmer until the veggies are done.
Once the veggies are ready, stir in the Cream Sauce and mix well.
To thicken our Potato Mushroom Chowder - whisk 1 Tbs of Cornstarch with 1 Tbs of Almond Milk and stir that into the soup.  It should start to thicken immediately.
Right before serving, stir in 1-2 Tbs of Lemon Juice and 1 Tbs of dried Parsley.
This is now one of my wife's FAVORITE recipes, so be sure and let me know what you think.  Funny how I intended one thing and ended up with something entirely different.
Oh well - happy mistakes!
Enjoy!

Print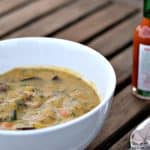 Creamy Potato Mushroom Chowder
Author:

Prep Time:

30 minutes

Cook Time:

45 minutes

Total Time:

1 hour 15 minutes

Yield:

8

Big Bowls

1

x

Category:

m

Cuisine:

American
---
Description
This was NOT supposed to be a Creamy Potato Mushroom Chowder but something else entirely. The wife says its the BEST Chowder she's ever had!
---
Cream Sauce
⅓ cup

Cashews

2 cups

Cauliflower Florets

1 cup

Vegetable Broth ((low sodium))

1 cup

Almond Milk ((unsweetened))

1

Tbs Cornstarch

1 tsp

Nutritional Yeast

½ tsp

Salt

½ tsp

Pepper

2

-

3

Cloves Garlic
Soup Base
½ cup

Vegetable Broth ((low sodium))

1

med Onion ((diced))

2

med Carrots ((sliced))

2

stalks Celery ((diced))

2

Russet Potatoes ((diced))

8 oz

Baby Bella Mushrooms ((sliced))

4 oz

Shiitake Mushrooms ((sliced))

2 ½ cups

Vegetable Broth ((low sodium))

1

Nori Sheet ((finely chopped))

1

Tbs Ketchup ((or Tom Paste))

¼ tsp

Liquid Smoke

1

-

2

Tbs Lemon Juice

1

Tbs Dried Parsley

1

Tbs Corn Starch

1

Tbs Water
---
Instructions
Soak Cashews in hot water at least 4 hrs - set aside
Soup Base
Saute onion, carrots, celery, and potatoes in ½ cup broth until onion has softened
Add mushroom and continue to simmer until reduced
Add remaining broth, ketchup, liquid smoke, and Nori and mix well
Continue simmering while making Cream Sauce
Dairy Free Cream Sauce
Boil cauliflower florets in cold water until softened - about 5-10 minutes
Add cauliflower to blender along with drained cashews
Add remaining sauce ingredients to blender and blend on high until smooth
Potato Mushroom Chowder
Once veggies in soup base are soft and tender, stir in cream sauce
Mix well while stirring in the Lemon Juice
Whisk Cornstarch and water to make a slurry and add to soup to thicken
Garnish with Parsley
---