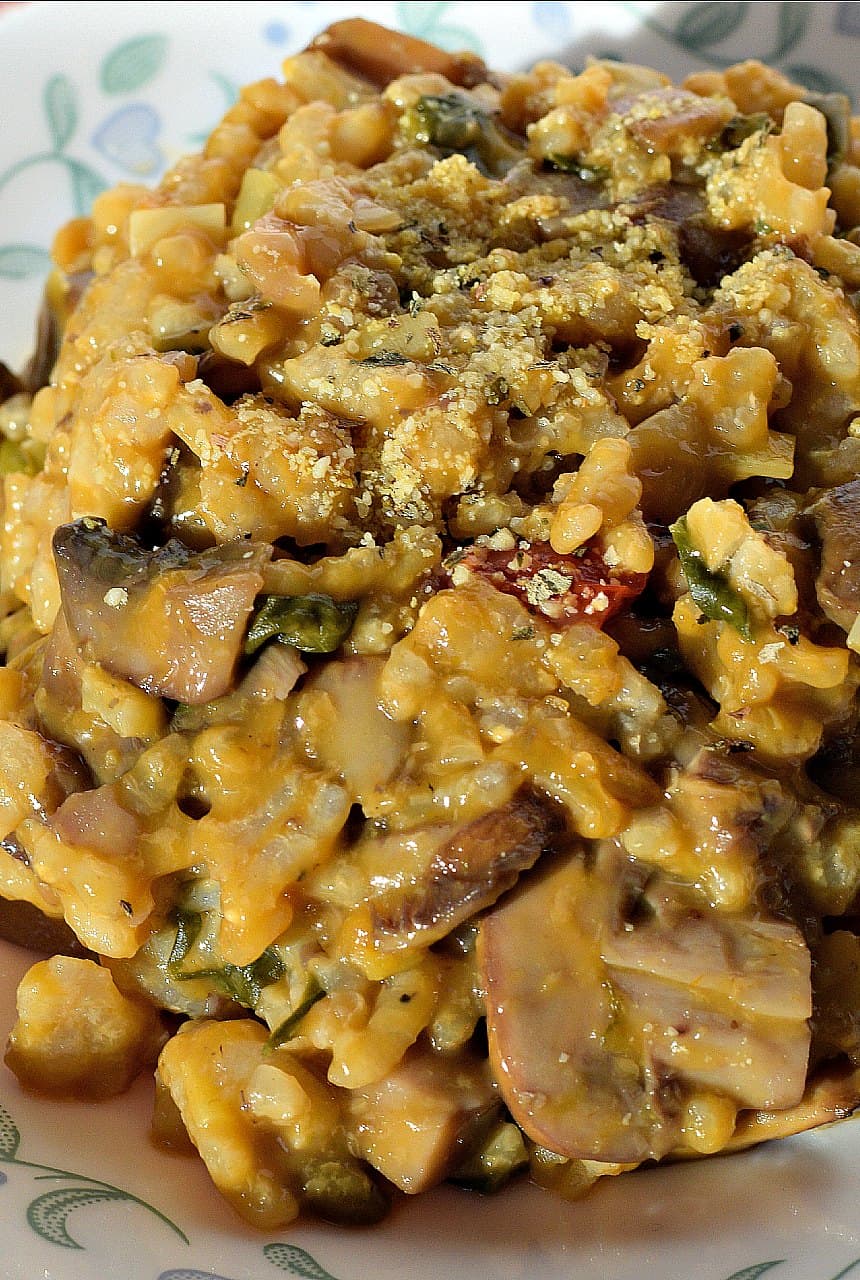 Thanks for all the suggestions on my Facebook Page yesterday!  And thanks for all the belated Birthday Wishes.  No - not MY Birthday - but Brand New Vegan's!  That's right, my little old blog turned 2 last week!  Can you believe it?
So with that in mind, and the Thanksgiving Holiday right around the corner - I wanted to do something special.
Smooth Creamy Risotto
Fresh Mushrooms, simmered in their own Broth
Freshly Chopped Spinach
Onion, Celery, Garlic, and Basil
Sound good?  I thought so.  And my family loved it!
A perfect dish for chillier temperatures, holiday potlucks, and of course as a side dish for your plant-based Thanksgiving Dinner.
Enjoy!
Savory Fat Free Mushroom Risotto
The inspiration for this recipe came from a Vegetarian Cookbook I was thumbing through yesterday.  I had never tried Risotto before and well - anything with Mushrooms in it was going to be a hit regardless, so that sealed the deal.
It's a little time-consuming to make - but not too bad.  And it's relatively easy to make - it just takes a little patience.
The Broth
Start with chopping up two 8oz containers of fresh Mushrooms.  I used white Cremini and Baby Bellas.  We're going to saute these in a large stockpot with about ½ cup of veggie broth, just until they've reduced, and then add 3 additional cups of Veggie Broth to make a rich, savory Mushroom Broth.
Heat to a full simmer and then keep it warm as we prepare the rest of the Risotto.
The Rice
Next you'll need about ¼ cup of finely chopped celery, onion (or leek), and a clove or two of freshly minced garlic.  Saute the veggies in a large soup pot (I used my Chili Pot) with a splash of veggie broth or water to keep things from sticking until they are softened.
Turn the heat up to medium and add 1 cup of Arborio Rice.  You can usually find it in the pasta aisle of your Grocery Store.  Stir constantly for the next minute or two and then slowly add ½ cup of white wine.  You could probably use more veggie broth or water, but the wine really adds to the flavor and hey, it is Italian, no?
From this point on, do not leave the stove.  You don't necessarily need to stir continuously, but you do want to stir every 20-30 seconds or so to keep the rice from sticking.
As the liquid is absorbed, the rice becomes very smooth and creamy.  So keep stirring and add a ladle or two of the hot mushroom broth.
Repeat the stirring until the liquid is gone and adding more broth routine until there's only about ½ cup of broth left.
Chop up about 2 cups of spinach and add this to the last of the broth along with a teaspoon of dried basil and a tablespoon of Balsamic Vinegar.  Finally add the remaining broth to the Risotto and stir until it thickens.
I also added a chopped tomato before serving, just to add some crunch.  Be sure and de-seed the tomato and chop into small cubes.
This is also really good with a sprinkling of my Vegan Parmesan on top.
Hope you all have an Amazing Thanksgiving and we'll see you next week!

Print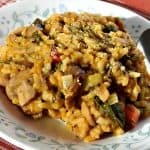 Savory Fat Free Mushroom Risotto
Author:

Prep Time:

20 minutes

Cook Time:

40 minutes

Total Time:

1 hour

Yield:

6

servings

1

x

Category:

Main

Cuisine:

Italian
---
Description
This Savory Mushroom Risotto is the perfect side dish for your Thanksgiving Table. Your guests are going to begging you for this recipe!
---
3 ½ cups

Low Sodium Vegetable Broth ((divided))

8 oz

White Mushrooms ((roughly chopped))

8 oz

Baby Bella Mushrooms ((roughly chopped))

¼ cup

Celery ((chopped))

½ cup

Onion ((diced))

2

cloves Garlic

1 cup

Arborio Rice

½ cup

White Wine

1

-

2

cups fresh Spinach ((chopped))

1 tsp

dried Basil

1

Tbls Balsamic Vinegar

1

Tomato (deseeded and chopped)
---
Instructions
In a large stockpot, saute mushrooms in ½ cup veggie broth until softened
Add 3 cups Veggie Broth and bring to a simmer
Keep broth on low heat while preparing Risotto
In a separate pan, saute celery, onion, and garlic in a splash of broth until softened
Turn heat up to medium (4 on my electric stovetop) and add rice
Stir continuously for about 1-2 minutes until sizzling
Add wine and continue to stir until liquid is absorbed
Add a ladle (or two) of broth and continue stirring until liquid is absorbed
Repeat previous step until about ½ cup broth is left
Add spinach, basil, and vinegar to remaining broth and add to Risotto
Stir until thick and creamy
Remove from heat and fold in chopped Tomato
---