This may in fact just be the Best Damn Vegan Chili you've ever tried.
Seriously, I'm not one to brag but.....this Chili recipe has placed TWICE now in various Chili Cookoffs. I'm not kidding, and it did not only come in 2nd place (against 9 other NON-Vegan entries mind you)...... it happened in TEXAS!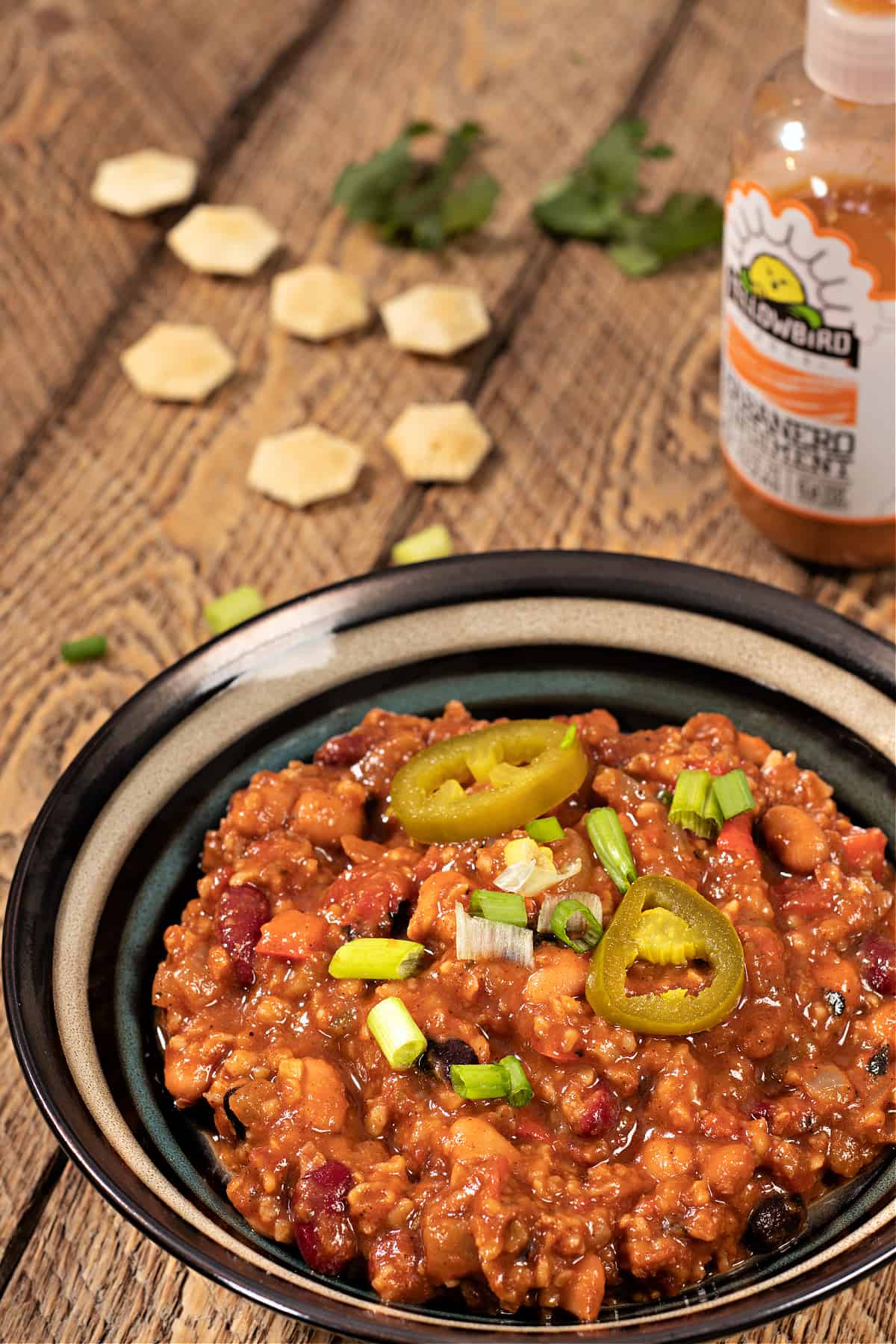 Now I lived in the great state of Texas for 5 years, and it was there that I discovered that CHILI was one of the 4 basic food groups. Meat, onions, peppers? Yeah, THAT chili.
And something else I learned, is that Texas chili is something you don't mess with. Noodles are definitely NOT allowed, let alone carrots or celery or any other weird ingredients.
Imagine my horror one day when I found a popular vegan chili recipe that included amongst other things, dates! I know right? Dates!?
So in order to preserve what is right and true in the world, allow me to introduce you to what Texas Style Vegan Chili is SUPPOSED to be.
Best Damn Vegan Chili Ever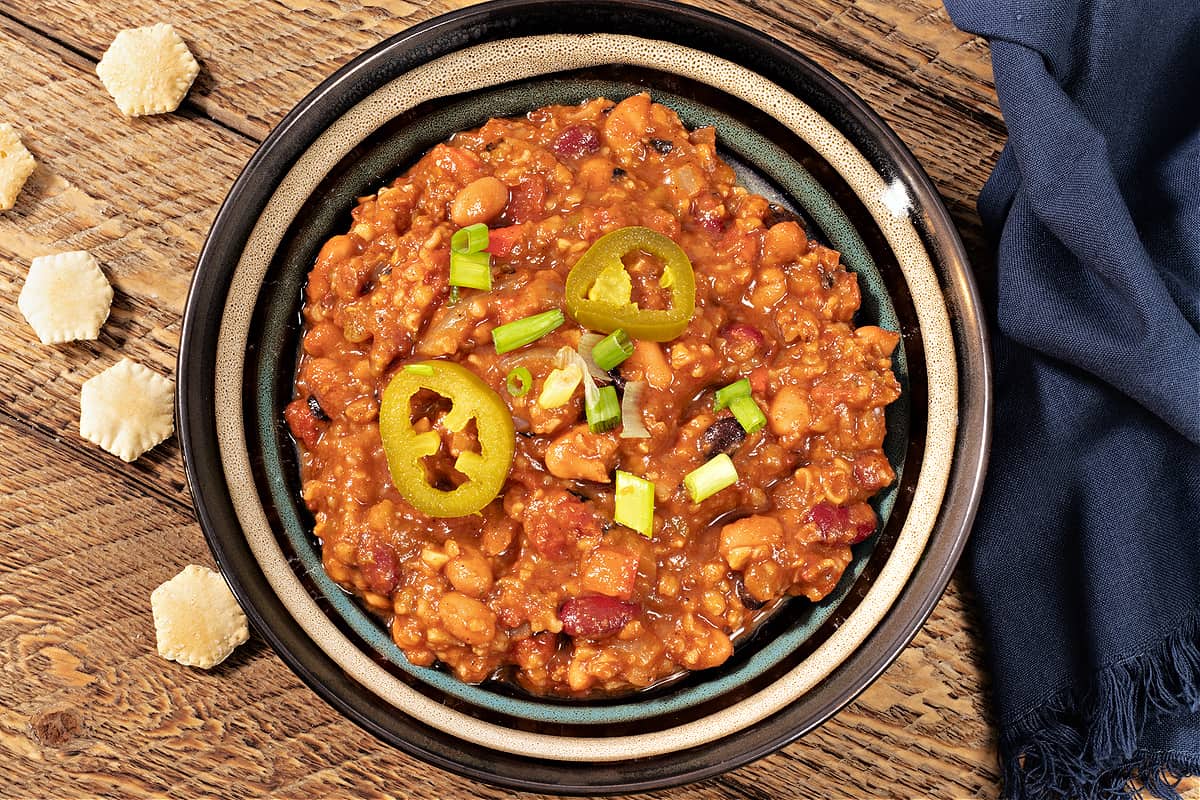 "Chili concocted outside of Texas is usually a weak, apologetic imitation of the real thing. One of the first things I do when I get home to Texas is to have a bowl of red. There is simply nothing better."
Lyndon B. Johnson, 36th President of the United States
I know..... you're asking how you can have Texas Chili without the meat? Well, believe it or not, this recipe holds up just fine without any.
Because first and foremost, Texas chili is all about that spice. That magical blend of spices and peppers that gives chili that distinctive flavor we all know and love.
But If you do insist on some kind of chewy goodness in your chili, then it's about finding a substitute that works.
There are LOTS of meat alternatives, but just remember this chile will stand up on its own just fine....
Here are just a few ideas.....
An extra can of beans (pinto, kidney, or black)
Seitan
Bulgur
Portobella Mushrooms
Butler Soy Curls
Any of the new burger crumble products in the store
Whatever you use, prepare your onions, bell peppers, and garlic first...
Once your veggies are nice and translucent, then add in your meat substitute and cook until heated through, mixing well.
Then add the tomatoes, tomato sauce, broth, beans, and spices. You can adjust the amount of jalapeño to your own individual taste, basically making this as spicy as you wish.
The Masa Harina is a trick I learned to help thicken the chili. Nobody likes runny chili - right? Just sprinkle a little on top of the chili and then stir it in. It also adds just a hint of corn tamale flavor - perfect for Texas Chili.
After everything comes to a nice slow boil, turn down the heat and let it simmer as long as you can stand it. At least 15 minutes to half an hour - but the longer the better. And although I haven't tried it - you could probably just plop all these ingredients in a slow cooker for the day.
Talk about easy.
I never get tired of good Vegan Chili and THIS my friends, is as good as it gets....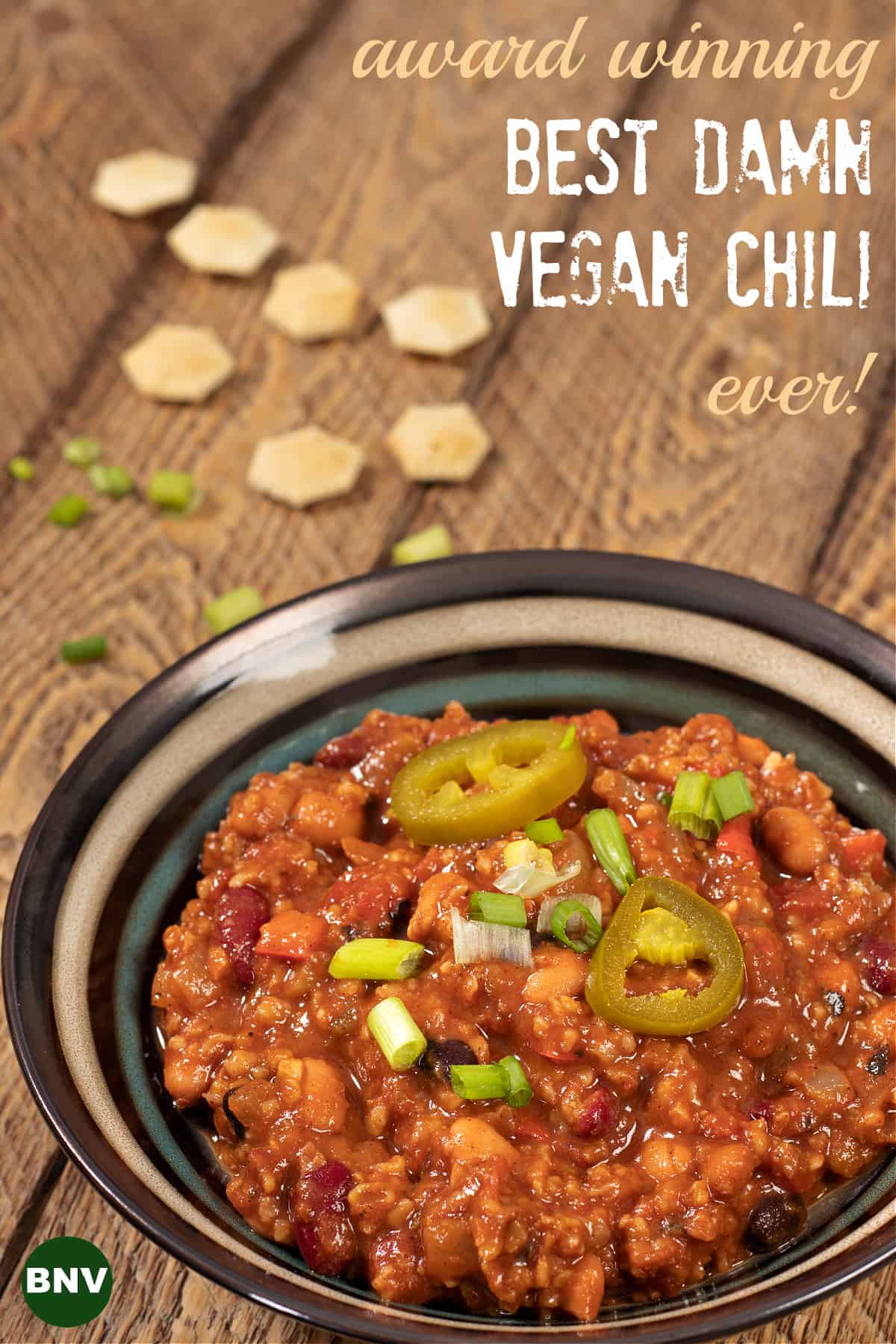 Print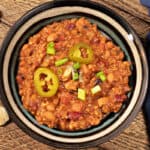 Best Damn Vegan Chili Ever
Author:

Prep Time:

30 minutes

Cook Time:

1 hour

Total Time:

1 hour 30 minutes

Yield:

1

6

1

x

Category:

Main

Method:

Stovetop

Cuisine:

American

Diet:

Vegan
---
Description
What Texas Style Vegan Chili is SUPPOSED to be. Thick, rich. and spicy. This may in fact just be the best damn vegan chili you've ever had!
---
1

large onion, diced

1

large red bell pepper, diced

1

large green bell pepper, diced

3

-

4

cloves minced garlic

1

splash vegetable broth (for sautéing)

8

oz

your choice of meat substitutes (OR)

½

cup

bulgur, uncooked

8oz

can tomato sauce

15oz

can fire-roasted diced tomatoes

2

cups

low-sodium vegetable broth

1

cup

refried beans

¼

cup

McCormick's chili powder

2 tsp

ground cumin

1 tsp

paprika

1 tsp

oregano

15oz

can pinto beans (drained & rinsed))

15oz

can kidney beans (not drained)

½ tsp

black pepper

½ tsp

garlic powder

2

Tbs pickled jalapeños (optional)

1

-

2

Tbs masa harina (optional as a thickener)
---
Instructions
Chop onions and peppers into a large soup pot or dutch oven
Saute in a little veggie broth until translucent and softened.
Add minced garlic and saute for an additional 30 seconds until fragrant
Add any kind of meat substitute (if using) or dry, uncooked bulgur and continue to stir for a few minutes until heated through
Add tomatoes, tomato sauce, and remaining broth
Add in spices and stir until mixed well
Add all the beans and jalapeños and stir
Sprinkle up to 1-2 Tbs of the Masa on top if you think it needs thickening.  The masa adds a slight 'corn tortilla' or 'tamale' flavor to the chili.
Give the chili one more good stir and bring it to a slow boil.
Reduce heat, cover, and simmer for 15 to 30 minutes.
Keywords: best damn vegan chili
SaveSave