If you love mushrooms - this Savory Mushroom Pot Pie is the recipe for you.
Imagine a rich, savory stew of mushrooms, potatoes, carrots, celery, and gravy, and then top it with a hot piece of homemade cornbread.
Yeah, it's like that - only it tastes a million times better than I could ever describe. And did I mention it's perfect for the cooler fall temperatures or even that Holiday table?
No fancy ingredients, just real food that everyone already has in their cupboard.
You're going to love this one.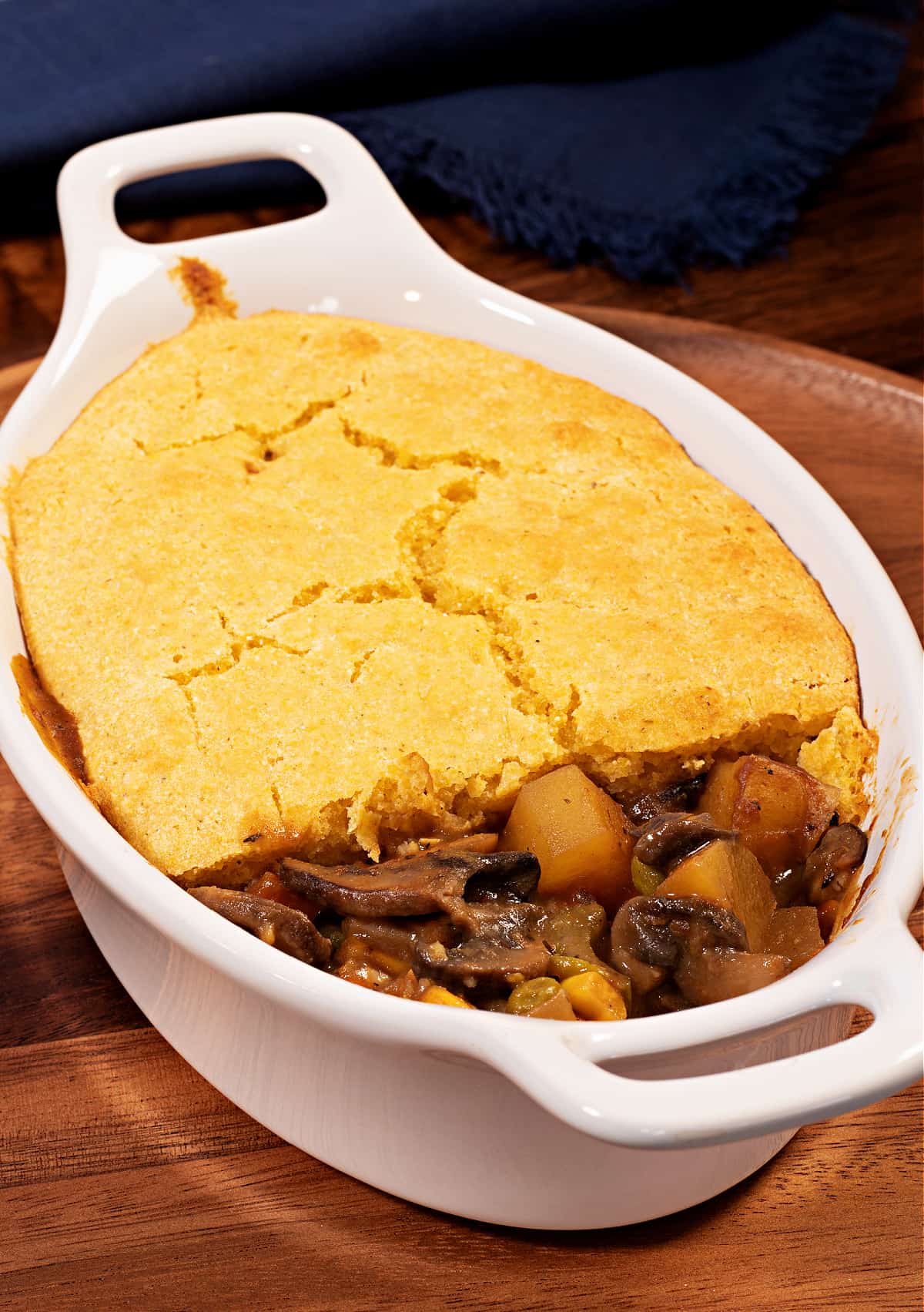 I first published this recipe way back in 2015, and honestly had forgotten just how GOOD it was! I made it last night to reshoot the photos and my oh my, I couldn't quit sampling it on the stove.
A added a few substitutions from the original recipe. I used a whole pound of Portobello Mushrooms, and instead of chopping up the carrots I just added a frozen bag of mixed veggies, like peas, carrots, corn, and green beans.
I wanted to post a Holiday recipe this week, and I think this would be perfect. It made enough to fill 2 of those baking dishes you see in the photo, which are perfect for individual servings, and then an entire 8x8 baking dish as well.
Note: Those baking dishes are "A Dash of That" Oval Ceramic Baking Dishes and are 0.6 qt I found at Fred Meyers.
Enjoy.
Savory Mushroom Pot Pie
The Stew
Saute a few cloves of garlic and about a cup of chopped onions in your favorite soup pan or Dutch oven along with a ¼ cup of veggie broth to keep them from sticking.
Then add in 16oz of your favorite mushrooms. Now pour in ¼ cup of Low Sodium Soy Sauce and let that come to a simmer.  
This smell alone will have everyone running to the kitchen to see what you're doing....guaranteed. 
Add the chopped celery, and a diced potato. And then add either some chopped carrots, or a 10 oz bag of frozen mixed veggies (the peas, corn, carrots, and green bean combination are perfect).
Sprinkle in the dried Thyme, Sage, Rosemary, and Pepper.
Now stir in 1 teaspoon of Worcestershire Sauce (there are vegan versions available) and 1 tablespoon of tomato paste (or about 3 tablespoons of diced tomatoes)
Mix well so all the spices are mixed in, and then sprinkle in ¼ cup of flour. Now pour in 1 ¼ cups of Low Sodium Veggie Broth and let it thicken.
Heavenly.
The Cornbread
For the Cornbread batter, I used my Simple Vegan Cornbread Recipe. 
Just prepare the batter as directed, and then layer a 15" x 10" baking dish with the stew and pour the cornbread batter on top.
Note: Alternatively, you can use 2 of the 0.6 qt individual baking dishes I mentioned earlier along with an 8x8 glass baking dish. I added just enough batter to completely cover the individual baking dishes and then spooned what was left over the 8x8.
Bake for 30 minutes in a 350° F oven or until the cornbread is golden brown.
I constantly hear how people think we deprive ourselves by being Vegan or Plant-Based. I have to laugh - because we are anything but deprived and with every dinner I make - I prove them wrong.
Real food, with real ingredients, that taste amazing, with no added fats, oils, cholesterol, or chemicals.
That's what this site is all about.
Good healthy food.
Enjoy!

Print
Savory Mushroom Pot Pie
Author:

Prep Time:

30 minutes

Cook Time:

30 minutes

Total Time:

1 hour

Yield:

8

servings

1

x

Category:

Main

Cuisine:

American
---
Description
A Savory Mushroom Pot Pie stuffed with sautéed mushrooms, potatoes, carrots, celery and gravy, and topped with a homemade cornbread crust.
---
1

cup

diced onion or leek

3

cloves minced garlic

1.5

cups

low-sodium vegetable broth (divided)

16

oz

baby bella mushrooms

¼

cup

soy sauce (low sodium)

3

-

4

ribs of celery, chopped

3

-

4

small carrots, chopped OR

10 oz

bag of frozen veggies

1

potato, diced

½ tsp

sage

¼ tsp

thyme

¼ tsp

rosemary

¼ tsp

ground pepper

1 tsp

vegan worchestershire sauce

1

Tbls tomato paste (or

3

Tbls diced tomatoes)

¼

cup

flour

1

batch of cornbread batter
---
Instructions
Saute garlic and onion in ¼ cup of veggie broth
Add mushrooms and soy sauce and simmer until bubbly
Add in vegetables and spices and stir to combine
Add Worcestershire and tomato paste and stir to combine
Allow to simmer, stirring occasionally, until veggies have softened
Sprinkle on the flour and stir
Add veggie broth and stir to combine, the stew will thicken immediately
Preheat oven t0 350° F
Prepare cornbread batter
Ladle stew to a 15" x 10" baking dish (or any oven-safe baking dish
Spoon cornbread batter over the top to cover
Bake for 30 minutes or until cornbread is golden brown
---