I started doing an EAT MORE STARCH CHALLENGE for this Holiday Season, and what better way to enjoy one of my favorite starches than this Vegan Sweet Potato Soup?
That's right, I said, "eat more starch" and it comes directly from Dr. John McDougall's best-selling book, The Starch Solution.
Back in the 70s, the Human Nutrition Department at the University of Michigan asked 16 moderately overweight college guys to only change ONE THING about their daily diet.
They could keep eating whatever they normally ate every day, eggs, chili dogs, pizza, fried chicken, whatever....
They just had to ADD 12 slices of white bread!
I know, sounds crazy right?
But would you believe they all lost on average 14 lbs after 8 weeks of this crazy challenge? And their cholesterol dropped 60-80 mg/dL too!
Dr. McD then goes on to challenge US to try the same experiment by adding 3-4 additional cups of our favorite starches to our daily diet and see what happens.
And so for the next 8 weeks, all through the Holiday Season when many of us will GAIN weight, some of my friends and I are going to be doing this challenge to see if we can LOSE weight instead, by eating more of our favorite starches, like rice, potatoes, sweet potatoes, legumes, corn or even bread.
2 Ways to Make Vegan Sweet Potato Soup
We're going to start this soup by sauteeing 2 cups of diced onions in about ½ cup of low-sodium vegetable broth.
You can use your instant pot and the SAUTE button or you can do this in a big soup pot or dutch oven on your stove over med-low heat.
When the onions have softened, add a tablespoon of curry powder and simmer for another minute.
Next, we add 1 pound of chopped carrots. That was about 6 avg-sized carrots, and I chopped them into 1-inch lengths.
And then add 2 medium-sized sweet potatoes (yams), peeled and chopped into similar-sized pieces as the carrots. That was about 1.5 pounds of sweet potatoes.
Finally, add 7 ½ cups of low-sodium vegetable broth and 1 teaspoon of salt and bring to a boil.
If you are cooking this on the stove:
Bring the soup to a boil then lower the heat and cover, simmering for about 25 min or until the vegetables are tender.
If you are cooking this in your IP:
Attach and seal the lid and set your IP to MANUAL and cook for 15 minutes with a natural pressure release of 10 minutes afterward before carefully releasing any excess pressure.
Blending your Vegan Sweet Potato Soup
First, core, peel, and dice a Honeycrisp Apple and stir that into your soup.
If you have a stick blender (paid affiliate link) like this one, it is a LOT easier than using a blender. But if all you have is a blender, no worries, you'll just have to do it in batches as this makes about 10 cups of soup.
Note: Remember, this is HOT soup, so do not fill your blender too full and use a towel instead of the lid to allow the steam to escape.
These appliances will make this easy and are paid affiliate links.
Blend your soup until it is smooth and creamy and stir in 2 tablespoons of maple syrup, then taste and add additional salt & pepper to taste.
That's it! A very simple soup with VERY few ingredients that tastes amazing.
You can toast some of your favorite bread for croutons or even add a few pepitas (pumpkin seeds) for garnish.
AND we get all that starchy goodness from the sweet potatoes & carrots along with a ton of vitamins, minerals, and fiber.
Hope you enjoy it and as I mentioned before - if you would like to join us in this challenge, head on over to my new BNV COMMUNITY and sign up! It's a private community of like-minded friends who are all traveling this WFPB journey together.
It IS a paid group but is extremely affordable at just $10/yr and as a bonus - it is NOT ON FACEBOOK. So come on over and say hi and we'll get you set up on this challenge.
Print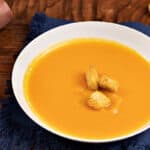 Vegan Sweet Potato Soup
Author:

Prep Time:

15 min

Cook Time:

25 min

Total Time:

40 minutes

Yield:

8

-

10

servings

1

x

Category:

Soup, Stew

Method:

IP or Stovetop

Cuisine:

American

Diet:

Vegan
---
Description
I started doing an EAT MORE STARCH CHALLENGE for this Holiday Season, and what better way to enjoy one of my favorite starches than this Vegan Sweet Potato Soup?
---
2

med onions

8

cups

low-sodium vegetable broth (divided)

1

Tbs curry powder

6

medium carrots (about

1

pound)

2

medium yams/sweet potatoes (about

1.5

pounds)

1

Honeycrisp apple

1 tsp

salt

2

Tbs maple syrup
---
Instructions
Dice the onion and add to a large soup pot, dutch oven, or Instant Pot
Add ½ cup of veggie broth and saute until the onions soften
Stir in the curry powder and cook for 1 minute
Cut the carrots into 1-inch pieces and add them to your pot
Peel and chop the sweet potatoes and add them to the pot
Add the remaining veggie broth and the salt
Bring the soup to a boil, then lower the heat, cover and simmer for 25 minutes
IP:  Attach lid and set to MANUAL, 15 minutes with a 10 min NPR
While the soup is cooking - core, peel, and dice the apple
When the veggies are tender, stir in the diced apple and maple syrup
Blend until smooth and creamy
Adjust salt and pepper to taste and serve
---
Keywords: vegan sweet potato soup