It is said that by the time the Europeans arrived in America in the late 1400s, Native Americans had been growing what they call the "Three Sisters" for centuries. These sisters were companion plants of corn, beans, and squash, and were the dietary staple for many of the tribes across the New World.

Each plant is a nutrient-dense powerhouse, full of healthy fiber, protein, vitamins, and minerals - and when combined together can easily be made into this delicious Three Sisters Stew.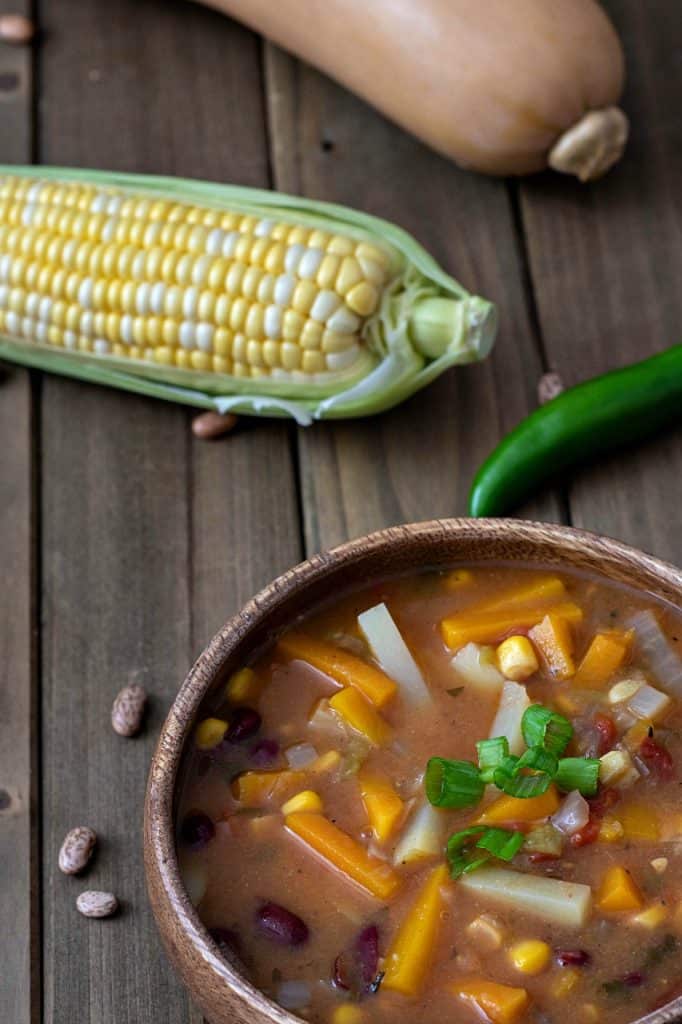 Native Americans were excellent farmers and discovered what is known today as companion planting.
Corn, beans, and squash were planted together in the same hole. The corn would grow to provide support for the beans to climb, while the beans put Nitrogen back into the soil feeding the other plants. The squash's job was to shade the soil with its large leaves, which not only retained moisture but also discouraged weeds. A truly symbiotic relationship, and a growing method that is still used today.
And when you combine all three into a soup pot, with a little vegetable broth, some mild green chiles, and a few yukon gold potatoes (gotta love our starch) ...
You get a delicious stew full of protein, fiber, potassium, Vitamin A, Vitamin C, Calcium, and Iron with absolutely no cholesterol and no fat.
If you wanted to add some healthy fat to this stew (and a little crunch), there is another legend that says there was a fourth sister, and that was the native Sunflower, whose seeds not only add more protein, but also vitamin E (about 75 percent in one serving), copper, thiamin, phosphorous, manganese, and selenium.
Healthy, delicious, and did I mention easy to make? No wonder Native Americans were so lean and healthy!
Let's go make some!
Three Sisters Stew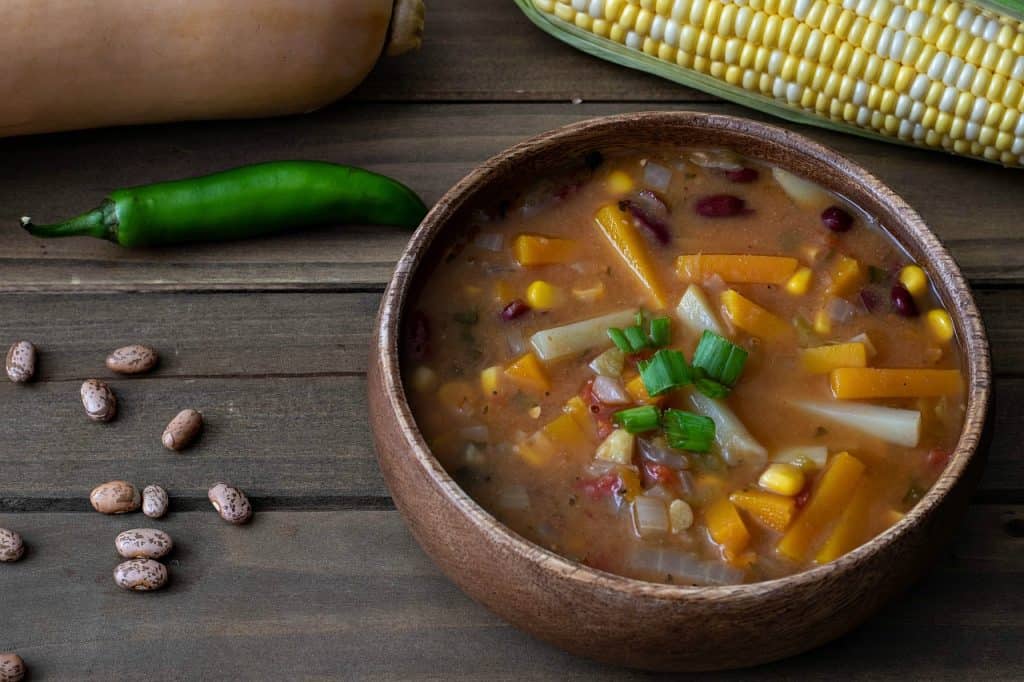 Start by draining your beans and corn and giving them a good rinse. Most canned vegetables and beans have a lot of salt - so rinsing them will remove a lot of it. I also buy the NO SALT ADDED or REDUCED SODIUM varieties whenever I can.
While the beans & corn are draining, we want to dice a medium-sized onion and add it to a large soup pot. I used a red onion but you could use a yellow or white if that's what you have handy.
Add a splash of water or veg-broth and begin to soften the onions over med-low heat. Add a few cloves of minced garlic once they have softened and stir until the garlic becomes fragrant - about 30 seconds.
Next, we add our spices. Adding the spices now in a semi-dry pot really wakes up the flavor of the spices - compared to just tossing them in at the end. I used a little garlic powder, onion powder, oregano, and cumin. The full amounts are in the recipe box below.
Stir to combine the spices with the onions and then add a 7oz can of diced green chile. Since we're using very few spices in this stew, the addition of the green chile adds a lot of flavor. The little cans of green chiles you see in the store are generally pretty mild so no worries if you don't like heat.
Next cut 2 yukon gold potatoes into little cubes. The size isn't really important but make sure you cut them all the SAME size, so they cook evenly. I used my Fullstar Chopper Pro and it made cubing the potatoes a snap. I'll post my Amazon Link here if you're interested, and this is an affiliate link so I'll make a few pennies if you buy one at no additional cost to you.
I also posted a full review of this chopper on my YouTube Channel. You can check that out here.
Add the potatoes to the stew and give them a stir. Anytime the pan looks like it's getting a little dry, feel free to add a little water or broth to prevent sticking.
Now we cube up our squash. I think traditionally, the pumpkin was the 3rd sister .... but in this recipe, I'm using a Butternut Squash. Any winter squash will work.
You want to cut off the neck and remove the thick skin with a vegetable peeler or knife. Then cube into the same sized pieces you used for the potatoes. Again, this makes sure everything cooks evenly. The cavity of the butternut is mostly seeds, but you could clean and peel this as well if you want.
You want your ratio of corn, squash, and beans to be about the same. In this recipe, I used about 2 cups of each.
Add the cubed squash and stir to combine, then add 2 cups of low-sodium vegetable broth. Again, I try to go as low-sodium as I can, so I can control the amount of salt at the end.
Now we dump in our drained beans and corn. I forgot to mention I used Kidney Beans, but feel free to add whatever bean you like - pinto, black, white, etc.
Stir well and then finally add a 15oz can of your favorite diced tomatoes. I like to use Organic Muir Glen whenever I can, and I like to buy the ones that are fire roasted. I think it adds a little more flavor.
Add 2 cups of water to thin, stir to combine, and then bring the whole pot to a slow boil. Cover and let it simmer for about 30-45 minutes or until the squash and potatoes are tender.
Now we can taste for seasoning and add a little fresh ground pepper and a dash of salt if needed.
I like to garnish my soups with either freshly chopped parsley or cilantro, but if you're not a cilantro fan - feel free to leave it out. You could add kale at this point if you wanted (although we're moving outside of the traditional Native American theme at this point) or even spinach.....
But it's your stew, you're the one who's going to be eating it - so make it your own.
That's it - my Three Sisters Stew. Be sure and tell me in the comments how it turned out - or tag me on Instagram so I can see all those beautiful photos.
Enjoy your weekend and we'll see you next week.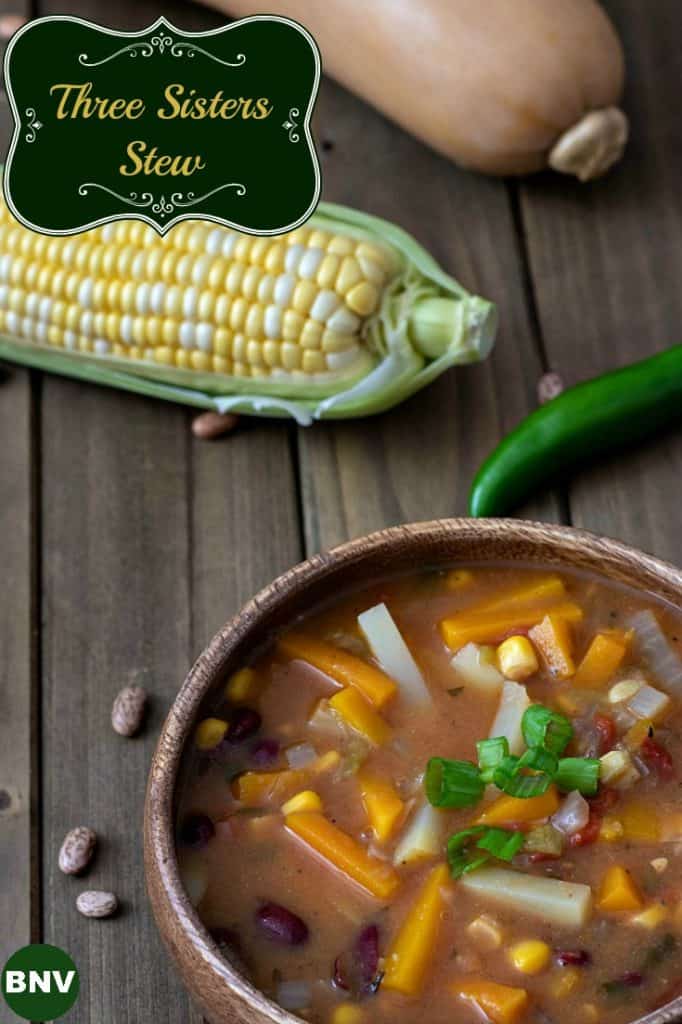 Print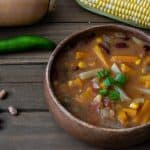 Three Sisters Stew
Author:

Prep Time:

30 min

Cook Time:

45 min

Total Time:

1 hour 15 minutes

Yield:

About

8

-

12

servings

1

x

Category:

Soup, Stew

Method:

Stovetop

Cuisine:

Native American, Vegan
---
Description
Corn, beans, and squash are full of healthy fiber, protein, vitamins, and minerals - and when combined together become this delicious Three Sisters Stew.
---
1

red onion, diced small

2

-

3

cloves garlic, minced

1 tsp

 oregano

1 tsp

 cumin

½ tsp

 garlic powder

½ tsp

onion powder

1

can diced green chiles (

7 oz

)

1 cup

 yukon gold potatoes, diced evenly

2 cups

butternut squash, diced evenly

2 cups

vegetable broth, low-sodium

1

can kidney beans, 15 oz, drained and rinsed

1

can corn, 15 oz, drained and rinsed

1

can diced tomatoes, 15oz, I like fire-roasted

2 cups

of water
salt and pepper to taste
small handful fresh parsley or cilantro (optional)
---
Instructions
Drain and rinse the beans and corn
Dice the onion and add it to a large soup pot or dutch oven
Simmer onion over med-low heat until softened
Add minced garlic and stir until fragrant - about 30 sec
Add diced chile and stir to combine
Add diced potatoes and stir to combine - add water or broth if needed
Peel squash and dice into the same sized cubes you used for the potatoes
Stir squash into the stew and add the broth
Add the drained corn and beans and stir
Add the tomatoes and stir
Add 2 cups of water and mix well
Bring to a low boil, then cover and reduce heat to simmer
Simmer for 30-45 min or until vegetables are tender
Season with salt and pepper to taste
Add a small handful of parsley or cilantro for garnish
---
Notes
Keywords: three sisters stew