Remember those Sharp Cheddar Cheese Balls we used to get during the holidays? I wanted so bad to recreate one this year, but got this Holiday Vegan Cheese Spread instead. No matter, it still tastes absolutely delicious!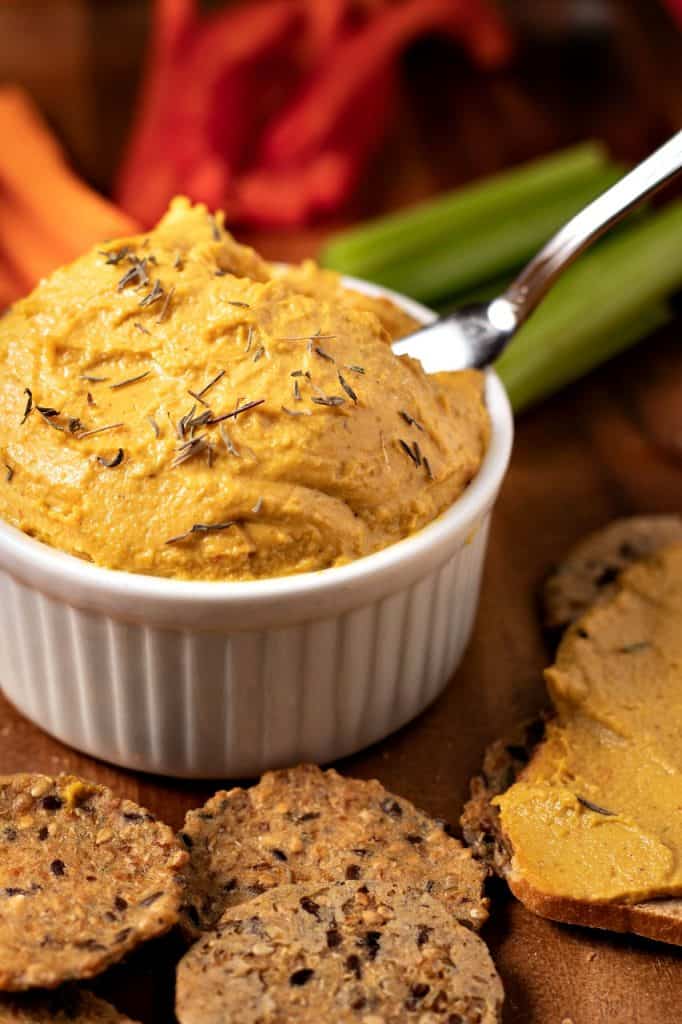 I was actually a little disappointed it did not firm up into a ball like I wanted, even after sitting in the refrigerator overnight. But then I tasted it and oh my..... this was just too good to not think about sharing it.
Of course, I did ask my Facebook Group if they would rather wait for the actual cheese ball recipe to come out instead, and their answer was loud and clear!
Give us the Vegan Cheese Spread! lol
So here you go. I hope you enjoy it as much as I do. Both my official taste testers (my wife and daughter) gave it an enthusiastic 2 thumbs up so I'm thinking it's pretty darn good.
You can make a simple cheese and cracker platter for your Holiday gathering by using Rye Crisps, Melba Toasts, or a product found in many stores called "Mary's Gone Crackers", all 3 of which are oil-free.
I wish I could say the Cheese Spread itself was low-fat but sadly I cannot. I used Sunflower Seeds for the bulk of it so there are some calories in this, hence the name HOLIDAY Cheese Ball. If you are watching your weight - you certainly don't want to be eating this every day.
But as a treat? I think your Holiday guest will love it.
Sunflower Seeds vs Cashews
I chose Sunflower Seeds over Cashews this time because they are not nearly as costly as cashews, and I don't mean just monetarily either.

If you didn't know, the US imports the majority of its Cashews (actually a seed from the Cashew Apple) from Brazil, Vietnam, and India.

The process of shelling the nut exposes workers to harmful acids that lie between the layers of shell on the cashew nut, which causes painful burns to their hands

Some 500,000 people work in India's cashew nut industry – nearly all women – who are paid as little as £2 a day for the arduous labour with no contracts, no guarantee of steady income and no pension or holiday pay.

Many of the women were not given gloves and those that were chose not to wear them as it slowed their work down – they are paid by volume.

One nut sheller, Pushpa Gandhi, 30, told the newspaper she is covered in scars from her work shelling cashews but makes just 200 rupees a day, or £2.15 (that's about $2.83 in US dollars) .


https://metro.co.uk/2019/04/04/women-india-pay-price-cashew-nut-demand-vegan-diets-rise-9110415/
In addition, sunflower seeds are grown here locally in the US (so there's less transportation involved), AND they require a LOT less water to grow - so they are a lot more environmentally friendly.

Finally, there are none of the ethical concerns I stated above AND - they are healthier too!
Ounce for ounce, they have LESS fat, MORE fiber, and MORE calcium - so it's the pretty Sunflowers for the win.

I love cashews, but honestly, if Sunflower Seeds can give us the same creamy sauces and cheese, why not use them?
So.... ready to try something new? I think you'll like the result.
Let's go make some Vegan Cheese.
Holiday Vegan Cheese Spread
Start by getting some raw, unsalted, unroasted, shelled Sunflower Seeds from your favorite Grocery Store. Many stores will have these in their bulk bins now. If you can't find them, you can always try Trader Joes, Aldis, Whole Foods, or of course, Amazon.
Measure one cup of seeds into a small bowl and cover with hot water. Depending on your blender, we're going to let these soak at least 1-2 hrs. I have a Vitamix, and even after soaking 1 hr I still had to scrape down the sides several times to get it smooth and creamy.
Next, we drain our seeds and add them to a blender along with all the remaining ingredients in the recipe box below. Process until smooth and creamy, stopping to scrape down the sides as necessary.
I only added enough water at the end to help it get creamy. I added 1 Tbs at a time until I got the consistency I was looking for.
At this point, it will be very soft but you can go ahead and taste it - I know you're wanting to 🙂 .
I then lined a small bowl or ramekin with clear plastic wrap and scooped the cheese into the bowl to sit overnight in the fridge. It will thicken slightly and by allowing it to rest - it will give it time for all those yummy flavors to meld together.
That's it - pretty easy recipe. No cooking involved, just a little patience and a blender.

Speaking of which, as I said above, I do use a Vitamix.

I have had many blenders throughout the years but my Vitamix is definitely my favorite. It's powerful, easy to use, and super easy to clean. I simply add a little water and a dash of dish soap and turn it on - it basically cleans itself.

I'll add an Amazon Link below as maybe they will have a Holiday Special you might like.
Keep in mind that as an Amazon Associate, I do earn from qualifying purchases but at no extra cost to you.
That's it for this week, please be sure and let me know in the comments below how it went and what you think of my "Seed Cheese".
It does remind me of those Sharp Cheddar Cheese Balls I used to love but maybe to you - it won't. Regardless, I still think it's pretty good so be sure and let me know.
See you soon and oh! ...... I almost forgot!
Happy Holidays from all of us here at BNV!

Print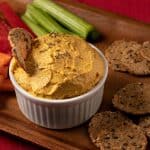 Holiday Vegan Cheese Spread
Author:

Prep Time:

2 hrs

Total Time:

1 minute

Yield:

1 cup

1

x

Category:

Holidays, Snack, Appetizer

Method:

Blender

Cuisine:

American, Vegan
---
Description
Remember those Sharp Cheddar Cheese Balls we used to get during the holidays? I wanted so bad to recreate one this year, but got this Holiday Vegan Cheese Spread instead. No matter, it still tastes absolutely delicious!
---
1 cup

shelled sunflower seeds (raw, unroasted, unsalted)

½

red bell pepper

¼ cup

nutritional yeast

3

Tbs lemon juice

1

Tbs apple cider vinegar

1

Tbs white miso

2

cloves garlic

½ tsp

onion powder

½ tsp

smoked paprika

¼ tsp

thyme

¼ tsp

turmeric

¼ tsp

salt (or to taste)
Up to

2

Tbs water as needed to blend
---
Instructions
Cover seeds with hot water and allow to soak 1-2 hrs or more.
Drain seeds and add to blender
Add all remaining ingredients (except water) and blend until smooth
Scrape down the sides as necessary
Add 1 to 2 Tbs water as needed to make a smooth and creamy paste
Cover and allow to sit overnight in fridge for best flavor
Serve with your favorite Vegan Crackers or Crudités
Garnish with addtional paprika or thyme as desired
---
Keywords: vegan cheese spread, sharp cheddar, vegan cheese ball