For a southern boy like me, Chicken and Dumplings were like the ultimate comfort food. And I knew when I first changed my diet, that I would have to make my own version one day. Which is why I created this Vegan Chicken and Dumplings recipe.
My family enjoys it, hope yours does too.
Remember how mom used to make it? All those little chunks of celery and carrot swimming around in all that yummy broth?
And those dumplings! Oh my gosh, remember those dumplings?!
That is why I had to create this recipe. All those memories and aromas in the kitchen as mom made us our favorite dinner.
And truth be told, this has been a popular recipe ever since I originally published it back in 2015.
But oh my the photos, I knew this weekend I simply HAD to update the photos and add a YouTube Video. So I hope you enjoy the updates and rest assured the recipe is still the same.
However..... I did remove the Seitan option that was in the old recipe, as it seems no one carries the prepackaged Seitan anymore. But if you want to make your own or can still buy it in the stores, by all means, use that if you want. Instead, I used Butler Soy Curls and honestly, if you aren't into soy you could leave them out as well and just use the mushrooms.
Here is an Amazon link to where you can buy Soy Curls online, and remember that I will receive a small commission with each purchase, at no extra cost to you.
Vegan Chicken and Dumplings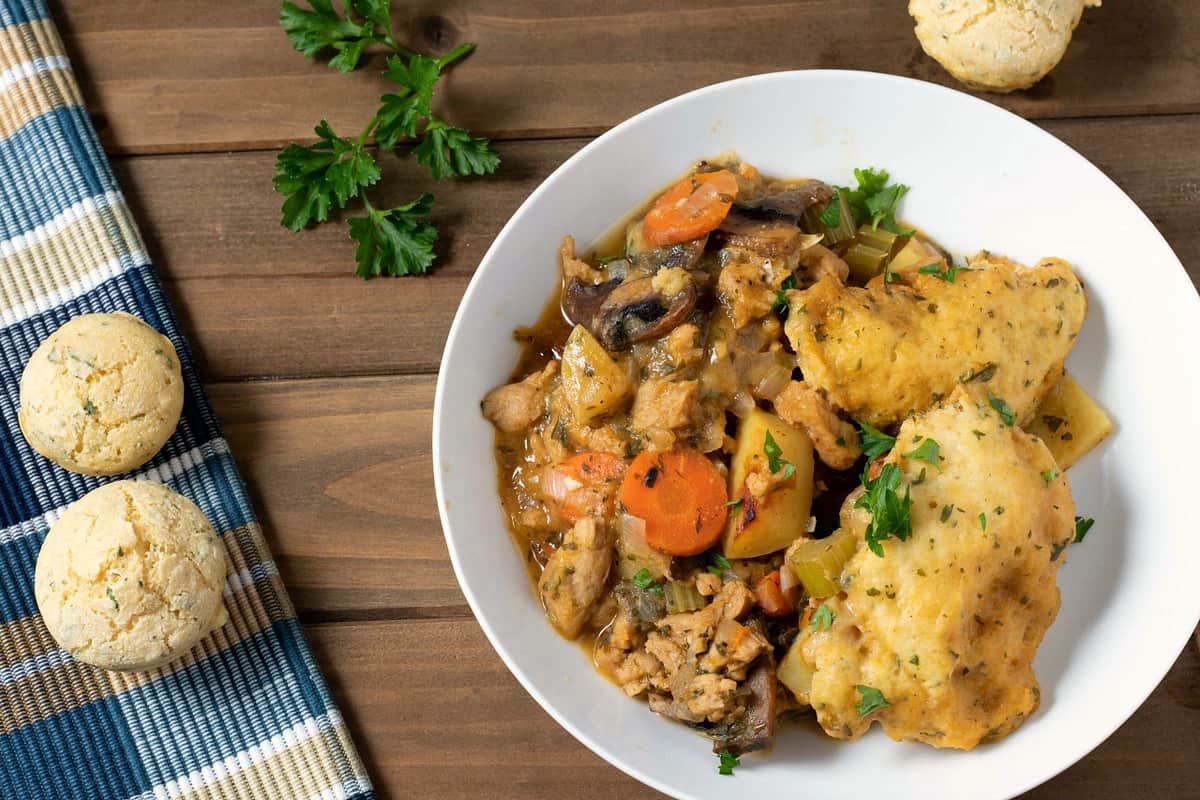 We start by rehydrating our Soy Curls in a cup of hot water. I like to add a couple of tablespoons of low sodium soy sauce and some poultry seasoning to help flavor them. Let them sit, poking down any dried bits sticking up out of the water until they are soft and pliable.
Meanwhile, we saute a diced onion in a few tablespoons of veg broth. Use a large soup pan or dutch oven and cook just until it's softened.
Stir in a few cloves of minced garlic and then add those yummy C&D veggies. I used 3 ribs of celery, 3 carrots, and 3 baby gold potatoes. Let those simmer and soften and if at anytime your pot seems dry, add a little veg broth.
Next, we add an 8oz package of sliced mushrooms. I used baby Bellas but any mushroom will work. Also, add the spices listed below and simmer until all the veggies have reduced in size and the mushrooms have released their liquid.
Finally, we drain our Soy Curls and add them to the mix along with an entire 32oz carton of low sodium veg broth. Bring that to a slow boil and stir in 1 teaspoon of Apple Cider Vinegar and a Bay Leaf.
For the Dumplings:
Simply mix the flour, cornmeal, baking powder, parsley, and salt together in a large bowl. Get a little helper too if you can find one ....
I can't believe how young my grandson was back then, that was 4 years ago. What a little ham 🙂
Now slowly add in the almond milk and stir to make a batter. This has more of a pancake batter consistency than dough, so don't be surprised.
Now that the soup's come to a nice slow boil, slowly drop in spoonfuls of batter. This makes a lot of batter so you may not need it all. Just add as many dumplings as you like (or have room for). The rest can be refrigerated for later.
Update: Because I had forgotten how much batter this made, I tried dropping the remaining batter into little mini muffin cups and baking them at 350°F for 15 min and they came out perfect! Little mini biscuits!
Cover the pot and let it simmer for a good 15 minutes or so until the dumplings are done.
Vegan Chicken and Dumplings, just like mamma used to make.
Well, sort of. Enjoy 🙂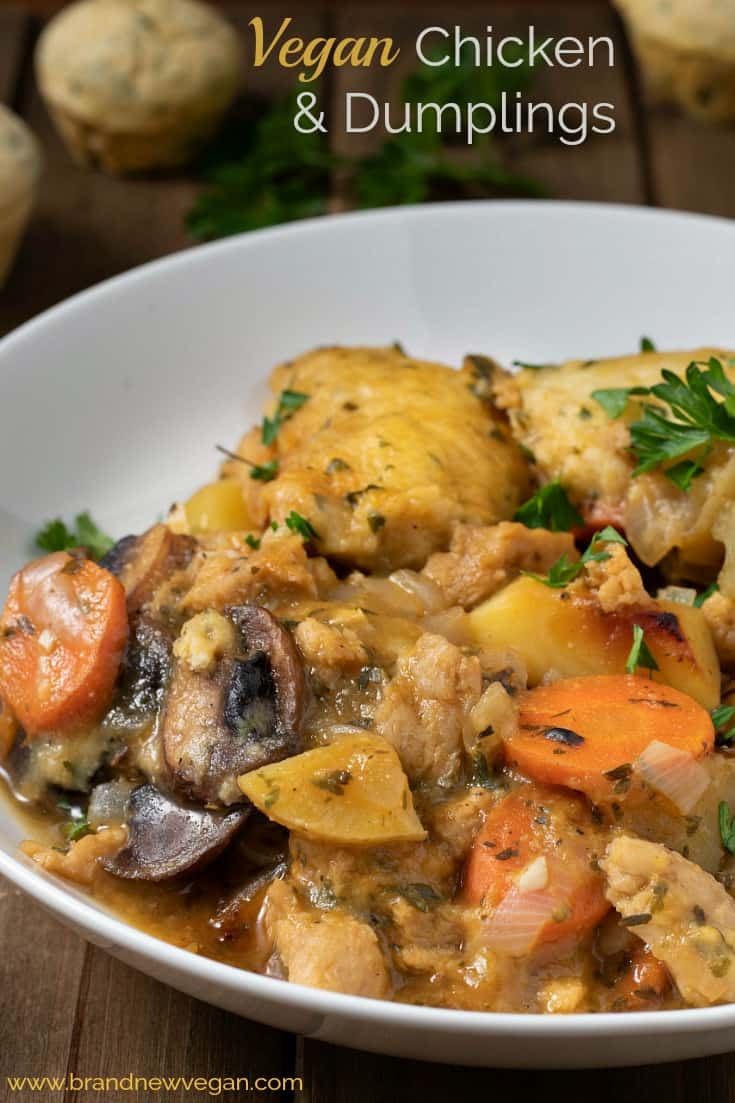 Print
Vegan Chicken and Dumplings
Author:

Prep Time:

30 minutes

Cook Time:

15 minutes

Total Time:

45 minutes

Yield:

8

servings

1

x

Category:

Main

Cuisine:

American
---
Description
This Vegan Chicken and Dumplings is comfort food to the max. Tender veggies, soy curls,  and mushrooms - all swimming in a rich, thick broth, with homemade parsley dumplings floating on top. Mom would be proud.
---
"Chicken"
4 oz

Butler soy curls

1 cup

water

2

Tbs low sodium soy sauce

½ tsp

poultry seasoning
Broth
1

med onion, diced

2

cloves garlic, minced

3

ribs celery, diced

3

med carrots, diced

3

baby gold potatoes, diced

8 oz

mushrooms, sliced

4 cups

low sodium vegetable broth

½ tsp

salt

¼ tsp

black pepper

½ tsp

thyme

½ tsp

rosemary

1 tsp

apple cider vinegar

1

bay leaf
Dumplings
1 ½ cups

flour

½ cup

cornmeal

2

Tbs parsley

1

Tbs baking powder

½ tsp

salt

1 ½ cups

unsweetened almond milk
---
Instructions
Whisk the soy sauce and poultry seasoning into the cup of water and pour over soy curls to rehydrate.
Saute onion and garlic in a couple tablespoons broth until softened
Add carrot, celery, and potatoes and cook until softened
Add mushrooms and spices and cook until softened
Add drained soy curls, broth, bay leaf and vinegar and bring to a boil
Meanwhile, mix flour, cornmeal, baking powder, parsley, and salt
Stir in almond milk until a batter is formed
Slowly drop in spoonfuls of batter, as many dumplings as you want
Cover pot and simmer 15 min or until dumplings are done
Any remaining batter can be placed in muffic tins and baked as biscuits - 350 deg F - 15 min
---
Notes