Is Vegan Chicken and Dumplings like the ultimate comfort food or what?
Remember how mom used to make it?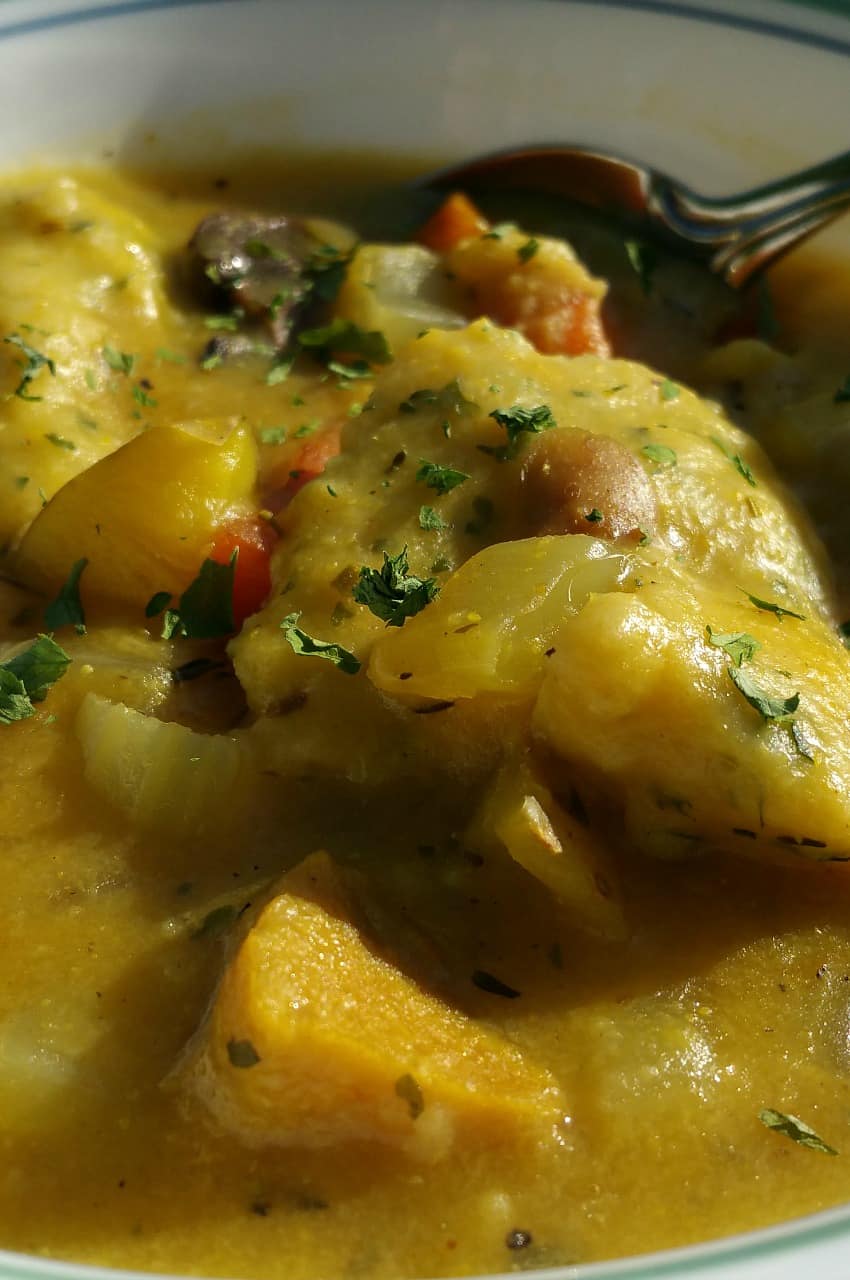 Those little chunks of celery and carrot swimming around in al that yummy broth?
And those tender chunks of chicken that would just melt in your mouth?
And those dumplings!  
Oh my gosh, remember those dumplings?!
So why can't we figure out a way to replace the chicken with something a little bit healthier?  Can't we still have our favorite comfort foods even though we became Vegan?
Sure, why not!
Which is why I made this Vegan Chicken and Dumplings last night for dinner.  And oh, was it ever good.  Not quite as good as Mom's, but close enough to satisfy this Vegan anyway….
My family enjoyed it, hope yours does too.
Vegan Chicken and Dumplings
I used Imagine No Chicken Broth as my base, with marinated chunks of Seitan and Mushrooms as my chicken replacement, and homemade parsley dumplings to send this recipe over the top.
The No Chicken Broth is sold in my local Fred Meyers in 1qt boxes, so hopefully you will be able to find it.  If not, any low sodium veggie broth will work as well.  The No Chicken Broth is basically a veggie broth anyway, with typical chicken soup seasonings added.  Be sure and get the low sodium variety.
The first thing I did was decide on my meat replacement.  Is it important?  Not really, but I wanted to make it feel as 'authentic' as I could, so I used Seitan.  You can use Tofu if you want, or just Mushrooms I suppose too, but I used Seitan.  Just stay away from those imitation fake chicken meat products as they are a lot more processed and typically soy based.
I drained my Setian and give it a good rinse to wash off all the soy sauce.  Then after a quick chop to make it a more universal size, I dropped them in a cup of No Chicken Broth.  Let that sit and marinade while we prepare the veggies.
A typical mirepoix of Onions, Celery, and Carrots gets things started in my large soup pan.  I also added a few baby Yukon Golds to add a bit more starch.  Finally I added about 8oz of white button mushrooms, because any chicken dish taste better with mushrooms, right?
For seasoning I kept it pretty simple
Salt
Pepper
Thyme
Rosemary
Once all the veggies and seasonings are nice and soft, add in the Seitan with it's broth, and the rest of the carton of broth (about 4 cups total).  Bring that to a slow boil and stir in 1 tsp of Apple Cider Vinegar and a Bay Leaf.
For the Dumplings, mix the flour, corn meal, baking powder, parsley, and salt.
As you can see, I had a helper 🙂
Now slowly add in the almond milk and stir to make a batter.  This has more of a pancake batter consistency than dough, so don't be surprised.
Now that the soup's come to a nice slow boil, slowly drop in spoonfuls of batter.  This makes a lot of batter so you may not need it all.  Just add as many dumplings as you like (or have room for).  The rest can be refrigerated for later.
Cover the pot and let it simmer for a good 15 minutes or so until the dumplings are done.
Vegan Chicken and Dumplings, just like mamma used to make.
Well, sort of.  🙂

Vegan Chicken and Dumplings
This Vegan Chicken and Dumplings is comfort food to the max. Tender veggies, mushrooms, and seitan swimming in a rich, thick broth, with homemade parsley dumplings floating on top. Mom would be proud.
Ingredients
Broth
8

oz

Seitan

(OR)....

4

oz

Butler Soy Curls

(See notes)

4

cups

No Chicken Broth (or veg broth)

(low sodium)

1

med

Onion

(diced)

3

ribs

Celery

(diced)

3

med

Carrots

(diced)

1

clove

Garlic

(minced)

3

baby

Yukon Gold Potatoes

(diced)

8

oz

White Button Mushrooms

(sliced)

1/2

tsp

Salt

1/2

tsp

Pepper

1/2

tsp

Thyme

1/2

tsp

Rosemary

1

tsp

Apple Cider Vinegar

1

Bay Leaf
Dumplings
1 1/2

cups

Almond Milk

(unsweetened)

1 1/2

cups

Flour

1/2

cup

Corn Meal

2

Tbs

Parsley

1

Tbs

Baking Powder

1

tsp

Salt
Instructions
Drain seitan, rinse, and chop to universal size

Marinate seitan in 1 cup broth until needed

Saute onion and garlic in a couple tablespoons water until softened

Add carrot, celery, and potatoes and cook until softened

Add mushrooms and spices and cook until softened

Add seitan, remaining broth, bay leaf and vinegar and bring to a boil

Mix flour, cornmeal, baking powder, parsley, and salt

Stir in almond milk until a batter is formed

Slowly drop in spoonfuls of batter, as many dumplings as you want

Cover pot and simmer 15 min or until dumplings are done
Recipe Notes
Original Recipe Date:  July 7, 2015
---
If using Soy Curls:  cover soy curls with hot water to rehydrate.  Add 2 Tbs Soy Sauce and 1/2 tsp Poultry Seasoning to water.  Once hydrated, drain and squeeze dry.