I love a good stew, especially as the temperature begins to drop.  So imagine my surprise when I learned that many chefs include one of my favorite ingredients when making an Irish Stew!   I knew right then and there that this Vegan Irish Stew was going to happen and boy, I was NOT disappointed.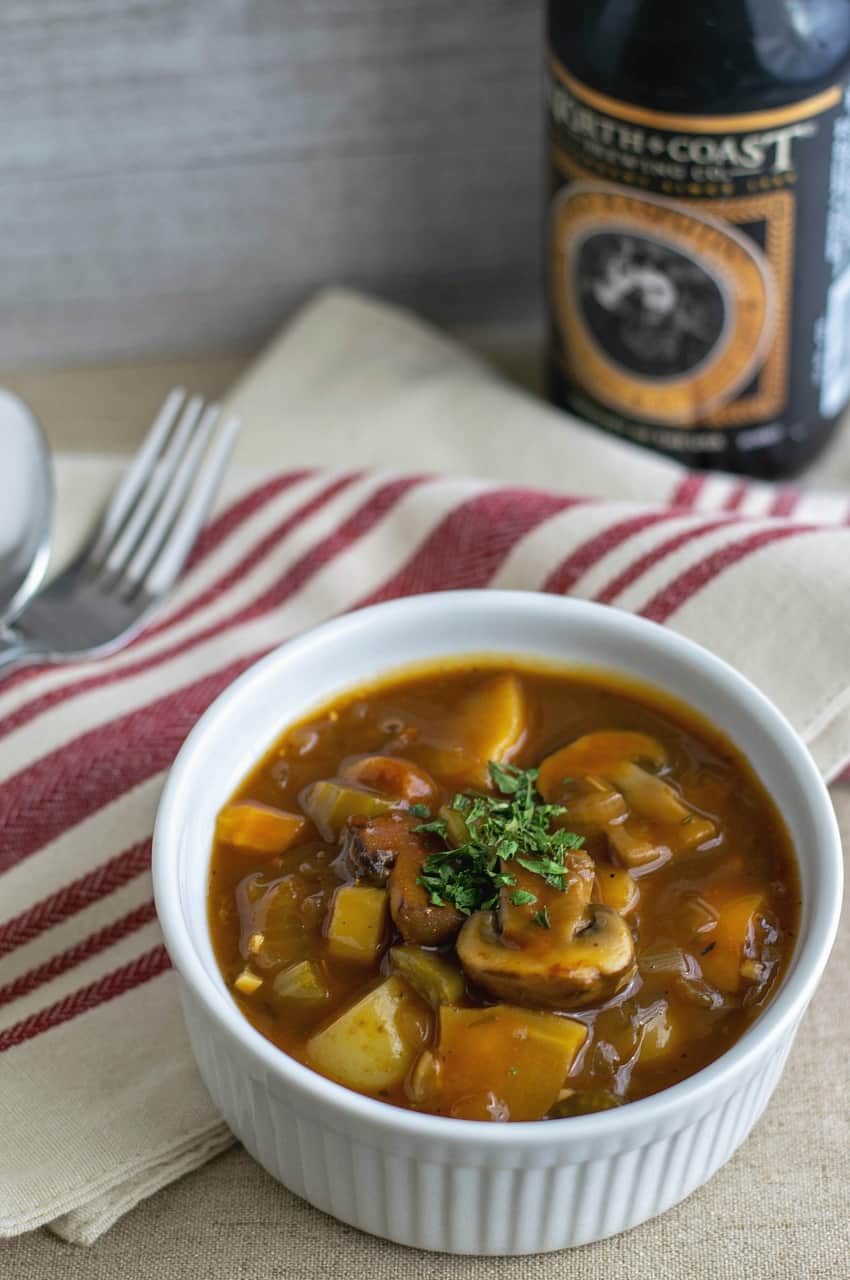 Traditionally, Irish stew was made by stewing mutton and root vegetables in a thick and hearty broth. 
Obviously I replaced the meat with thick slices of Portobello Mushrooms, and used plenty of chopped onions.  I also added celery, carrots, baby potatoes, and parsnips to round out the veggies.
But the broth.....the broth in my opinion -  is what really makes this version of Vegan Irish Stew stand out.  It's so rich and flavorful!
The secret ingredient is beer.  Not just any beer mind you..... but a very rich, dark Beer made famous in Ireland called a Stout.
Funny side note:  I remember one time at the Grocery Store I had to explain to the young checker what a Parsnip is.  Just another clue that clearly we need to introduce more vegetables into our diet - and I mean that literally.
"Ok kids, this is a potato, it's where your French Fries come from.  And this is a Tomato, it's where your pizza sauce comes from.  And THIS... is a parsnip……"
"But Chuck, I can't have beer.  What can I use to substitute for the beer"
I get asked this a lot and I do understand.  As I always say when using beer or wine in my recipes, it does add additional depth of flavor and the alcohol does burn off, but do whatever works best for you. 
In that case, I would say you could try and find a good Mushroom Broth (or Veggie Broth) and add a tablespoon of Vegan Worcestershire Sauce.  It won't be exact - but it will do.
But if you DO make this Vegan Irish Stew as written...... the brand of Stout  Beer you use is entirely up to you and/or whatever you can find near you. 
Because I live in the Pacific Northwest with SO many microbreweries to choose from, I use one of my favorites from North Coast Brewing called Old Rasputin Imperial Stout. 
But Guinness Stout is also widely available in stores (and made in Ireland) so that would also be a good choice too.
Ok so enough with the details, let's go make some stew. 
Vegan Irish Stew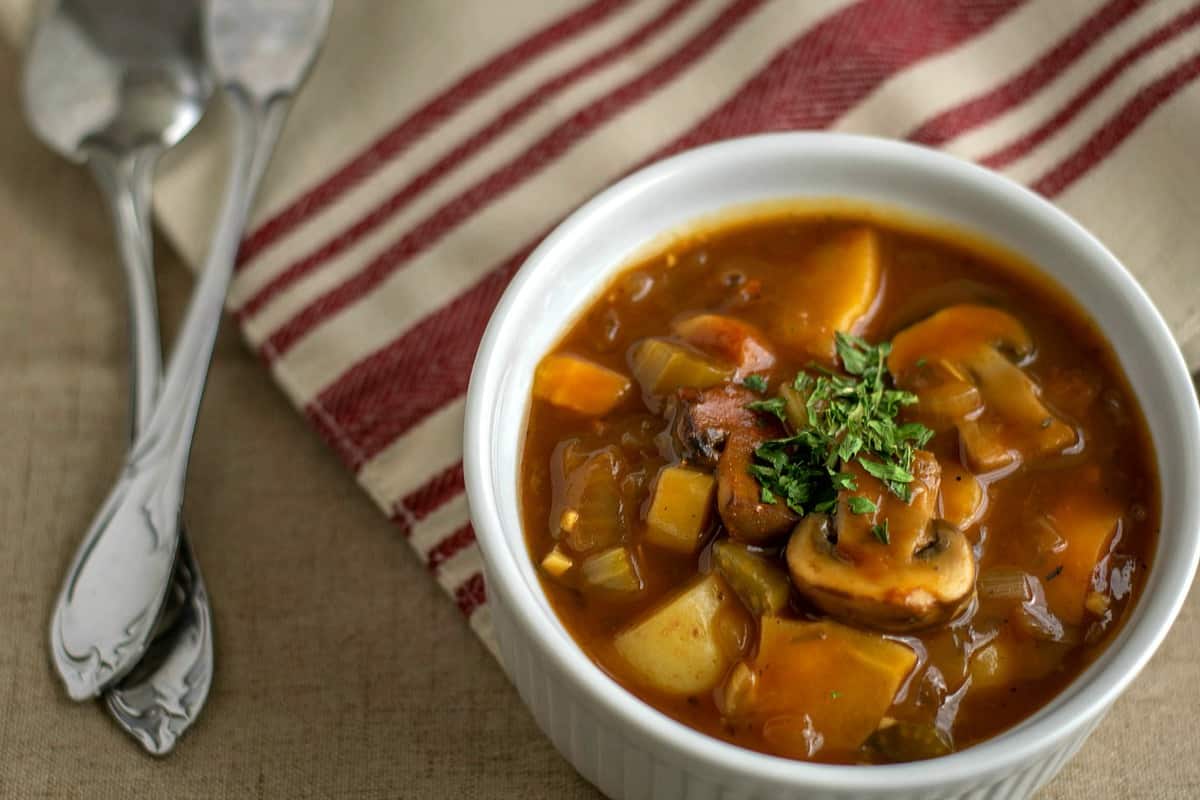 Dice 1 ½ yellow onions into a heavy stewpot or Dutch Oven and add a tablespoon or two of veggie broth to soften.  
Next, chop 2 ribs of Celery, 1 large Carrot, and 1 Parsnip and add them to the pot.  Let these simmer for about 5 minutes until they too begin to soften. 
Add 3 cloves of minced garlic and stir that into the mix.  It will begin to smell incredible very shortly!

Now we add our mushrooms.  I used about a pound of Portobello Mushrooms (about 18 small mushrooms).  I left the stems on and rinsed them under running water to remove any dirt or grime.  Then I cut them in half lengthwise, right through the stem.  Add these to the pot and give them a stir. 
Once the mushrooms begin to shrink in size, stir in ¼ cup of Tomato Paste and 1 can (or bottle) of Stout Beer (12-14oz).  As mentioned earlier, you could sub 1 ½ cups of Veggie or Mushroom Broth and 1 Tbs Vegan Worcestershire. 
Finally, add 3 cups of your favorite low-sodium Vegetable Broth and stir everything to combine. 
The potatoes I used were Baby Potatoes and came in a 24oz bag.  I used about 15 baby potatoes (close to half the bag) and cut them in half.  Add these to the pot and we're almost done. 
To season, add 2 Bay Leaves, 1 Tbs Vegan Worcestershire Sauce, 1 teaspoon dried Thyme Leaves, ½ teaspoon dried Rosemary, ½ teaspoon salt, and a pinch of ground black pepper. 
Bring the stew to a slow boil, cover, and then reduce the heat.   Let that simmer 10-15 minutes or until the potatoes are cooked through. 
To thicken, mix 2 Tbs Corn Starch (or Arrowroot Powder) and 1 Tbs water to make a slurry and stir that in.  Adjust any seasonings to taste and serve with your favorite crusty bread. 
Hope you enjoy my version of this Vegan Irish Stew.  If you do, please comment below and let me know how you liked it.  If you have anyone who is still on the fence about eating your 'veggie food' - this might just be the one to convince them it's not that bad! 
Hope it works out that way and until next time...
Enjoy! 

Print
---
Description
If you love a thick, hearty stew - then this Vegan Irish Stew is for you.  Big chunks of Portobello Mushrooms, hearty root vegetables, and an amazing broth make this a real 'stick-to-your-ribs" kind of meal.
---
1 ½

yellow onions, diced

2

ribs celery, chopped

1

carrot, chopped

1

parsnip, chopped

3

cloves garlic, minced

1

pound portobello mushrooms (about

18

small whole mushrooms)

¼ cup

tomato paste

1

dark, stout beer (12-1

4oz

can or bottle)

3 cups

low sodium vegetable broth

15

baby potatoes (about

12oz

or 1.5 lbs)

2

bay leaves

1

Tbs vegan worcestershire sauce

1 tsp

dried thyme

½ tsp

dried rosemary

½ tsp

salt

¼ tsp

ground pepper

2

Tbs corn starch or arrowroot powder

1

Tbs water (to make a thickening slurry)
fresh parsley for garnish
---
Instructions
Dice onions and add to a stew pot or Dutch Oven.
Soften onions in a few tablespoons of veg broth.
Add chopped celery, carrot, and parsnip - simmer 5 minutes
Add minced garlic and stir
Clean mushrooms and cup in half, add mushrooms to pot and simmer until slightly reduced in size
Stir in tomato paste and add beer
Stir well and simmer 1-2 minutes
Add broth and baby potatoes that have been cut in half
Add all seasonings and bring to a slow boil
Reduce heat and cover
Simmer 20-30 minutes or until potatoes are cooked through
Mix corn starch and water and stir into stew to thicken
Serve with your favorite crusty bread
Garnish with fresh parsley if desired
---