Today I managed to wrangle my very first Jackfruit, which was perfect for these Vegan Jackfruit Sliders. 
Ok, so there wasn't much of a struggle,  considering the good folks over at Family Foods International sent me a couple of cans to try as free samples.  Thanks guys!
But it WAS my first time using fresh Jackfruit and I gotta tell you, I was kind of impressed.
Ok so first of all - what in the heck IS this jackfruit you keep talking about?
Jackfruit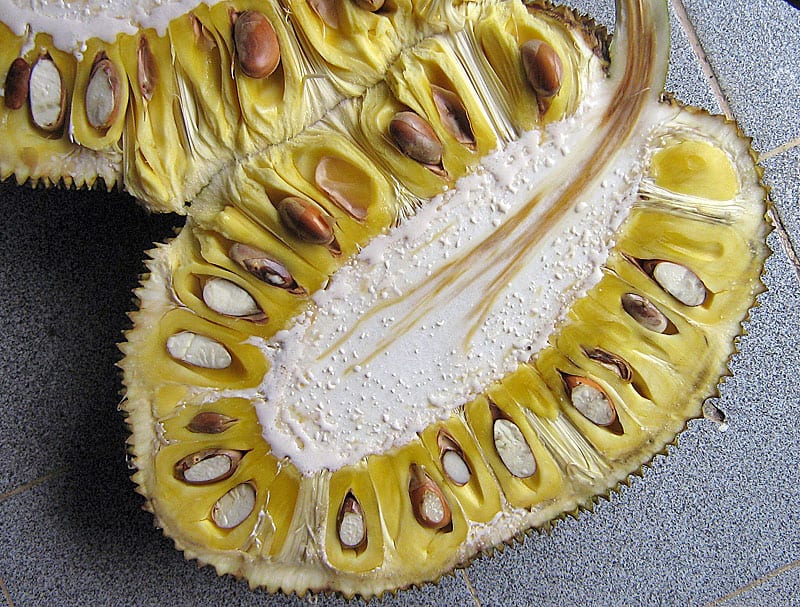 The Jackfruit Tree is native to India and a close cousin to the fig or mulberry.  It also bears these ginormous - Jurassic Park looking spiny fruits which just happen to be not only nutritious - but very delicious too.
In fact, its fruit is the largest tree-borne fruit and can reach as much as 80 lb in weight.
What's taking the Vegan world by storm is the fact that when eaten green, or unripe, it's delicate flesh bears an uncanny resemblance to the texture of pulled pork, which is exactly why I decided to make these Vegan Jackfruit Sliders.
Nutritionally, Jackfruit is practically a superfood.  Here are just a few facts I managed to gather for you:
low calorie: 100 g provides just 95 calories.
it's rich in dietary fiber
good source of vitamin-C & A
It is one of the rare fruits that is rich in a B-complex group of vitamins: B-6, niacin, riboflavin, and folic acid.
Also a good source of potassium, magnesium, manganese, and iron.
With all this good stuff, you know there has to be a "but".
Where to Buy Jackfruit
Ok, so I've piqued your interest.  Suppose you'd like to buy some to try this recipe....  Where in the heck do you even buy Jackfruit anyway?
First of all, know that you can buy it in any of the following ways:
Fresh
In Water
In Brine
In Syrup
I'd recommend you stick to the cans packed in water or brine.  Jackfruit in syrup is the ripe jackfruit, is sweet, and lends itself to more dessert dishes than meat substitutes.
And if you buy one raw - I want to see the YouTube Video of YOU trying to wrangle one of these things!
Now, I've been told you can buy cans of Young, Green, Jackfruit in the following places
Trader Joes
Whole Foods
Possibly WalMart
Asian Supermarkets
And of course, Amazon
So now that we know what Jackfruit IS, where to buy it, and have a recipe to follow.....
Let's go make some Sliders!
Vegan Jackfruit Sliders
I started by making a Coleslaw topping first, so let's start with the dressing.
In a blender combine a 15oz can of drained and rinsed White (or Cannellini) Beans, and all the remaining dressing ingredients and blend until smooth.  Add water if necessary to thin.
Combine the dressing with a 16oz package of Cole Slaw Mix, usually found next to the bagged salads.
Stir to combine and refrigerate for now.
The Sauce
Next, let's make the BBQ Sauce.   This is an adaption of my Texas Style Vegan BBQ Recipe, tweaked to copy one of my favorite BBQ Joints in Albuquerque....  Rudy's Smokehouse.
Slightly sweet, slightly tangy, just the right amount of heat....  man I loved their sauce when I used to eat there.  And this homemade sauce is a pretty close copy.
In a medium-sized saucepan we are going to mix some Tomato Sauce (no salt added is best), Ketchup (your favorite variety but I stay away from the High Fructose Corn Syrup ), Molasses, Apple Cider Vinegar, Lemon Juice, Garlic Powder, Vegan Worcestershire, Liquid Smoke, Cumin, Black Pepper, and just a hint of Cayenne.
This gets whisked up real good and then brought to a slow simmer until it slightly thickens.
This recipe makes about 2 cups of BBQ Sauce.
The Jackfruit
Now the jackfruit.  Since mine was packed in brine, be sure and drain it and give it a good rinse.
Now you're going to see they are in triangular shapes.  The point of that triangle is the core and is pretty tough.  But the outside edges will flake right off with a fork.  This is the part you want.  Shred this with a fork and add to a medium bowl.
You will see little round seeds that you can discard.  Also, the seeds are surrounded by a tough pod like material, again I discarded this.
You might think we're tossing a lot of material here, and we are.  A single 20 oz can of Young, Green Jackfruit will hardly give you 2 servings worth.
One more thing about unripened, fresh jackfruit....
IT STINKS
Yep, the smell is NOT too pleasant.  BUT, it tastes amazing when it's cooked in our homemade BBQ sauce, so that's next.
Add the shredded jackfruit to a pan and add about 1 ½ cups of the BBQ Sauce and let it simmer for about 20 minutes, stirring frequently.
And that's it!  You'll have a little leftover BBQ Sauce to pour on top or whatever you wish.
Start with some whole wheat rolls (oil-free if you can find them - or make your own), add a pile of coleslaw, followed by another pile of our BBQ jackfruit,  and top it off with the condiments of your choice!
YUM!
That's if for this week.....as always LOVE LOVE LOVE those comments.
Don't forget to Subscribe to my YouTube Channel
And be sure to share your creations on my Instagram Page using the hashtag:  #brandnewvegan
Enjoy the sliders and I'll see you next week!

Print
Vegan Jackfruit Sliders
Author:

Prep Time:

40 minutes

Cook Time:

20 minutes

Total Time:

1 hour

Yield:

4

people

1

x

Category:

Sandwich

Cuisine:

BBQ, Oil-Free, Vegan
---
Description
Texas BBQ at its best, and I wonder if even the most tried & true BBQ Connoisseur will be able to tell that there is NO MEAT in this recipe! The secret's in the Jackfruit.
---
Coleslaw
1

pck Coleslaw Mix ((

16oz

))
Dressing
1

can White Beans (or Cannelloni) ((

15oz

))

3

Tbs Dijon Mustard

3

Tbs Apple Cider Vinegar

3

Tbs Maple Syrup

2

Tbs Dill Pickle Juice

1 tsp

Celery Seed

½ tsp

Salt

¼ tsp

Black Pepper
Jackfruit
2

cans Young, Green Jackfruit in Brine ((

20oz

))
BBQ Sauce
1

can Tomato Sauce (no salt added) ((

8 oz

))

1 cup

Ketchup ((

8 oz

))

¼

cup Molasses

2 ½

Tbs Apple Cider Vinegar

2

Tbs Lemon Juice

1

Tbs Worcestershire Sauce ((vegan))

1 tsp

Garlic Powder

½ tsp

Liquid Smoke

¼ tsp

Ground Cumin

¼ tsp

Black Pepper

⅛ tsp

Cayenne Pepper
---
Instructions
Coleslaw
Drain the can of White Beans and then blend all coleslaw dressing ingredients together until smooth.
Add a 16oz package of Coleslaw Mix to a large bowl and pour in the dressing. Mix well and refrigerate for now.
BBQ Sauce
Whisk all BBQ Sauce ingredients together in a medium-sized saucepan. Bring to a slow simmer and heat until bubbly and slightly thickened.
Jackfruit
Drain jackfruit and rinse thoroughly.
Remove the triangular core, the seeds, and the tougher seed pods, and shred the soft, fleshy outsides of the fruit into a medium bowl.
Add the shredded jackfruit to a medium saucepan and add 1 ½ cups of BBQ sauce. Simmer over med-low heat for 20 minutes.
---
Notes
To assemble sandwiches:  Add 1-2 Tbs of Coleslaw to a soft Dinner Roll followed by 1-2 Tbs of BBQ Jackfruit.  Top with mustard, pickles, or pickled jalapenos.
---
Tips Are Always Welcome!
 [paypal_donation_button]