Move over Julia, this Vegan Mushroom Bourguignon is every bit as delectable as your beef version and super simple to make.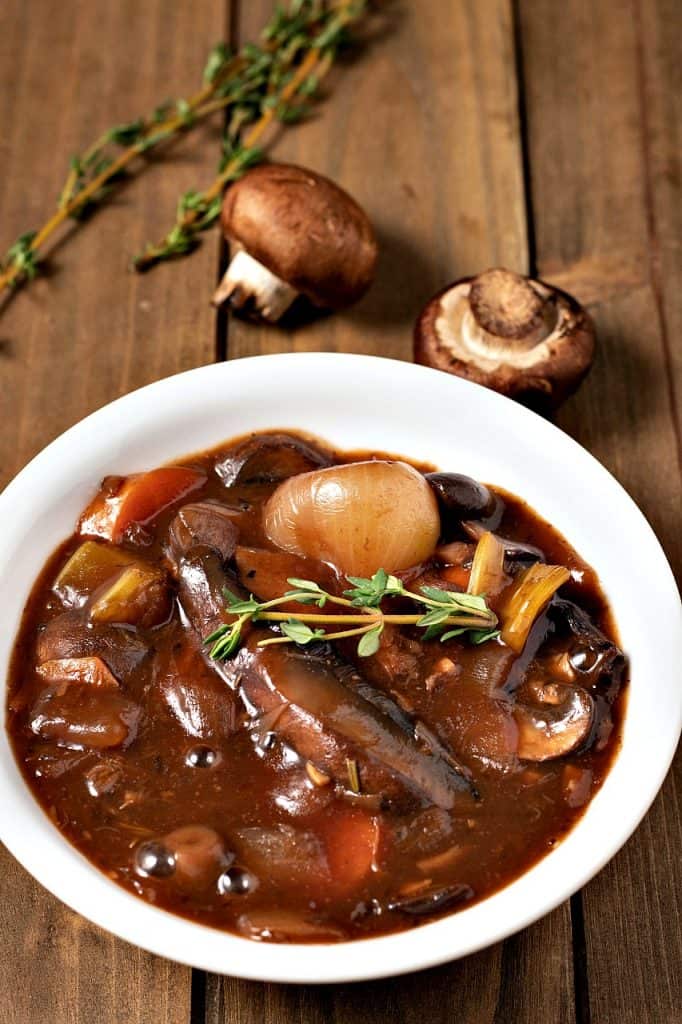 Truth be told, I originally posted this recipe on June 30, 2015.
As you know, some of my recipes do very well, and some ..... well, not so much. This is one of those that didn't quite make the cut - so I thought a makeover might help as it really is a good dish, absolutely full of flavor.
Full disclosure: There are mushrooms in this recipe and a lot of them. Same goes with the red wine and no, I do not know what you could sub in place of it. The wine is what gives it so much of its characteristic flavor.
So if you can't do mushrooms or red wine, then this just isn't the recipe for you. But if you can, oh my are you in for a treat.
This is a thick, hearty, savory stew that will be sure to please even the pickiest carnivore in your house. I'm sure the guys will love it as the portobello caps and the porcini mushrooms give it a real meaty flavor, only without using any beef.
This recipe is also completely oil-free and if you serve it over potatoes, rice, or a brown rice pasta - is 100% gluten-free as well.
I really like this recipe not only for its simplicity, but also for its amazing heartiness and flavor. I hope you decide to give it a chance and if you do - be sure and leave a comment below and let me know how it went.
So without further ado...
Vegan Mushroom Bourguignon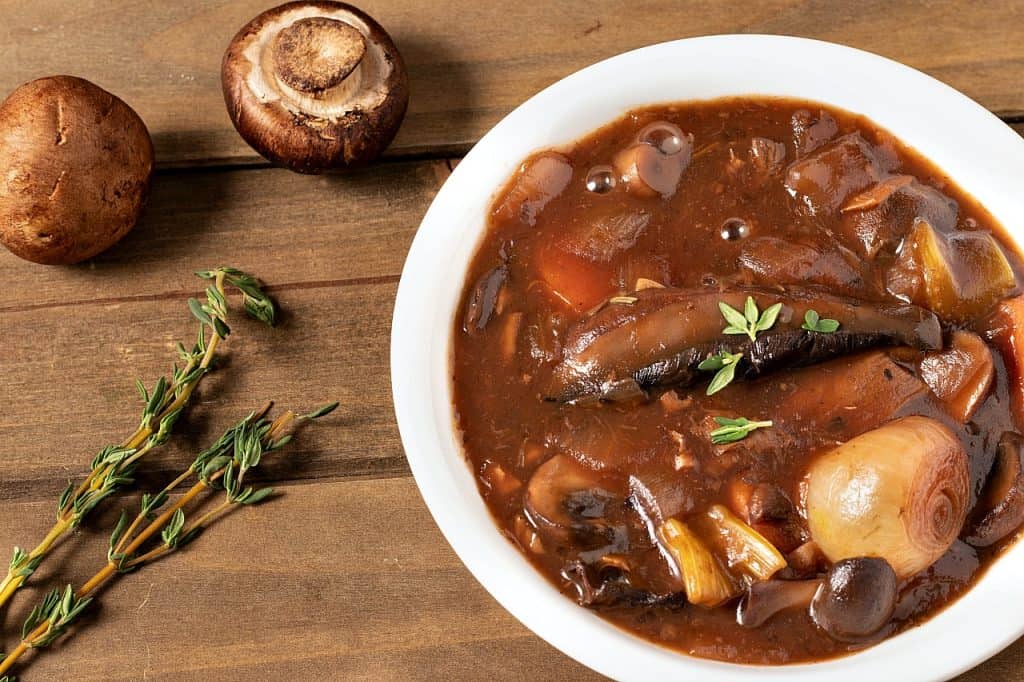 First, let's do a little prep work.
I used a ½ oz package of dried porcini mushrooms that I bought at my local Kroger grocery. They should be easy to find and since they're dried, let's dump them in a bowl and cover them with hot water to rehydrate.
I also use boiling onions in this recipe, which are similar to pearl onions. I used about 7 of these little guys and the easiest way to remove the skins is to cut off the root end, then just drop them into some boiling water for a few seconds. Let them cool and the skins should just slide right off.
You can also add them to a measuring cup with water and microwave them for about 30 seconds too.
Now, for the recipe.
In a large dutch oven add 1 large onion, roughly chopped and 1 cup of low-sodium veggie broth. Let that start to simmer and then add 2 sliced carrots, 2 ribs of roughly chopped celery, and the boiler onions.
Add a pinch of salt and pepper and stir occasionally until the liquid is nearly gone. Then add a big helping of minced garlic and stir until fragrant.
Now we lower the heat and prepare for our mushrooms.
Drain and roughly chop your porcini mushrooms and stir them into the stew. Next, clean and rinse 2 large portobello mushroom caps (8oz) and cut them into ½" thick slices. Also, add an entire 16oz package of baby bellas that have been cut into thick slices. It may seem like a lot of mushrooms, but they will cook down.
For seasoning, I added 2 bay leaves, a little dried rosemary, and 4 sprigs of fresh Thyme that I tied together. Stir the seasoning in and allow the mushrooms to reduce.
Finally, add 2 Tbs of tomato paste (you can buy this in a squeeze tube in many stores now), 1 tablespoon of vegan Worcestershire, a cup of low-sodium veg broth, and nearly 2 cups of red wine.
Any red wine will work here and it does not need to be expensive. You can also buy individual servings of red wine now in many stores. If you end up buying a bottle, make sure it has a screw-on cap instead of a cork so you can save the rest for another recipe.
Bring this back up to a simmer and let it stew for a good 30 minutes or until the sauce begins to thicken.
A tablespoon of arrowroot or corn starch mixed in a little water to make a slurry will also help thicken the stew.
At last, we can taste and adjust any seasonings. Mine was perfect as is - but you may want a little more salt or pepper.
Serve on top of mashed potatoes, your favorite grain, or even pasta along with a side salad and some crusty bread.
Perfect elegant dinner that took hardly any work at all.
Hope you enjoy it.

Print
Vegan Mushroom Bourguignon
Author:

Prep Time:

15 min

Cook Time:

60 min

Total Time:

1 hour 15 minutes

Yield:

4

-

6

servings

1

x

Category:

Soup, Stew

Method:

Stovetp

Cuisine:

French, Vegan
---
Description
Move over Julia, this Vegan Mushroom Bourguignon is every bit as delectable as your beef version and super simple to make.
---
1

large onion, roughly chopped

2

carrots, thickly sliced

2

ribs celery, thickly sliced

7

boiler onions, skins removed

2 cups

low-sodium vegetable broth (divided)

4

cloves garlic, minced

0.5 oz

dried porcini mushrooms

8oz

portobello caps, cut into

½

" slices

16oz

baby bella mushrooms, roughly chopped

4

sprigs fresh thyme

½ tsp

dried rosemary

2

bay leaves

2

Tbls tomato paste

1

Tbls vegan worcestershire

1 ¾ cup

red wine
salt and pepper to taste
---
Instructions
Rehydrate porcinis in hot water, set aside
Remove skins of boiler onions, set aside
Add the chopped onion to a large dutch oven with 1 cup of the broth
Add carrots, celery, and boiler onions
Heat over med to med-high until most of the liquid has evaporated
Reduce heat and stir in garlic
Clean and chop all the mushrooms and stir them in
Once the mushrooms have reduced somewhat in size, add the bay leaves, thyme, and rosemary
One the mushrooms have cooked down, stir in tomato paste, worchestershire, remaining cup of veg broth and the wine
Increase heat to simmer and let cook for 30 min or until the sauce reduces and thickens.
You can also stir in the arrowroot/cornstarch slurry to thicken it even more
Salt and pepper to taste
---
Notes
Keywords: mushroom bourguignon