Not only is this a VEGAN Sweet Potato Casserole - there is absolutely NO butter, coconut oil, or any other kind of madness in it either! Just pure Sweet Potato goodness!
And with this my friends...... my Thanksgiving just became very happy.
Sweet Potato Casseroles are usually absolutely loaded with butter, milk, or even coconut oil, which is simply one thing... a lot of FAT!
Oh and let's not forget the traditional topping either! I think if I see one more casserole with a marshmallow top I'll scream. Can you say processed sugar AND gelatin?
No, I knew from the beginning I wanted something different.
And after that very first taste, well let me tell you something right now....
THIS is the Sweet Potato Casserole you want to make this Holiday Season!
Not too sweet, absolutely no butter or oil, and a crispy, crunchy topping made from healthy rolled oats and pistachios.
Pistachios?
Traditionally, pecans are used to make all kinds of holiday toppings, if not an entire pie. And ounce for ounce, pistachios are way healthier.
For starters, they have a bit more fiber, over 3x the potassium, twice the protein, fewer calories, and a lot less fat!
It's the same when you compare them to walnuts too, another holiday favorite. Fewer calories, less fat, and a whole lot more of the good stuff.
So it was really a no brainer to use pistachios for this casserole compared to any other nut. And trust me, when you mix the salty crunch of pistachios with the creamy sweetness of sweet potatoes.......... ah, it's a match made in heaven.
And besides.....I just happen to love Pistachios.
Of course, some people are going to have nut allergies or will want an absolutely zero fat recipe. In this case, you could simply double the oats or leave the topping off completely. Another idea would be to place sliced bananas on top and then sprinkle with oats.
Regardless, I think it's time I quit yammering and get on with the recipe.....right?
So without any further ado.....I give you my Vegan Sweet Potato Casserole.
Vegan Sweet Potato Casserole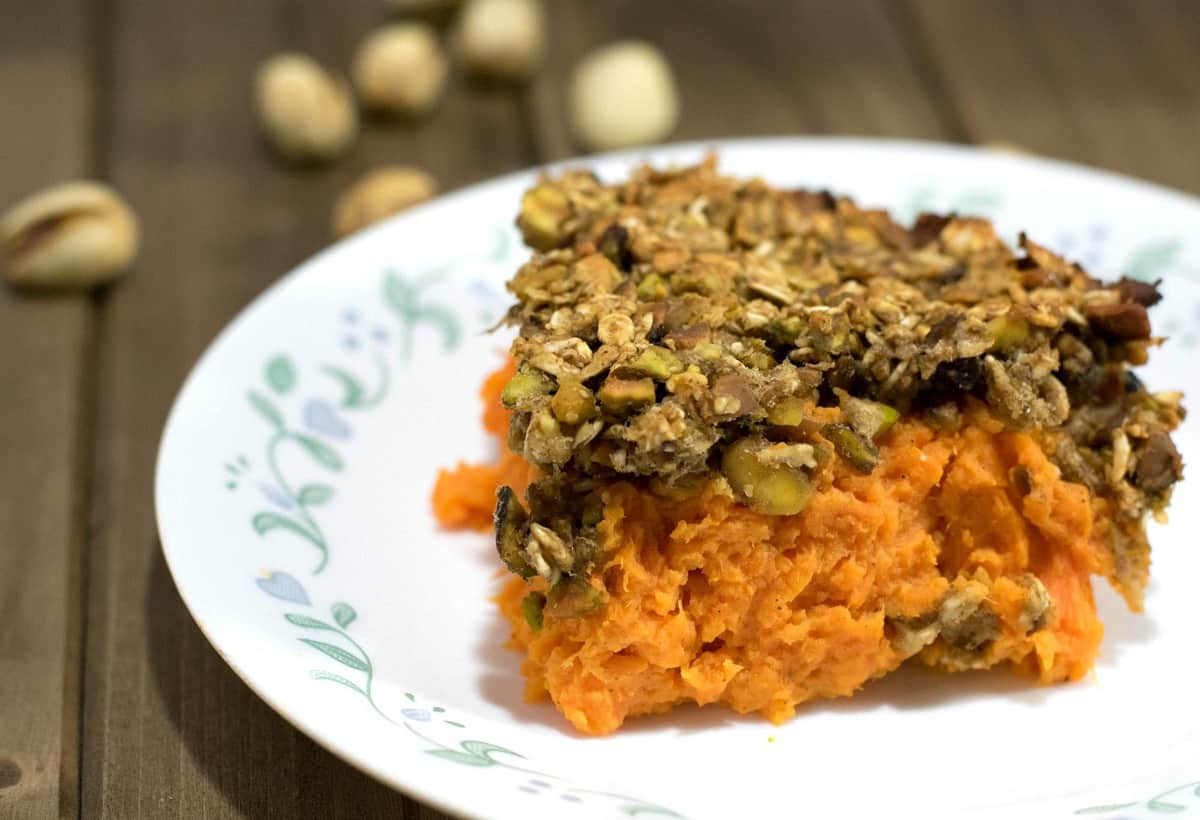 Start off by peeling and cubing 5 large Sweet Potatoes. And by Sweet Potato I mean the Red ones (YAMS) not the white ones. Remember to make the cubes about the same size so they cook evenly. Add these to a large pot of cold water and give it a generous pinch of salt.
Heat the potatoes on high just until they come to a boil, and then let them cook for 10 minutes.
Remove from heat, drain, and then return the potatoes back into the pot.
In a small measuring cup, add ¼ cup Unsweetened Almond Milk and 1 tsp Lemon Juice and mix well. Then add ½ tsp Salt, ½ tsp Cinnamon, ½ tsp Vanilla, and ⅛ tsp Nutmeg. Mix well with a whisk and then pour this into the pot with the potatoes. Mash until smooth and creamy.
Spoon the mashed Sweet Potatoes into a large casserole dish and smooth out the top. Set aside for now.
For the Topping:
Roughly chop 1 cup of roasted, salted Pistachios. We don't want the nut whole, and we don't want flour - so somewhere in between. Add the chopped pistachios to a small bowl.
Meanwhile, briefly chop 1 cup of Rolled Oats as well. I used an old coffee grinder and just pulsed a tablespoon or two at a time. Again, we don't want Oat Flour, just broken up a bit. You could use a food processor as well. Add this to the bowl with the pistachios.
Stir in ¼ tsp Salt, ½ tsp Cinnamon, and 1 Tbs Maple Syrup. Mix well.
Finally, slice a whole banana and add to the crumb mixture. Using a fork, mash the banana and stir it into the topping. It will eventually form a sticky, crumbly topping that will create a nice crust for our casserole.
Crumble the topping onto your sweet potato casserole (I used my fingers). Be sure and cover the entire surface, and then gently mash it down evenly with your fork.
Bake in a 350 ° F Oven for 25-30 minutes. Allow it to cool a few minutes before serving.
Mmmm, there you go.
Smells heavenly, doesn't it?
Pure Sweet Potato happiness.
From my home to yours, let me be the first to say Happy Holidays!

Print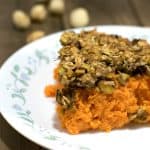 Vegan Sweet Potato Casserole
Author:

Prep Time:

15 min

Cook Time:

30 min

Total Time:

45 minutes

Yield:

6

-

8

servings

1

x

Category:

Holiday, Side Dish

Method:

Oven, Stovetop

Cuisine:

American
---
Description
This Vegan Sweet Potato Casserole will definitely grace my table this holiday season. No butter, no oil, no marshmallows, just pure sweet potato happiness.
---
5

large Sweet Potatoes (the orange colored yams - about

2.5

lbs)

¼ cup

Unsweetened Almond Milk

1 tsp

Lemon Juice (or Apple Cider Vinegar)

½ tsp

Salt

½ tsp

Cinnamon

½ tsp

Vanilla

⅛ tsp

Nutmeg
Topping
1 cup

Roasted Pistachios

1 cup

Rolled Oats

1

Tbs Maple Syrup

½ tsp

Cinnamon

¼ tsp

Salt

1

Banana
---
Instructions
Peel and cube 5 large sweet potatoes and add them to a large pot of cold water.
Add a generous pinch of salt,  heat to boiling, cook 10 minutes (or until fork tender),  drain and return to pan.
In a small measuring cup or bowl, whisk almond milk and lemon juice together.  Then slowly mix in salt, cinnamon, vanilla, and nutmeg.
Pour into potatoes and mash until creamy.  Spoon into a casserole dish and smooth out the top.
Topping
Roughly chop 1 cup of roasted, salted pistachios and place them in a small bowl.
Also rough chop, pulse, or lightly grind the oats and mix into the pistachios.  (we don't want oatmeal powder so go easy)
Stir in the salt and cinnamon, mix, and then stir in the maple syrup.  Mix well.
Finall, slice a banana and using a fork, mash it into the crumb mixture being sure to incorporate it very well.  Mix until there are no dry crumbs left.
Carefully crumble the topping onto your casserole, being sure to cover as much of it as possible,  and lightly press down with a fork.
Bake in a 350-degree oven for 25-30 minutes.
---
Notes
Keywords: vegan sweet potato casserole