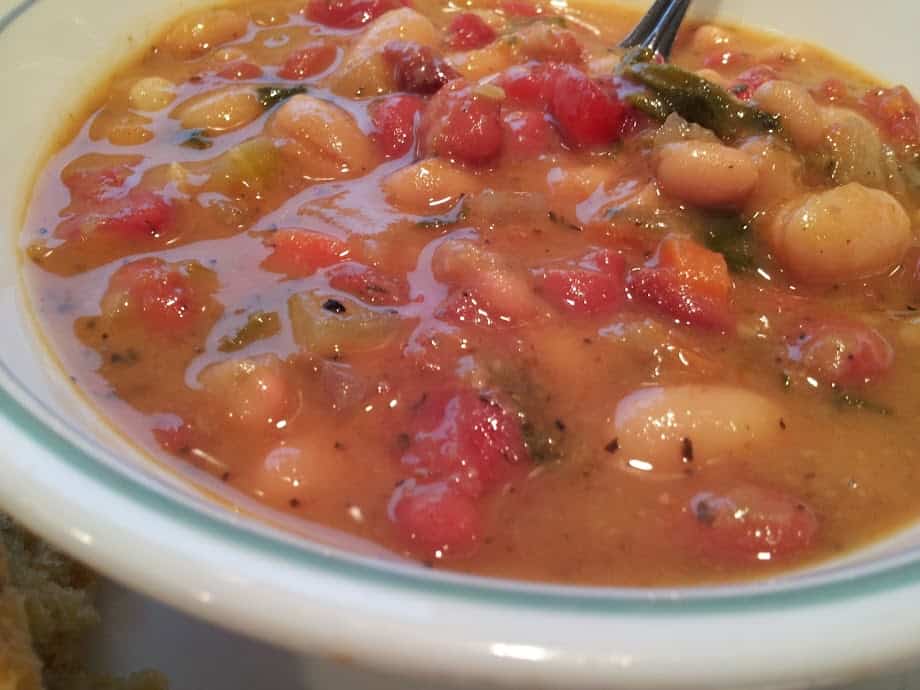 Oh my gosh.   This.  Is.  The.  Soup! 
It's chilly outside.  Autumn is definitely here with the cooler, rainier weather.  And you just want something to warm your bones.  And only one thing will do it.
A nice hot bowl of soup.
No, not that 'stuff' in a can.  That's basically salt water with added chemical flavoring.  I'm talking about REAL soup, homemade, that's bursting with flavor, without all the chemical additives, sodium, and fat.
I'm talking about THIS soup, Vegan White Bean Soup with carrots, celery, and tomatoes.  Oh and maybe a big hunk of  Country Vegan Cornbread on the side.
Can you say pure yumminess in a bowl?
My daughter, the non-vegan, gave it a big thumbs up, so it must be good.
Vegan White Bean Soup
I hear so many people say "I hate to cook" or "I don't have time to cook" and I wonder why.  This dinner literally took minutes to put together and it is so good, healthy, and filling.  Really, cooking CAN be easy, and tasty too.
I started by chopping a yellow onion, a few cloves of garlic, a stalk of celery, and a couple of carrots.
Add this to a large soup pan with just enough veggie broth to keep it from burning, and simmer until the onions start to soften and turn clear.   Then sprinkle on a couple of teaspoons of dried basil, a teaspoon and a half of dried sage, and a 1/4 teaspoon each of salt and pepper.
Now add about 3 1/2 cups of low sodium vegetable broth and a 1/2 cup of unsweetened almond milk.
While I was SURE I had enough canned beans in the pantry to make this,  what I actually found was 1 can of White Beans, 1 can of Cannelini Beans, and 1 can of Pinto Beans.
Ok, yeah – I realize pinto beans aren't white – but it's all I had ok?  (Besides – it turned out AWESOME anyway.)
So I used the 3 cans of 15oz beans, first draining them in a colander and then rinsing them very well.  This will eliminate a lot of the extra sodium that usually comes in canned beans.  Add these to your soup, give it a stir, and cover it.  Let it all simmer for about 15 – 20 minutes.
While the soup is simmering, drain and rinse a 150z can of chopped tomatoes.
And lastly, rinse and chop about 3 good handfuls of fresh baby spinach.  I kind of bunch it together and slice it until it's in little slivers compared to big popeye sized leaves.
After the 20 minutes, turn off the heat and fold in the tomatoes and spinach.  The spinach will immediately begin to wilt.
For a thicker soup, I like to take a few ladles (or cups if you prefer) and puree in my blender, then add back into my soup.
This soup has a little bit of everything, plenty of protein and fiber from the beans, vitamins from the veggies, and iron from the greens.  For an added starch, you could either serve this over brown rice, or add a chopped potato while it's boiling.
That cornbread by the way is completely vegan, and also 100% fat-free.  It's also very easy to make and goes great with a nice hot bowl of soup on a chilly autumn day.  You can get that recipe for County Vegan Cornbread here.   They make awesome muffins!  
Vegan White Bean Soup
THIS soup! Vegan White Bean Soup with carrots, celery, and tomatoes. Oh and maybe a big hunk of fat-free cornbread on the side. Comfort in a bowl!
Ingredients
1

med

Yellow Onion

(diced)

2

cloves

Garlic

(minced)

2

med

Carrots

(diced)

1

rib

Celery

(diced)

2

tsp

Basil

1 1/2

tsp

Sage

1/4

tsp

Salt

1/4

tsp

Black Pepper

3 1/2

cups

Vegetable Broth

(low sodium)

1/2

cup

Almond Milk

(unsweetened)

3

cans

White Beans

(15oz can)

1

can

Diced Tomatoes (no salt added)

(15oz can)

3

handfuls

Baby Spinach
Instructions
Chop the onion, garlic, celery, and carrot and add to a large soup pan

Saute in 1/2 cup of veggie broth until onion is softened

Season with basil, sage, salt, and pepper

Add 3 1/2 cups of low-sodium vegetable broth and stir to combine

Add 1.2 cup unsweetened almond milk and stir to combine

Rinse and drain the beans and add to the soup

Cover and simmer on med-low for 20 minutes

Rinse and drain 1 can of tomatoes and fold into soup

Roughly chop 3 handfuls of baby spinach and add to soup

Remove from heat and allow spinach to wilt

Puree 2 cups of soup in a blender and add back in for a thicker soup