The girls took off for the beach yesterday, and before they left they both mentioned they were craving salad and wanted a Vegan Ranch Dressing.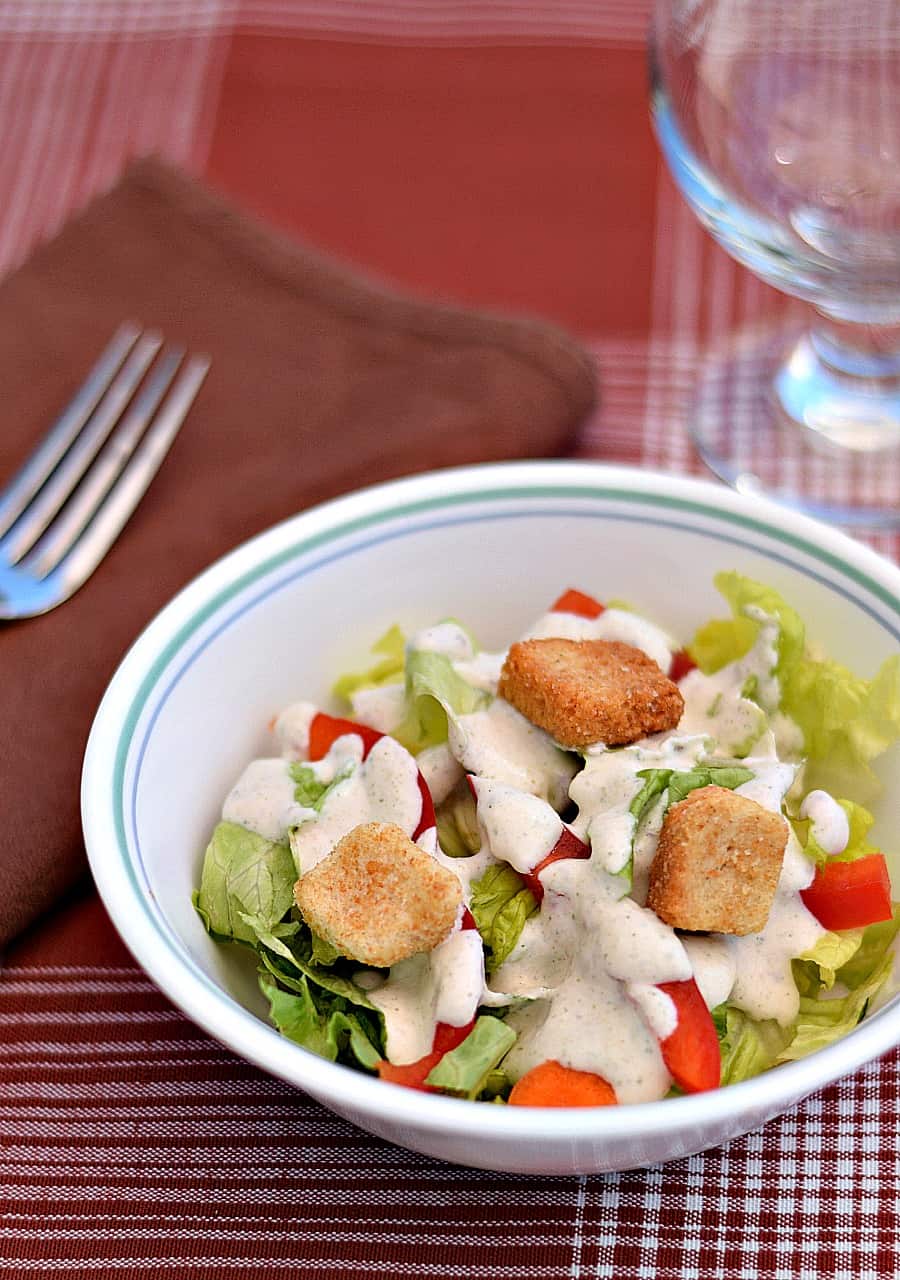 "Can you make us a salad when we get back with some homemade Vegan Ranch Dressing?"
And that my friends, is how a new recipe gets created …. I mean how on earth can I say no to that?  Right?
Knowing my daughter is Lactose Intolerant – and that Ranch is her favorite dressing – I immediately set off to create the perfect,  Dairy-Free Vegan Ranch Dressing.
I knew right away though that the million dollar question was going to be –  Soy Based?  Or Cashew Based?
I know a lot of you hate Soy, and I know a lot of you avoid nuts.  So there's really no winning here  – other than just making it the way I would like.   So for that super creamy texture I remember about Ranch  – I went with Cashews.  If you want to try this recipe with a block of Tofu?  Feel free and let me know how it turns out.
This Vegan Ranch Dressing is a simple recipe, with virtually no prep time other than soaking some Cashews for a while.  The rest is all done in a blender – so clean-up is a breeze.
What I did was basically start with just Cashews and Almond Milk in a blender – and then add some spices and flavorings bit by bit until I got the flavor I wanted.
Funny thing was – something always seemed to be missing  – until I found my secret ingredient.
And now?   It's Creamy Vegan Ranch Perfection.
Hope you like it as much as we do.  My daughter had 3 bowls of salad  – I think she liked it 🙂 
Cool Vegan Ranch Dressing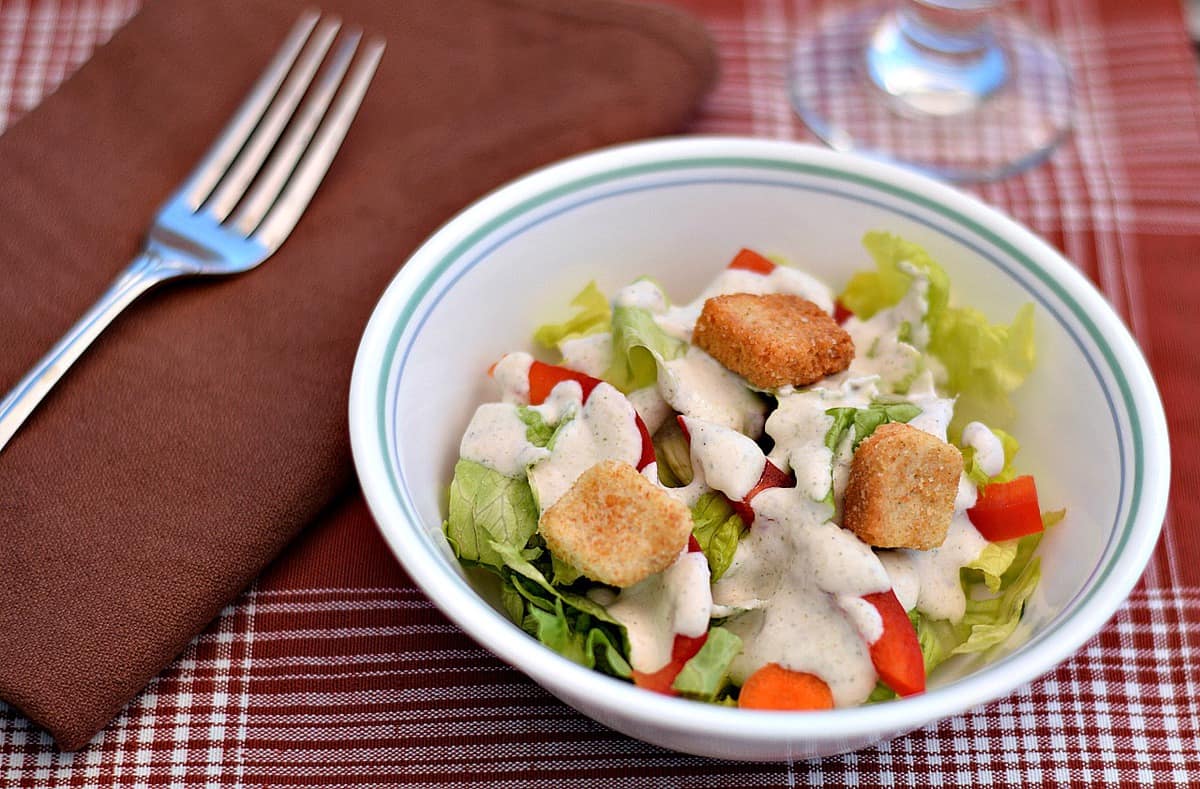 Easy recipe – I promise.
Soak a cup of whole, unroasted, unsalted, Cashews in some hot water for at least an hour.  The longer the better.
Afterwards, drain the cashews well and add to a blender.
Add in the remaining spices and flavorings, and blend on high until smooth and creamy.  You may want to stop and scrape down the sides occasionally.
Pour into a container you can seal, and then refrigerate for at least an hour to thicken.  The longer it sets, the thicker it will become.  I had some the next day and it was perfect.
Oh – and in case you're wondering about that Secret Ingredient?
Miso.  That added just the right pizzazz to make this the perfect Vegan Ranch Dressing.
Enjoy!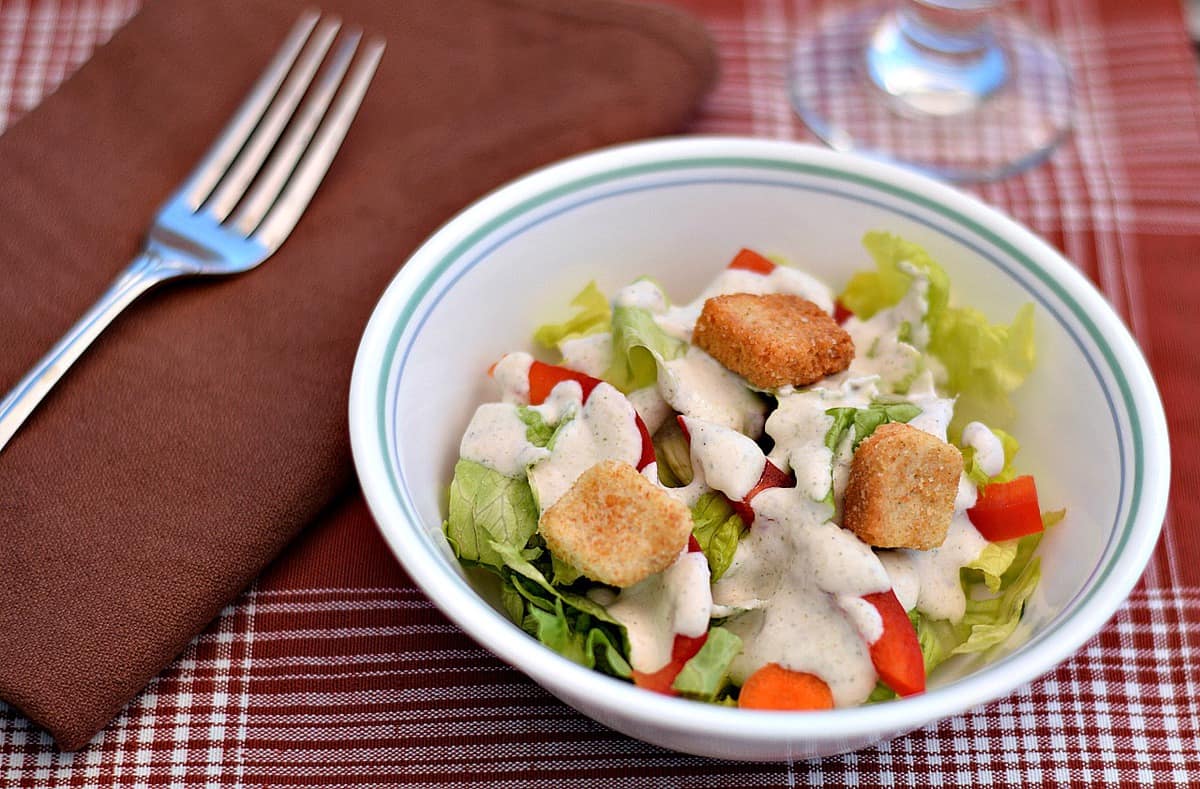 The Ultimate Vegan Ranch Dressing - completely oil-free and only using a few ingredients and spices. Perfect on a salad or just for veggie dipping.
Ingredients
1 cup Cashews, unsalted, unroasted
1 cup Almond Milk, unsweetened
2 Tbs Lemon Juice
1 tsp Apple Cider Vinegar
1 tsp White Miso
1 tsp Garlic Powder
1 tsp Onion Powder
1 tsp Dried Parsley
¾ tsp Dried, Ground Dill Seed
½ tsp Salt
Instructions
Soak Cashews in hot water for at least 1 hour.
Drain well and add to blender along with remaining ingredients.
Blend on high until smooth and creamy.