Who LOVES spicy Sichuan food as much as I do? If you do, then you have GOT to try my newest favorite recipe yet - my Vegan Mapo Tofu.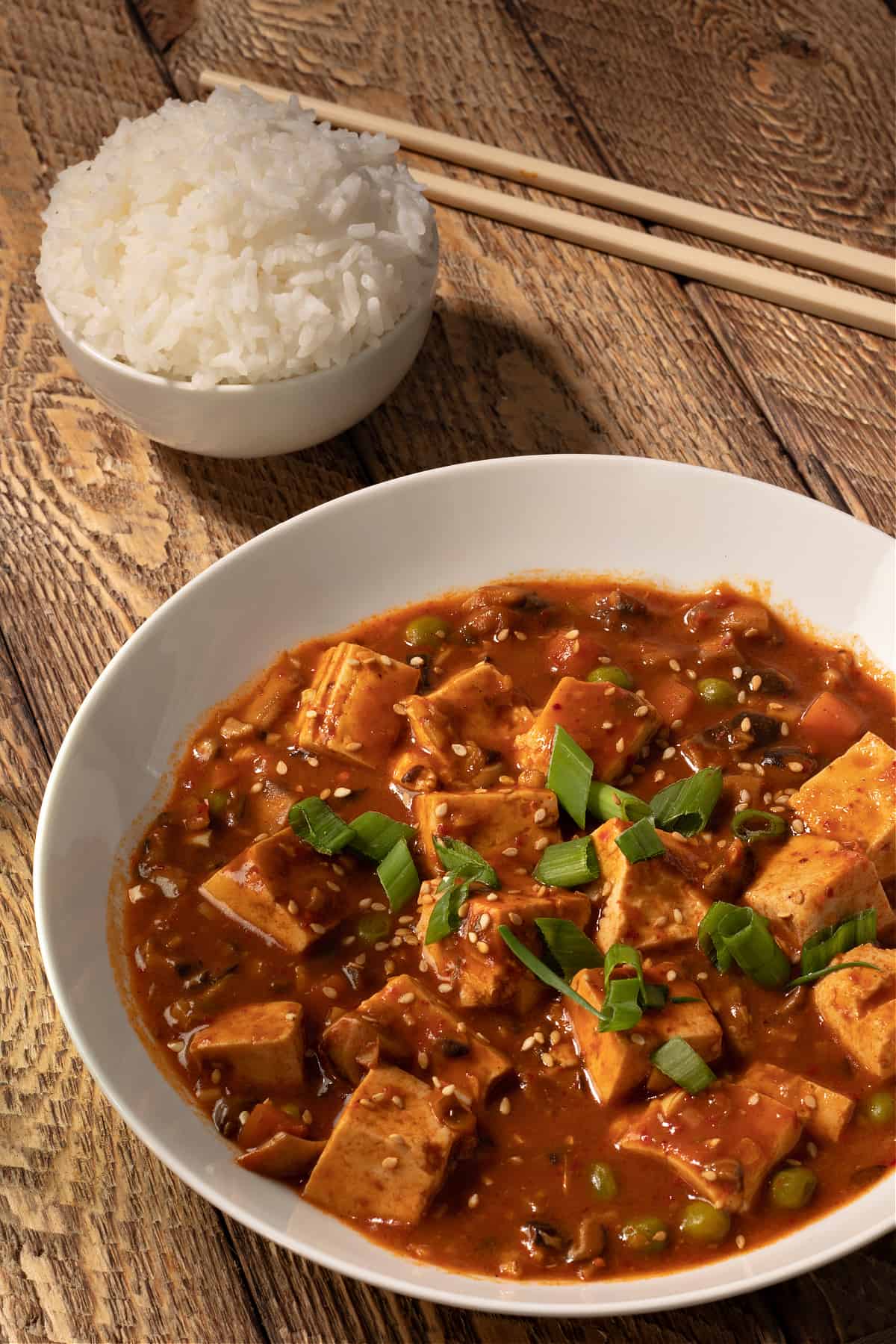 I was at Dynasty Chinese Restaurant in Sequim, Washington one day, trying to find something on the menu I could eat - when I spotted something on their specialty menu called "Mapo Tofu" (麻婆豆腐).
And it was when the waitress asked me how spicy I like it that I knew I was going to LOVE this recipe!
Mapo literally means "pockmarked old woman" in Chinese.
Legend has it the name affectionately comes from the smallpox facial scars of Mrs. Chen, the Sichuanese restaurateur in the late 1800s who created the dish.
Mapo Tofu traditionally consisted of soft tofu cubes cooked in a spicy and flavorful sauce made with a fermented broad bean paste called Doubanjiang, Sichuan chile peppers, ground pork or beef, and Sichuan Peppercorns.
I used the Korean spices I already had in my pantry to make this version and while not 100% authentic - is amazingly delicious and is very close to what I enjoyed that day in Sequim.
So if you like spicy food .... this is a must-try and has quickly become one of my new favorite recipes.
Hope you enjoy it.
Vegan Mapo Tofu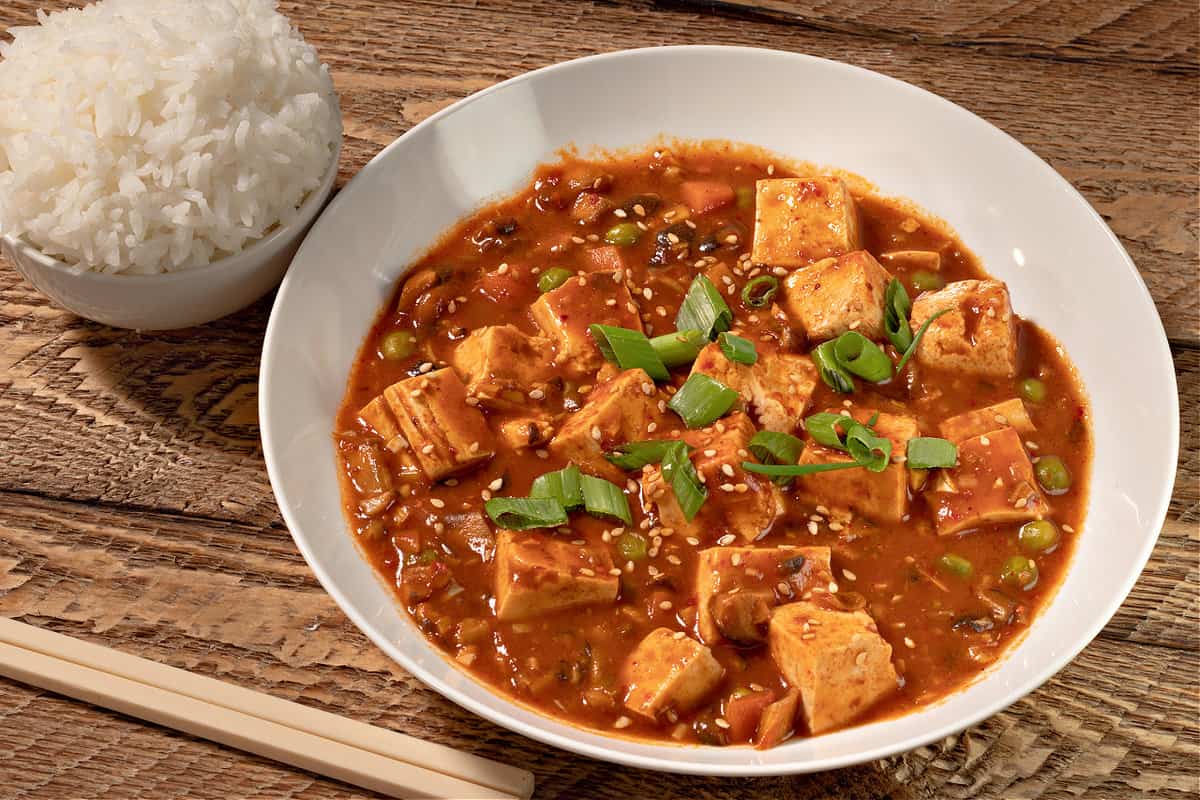 I'll start out with all the specialty items you'll need with Amazon Links if you want to order them. Asian Grocery Stores should have all the ingredients as well. If you have a Whole Foods close by - maybe check there too. Surprisingly enough, I found the fermented black bean sauce at my local Fred Meyers - look in the hot sauce section.
All Amazon links are affiliate links and I do earn a little with every purchase but at no extra cost to you.
This recipe is fairly easy and can be prepared in these 5 simple steps:
Marinating the mushrooms
Prepping the tofu
Prepping the slurry
Prepping the aromatics
Making the sauce
---
The Mushrooms
Since I do not use sesame oil, I used tahini. Mix 1 teaspoon with a teaspoon of low-sodium soy sauce and add ½ teaspoon of black pepper.
Note: If you are adventurous - use the Sichuan peppercorns instead of the black pepper. Toast them in a hot pan for a few minutes and then grind them into a powder.
Mix this into 5 ounces of chopped Shiitake mushrooms - ensuring they are evenly coated and set aside to marinate.
The Tofu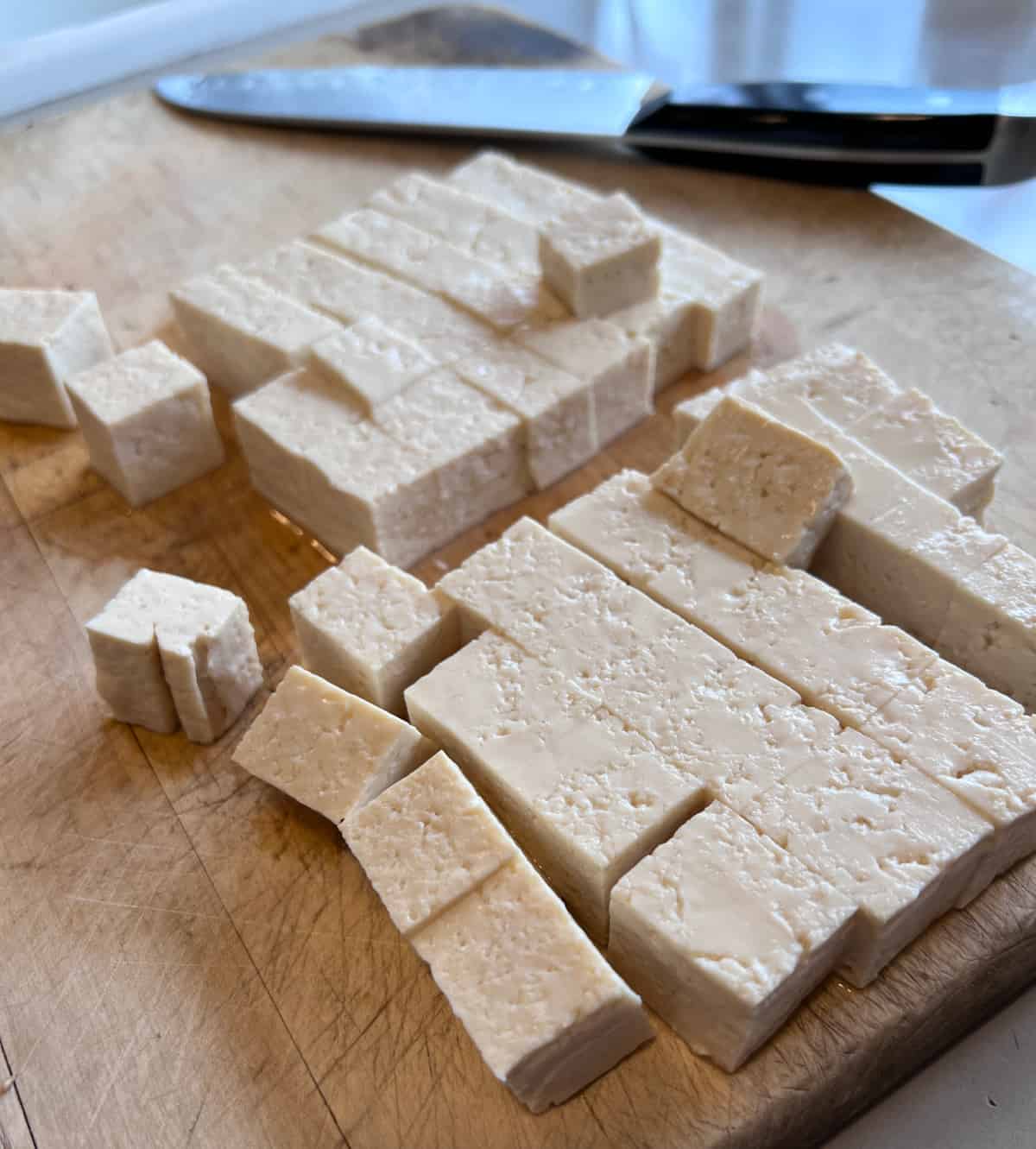 You want a SOFT tofu for this recipe, not the extra-firm I normally use. Do NOT use "Silken" as that is TOO soft and will fall apart. MEDIUM is what I recommend..
Fill a pan with water, add 1 teaspoon of salt, and bring to a boil. Meanwhile, drain the water from the tofu, remove the 16-ounce block, and pat it dry. Then cut it into cubes. When the water comes to a boil - gently add the tofu cubes and let them simmer for 1 minute - then set the pot aside.
Believe it or not - boiling tofu in salted water removes as much liquid as pressing it.
The Slurry
Whisk 1 tablespoon of cornstarch and 3 tablespoons of water and set aside.
Veggie Prep
Finely mince 3-4 green onions, separating the whites from the greens, 3-4 cloves of garlic, and about a 1" inch piece of ginger.
Making the Sauce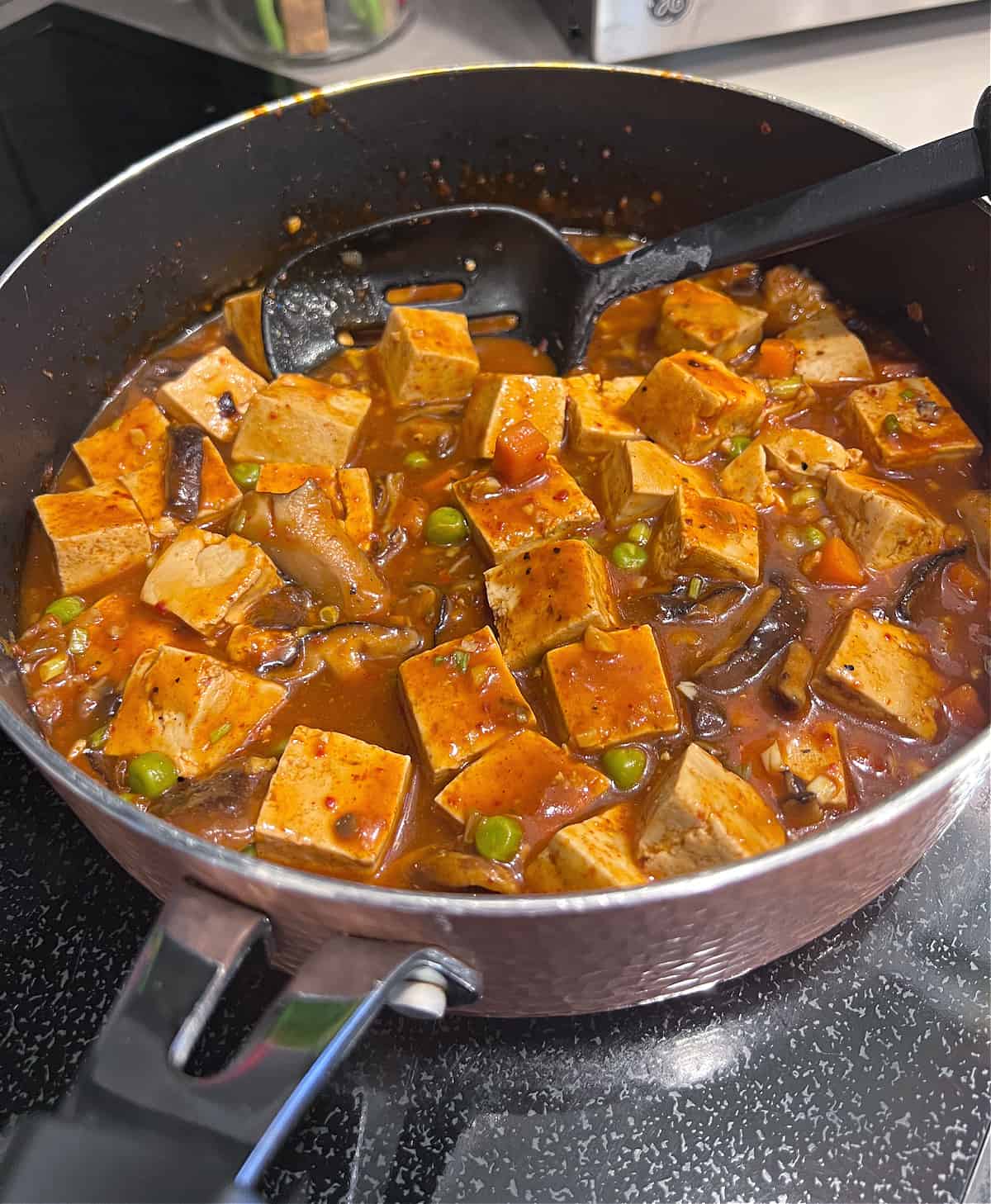 Saute the mushrooms, adding 1-2 Tbls of water or broth if needed to prevent sticking. As they cook down and release their own liquid, add the garlic, ginger, and onions. Also, add the black bean paste and the gochugaru and mix well.
In a 1-cup measuring cup - mix 1 cup of water, the remaining 1 Tbls of soy sauce, maple syrup, and gochujang. Mix well then add it to the mushrooms and bring to a boil.
Then, reduce the heat, add ½ cup of frozen peas & carrots, and the cornstarch slurry. Mix well and then gently add the drained tofu.
Make sure the tofu gets coated with that delicious sauce but be careful stirring as the tofu is very soft and fragile.
Continue simmering for a few minutes to allow all those flavors to meld together and the sauce to reduce a bit, then serve over rice and garnish with green onions tops, sesame seeds, and if you're brave - a little shake of that Sichuan pepper.
Have a good week everybody and I hope you enjoy this version of Mapo Tofu. Again, while not 100% authentic, it IS delicious and uses many of the spices I have previously used in my Korean recipes.
I always appreciate comments so let me know how you like it!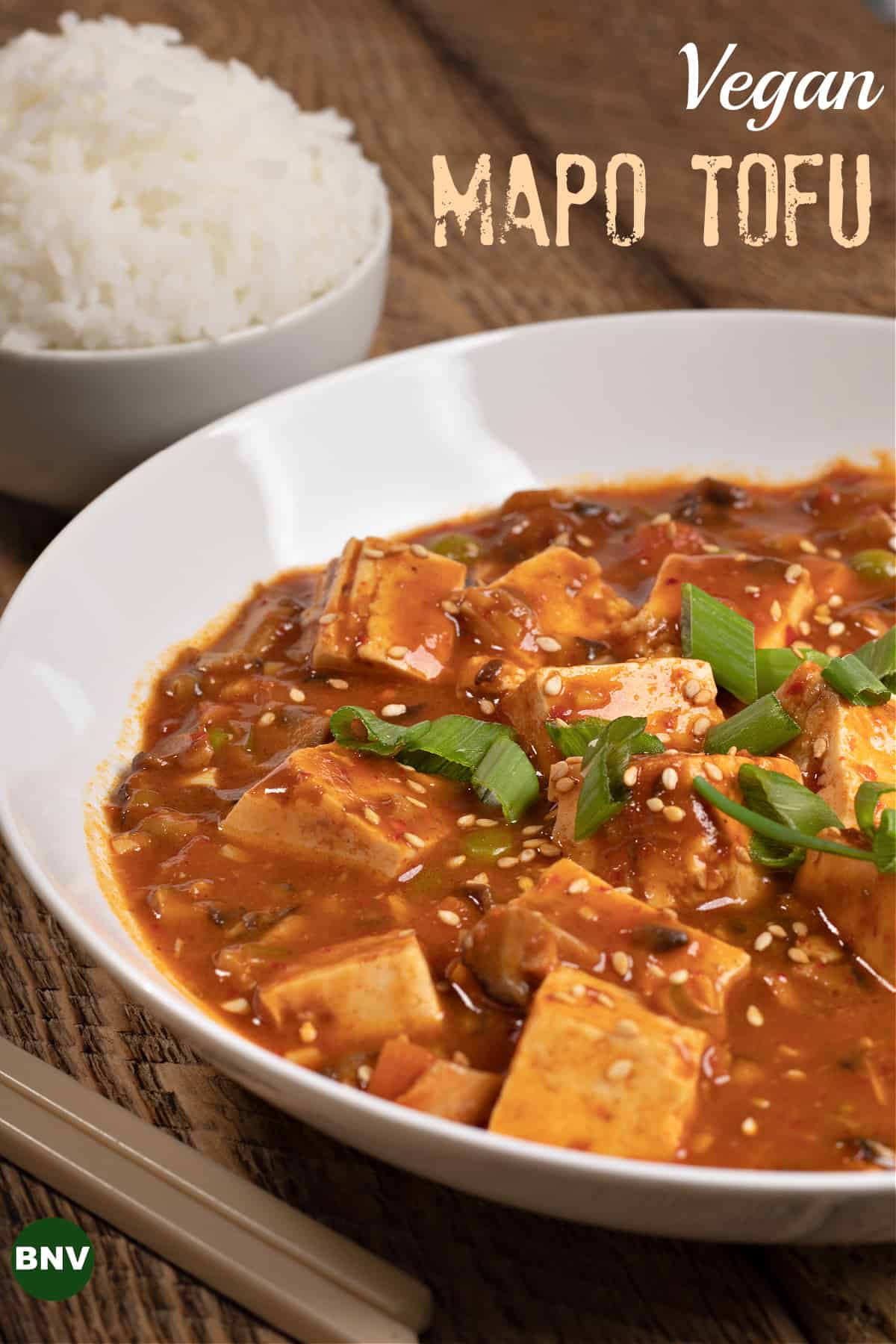 Print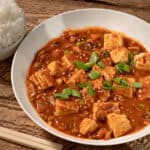 Vegan Mapo Tofu
Author:

Prep Time:

30 min

Cook Time:

30 min

Total Time:

1 hour

Yield:

4

-

6

Servings

1

x

Category:

Tofu, Main

Method:

Stovetop

Cuisine:

Asian

Diet:

Vegan
---
Description
Who LOVES spicy Sichuan food as much as I do? If you do, then you have GOT to try my newest favorite recipe yet - my Vegan Mapo Tofu.
---
5

ounces

Shiitake mushrooms

1 tsp

low-sodium soy sauce plus 1 additional Tbls (divided)

½ tsp

black pepper (see note)

1 tsp

tahini

1

Tbls corn starch

3

Tbls water

16

-ounce block medium-firm tofu

1 tsp

salt

1 ½

Tbls Aardvark Black Bean Sauce

2 tsp

gochugaru

4

cloves garlic, minced

3

minced green onions (whites & greens separated)

1

-

2

teaspoon fresh ginger, minced

2 tsp

gochujang

1 tsp

maple syrup

½

cup

frozen peas & carrots
---
Instructions
Mix 1 teaspoon of soy sauce, the tahini, and black pepper together and stir into the mushrooms, mixing well to ensure they are evenly coated - set aside
Whisk the cornstarch and water together to make a slurry - set aside
Carefully drain the tofu and pat dry.  Then cut it into cubes.  Add salt to a pot of water and bring to a boil. Gently add the tofu and simmer the for 1 minute - remove from heat and set aside.
Prep the veggies by mincing the garlic, ginger, and green onions
In a large saute pan - saute the mushrooms until softened. (add a little water or broth as needed to prevent sticking)
Add the minced onion whites, garlic, and ginger, and then stir in the black bean paste and gochugaru. Saute until veggies have softened and are aromatic. Mix well.  
Mix 1 cup of water, the remaining soy sauce, maple syrup, and gochujang, then add to the mushrooms.
Mix well and bring to a boil.
Reduce heat, add the peas & carrots, stir in the slurry,  and gently fold in the drained tofu, making sure it gets coated in the sauce
Simmer for 5 minutes or until sauce has thickened and slightly reduced
Top with green onion tops and serve over rice
---
Keywords: mapo tofu, sichuan, gochugaru, Gochujang, doubanjiang, Chinese