Having lived in both Indiana and Texas, going to a fish fry was a common thing.  And it just wasn't a fish fry unless you had a side of these crunchy little cornbread balls we called Hushpuppies.
Remember Long John Silvers or Arthur Treachers?  Mmm, that was some deep-fried goodness right there.  Hushpuppies were always my favorite part.
It must be a Southern thing.
According to our friendly Wikipedia, the word "hushpuppy' originated from fishermen who would fry up some of their cornbread breading and toss it to their dogs to 'hush them up'  from barking so much.
Although not quite the same, maybe these Baked Vegan Hushpuppies will hush up the hungry noises in your house too 🙂
Baked Vegan Hushpuppies
At first glance, you might say these puppies look a lot like mini cornbread muffins.
Um......maybe because that's exactly what they are 🙂
I know, I know - they're not like the hushpuppies you remember. But honestly folks, there's no way I can think of to get that hard, crunchy coating we remember so well, without deep-frying them.
And THAT, as we all know, is a no-no - for more health reasons than I can count.  All that oil?  No thanks.
I used a mini-muffin pan so they would be kind-of round (and bake evenly).   And I also replaced the milk in the traditional cornbread batter with Vegan Buttermilk (Unsweetened Almond Milk and Apple Cider Vinegar).
I also tried something new.  Instead of using an egg, I used some Aquafaba.
Some what? 
Literally, it means the juice from a can of chickpeas (garbonzo beans).  Somehow the proteins in the juice behave the same way as the proteins in an egg white do.  So Aquafaba is the latest egg replacer and honestly makes some mean looking Meringues  -  all from bean juice.
Crazy huh?
Simply drain a can of chickpeas and reserve all that juice.  Save the beans for making hummus later, for now we just want some of that juice.  That aquafaba.  
So this is basically a cornbread recipe with some added spices, onions, and peppers, buttermilk, and aquafaba to replace the egg.
All in all I think they came out pretty good.  This is a small batch so it will make 12 mini hushpuppies, just enough to let everyone have a taste.
Print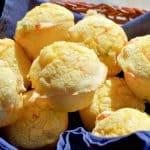 Baked Vegan Hushpuppies
Author:

Prep Time:

5 minutes

Cook Time:

20 minutes

Total Time:

25 minutes

Yield:

12

puppies

1

x

Category:

Appetizer

Cuisine:

American
---
Description
These Baked Vegan Hushpuppies have all the same flavor we remember so well. Only without the oil, milk, or egg - these little puppies are much healthier. Bake up a batch for the perfect snack.
---
½ cup

Cornmeal

½ cup

Flour

½ tsp

Salt

½ tsp

Onion Powder

1 ½ tsp

Baking Powder

2

Tbs Sugar

3

Tbs Liquid from Can of Beans ((known as Aquafaba))

¼ cup

Onion ((minced))

¼ cup

Red Bell Pepper ((minced))

1

Jalapeno ((minced))

½ cup

Unsweetened Almond Milk

2 tsp

Apple Cider Vinegar
---
Instructions
Preheat oven to 425 degrees
Mix vinegar and almond milk together and set aside
Mix all dry ingredients
Using a fork to stir, combine dry ingredients, aquafaba, onion, and peppers
Slowly stir in buttermilk and mix just enough to combine
Drop batter by spoonfuls into a non-stick mini muffin pan
Bake for 18-20 min or until golden brown
Let muffins cool in pan before trying to remove - they pop out easier
---