The pantry may look a little empty, but if you have just a few basic ingredients - you can still make this Basic Oil-Free Hummus.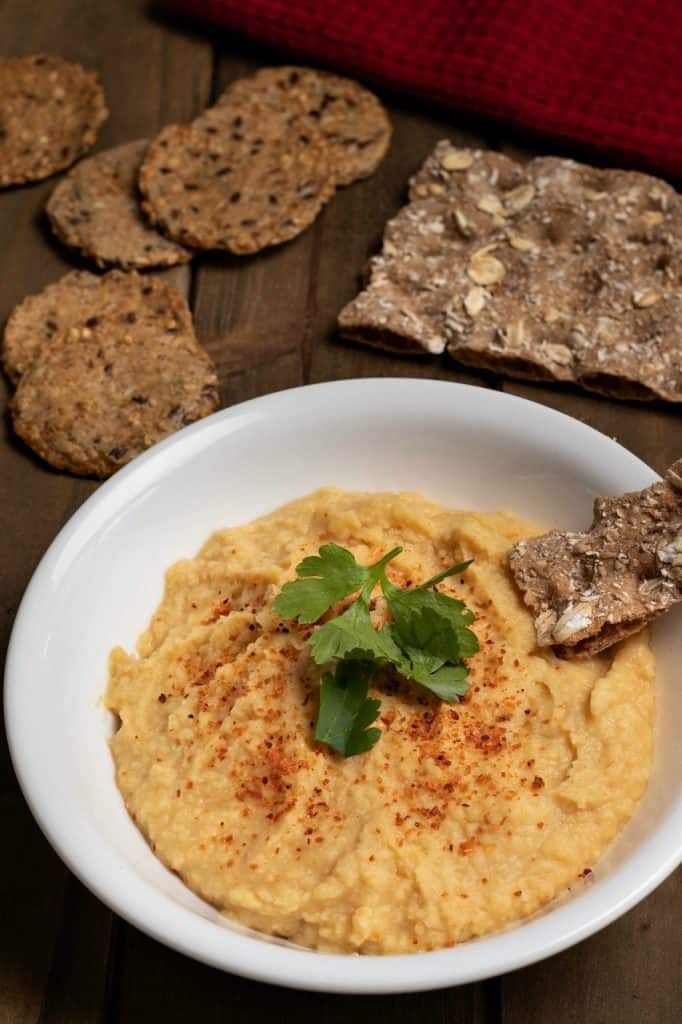 This is my standard Hummus recipe that is super simple to make with a couple of cans of chickpeas, some garlic, and lemon juice.
No oil, no tahini, no added fat of any kind.... just smooth, creamy hummus that you can spread on your morning muffin or toast.
I know all too well how tempting it is to just buy a tub of it in the store. It's super convenient, already made, and tastes amazing, especially with all the different flavors they have.
But most of them have OIL!
What's wrong with a little oil you ask? Well at 9 calories per gram, it's the most calorie-dense food we eat, and those calories add up quickly because nobody can put that tub of hummus down once they get started.
Besides, it's so easy to make oil-free. Just blend some chickpeas, add some garlic and lemon, and a little salt. That's basically all you need to make great hummus.
Interested? Let me show you how I make my basic, oil-free hummus. My wife and daughter just love it.
Basic, Oil-Free Hummus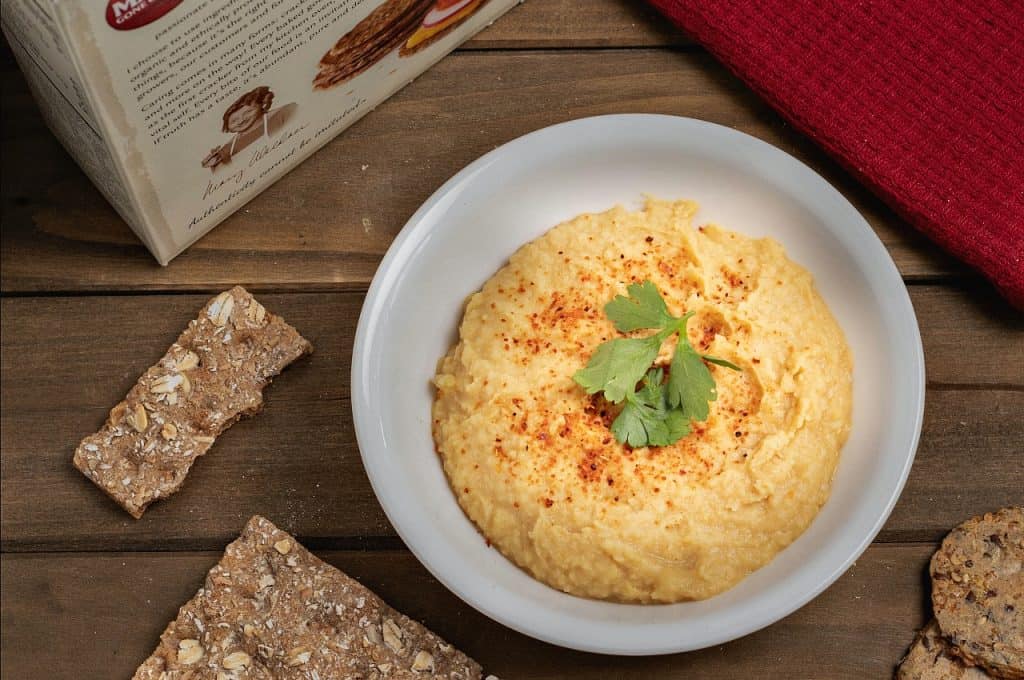 I take a large bowl and a colander, and I drain two (2) 15oz cans of chickpeas. Do not throw the drained liquid out. It's called aquafaba and can be used in many other recipes. You'll need to save about ½ cup for this recipe and the rest you can freeze (or toss if you'd like).
Rinse the chickpeas well and toss them into your blender.
Add 6 Tbs of that bean liquid (aquafaba) to make it easy to blend, and the rest of the ingredients down in the recipe box below.
Here's the thing about this recipe....
ALL of the remaining ingredients can be tweaked to your own individual taste. Like more garlic? Add it. A little more lemon? Add it. Cutting back on the salt? Go ahead.
We're all different and have different tastes, so feel free to play around with the amounts.
What I give you is the way MY family likes it.
I would maybe start with ½ the amount called for with the lemon, garlic, salt, etc.. And work my way up to the amounts I have listed. You may like less cumin or more onion powder, and that's perfectly fine.
I should also say, I used jarred minced garlic rather than fresh. 1 Tbs of fresh garlic might be more pungent than the jarred - don't know.
As they say.... make this your own.
With all THAT said.....all that's left is to blend all those ingredients until smooth, stopping to scrape down the sides a few times.
Serve it with your favorite crackers, veggie sticks, on a sandwich, however you like it.
And before I forget, try sprinkling a little Tajín on top for a garnish. It's that bottle of Mexican Spice powder many of us have in the back corner of our pantry. It's basically dried chiles, salt, and lime. It adds a really nice flavor and a little kick to the hummus.
Until this quarantine is over, I will continue to try and give you more easy, pantry-friendly recipes. With the restaurants closed, many people are having to cook at home, so it's my goal to show you how easy it can be to make delicious, healthy food right in your very own kitchen.
Stay safe - wear those masks - and wash those hands, and we'll see you next week.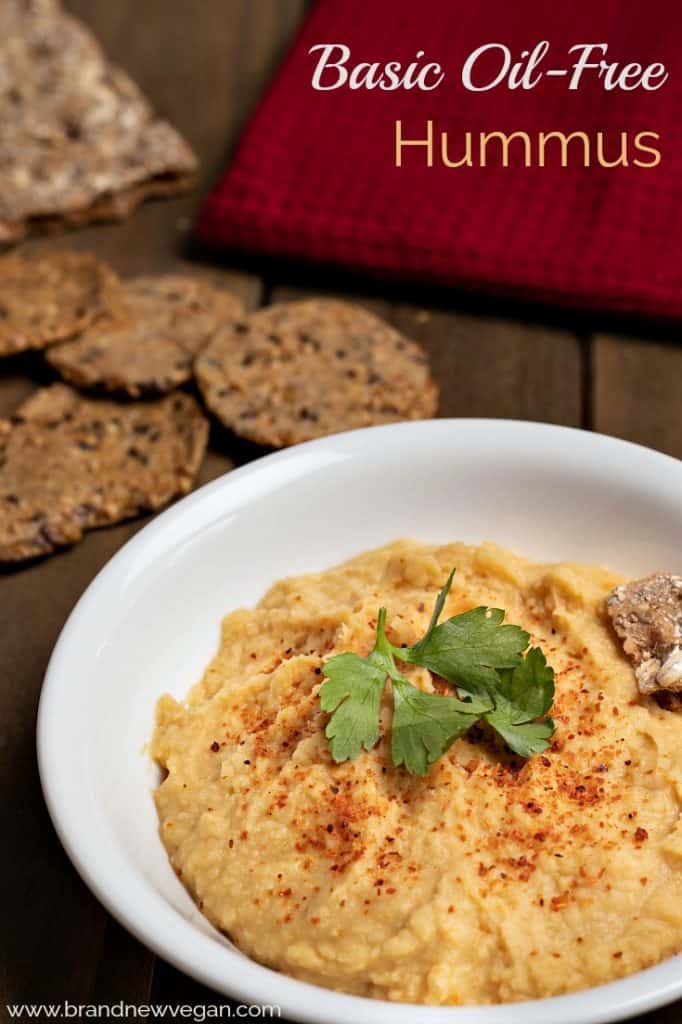 Print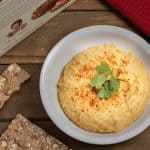 Basic Oil-Free Hummus
Author:

Prep Time:

15 min

Total Time:

15 minutes

Yield:

About

3 cups

1

x

Category:

Dips, Spread

Method:

Blender

Cuisine:

Oil-Free, Vegan
---
Description
The pantry may look a little empty, but if you have just a few basic ingredients - you can still make this Basic Oil-Free Hummus.
---
2

cans chickpeas (garbanzo beans) 15oz ea

6

Tbs of the bean liquid from the can  (aquafaba)

4

Tbs lemon juice

1

Tbs minced garlic

1 tsp

ground cumin

1 tsp

garlic powder

1 tsp

onion powder

¾ tsp

salt
Tajin for garnish (optional)
---
Instructions
Drain the chickpeas into a bowl and save about ½ cup of the liquid
Rinse the chickpeas thoroughly and add to blender
Add all the remaining ingredients and blend until smooth and creamy, scraping down the sides occasionaly.
Garnish with a sprinkle of Tajin for a little extra flavor kick.
---
Notes
Keywords: oil-free hummus