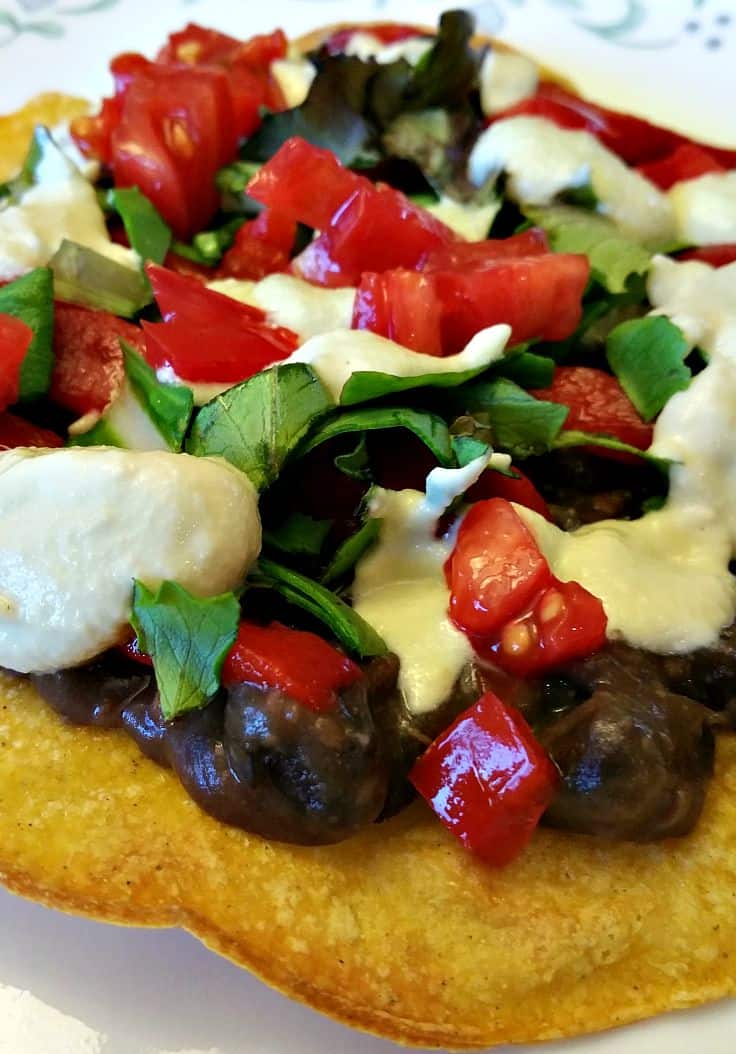 I had no recipe planned for today - I swear.
Somehow these Black Bean Tostadas with Green Chile Sour Cream magically appeared on my dinner table last night, and I have no idea how it happened!
It was a typical Sunday morning, after a long week of work, and I went straight to bed. I did have a few recipe ideas floating around in my head to make this weekend - but this was definitely NOT one of them. I was simply too tired to even think about cooking.
Just. Need. Sleep.
Funny how the best things usually just sort of accidentally happen, isn't it?
I got up late in the afternoon, grabbed a quick shower, still feeling TOTALLY exhausted, and wondering what in the heck I was going to eat. The wife was bathing our grandson, the daughter was sick in bed with a cold, I'm doing my usual "first day off from work walking dead" impression, and dinner was totally up to me. Great.
Honestly the words "Take Out Pizza" did flash across my eyes - but only for a split second....
So I opened up the pantry and the very first thing I spied was a can of beans.....
And then magic happened!
Black Bean Tostadas with Green Chile Sour Cream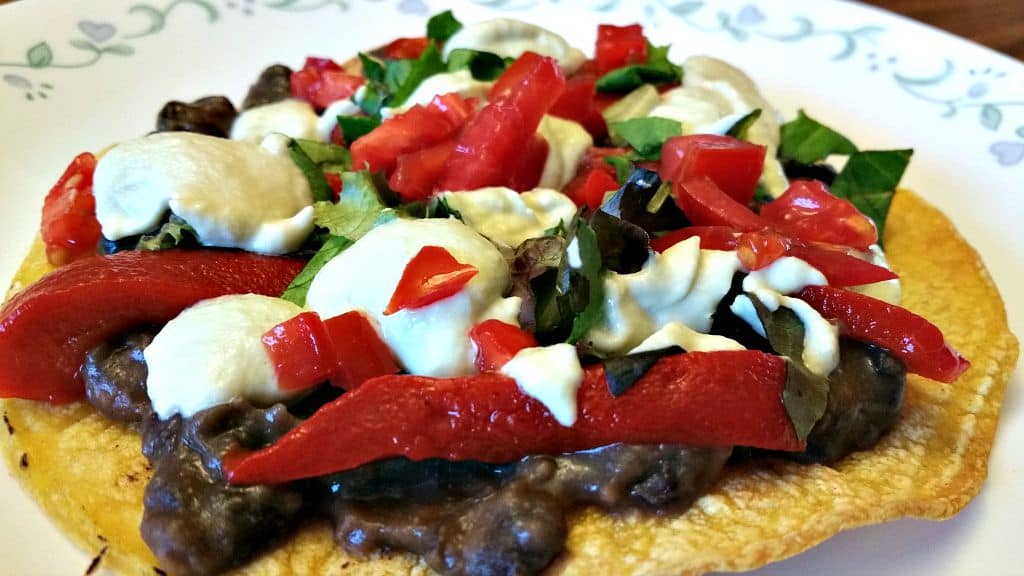 Spice up those black beans, broil some corn tortillas for tostada shells, grab some ripe tomatoes from the garden, a few roasted red peppers, a little shredded lettuce ....hmmm - dinner.
Honestly that's how my sleep-deprived brain was working.
I had all the ingredients, it would be super quick to throw together, and it was healthy too..... all I needed was some Sour Cream to tie it all together.
And guess what? I was out of Tofu which is usually how I make my Sour Cream.
Seriously, I think this was where the real magic began, because I'll tell you what - this cashew based, Green Chile Sour Cream I eventually ended up with is hands down....
The BEST Sour Cream I have ever made!
I mean it is REALLY good! And all because I was out of Tofu. Funny huh?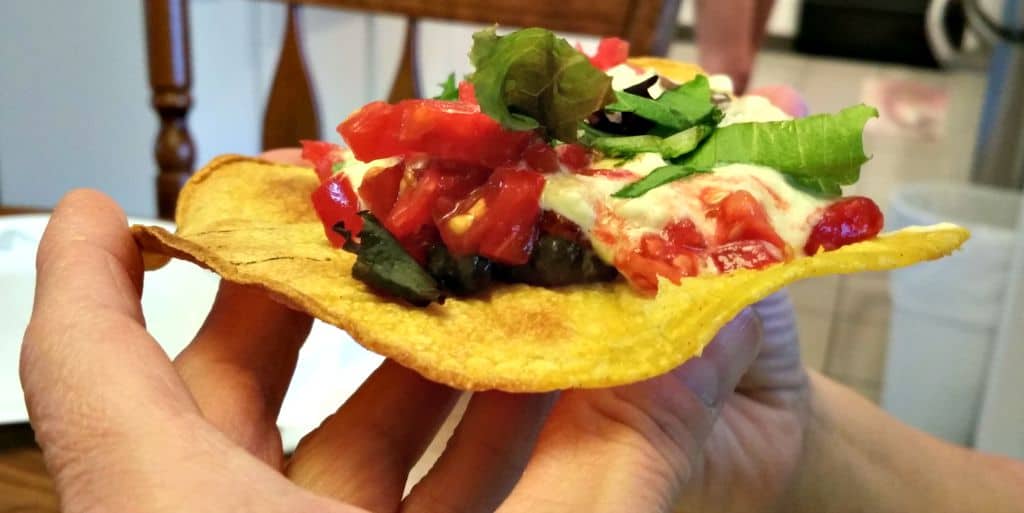 The Beans
Dump a can of Low Sodium Black Bean into a pot and turn the heat to low. Now add ½ can of refried beans and the spices and let that thicken up.
I used a teaspoon of Masa Harina flour to thicken it even more. I learned this trick making my Vegan Chili.
Masa Harina is flour made from ground up corn, and is used to make tortillas and tamales. Not only is it a thickener, it also adds a tamale-like taste to the beans. I like it - but it's totally optional.
You see the photo bwlow? Yep that's an affiliate link and you know the drill. If you click on it and buy this product from Amazon, I'll make a few pennies. Have to tell you that.
The Veggies
I used roasted red bell peppers, shredded lettuce, and some freshly diced tomatoes on my tostadas.
Some sautéed onions and green bell peppers would be good too - but I have to avoid the onions as they trigger my daughter's Crohn's Disease.
The Tortillas
Set your oven to 450 degrees and BROIL and let it heat up.
Then place 3-4 corn tortillas on a cookie sheet and pop them in the oven. After 2-3 minutes give them a flip. Repeat the flipping every minute or two until they are as crispy as you like.
This recipe will make 7-8 tostadas.
The Sour Cream
Cover 1 cup of raw, unroasted cashews with hot water and let them soak for 30 minutes.
Once they are nice and soft, drain the water and add them to a blender. Add ¼ cup of hot water, the vinegar, lemon juice, garlic, salt, and green chiles and blend on high until smooth.
Stop every now and then and scrape down the sides.
The longer you soak your cashews, the smoother the sauce will be.
I used about 4 whole canned green chiles, so they are naturally pretty mild. If you have access to fresh Hatch Green Chile, then I would just use one at a time until you get the taste (and heat) you like.
Using canned chiles my sauce was not hot at all, but still had that wonderful green chile flavor.
Assembling Your Tostadas
Lay a spoonful of beans on your tostada shell and spread them to the edges.
Now top with the bell peppers, tomatoes, shredded lettuce, and some of that wonderful Green Chile Sour Cream.
I'll tell you again - this is now my GO TO Sour Cream Recipe from now on!
It's so rich and decadent, with tons of green chili flavor - absolutely perfect for Tacos, Burritos, or Tostadas.
I even got my sick daughter down into the kitchen for a bite or two.
Enjoy!

Print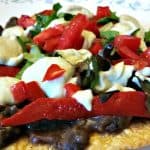 Black Bean Tostadas with Green Chile Sour Cream
Author:

Prep Time:

20 minutes

Cook Time:

10 minutes

Total Time:

30 minutes

Yield:

8

Tostadas

1

x

Category:

Main

Cuisine:

Mexican
---
Description
This Green Chile Sour Cream will turn any Mexican dish into a gourmet dinner - like these Black Bean Tostadas. So rich and flavorful. Who needs Dairy?
---
Beans
1

can Black Beans ((

15oz

can No Salt Added))

½

can Fat Free Refried Beans ((

15oz

can))

¼ tsp

Onion Powder

¼ tsp

Garlic Powder

¼ tsp

Ground Cumin

¼ tsp

Chipotle Chili Powder

1 tsp

Masa Harina Corn flour
Green Chili Sour Cream
1 cup

Cashews ((unroasted, unsalted))

¼ cup

Hot water

2 tsp

Apple Cider Vinegar

2 tsp

Lemon Juice

½ tsp

Salt

½ tsp

Red Wine Vinegar

4

whole Green Chiles ((peeled and chopped))
Tostadas
Corn Tortillas
Roasted Red Bell Peppers ((sliced into strips))
Diced Tomatoes
Shredded Lettuce
---
Instructions
Soak cashews in enough how water to cover completely for at least 30 minutes
Preheat broiler to 450 degrees
Place all Bean ingredients in a pot and stir to combine. Add the Masa to thicken if desired.
Place all Sour Cream ingredients in blender and blend on high until smooth scraping down the sides occasionally.
Toast corn tortillas on a cookie sheet for 2-3 minutes at a time before flipping. Repeat until crispy.
Place bean mixture on tostada shell and spread evenly.
Top with veggies and sour cream,
---
Notes
Rice makes a good side dish.
Salsa optional.