I've been seeing a lot more of those short little Facebook videos from a page called "Tasty".
Have you?
Now most times they are definitely NOT vegan - not even close - but every now and then I find one that looks tasty enough to try - and easy enough to convert.
Like this one for a Blueberry Muffins Mug Cake.
Looks good huh?
I knew I had to try it.
And I know those of you love my Chocolate Mug Cake would want to try it too.  
Blueberry Muffins in a Mug
The first thing I did was eliminate the oil.
Eliminating oil is not necessarily a Vegan thing - but many of my Plant-Based Readers (including myself) try really hard to keep it out of our diet.  We get plenty of natural fats from the whole foods we eat so no need to add any more - especially vegetable oil.
So I dumped the oil and added applesauce instead.  I left everything else the same, including the 2 (yes two) TABLESPOONS of sugar and gave it a go.
Wow - can you say SUGAR RUSH?  Were they ever sweet!
I knew I'd have to tweak this quite a bit more to make it something I would want to eat.
So here's a lit of my modifications....
Replace the 1 Tbs of Oil with 1 Tbls of Applesauce
Replace the 2 Tbls of Sugar with 1 Tbls of Maple Syrup
Replace the milk with Unsweetened Almond Milk
Add a pinch of salt
Add ⅛ teaspoon of Vanilla
Increase microwave time to 2 minutes (now this may be because I have a smaller, lower power microwave, but after just 1 minute the top was still runny on mine)
There - that looks much better.
And the result?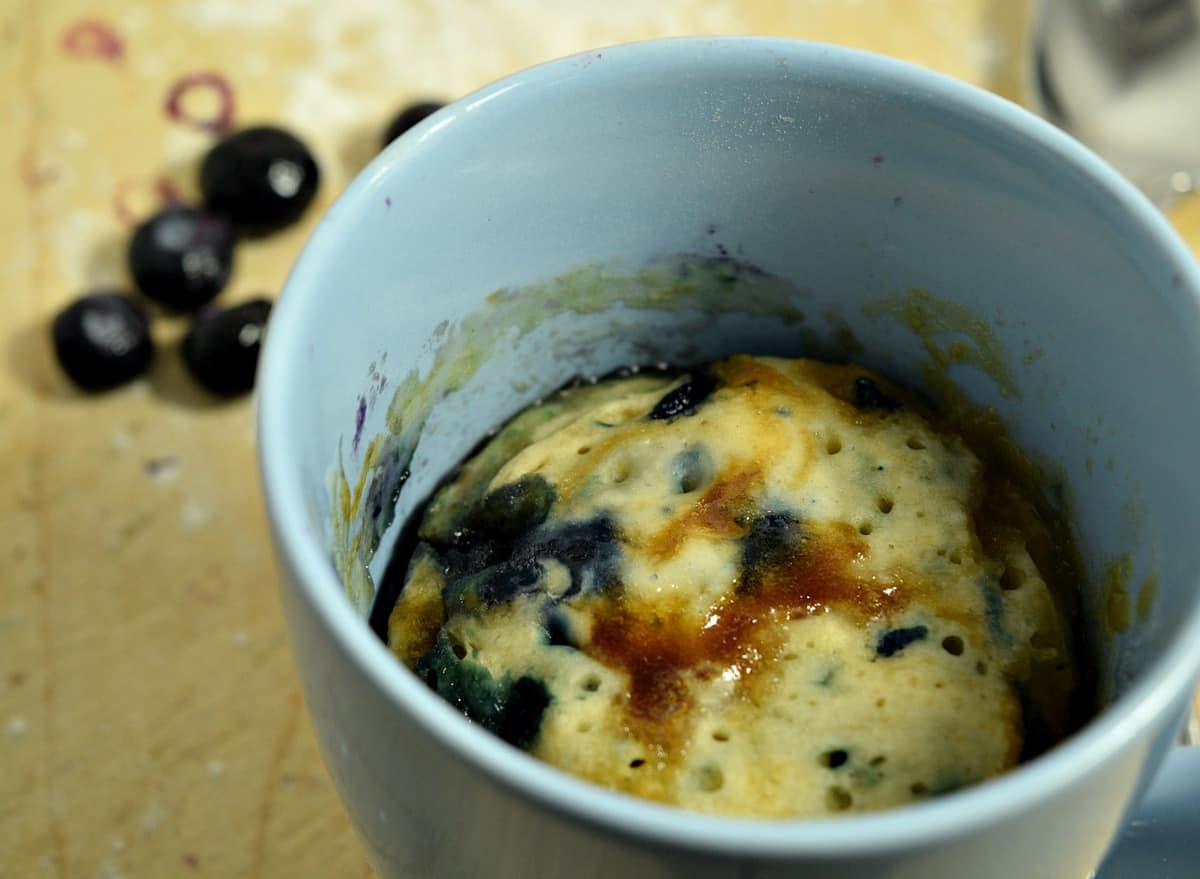 FANTASTIC!
Super easy to make, and super fast to cook in a microwave.
Simple, fast, blueberry muffins - in a mug.
Thanks Tasty for the inspiration - and keep those almost Vegan videos coming!
That Banana Cinnamon Cake at the end of the video looks like it might be next 🙂

Print
Blueberry Muffins in a Mug
Author:

Prep Time:

4 minutes

Cook Time:

2 minutes

Total Time:

6 minutes

Yield:

1

1

x

Category:

Breakfast

Cuisine:

American
---
Description
Fast and easy Blueberry Muffins! Stir the ingredients in your favorite mug and microwave for a minute or two - instant breakfast!
---
4

Tbs Flour

⅛ tsp

Baking Powder

1

pinch Baking Soda

1

pinch Salt

1

Tbs Maple Syrup

1

Tbs Unsweetened Applesauce

3

Tbs Unsweetened Almond Milk

⅛ tsp

Vanilla Extract

¼ cup

Frozen Blueberries
Brown Sugar ((optional))
---
Instructions
Place flour, baking powder, baking soda, and salt in a medium-sized coffee mug and whisk to combine
Add maple syrup, applesauce, vanilla extract, and milk and sir with a fork until thoroughly mixed
Fold in Blueberries
Microwave for at least 1 minute, maybe 2 - (depending on microwave power)
Devour 🙂
---