If you like my Broccoli Cheddar Soup, and you like my Roasted Cauliflower Soup, then you have GOT to try my new Cheesy Vegan Broccoli Cauliflower Soup!
It's so simple, but so TASTY!  And it can easily be made either on the stove or in your Instant Pot.
They say necessity is the mother of invention.
I was just getting started to make my Roasted Cauliflower Soup for my wife (comfort food for the flu) when I realized I had NO fresh onions and NO pre-packaged Veggie Broth!
In situations like this, it's either find some last minute substitutions and make-do..... or make the trip back to the store.
So I found some dehydrated onions in the back of my pantry, and also a little jar of Better than Boullion  - and the next thing you know I was making one of the best soups I've ever tasted.
What I love the most about this recipe is how simple the ingredients are.
Onion
Garlic
Cauliflower
Potato
Carrot
Broccoli
This is exactly what eating a WHOLE food, plant-based diet is all about.  REAL foods, without all the chemicals or preservatives.
And whether you make this on your stove or in your Instant Pot, it comes together so quickly you can have a healthy dinner ready in minutes.
Throw all the kids into the pool,  cook until tender, and blend.  Bam.
Fast, simple, and tasty.  Oh and I think I mentioned healthy too.
So come on, let me show you how easy it is.  Let's make some SOUP!
Cheesy Vegan Broccoli Cauliflower Soup
First, let's prepare our veggies.
Remove the leaves and stem of your head of cauliflower, cut it into equal-sized florets and rinse thoroughly.  Also, scrub 1 medium Potato and 1 large Carrot.  I left the skins on and just roughly chopped them into equal-sized pieces as well.
Set the veggies aside for now.
Now saute ½ cup of diced onion, either in your soup pan or Instant Pot, using the SAUTE feature.  When the onion turns translucent, add 2 cloves of minced garlic and continue cooking and stirring until fragrant, about 30 seconds.
Note:  2 heaping Tablespoons of Dehydrated Onions and 3 Tablespoons of hot water will equal about ½ cup fresh onion.  
Add 4 cups of Vegetable Broth and 1 cup of Water to your soup pan.
Note: As I mentioned above, I used Better Than Bouillon and mixed 1 teaspoon of bouillon per cup of hot water. 
Add your veggies and cover.
If using your Instant Pot:  Set it to MANUAL mode, High Pressure, and 6 MINUTES.
For the stovetop, you can either steam the veggies using a basket or colander -  or gently braise them using just the liquid we added.  Just be sure to cover the pan and cook until everythng is tender.
Once the veggies are tender we want to blend them.  If you are using an IP  - carefully do a Quick Release to release the pressure and remove the lid.
We want to do 2 things here......  blend the veggies and add some spices.
If you have an Immersion Stick Blender....it's easy.  Just add the spices and blend.
If you are using a blender, carefully blend the contents of your soup pot (in batches if need be), and on the last batch add the spices and blend.  Add back to a pot and stir to mix well.
The spices are ¼ cup nutritional yeast, 2 Tbs Lemon Juice, 1 teaspoon Apple Cider Vinegar, ½ teaspoon Onion Powder, ½ teaspoon Garlic Powder, ½ teaspoon Yellow Mustard, and a pinch of Tumeric.
You should now have a smooth, creamy soup.  To bump it up just a notch and to add a little texture.....  I added 2 small bags of Steamfresh Frozen Veggies.  A bag of frozen Broccoli, and a bag of Broccoli/Cauliflower mix.
You can either microwave the veggies first in the bag and then add them to the soup, or just add the frozen veggies directly to the soup and continue heating until they are cooked through.
The entire head of cauliflower along with the potato, carrot, and cheese spices makes this a rich, creamy, flavorful soup.
Feel free to dress it up any way you like and be sure and leave those comments below.
Enjoy!

Print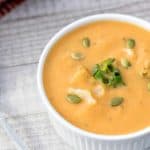 Cheesy Broccoli Cauliflower Soup
Author:

Category:

Soup

Cuisine:

Gluten-Free, Oil-Free, Vegan
---
Description
A creamy Cauliflower Soup with chunks of Broccoli and Cauliflower swimming in a cauliflower-based Vegan Cheese Sauce.  Super delicious and super healthy!
---
½

cup

Onion ((diced))

2

cloves Garlic ((minced))

4

cups

Vegetable Broth ((low sodium))

1

cup

Water

1

head Cauliflower

1

med Potato ((Russet or Gold))

1

med Carrot

¼

cup

Nutritional Yeast

2

Tbs Lemon Juice

1 tsp

Apple Cider Vinegar

½ tsp

Onion Powder

½ tsp

Garlic Powder

½ tsp

Yellow Mustard

⅛ tsp

Tumeric

2

bags Broccoli or Broccoli Mix ((frozen -

10oz

bags))
---
Instructions
Remove leaves and stem from Cauliflower.  Cut into equal-sized florets and rinse thoroughly.
Scrub Potato and Carrot and cut into equal-sized pieces.  Set veggie aside for now.
Soup Pot Instructions:
Saute onion until translucent, then stir in garlic and cook until fragrant (about 30 seconds)
Instant Pot Instructions:
Use SAUTE mode to saute onion until translucent, then stir in garlic.
Soup Pot Instructions:
Add broth, water, and veggie.  Cover and steam/braise until veggies are tender.
Instant Pot Instructions:  Cook on MANUAL, High Pressure, for 6 MINUTES.
Once IP is finished or veggies are tender....  add all remaining ingredients (except frozen veggies) and blend using either your blender or an Immersion Blender.  Blend until smooth and creamy.
Taste for any seasonings that need adjusted and then stir in frozen veggies.  If you microwave the veggie first - just stir them in and serve.
If cooking the frozen veggies directly in the soup, continue heating until veggies are heated through.
Keywords: cheesy cauliflower broccoli soup
SaveSave
SaveSave
SaveSave
SaveSave
SaveSave
SaveSave
SaveSave
SaveSave
SaveSave
SaveSave
SaveSave
SaveSave
SaveSave