You asked for it - and here it is. The ultimate comfort food made plant-based. Vegan Tuna Casserole. No nuts, no tofu, no oil, and gluten-free. Just for you.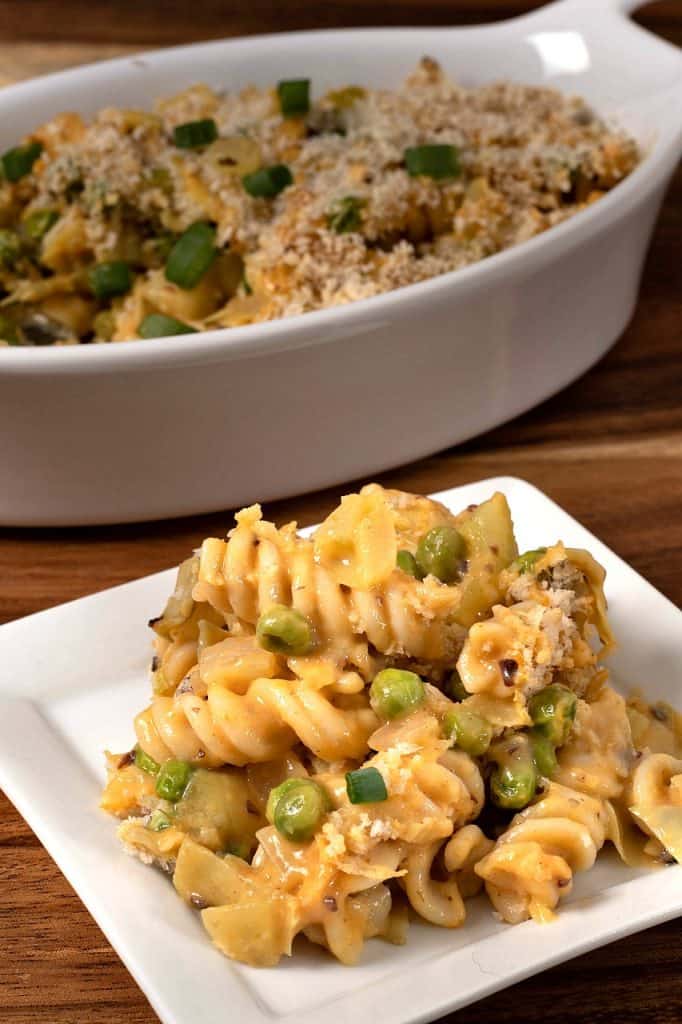 A few weeks back I asked my readers what comfort-food recipe they would like me to recreate. And out of hundreds of suggestions, one kept popping up.
Yep - Vegan Tuna Casserole.
When I was younger and made the real version of this recipe, egg noodles were my pasta of choice. Thankfully for us, in this day and age, we have a wide variety of gluten-free and vegan options to choose from. So for this recipe, I chose my favorite - Brown Rice Fusilli.
Another important detail we can't ignore is that this is a TUNA casserole. What are we going to use to replace the tuna?
I saw a few recipes that used a commercial vegan tuna product. That really wasn't an option for me because I try to stay away from processed products and eat a more "whole food" diet without any added fat or oil.

A few recipes I found online used smashed chickpeas to replace the tuna, and while that certainly is an option if you want to try it, in this recipe I used a jar of artichoke hearts, packed in water, and I think they worked incredibly well.
And lastly, that creamy béchamel sauce. Again, I saw a few bloggers used vegan butter and flour to start their sauce and I thought to myself, "How can I imitate that creaminess without using fat or refined flours? What recipe do I already have that's super creamy?"
My cheese sauce.
Most people add cheese to their sauce anyway so why not? I modified the recipe slightly by adding cauliflower, and I replaced the water with unsweetened almond milk, both of which will add some additional creaminess.
But what about that seafood taste?
That is actually easy to do, just by adding a little seaweed and some Old Bay Seasoning to the sauce. I used Dulse Flakes but I think you could add chopped Wakame or even a portion of a Nori sheet to get the same flavor. Kelp powder could also be used but be careful not to overdue it.
Kelp (Kombu) is VERY high in iodine - so be careful. And if you don't care about the seafood taste - you can skip this part completly.
So now we have our noodles, we have our tuna, and we have our sauce. Add a few extra veggies, and some peas of course, and we have something that I thought was really tasty and satisfying. It actually did remind me of the Tuna Casseroles I ate in my past.
As you can see in the photo, I added some Panko Bread Crumbs and baked it to get that little crunch, but of course that adds gluten - so I'll leave that part completely up to you. I think it would have been just as good without it - which would then make this entire recipe gluten-free.
I will say, if there is a downside to this recipe it is this: I DID use quite a few pots and pans, so there WILL be dirty dishes. Sorry, but it couldn't be helped. I do think in the end it was worth it though. I hope you do too.
There you have it. I hope you enjoy it as much as I did and thank you for all those wonderful suggestions.
So, without further ado, let's jump right into it.
---
Here are a few of the products I used to make this recipe, these are Amazon Affiliate links and as an affiliate, I do earn from qualified purchases but at no extra cost to you.
---
Cheesy Vegan Tuna Casserole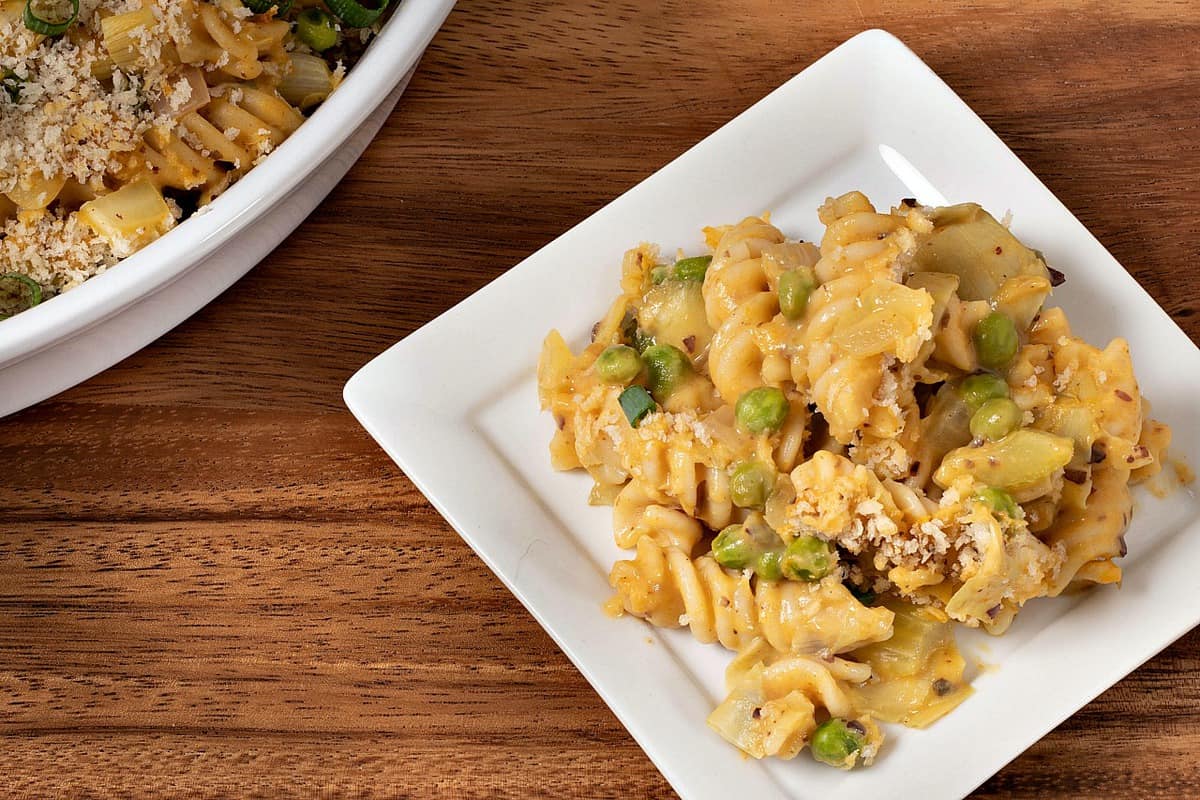 The Sauce
I started by making my modifed cheese sauce, which consists of potatoes, carrots, and cauliflower. I used my instant pot but you can also steam the veggies on the stove.
Simply add the potatoes, carrot, cauliflower, and two cups of water to your Instant Pot (I used a strainer basket which made it easier), and set it to MANUAL for 7 minutes with a 10 min natural release.
Then drain and add the veggies to your blender.
Note: Do NOT include the 2 cups of cooking water. Drain, then add your potatoes, carrot, and all the remaining sauce ingredients to your blender and blend until smooth. Set aside.
The Veggies
Add ½ of a chopped onion (I used a large walla walla sweet), 2 ribs of chopped celery, and a splash of veggie broth to a skillet, and saute until softened.
Drain and rinse the artichoke hearts, and then chop them coarsely. Add them to the skillet along with the garlic.
Mushrooms could be added too if you like. I didn't use any this time - but I think they would make a nice addition if you like mushrooms. Maybe half of an 8oz container, sliced.
When most of the liquid has evaporated and the veggies are softened, add the blender sauce to the skillet and mix. I simmered this on low-heat until it was thick and bubbly while I cooked my pasta.
The Pasta
Cook your pasta according to the package directions.
Pro tip: When the pasta is almost finished, add your frozen peas. The hot water is enough to cook them slightly.
When finished, drain and rinse, then add to your sauce in the skillet and mix.
The Casserole
If you want a more traditional casserole, with a crusty bread crumb topping, pour everything from the skillet into a large, rectangular casserole dish, add the panko, then bake at 375° F for 15-20 minutes.
I personally think it would be just as good without this step and without the breading - making it gluten free - but I'll leave it up to you.
Mmmm Vegan Tuna Casserole. Easy to make with regular everyday vegetables. No fancy cashew sauces, no tofu, and no added fat.
But messy? Yeah - I did warn you. I had my IP to clean, along with my blender, pasta pot, colander, and a skillet. But it IS good so I hope it was worth it.
Hope you like it and be sure and tell me about it in the comments down below.
I have one more reader-request recipe - a dessert this time - to try and make so I know I'll be keeping busy.
So until next time - stay safe, stay kind, and stay awesome.
See you soon.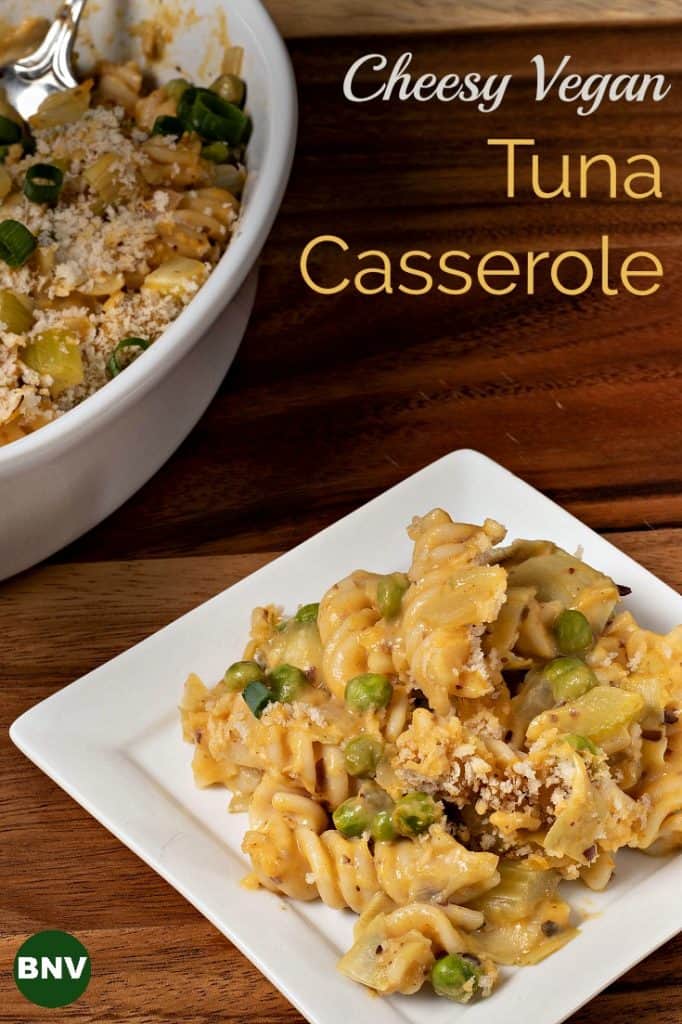 Print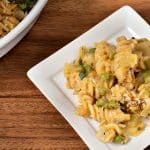 Cheesy Vegan Tuna Casserole
Author:

Prep Time:

30 min

Cook Time:

30 min

Total Time:

1 hour

Yield:

6

servings

1

x

Category:

Casserole

Method:

Blender, Oven

Cuisine:

America

Diet:

Vegan
---
Description
You asked for it - and here it is. The ultimate comfort food made plant-based. Vegan Tuna Casserole. No nuts, no tofu, no oil, and gluten-free. Just for you.
---
12 oz

brown rice fusilli pasta

15 oz

can artichoke hearts (in water)

½

yellow onion

2

ribs celery

2 tsp

minced garlic

1 cup

frozen peas

½ cup

panko bread crumbs (optional)
Sauce
3

yukon gold potatoes, cut into quarters (about

400g

)

1 cup

riced cauliflower

½

carrot (about

65 grams

)

2 cups

water (to steam the potatoes)

1 cup

unsweetened almond milk

¼ cup

nutritional yeast

2

Tbs lemon juice

2

Tbs dulse flakes

1 tsp

old bay seasonsing

½ tsp

onion powder

½ tsp

garlic powder

¼ tsp

salt (if needed)
---
Instructions
To prepare the sauce in an Instant Pot, add the potatoes, carrot, cauliflower, and water and set to manual for 7 min with a 10 min natural release. 
If you do not have an instant pot - simply steam them on the stove until they are very soft and a fork can be inserted easily.
Drain and add to blender along with all the remaining sauce ingredients.  (not the 2 cups of cooking water!) Blend until smooth and creamy.  Set aside.
Chop onion and celery and saute in a larke skillet using 1-2 Tbs water or veg broth until softened. 
Drain and rinse artichokes and chop coursely.  Add to skillet along with minced garlic and stir.
Cook 1-2 minutes or until most of the liquid has evaporated. 
Add blender sauce to skillet and mix well.  
Cook pasta according to package instructions.  Add peas to water just before the pasta is finished. 
Drain and add to skillet. 
Mix thoroughly and serve if gluten-free.  
Alternatively, pour into a casserole dish and top with optional panko bread crumbs.  Bake at 375° F for 15-20 minutes ot until top has browned.
---
Keywords: vegan tuna casserole