Need a quick and tasty dinner idea? All you need are three simple ingredients and you can make my incredibly gooey, amazingly cheesy - Cheezy Hashbrown Casserole.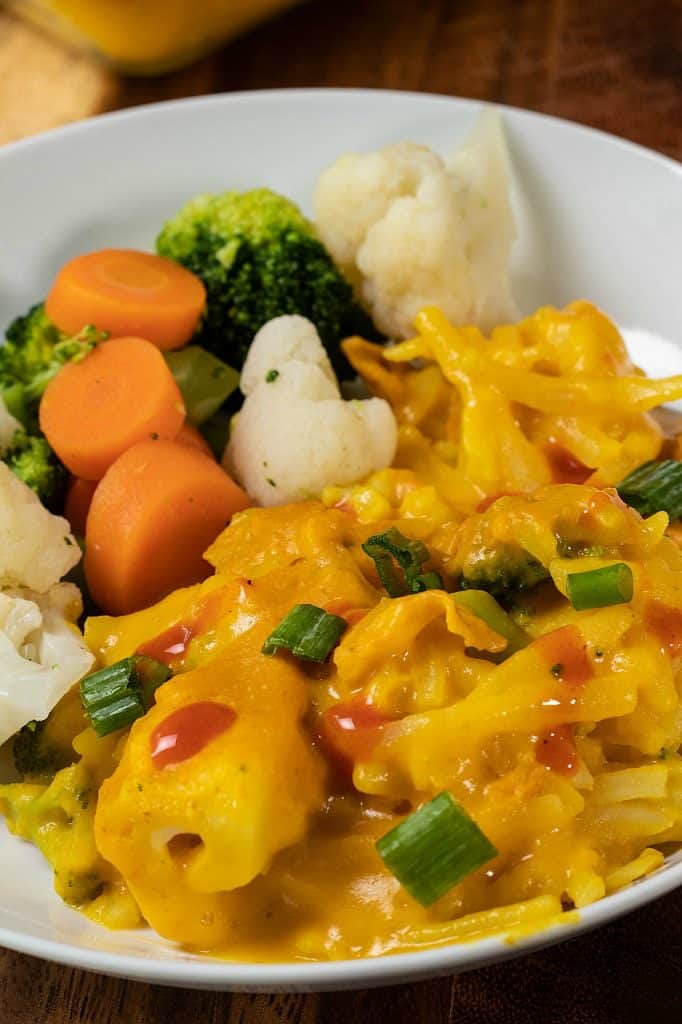 Ready for the EASIEST recipe ever?!
All you need are 2 simple ingredients you should be able to find in any grocery store ..... and a batch of my cheese sauce.
That's right - I'm using a bag of frozen veggies and a bag of hashbrowns. Mix them together in a bowl and stir in the cheese sauce.
That's it! No spices, no added sodium, so added oil or fat, just pure cheezy, potato goodness.
All you gotta do now is bake it.
Since I'm making most of my recipes down here in the new BNV studio, I used my old Black n Decker Toaster Oven and even that worked fine.
So no special appliances are needed, just an oven, and a blender to make the cheese sauce.
If you are interested in the appliances I use - I'll throw some Amazon Links down below so you can check them out...so SPOILER ALERT, some Affiliate Links will be appearing and you know the drill... if you buy anything I make a little something something but at no extra cost to you...
But you really don't need them. Like I said, a blender for the cheese sauce and an oven. Easy peasy.
And get this - this week I even have the VIDEO ready for you too, so scroll down to watch exactly how easy this is to make.
Ready? Here we go.
Cheezy Hashbrown Casserole
I used a bag of Simply Potatoes®, which are 12oz bags of prepackaged hashbrowns. They're in your grocery store's refrigerated section, so be sure and look there if you've never seen them before.
There are some preservatives, but they are 100% oil-free.
If you prefer, you can also use your favorite FROZEN hash browns instead but be sure and check the ingredients if you are avoiding added fats as I am.
Simply dump these out into a bowl and grab your 2nd ingredient...
A 12oz bag of frozen veggies. I used Broccoli and Cauliflower, but you can use whatever you like. Again, most of these bags of veggies are 100% oil-free but do check the ingredients. Some come in a sauce - and usually, that sauce has oil or other weird ingredients.
Dump those in the bowl and mix them together.
Go ahead - I'll wait.
Did I tell you this was easy?
Now add the cheese sauce.....oh wait! You gotta make some cheese sauce too!?!
No worries - I can make a full batch of my Amazing Vegan Cheese Sauce using my IP method in 20 minutes flat. And.....truth be told.....I usually have some in my fridge anyway so it's always ready to go.
Add 2 cups of the cheese sauce to the bowl and mix.
Now spoon that into one of those glass casserole dishes and spread it evenly. I have a Pyrex® 2qt that is about 11" x 7" and that worked great.
Pour on the rest of that cheese sauce and pop it into a pre-heated 400°F oven for about 20-30 minutes.
Bam. Done.
To clarify (because there are always questions), my cheese sauce makes about 4 cups. So 2 cups get stirred into the bowl and the remaining 2 cups go on top. I bake it uncovered too.
Oh, one more thing for those of you who don't know me...my cheese sauce is ALSO made from potatoes. So for all you McDougall Mary's Mini folks....this is perfect and yes, I have been told my cheese sauce IS compliant.
This is the PERFECT McDougall dish! I fill half my plate with this yummy casserole, and the other half with a salad or more veggies and it's the perfect lunch or dinner.
That's it for this week. Hope you enjoy the recipe and if you do, leave those comments down below.
Have a good week and I'll see you next Saturday.

Print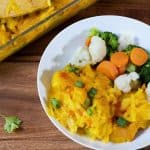 Cheezy Hashbrown Casserole
Author:

Prep Time:

20 min

Cook Time:

30 min

Total Time:

50 minutes

Yield:

4

-

6

servings

1

x

Category:

Main, Marys Mini, Potatoes

Method:

Oven

Cuisine:

American

Diet:

Vegan
---
Description
Need a quick and tasty dinner idea? All you need is three simple ingredients and you can make my incredibly gooey, amazingly cheesy - Cheezy Hashbrown Casserole.
---
---
Instructions
Prepare cheese sauce according to recipe
Preheat oven to 400° F
Add potatoes to a large bowl
Stir in frozen veggies
Add 2 cups of the cheese sauce and mix well
Spoon into a 2qt, 7" x 11" glass casserole dish
Pour remaining cheese sauce over top
Bake at 400°F for 20-30 minutes
---
Notes
Keywords: cheezy hashbrown casserole
Gadgets I Used: